When making evaluations for fantasy football, taking a player's division into account is a frustrating but necessary part of the process. All else being equal, you'd rather a player who has to face the Raiders defense twice a year than the Bears, for example.
Which means paying attention to a player's division is a crucial part of the evaluation process. Below, we're looking at the players who saw their per-game PPR scoring dip the most in divisional games in 2018. Your division is your division, and while players and teams always change, it's worth knowing who struggled against the teams they played the most often. And when making DFS decisions, it can really come in handy.
(Tuesday we'll look at the opposite — the players who benefited the most from games played within their divisions.)
Emmanuel Sanders' per-game averages in and out of the AFC West, 2018
Targets
Receptions
Receiving yards
Receiving TDs
PPR points
YPRR
PFF grade
In division
5.5
4.3
63.5
0.0
11.1
1.94
73.2
Out of division
9.4
6.8
76.8
0.7
19.3
2.21
80.9
Sanders had six games with fewer than six catches out of the 12 games he played in 2018. Of those six, four were in the four games he played against the AFC West (Sanders missed the Broncos' final two intradivisional games). He accounted for six touchdowns (four receiving, one rushing, one passing), all out of the division, and all three of his 100-yard games came against NFC West opponents.
The good news for Sanders is that the Chargers were the only one of the three AFC West opponents that had an above-average pass rush (though the Chiefs are working hard to improve theirs this offseason), so it's not out of line to chalk this up to small sample. The bad news is that Sanders' late-season injury was a torn Achilles, and that could very easily leave him on PUP to start the 2019 season. He's undraftable unless we hear some really good health news.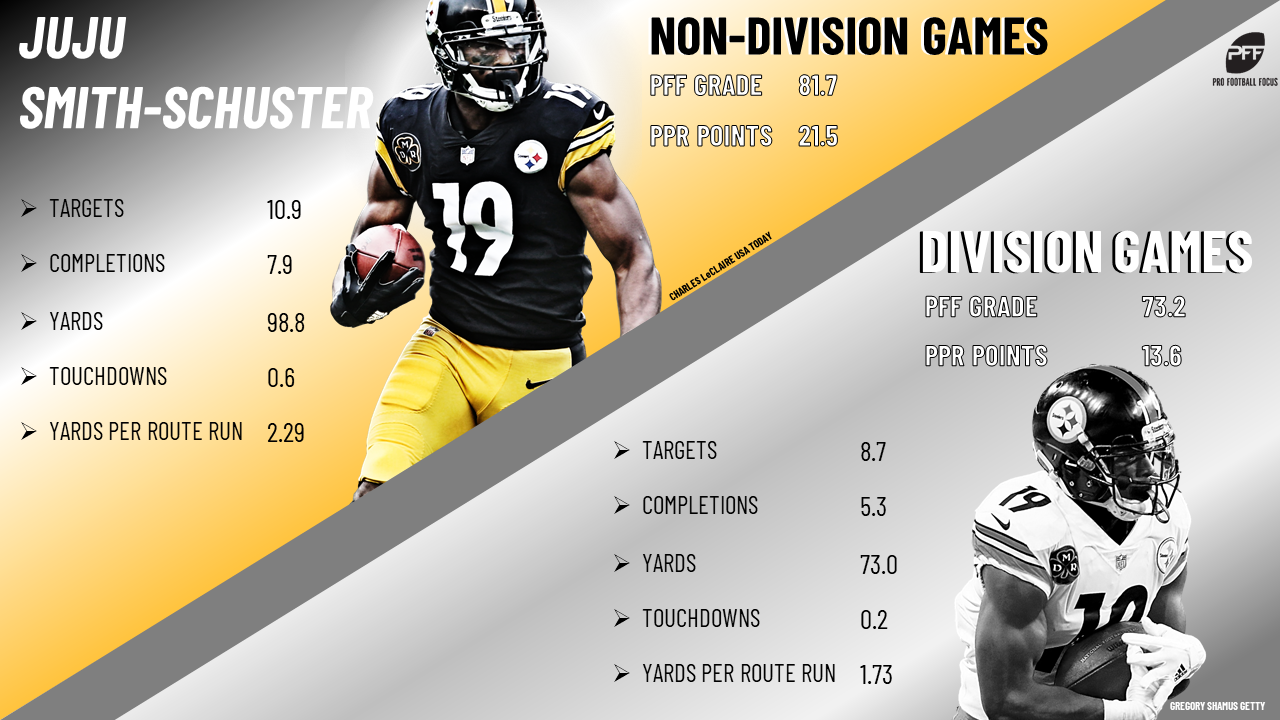 JuJu Smith-Schuster's per-game averages in and out of the AFC North, 2018
Targets
Receptions
Receiving yards
TDs
PPR points
YPRR
PFF grade
In division
8.7
5.3
73.0
0.2
13.6
1.73
73.7
Out of division
10.9
7.9
98.8
0.6
21.5
2.29
81.7
Smith-Schuster's eight best fantasy days of 2018, and six of his seven touchdowns, came outside of the division, and his lone intradivisional score didn't come until a Week 17 game that wasn't doing much to help his fantasy owners. Break it down a little more, and Smith-Schuster had 148 yards and a score in two games against Cincinnati but was held scoreless in four combined chances against Baltimore and Cleveland. That makes sense — the Ravens had elite pass coverage in 2018 and the Browns were decent, while the Bengals were in the bottom quarter according to PFF grading. Baltimore's could be even better in 2019, and the Browns' overall defense should be improved as well. Smith-Schuster has the No. 1 Pittsburgh job all to himself, but six games against the AFC North could be a frustrating proposition.
Marlon Mack's per-game averages in and out of the AFC South, 2018
Carries
Rush yards
Rush TDs
Receptions
Receiving yards
Receiving TDs
PPR points
PFF grade
In division
15.0
53.8
0.6
1.4
4.4
0.0
10.8
63.0
Out of division
17.1
91.3
0.9
1.4
11.6
0.1
17.7
70.9
The AFC South is suddenly one of the league's stacked divisions. The Titans had the worst run-defense grade among the division's four teams last year, and at 84.9 it was still well above-average. The Texans' 91.9 grade was second in the league behind only Chicago. That helps to explain some of Mack's intra/interdivisional results. Also helping to explain it is that the AFC South games were typically close; Mack averaged 8.7 PPR points per game in games decided by single-digit points, but 20.7 in games decided by double digits. With the AFC South likely to be just as competitive in 2019 as it was in 2019 (if not moreso), Mack might be a player to avoid in DFS in divisional matchups.
Odell Beckham Jr's per-game averages in and out of the NFC East, 2018
Targets
Receptions
Receiving yards
TDs
PPR points
YPRR
PFF grade
In division
9.5
5.8
79.0
0.0
13.7
1.72
76.9
Out of division
10.1
6.8
92.0
0.8
22.2
2.62
90.3
Beckham missed the Giants' last four games last year, but before that, he only put up fewer than 14 PPR points outside the NFC East all year (13 in Week 13), and only topped it once inside the NFC East (22 in Week 8). The Eagles' pass defense struggled for much of the year but shut down Beckham pretty well. He was shadowed by Josh Norman the only time he faced Washington, facing him on 67.9% of his routes and coming away with two receptionless targets in coverage. And against Dallas, Beckham was held to 4 catches on 9 targets for 51 yards against Byron Jones and an ascending Cowboys pass defense. All told, leaving the NFC East (and quarterback Eli Manning) should be good for Beckham … though he will have two games against Baltimore's stout unit now that he's an AFC North resident.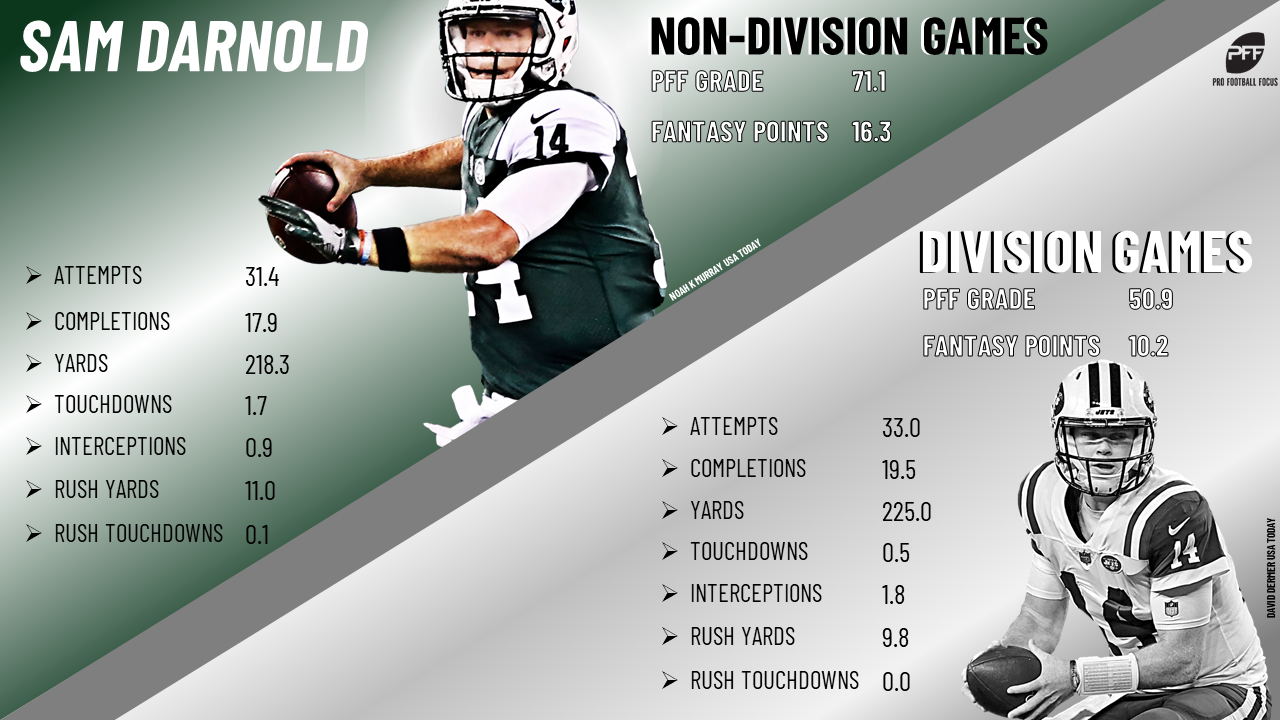 Sam Darnold's per-game averages in and out of the AFC East, 2018
Attempts
Completions
Yards
TDs
INTs
Rush yards
Rush TDs
Fantasy points
PFF grade
In division
33.0
19.5
225.0
0.5
1.8
9.8
0.0
10.2
50.9
Out of division
31.3
17.9
218.3
1.7
0.9
11.0
0.1
16.3
71.1
Darnold's rookie year wasn't exactly dominant at any point, but his numbers dipped further inside his division. Three of Darnold's five games of under 12 fantasy points came inside the division, while six of his seven of 15-plus came outside the AFC East. The Dolphins taking a step even further back could help Darnold, as should the team's influx of new weapons, but it's worth taking a second look at him as a DFS option against Buffalo and New England.