Every fantasy football draft offers underrated performers whose average draft positions simply do not match their expected production. We can find these values at every fantasy position, whether they're under-appreciated veterans or up-and-comers with an opportunity to take the next step. Finding these players who should vastly outperform ADP can put fantasy teams over the top. 
Subscribe to PFF's EDGE or ELITE subscriptions to get access to the following tools, charts, etc. 
– All Premium Article Content
– Fantasy Football Rankings & Projections
– Fantasy Football Draft Guide, Cheat Sheets & Advanced Stats
– Fantasy Football Mock Draft Tool (DraftMaster)
– Fantasy Football Strength of Schedule Matrix
– NFL Player Grades
– NFL Premium Stats
The following is a full, standard-league roster comprised of values at every position heading into the 2020 NFL season.
ADPs are sourced from BestBall10s drafts dating back to the beginning of July.
Quarterback
Goff has proven to be one of the more underrated yet consistent options at quarterback dating back to the Rams' hiring of head coach Sean McVay. Since 2017, Goff ranks third in passing yards (13,130), fifth in touchdowns (82) and eighth in yards per attempt (7.9) among all quarterbacks with 500-plus pass attempts. In addition to his raw numbers — which stack up tremendously against other NFL quarterbacks — Goff has been highly usable in fantasy, with finishes of QB12 this past season (273.5 points), QB6 in 2018 (326.3 points) and QB12 in 2017 (268.3 points).
The Rams' offensive line of the is undoubtedly an issue, but it wasn't impressive in 2019, either. The offensive line ranked 23rd in total pressures allowed (322) and 28th in pressure percentage (36.8%) that season, yet Goff still managed a QB1 finish. The volume, scheme and the ability to routinely operate in money areas (red zone and goal line) have kept Goff ranked among the best QB options in the NFL, even with his lack of rushing ability. The Rams ranked third in red zone plays, fifth in goal line plays and third in passing attempts in 2019.
PFF's fantasy projections expect Goff to perform well in 2020, showing him with a QB14 finish. The projection aligns with PFF's strength of schedule metric, which ranks the Rams' quarterback schedule as the 12th-easiest in the NFL in 2020.
Running Back
Conner is currently being drafted as the full-point PPR RB19. While that seems to be fair considering his injury issues, Conner's ability far exceeds that draft price. Dating back to 2018, Conner ranks sixth among running backs in scoring (280.0). He came in at 34th overall in 2019 but still ranked seventh in points per snap (0.45) and 24th in points per touch (0.98). If we examine only Weeks 1-8 from the 2019 season (when Conner was healthy), he ranked ninth in total points (126.6), sixth in points per snap (0.47) and 20th in points per touch (1.00). These were monumental feats considering the quarterback carousel the Steelers had to deal with all season.
Conner's downfall has been greatly exaggerated — even within a struggling offense, he managed to produce strong numbers when healthy. The Steelers ranked 31st in red zone plays and 30th in goal line plays. Both areas — particularly the latter — are extremely important when examining running back scoring, as the ability to accumulate cheap points by way of touchdowns will routinely separate the good fantasy options from the great ones.
The Steelers ranked 30th in rushing yards before contact per attempt in 2019, which proved to be a relatively steep regression from their 22nd-placed ranking in 2018. Many of the offensive transgressions can be attributed to the lack of health from starting quarterback Ben Roethlisberger — he only played in the first two games of the season.
PFF's fantasy projections nearly align with Conner's current ADP, slating him for an RB17 finish. PFF's SoS metric ranks the Steelers' running back schedule as the 14th-easiest in 2020, which offers some potential upside for Conner and his running mates.
Even with the additions of Ke'Shawn Vaughn and LeSean McCoy, head coach Bruce Arians let it be known that third-year running back Ronald Jones is the "main guy" in the Tampa Bay backfield. That vote of confidence was huge, particularly for a backfield that most believed to be up for competition.
In 2019, Jones ranked 25th in total points with a relative lack of volume and, to a lesser degree, efficiency. Looking at his efficiency metrics, Jones could stand to improve — he ranked 13th in points per snap but only 39th in points per touch among all running backs.
Jones hasn't been utilized much as a receiver — he ranked only 25th in targets (38) and 33rd in receptions (31). But it's important to realize that Peyton Barber is gone, and his 154 carries (22 in the red zone, 10 inside the 5-yard line) and 20 targets are now unaccounted for.
While Jones has yet to fully justify his second-round draft status, he has shown plenty of rushing ability — he ranked eighth in missed tackles forced per attempt (0.2) among all running backs with 100-plus rushes in 2019.
One final factor — and arguably the most important — is the fact that the Buccaneers' offense is likely to thrive. The addition of Tom Brady and Rob Gronkowski is likely to have a profound impact. Even on a lackluster New England Patriots team in 2019, Brady managed to lead his team to a first-ranked figure in red zone plays (189) and goal line plays (54). If Brady performs like he did last season, Jones' ceiling would certainly rise with the potential to serve as a goal line back in a high-scoring offense. 
PFF's fantasy projections don't expect a breakout season for Jones, ranking him as the RB30 in 2020. PFF's SoS metric expects a tough schedule for the Buccaneers' running back room — their schedule ranks as the ninth-toughest this season.
Wide Receiver
Landry has proven to be one of the most consistent wide receiver options over the past five seasons, yet he doesn't get the respect he deserves. His finishes over the past five seasons are as follows: WR12, WR19, WR4, WR13 and WR10. Regardless of team, quarterback or usage, Landry has been able to provide boatloads of production for those willing to draft him.
Landry's game is unique in the sense that he doesn't win deep as a vertical threat or as a big-play weapon, but his ability to create yardage after the catch (as well as finding himself in high-volume roles) is in the elite tier among receivers. Landry's 2019 season proved to be another fantastic year, as he ranked highly in several categories.
Jarvis Landry rankings among WRs | 2019
| | |
| --- | --- |
| Category | Total (Rank) |
| Targets | 130 (9th) |
| Receptions | 83 (12th) |
| Yards | 1,174 (9th) |
| Yards after the catch | 432 (7th) |
| Yards after contact | 227 (5th) |
| Missed tackles forced | 15 (6th) |
| Explosive pass plays (15-plus yards downfield) | 33 (4th) |
| YAC per reception | 5.2 (17th) |
| Yards per route run | 2.04 (15th) |
Even after this performance, there's potential for more — Landry ranked eighth among all receivers in inaccurate targets due to quarterback play (20). The lack of development from Baker Mayfield hamstrung the entire offense, particularly the wide receivers. If Mayfield can find a way to minimize lost opportunities, all of his weapons could prove to be even more lethal than they were last season.
PFF's fantasy projections expect a slight regression for Landry with a WR22 ranking. The schedule-makers have provided the Browns' receiving corps with a potential smash-spot, as their schedule is the fourth-easiest in 2020, per PFF's SoS metric.
Tate has withstood the test of time as one of the league's best yards after the catch (YAC) receivers. Looking back at Weeks 5-17 in 2019 (when Tate played), the veteran ranked 26th in total points, 29th in points per snap and 31st in points per touch among all receivers. When compared to his teammates, Tate stacked up well whenever he was on the field. 
New York Giants wide receiver comparison | 2019
| | | | |
| --- | --- | --- | --- |
| Category | Golden Tate | Darius Slayton | Sterling Shepard |
| Targets | 81 | 73 | 58 |
| Receptions | 49 | 43 | 37 |
| Yards | 676 | 645 | 358 |
| Touchdowns | 6 | 8 | 2 |
| Missed tackles forced | 6 | 4 | 2 |
| Explosive pass plays | 16 | 15 | 9 |
| YAC per reception | 5.9 | 4.2 | 2.1 |
| Average depth of target | 10.8 | 14.2 | 10.9 |
| Yards per route run | 1.60 | 1.51 | 1.36 |
The following chart shows the difference in their PPR outputs from Weeks 5-17. The stretch of zero-point performances from Shepard were weeks he missed due to injury.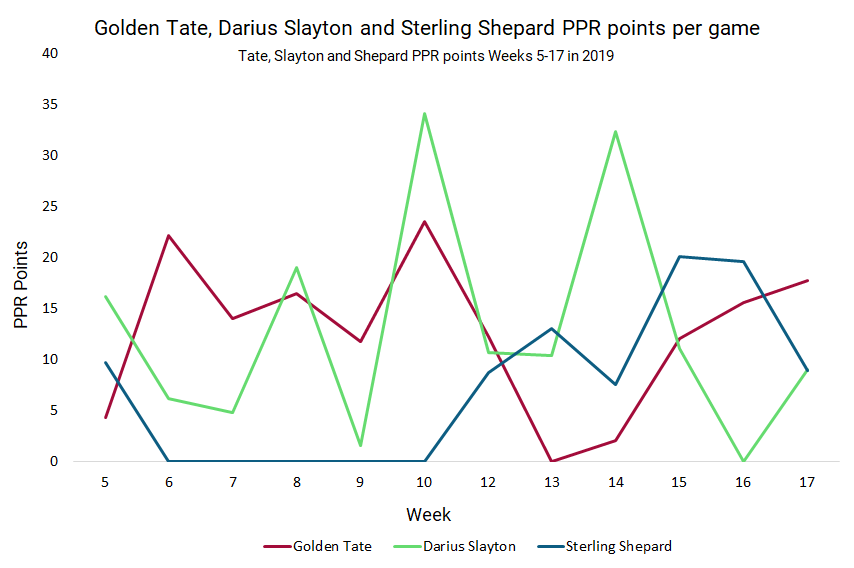 Tate ranked ninth in YAC and seventh in YAC per reception among all receivers with 50-plus targets during Weeks 5-17.
The Giants appear to be a less talented roster than their divisional rivals in the Philadelphia Eagles and Dallas Cowboys, and that could result in a lot of skewed play-calling. The potential to be trailing often could lead to more pass attempts. The Giants ranked fourth in pass-play percentage (67.3%) in 2019 and fourth in snaps run while trailing (657). Expect that to continue in 2020, which is a positive.
PFF's fantasy projections are quite low on Tate — they rank him as the WR54 in 2020. The schedule may play a part in that, as the Giants' receiving schedule is ranked 29th, according to PFF's SoS metric.
Williams has yet to justify his draft status as a former top-10 overall pick, but he's certainly flashed an innate ability to win vertically in the NFL and continues to expand his game. In 2019, Williams ranked only 39th in points, but he did finish 19th in points per touch, second in aDOT (18.27), fourth in yards per target (11.78) and second in yards per reception (20.43) among receivers with 20-plus targets. Williams' ability to win deep sets him apart from most receivers, and his efficiency metrics are among the best because of it.
The Chargers are slated to make a change at quarterback for the first time in nearly two decades, with Tyrod Taylor the expected starter. Looking back on his days as a starting quarterback (2015-17), Taylor ranked 12th in passing yards, eighth in passing touchdowns and 20th in adjusted completion percentage among all quarterbacks on throws 20-plus yards downfield (min. 100 attempts). The marriage between Tyrod and Williams should work well.
PFF's fantasy projections expect Williams to outplay his WR47 ADP, with his current ranking as the WR34. PFF's SoS metric ranks the Chargers' receivers schedule in the middle of the pack as the 15th-easiest in 2020.
Tight End
One of the bigger projections on this list is Herndon, mostly due to his lost season in 2019. During his only healthy season in the NFL — his rookie year in 2018 — Herndon finished 16th in total points, 17th in points per snap and 16th in points per touch among tight ends. Herndon ultimately built a reputation as a big-play threat as a rookie, ranking seventh in explosive pass plays (15-plus yards downfield), sixth in aDOT (10.6), 10th in receiving yards per reception (12.9) and 11th in yards per route run (1.65) among all tight ends with 25-plus targets.
Over the past two seasons, the Jets ranked 12th in plays run while trailing (1,039) and could ultimately fare even worse in 2020 as the team doesn't appear to be greatly improved. It should go without saying that a receiving weapon would benefit in a trailing situation, and that certainly stands true for Herndon. One area in which that may be an issue is a lack of scoring opportunities, though Herndon did register 16 red zone targets in 2018 — that number ranked 10th among all tight ends.
One factor Herndon will have on his side is a solid schedule. According to PFF's SoS metric, the Jets' tight end schedule is the 10th-easiest in 2020. PFF's fantasy projections expect a nice bounce back season for Herndon, ranking him as the TE15.