Fantasy football rankings are an incomplete and imperfect exercise. They're useful, for sure, but typically never paint a full picture. While a specific player may deserve a ranking fifth overall, that doesn't really do a great job at expressing his true value. Mainly, range of outcomes tend to fluctuate wildly. That player ranked fifth overall might have league-winning upside, while still being riskier than any of the next 12 players ranked behind him.
Today, we're going to discuss which 2019 rookies have the most predictable range of outcomes.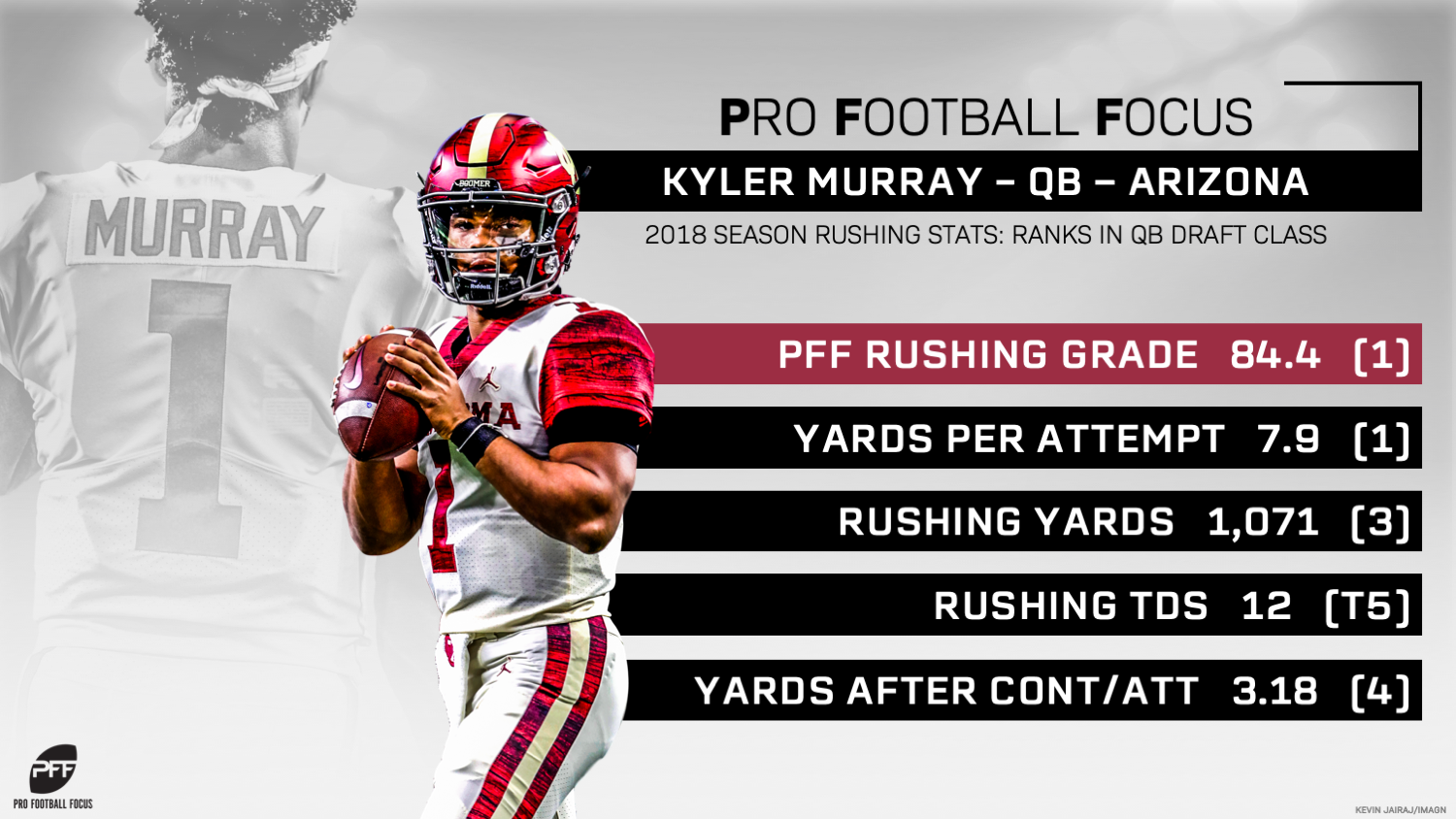 Rookie quarterbacks tend to be fairly unpredictable for fantasy, but we can expect borderline QB1 production from Murray as early as this season. Murray's mobility brings an added dimension to Arizona's offense and a borderline cheat-code to his fantasy owners. We discussed earlier this offseason how the "Konami Code" impacted fantasy leagues in 2018. Not only does rushing volume raise a passer's fantasy ceiling but it also raises their fantasy floor. For instance, Tyrod Taylor ranked 15th in fantasy points per game 2015-2017 but ranked top-10 in games with at least 18.0 fantasy points.
Typically, a rookie wide receiver landing in New England would cause pessimism, but with the team's newfound desperation for competent pass-catchers, I'm bullish on Harry's prospects, even in Year 1. After losing 195 targets from last season, following the losses of Rob Gronkowski, Chris Hogan, and (probably) Josh Gordon, Harry seems like a safe bet to be heavily targeted in his rookie year.
Jacobs was one of our most boom-or-bust prospects during the pre-draft process, but landed in an ideal situation. Namely, he landed with a head coach who plans on giving him as many touches as he can handle. Jon Gruden said last week, before RB Isaiah Crowell's season-ending injury, "My expectation for him — if you're listening, Josh — I encourage you to get some rest because we're going to run you a lot. We're going to give you a great opportunity."
Although Sanders and Montgomery are all over the place in rookie drafts, I don't think their range of outcomes is as disparate as they're being made out to be. At the very least they will be the lead backs for their respective teams, while their upside is slightly higher, as a potential three-down bell cow. Given the draft capital spent to acquire them, I think the former scenario is most likely.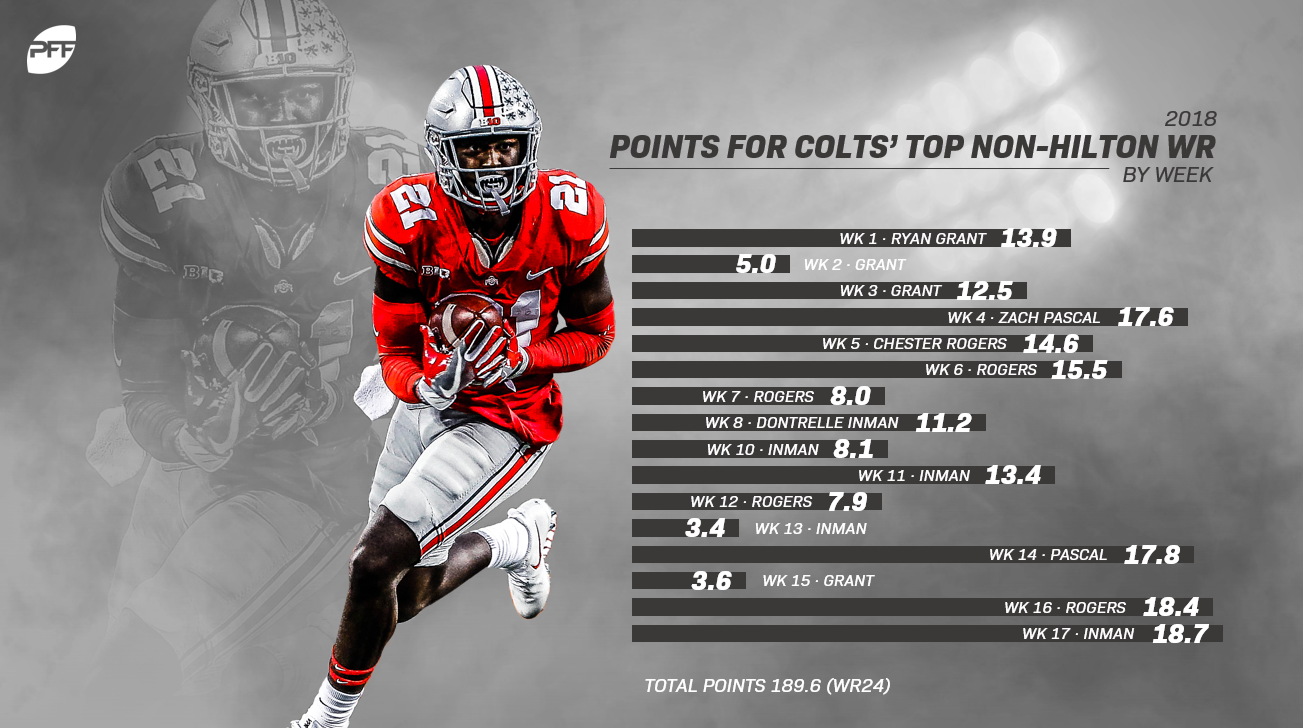 It's hard to imagine a scenario where Campbell doesn't immediately become a fantasy-viable option. In 2018, Indianapolis' weekly WR2 (by snaps) averaged 9.4 fantasy points per game, which would have ranked top-50 at the position. Campbell is more capable than any of the wide receivers who served that role last year, and more capable than Devin Funchess, who has underwhelmed throughout most of his career.
Fantasy tight ends tend to disappoint in their rookie seasons, and that may prove to be true for Fant in 2019, but I do think he'll prove to be one of the more dependable options at the position for the remainder of his rookie contract. Fant shouldn't be asked to block too much in Denver and doesn't have much competition in the way of targets. Emmanuel Sanders is 32 and coming off an Achilles injury and Denver's other wide receivers all graded poorly last season.
GM Rick Spielman made it clear after the draft how the team plans on using Mattison: He'll be the team's Latavius Murray replacement. For fantasy, that means, RB4 production on a week-to-week basis, or mid-range RB2-upside if Dalvin Cook were to suffer an injury.
Butler was a pre-draft dynasty darling but has suffered since due to poor draft capital (he was only the 14th wide receiver drafted) and an unideal landing spot. In Year 1, he's probably playing behind all of Larry Fitzgerald, Christian Kirk, and Andy Isabella, which makes his Year 1 range of outcomes predictable, but predictably low barring injury.
Oliver was one of the quiet winners on draft day, joining QB Nick Foles and OC John DeFilippo in Jacksonville. Foles has targeted tight ends on 23% of his attempts since entering the league (fourth-most of 31 qualifiers). In DeFilippo's only other full season as an offensive coordinator, TE Gary Barnidge ranked second at the position in targets (125) – his first career season with more than 25 targets. On top of all that, no other tight end currently on the roster has ever reached 250 yards in a single season. It might not come to fruition in his rookie year, but I'd bet Oliver is one of the more dependable options at the position over the next few seasons.