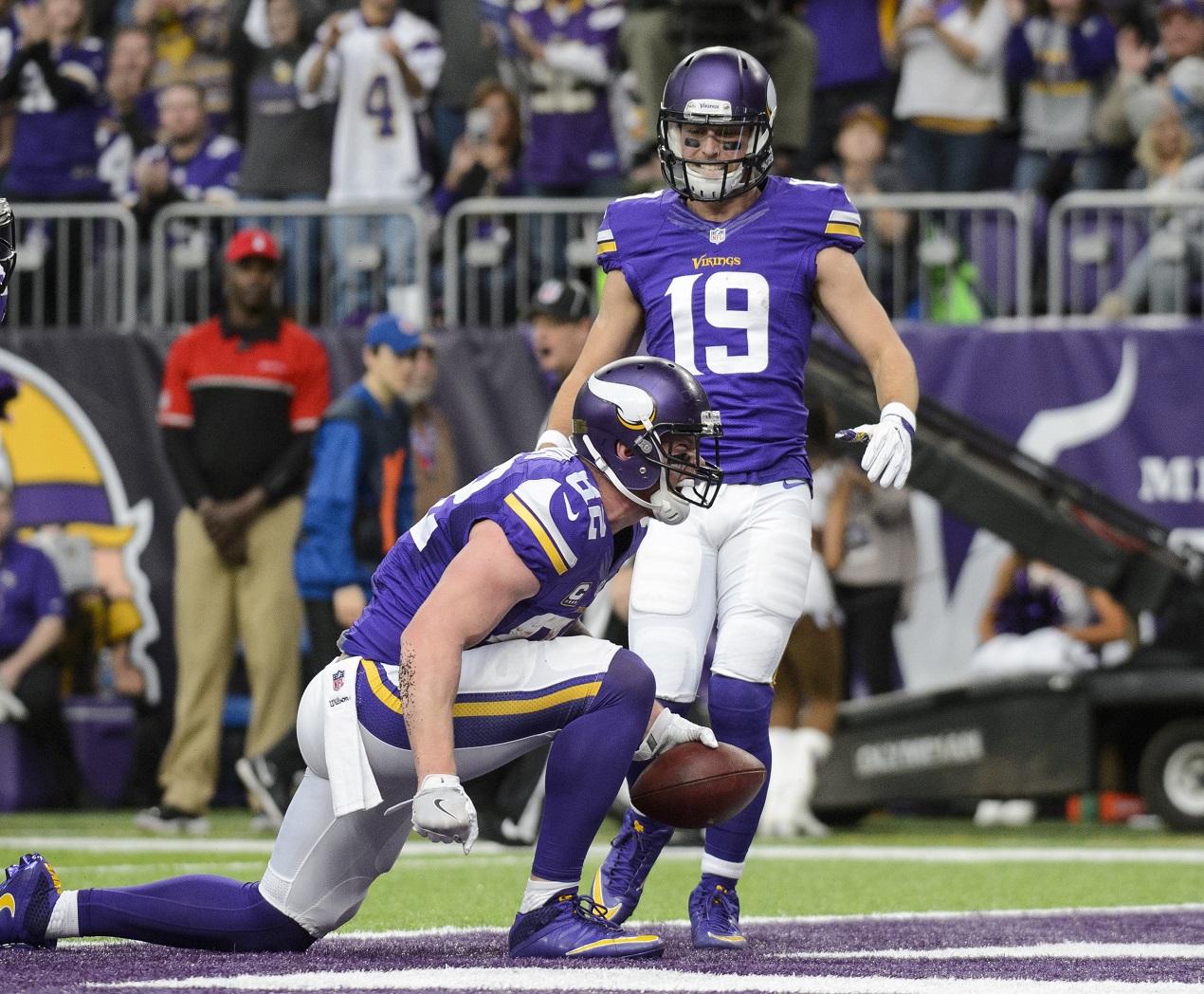 MINNEAPOLIS, MN - JANUARY 01: Kyle Rudolph #82 and Adam Thielen #19 of the Minnesota Vikings celebrate a touchdown against the Chicago Bears by Rudolph during the game on January 1, 2017 at US Bank Stadium in Minneapolis, Minnesota. (Photo by Hannah Foslien/Getty Images)
Around this time last year, the Vikings had to dramatically change course following the season-ending injury to Teddy Bridgewater. They quickly traded for Sam Bradford, and all things considered, the Vikings managed to finish a respectable 8-8. Offensive coordinator Pat Shurmur has a West Coast offense background from his time with Andy Reid, but also spent time with Chip Kelly. That combination of influences along with Tony Sparano's power run game has led some to speculate this Vikings offense could resemble a power spread system.
Team Offensive Stats

MIN
Rank
Lg Avg
Snaps/Gm
63.4
25
65.3
Pace (Sec/Sn)
24.92
21
24.28
Run %
37.5%
24
39.8%
Pass %
62.5%
9
60.2%
% Leading
34.6%
17
36.0%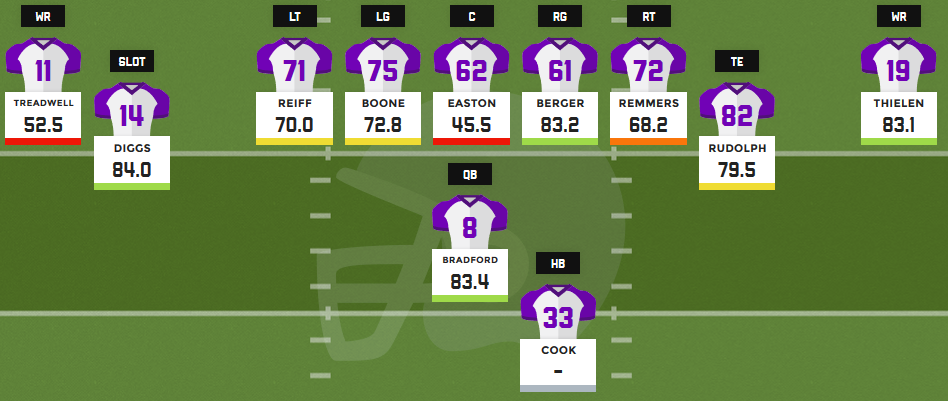 Quarterback
While he hasn't been able to materialize as a viable fantasy option, Bradford is coming off arguably his best season as a pro. A preseason trade thrust him into the Vikings lineup starting in Week 2, and he proceeded to complete a career-high 71.6 percent of his passes while throwing an interception on just 0.9 percent of his attempts. That's especially noteworthy given the patchwork nature of the Vikings offensive line. Despite his strong play, Bradford only managed four top-10 fantasy weeks and finished 23rd in fantasy scoring at the position. He's barely on the fringes of the QB2 radar this year.
Vacated Touches

2016 Touches
% Vacated
Carries
357
53.5%
Targets
548
29.4%
Total
905
38.9%
Running backs
For the first time in a very long time, the Vikings will enter a season without Adrian Peterson on the roster. To fill that void, the team drafted Dalvin Cook and signed veteran Latavius Murray to go along with incumbent Jerick McKinnon. Cook stands out as the most likely player to make a fantasy impact this year. The former Florida State standout fell to the second round of this year's draft, but arguably had first-round talent. He posted 1,000-plus rushing yards in all three of his college season, and last year he led the nation with 99 forced missed tackles. He's a capable receiver out of the backfield and has three-down potential. The two things holding Cook back are the Vikings offensive line – which the team did take steps to improve – and the potential for a committee with Murray getting short yardage work and McKinnon in on passing plays. Still, Cook's upside and potential for every-down duties are enough to consider him as an RB2 pick.

Murray isn't likely to threaten for the starting job, but he could usurp goal-line carries from Cook. While Murray put up double-digit touchdowns last season, he managed just 788 yards on the ground. That's just 4.0 yards per carry despite running behind one of the league's best offensive lines. Raiders teammates Jalen Richard and DeAndre Washington each averaged well over 5.0 yards per carry behind the same offensive line. Murray isn't likely to be a fantasy option this year. For that matter, neither is McKinnon. The perennial hype candidate floundered when given the opportunities for lead back touches last year and is well down on the depth chart.
Rushing Stats

MIN
Rank
Lg Avg
YPC
3.18
32
4.18
YCo/Att
1.99
31
2.43
YBCo/Att
1.18
30
1.76
Inside Zone
20.0%
23
26.0%
Outside Zone
15.3%
26
27.7%
Power
28.4%
4
9.5%
Man
12.9%
8
15.0%
Wide receivers
The Vikings currently have a couple of No. 2 wide receiver types on their roster in Stefon Diggs and Adam Thielen. Of the two, Diggs is the preferred fantasy option. He finished 30th among wide receivers in fantasy scoring last season and flashed serious upside with a No. 1 finish in Week 2. However, he was very inconsistent, and did little for fantasy owners down the stretch with an average finish of 55th among wide receivers during the fantasy playoffs. That inconsistency along with a somewhat capped season-long ceiling due to Bradford being under center makes Diggs more of a WR3 option this year.
Thielen was one of the bigger surprises at wide receiver last year. He topped 100 receiving yards three times, including his massive Week 12 outburst when he went off for 202 yards and two scores on 12 catches. Thielen finished a surprise 28th among wideouts in fantasy scoring, but his most productive weeks often came with Diggs sidelined – he had seven catches for 127 yards and a score in Week 5 and eight catches on 10 targets for 53 yards in Week 12. With Diggs on the field, Thielen is best viewed as a flex option.
Laquon Treadwell should emerge as the Vikings' third receiver, especially given Michael Floyd's most recent rules violation. Treadwell was the 23rd overall selection in last year's draft, but he ended up playing just 79 snaps and caught one ball on three targets for 15 yards. That's hardly what you'd expect from a first-round pick, but don't let his lack of productivity cause you to completely close the book on Treadwell. We can't conclusively say what he is as a pro just yet. Ideally, he'll serve as the No. 3 so we can get a long look for dynasty purposes. Treadwell isn't on the redraft radar, but he's an intriguing g buy-low candidate in dynasty leagues.
Wide Receiver Sets

%
Rank
Lg Avg
Throw%
Rk
Lg Avg
2-Wide
20.4%
23
24.5%
50.2%
9
45.0%
3-Wide
57.7%
14
55.5%
72.0%
3
66.1%
4-Wide
0.6%
22
2.9%
50.0%
27
81.6%
Tight end
Kyle Rudolph is coming off a career year where he posted a solid 83 catches for 840 yards and seven scores on 120 targets. In most fantasy scoring systems, that was good enough to place second or third among tight ends. That's by far his best finish of his career, with his previous high being 10th back in 2012. Better yet, it wasn't just a few big games that propelled Rudolph last year. He ranked as a TE1 in 9-of-16 games in standard scoring and 12-of-16 games in PPR. Despite the strong production, many fantasy drafters seem to be overlooking Rudolph this year. He's a rock-solid TE1 option who you can likely get at a nice discount on draft day.
Personnel Groupings

%
Rank
Lg Avg
Throw%
Rk
Lg Avg
11
56.0%
11
53.5%
73.1%
3
33.5%
12
11.3%
25
15.6%
64.3%
3
50.2%
21
8.2%
12
6.9%
33.7%
22
62.5%
(Keep up with all of PFF Fantasy's draft strategy and advice here!)