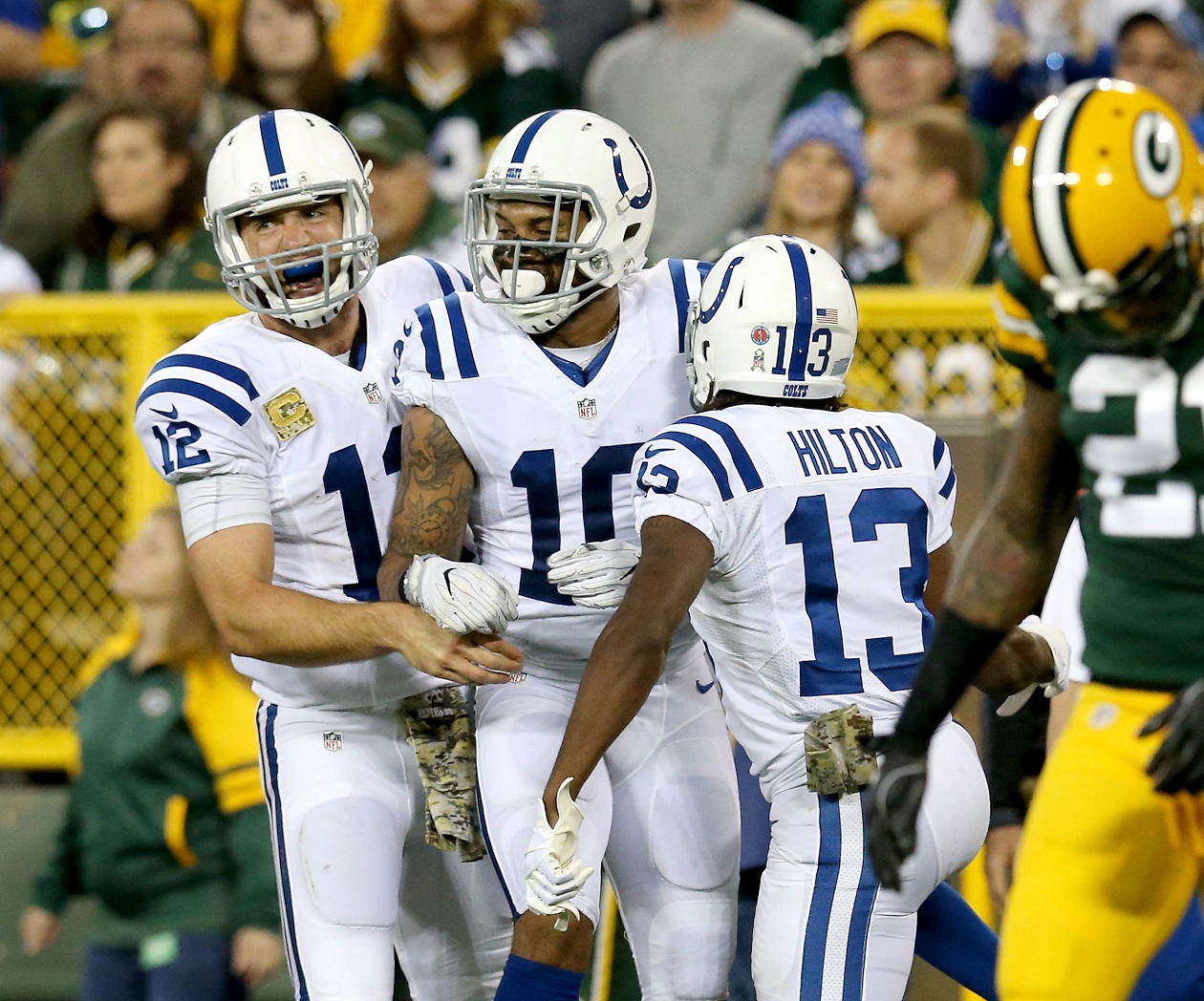 GREEN BAY, WI - NOVEMBER 06: Andrew Luck #12, Donte Moncrief #10, and T.Y. Hilton #13 of the Indianapolis Colts celebrate after scoring a touchdown as Ha Ha Clinton-Dix #21 of the Green Bay Packers walks off the field in the second quarter at Lambeau Field on November 6, 2016 in Green Bay, Wisconsin. (Photo by Dylan Buell/Getty Images)
Having a quarterback in the NFL is extremely important. The Colts know this very well, being that it was not having a competent signal caller – flashback to Curtis Painter – in the post-Peyton Manning era that helped them land Andrew Luck. Of course, Luck's ongoing recovery from offseason shoulder surgery will keep him out of action for Week 1 and likely longer, depressing the fantasy value of his teammates. Rob Chudzinski is back for his second full season as the Colts offensive coordinator. He runs an offense that head coach Chuck Pagano called "flexible and attacking."
Team Offensive Stats

IND
Rank
Lg Avg
Snaps/Gm
67.4
8
65.3
Pace (Sec/Sn)
24.21
14
24.28
Run %
37.9%
23
39.8%
Pass %
62.1%
10
60.2%
% Leading
36.8%
12
36.0%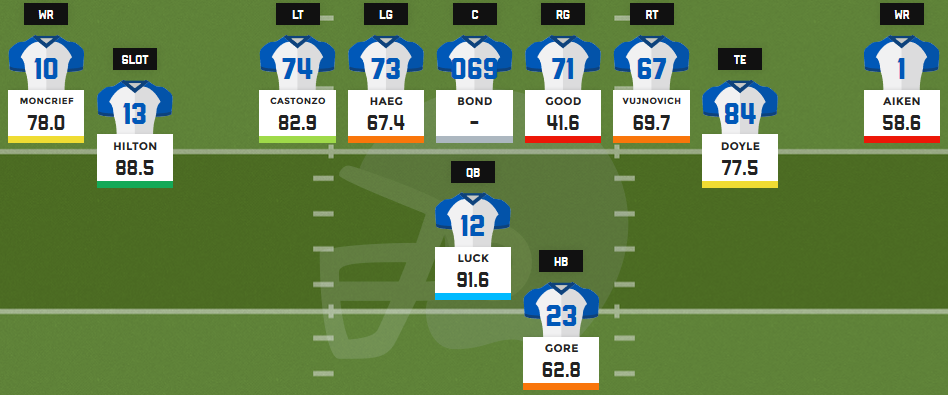 Quarterback
Luck has been removed from the PUP list, meaning the team expects him back sometime before Week 7. Exactly when, however, remains anybody's guess. It's a huge blow from a fantasy perspective, considering Luck was our No. 4-graded passer in 2016 and has never finished worse than eighth among QBs in fantasy scoring (excluding an injury-shortened 2015 season when he was sixth in fantasy points per game).
Scott Tolzien gets the nod in Week 1. Tolzien has played for three teams and made three starts since entering the league in 2012, with just two touchdowns and seven interceptions to his credit. It also bears mention that the Colts offensive line ranked dead-last in pass-blocking efficiency last season, and they'll open the season with the Rams and Cardinals, two of PFF's top-graded pass-rushes.
The team also recently traded wideout Phillip Dorsett to New England for Jacoby Brissett, who completed 28-of-39 passes for 341 yards with five total touchdowns in the Patriots' preseason finale. Depending on how quickly Brissett can get up to speed, he provides another option in case Tolzien sputters and/or Luck ends up missing extended time.
Vacated Touches

2016 Touches
% Vacated
Carries
344
2.6%
Targets
537
10.1%
Total
881
7.2%
Running back
Frank Gore is 34 years old and coming off the ninth 1,000-yard rushing season of his career. However, he averaged just 3.9 YPC and 2.06 yards after contact, as his 15.7 elusive rating ranked 52nd out of 53 qualifiers. He still tops the depth chart, although it's fair to wonder for how long. The Colts generated the sixth-most yards before contact last season (2.07) with the highest team ratio of rushing yards before contact (51.9 percent), meaning the RBs essentially got what was blocked and not much more.

Journeyman Robert Turbin is the No. 2, but he averaged only 3.5 YPC and is more of a passing-down back. Don't sleep on Marlon Mack, the team's fourth-round rookie out of USF. Mack, who ranked fifth in this year's RB draft class in breakaway percentage (52.3), drew praise from Pagano throughout the offseason program. He then turned in a ridiculous 217.8 elusive rating on 15 preseason touches, forcing eight missed tackles and averaging 4.08 yards after contact. The Colts apparently saw enough to hold Mack out of the preseason finale.
Rushing Stats

IND
Rank
Lg Avg
YPC
3.98
21
4.18
YCo/Att
1.91
32
2.43
YBCo/Att
2.07
6
1.76
Inside Zone
32.0%
5
26.0%
Outside Zone
29.3%
13
27.7%
Power
8.3%
21
9.5%
Man
4.6%
28
15.0%
Wide receivers
T.Y. Hilton led the league with 1,448 receiving yards in 2016 and has finished inside the top-24 fantasy WRs each season since 2013. However, he has never scored more than seven TDs in a season, and during the nine games that Luck missed in 2015, Hilton averaged only four catches for 64 yards and scored twice. He's the WR26 in our consensus Week 1 PPR rankings, illustrating just how much his value falls without Luck.
Donte Moncrief has cracked 70 receiving yards only once in his last 20 games, and last year he averaged only 5.7 yards per target (118th among WRs). Moncrief has said he wants to make more of an impact after the catch this season, and he did take a short screen from Tolzien in the Colts' third preseason game and avoided a tackle for a 55-yard gain. Still, his fantasy value is largely tied to touchdowns, and since 2015, Moncrief has found the end zone in 11 of the 15 games he and Luck have been on the field together.
After dealing former first-rounder Phillip Dorsett, the Colts will look to Chester Rogers and Kamar Aiken to provide depth. Rogers caught 19 passes as a rookie out of Grambling State last season, while Aiken has been a non-factor since notching 75 catches for 944 yards for the injury-ravaged Ravens in 2015.
Wide Receiver Sets

%
Rank
Lg Avg
Throw%
Rk
Lg Avg
2-Wide
28.4%
10
24.5%
49.0%
11
45.0%
3-Wide
52.7%
22
55.5%
67.8%
14
66.1%
4-Wide
0.0%
31
2.9%
0.0%
31
81.6%
Tight end
Jack Doyle played 748 snaps last season and drew 72 targets, scoring five TDs. Dwayne Allen and Erik Swoope combined for 855 snaps and 69 targets, with seven TDs. Allen was traded to New England during the offseason, and Swoope (knee) will miss at least eight weeks after recently landing on injured reserve. In other words, Doyle is going to eat. Doyle's ADP has shot up a full round since mid-August, when he was a fringe TE1 in our staff's season rankings. Still, like the rest of the Colts' skill-position players, Doyle will eagerly await the return of Luck to unlock his full potential. Indianapolis signed Brandon Williams to add some depth.
Personnel Groupings

%
Rank
Lg Avg
Throw%
Rk
Lg Avg
11
51.7%
20
53.5%
67.6%
17
33.5%
12
28.3%
1
15.6%
49.2%
17
50.2%
21
0.1%
28
6.9%
0.0%
32
62.5%
(Keep up with all of PFF Fantasy's draft strategy and advice here!)