We're back again for our weekly check-in on streaming defense/special teams options in fantasy football. We can't all be so lucky and own the New England Patriots defense and their 173 fantasy points, which ranks eighth-most among all players at all positions. Without any exaggeration, they're one of the three most valuable assets in fantasy football this year. And, I'm sure, not all of you listened to me earlier in the year and held onto San Francisco's defense — a likely top-three defense all year. Owners of the Bears' and Rams' defenses are probably fine, but for everyone else, you may want to consider streaming defenses.
Earlier this offseason, I recommended this approach, and outlined my preferred strategy for streaming defenses week-to-week. Obviously, we're looking to target good defenses against bad or inexperienced quarterbacks. Bonus points are awarded to defenses heavily favored and/or playing at home. Beyond that, the stats that matter most are opposing passer rating vs. passer rating and sacks per dropback vs. sacks per dropback allowed.
Each week in this space we'll be looking at the top team defenses available on your waiver wire (roughly 50% owned or less on Yahoo) to add for the upcoming week.
Here are the defenses you should be looking to add in Week 9:
@ Denver Broncos (-1.0)
Joe Flacco will be sitting out Week 9, which means Brandon Allen will be making his first career start against the Browns. Allen, a sixth-round pick in 2016, has never taken a regular-season NFL snap. On 258 career preseason dropbacks, against NFL second- and third-stringers, Allen totals a 70.9 passer rating, while averaging one sack every 18.4 dropbacks and one interception every 20.5 pass attempts. Cleveland's defense hasn't been anything special this year, but they do rank fifth-best in sacks forced per dropback (8.6%), implying an especially favorable matchup against a Denver offensive line that ranks fourth-worst in sacks allowed per dropback (9.2%).
@ New York Giants (-7.0)
Dallas' defense hasn't done much from a fantasy perspective, but they are our 12th-highest-graded defense this year. They're also heavy favorites in a near-perfect matchup. The Giants are turning the ball over on a league-high 21.6% of their offensive drives. Since his first start, Daniel Jones is averaging 3.0 sacks, 1.0 interceptions, and 1.0 fumbles per game. Over this span, the Giants rank third-worst in fantasy points per game (13.0) allowed to opposing defenses. As 7.0-point favorites, expect Dallas to finish the week as a top-six fantasy defense.
@ Miami Dolphins (-5.0)
Pretty much every time a defense is less than 50% owned and playing against the Dolphins, you're going to be seeing their name near the top of this column. That's because Miami's offense is giving up the most fantasy points per game to opposing defenses (16.7). In fact, "opposing defenses versus Miami" are outscoring every team defense but the Patriots. New York's defense is also a little bit better than you'd think, ranking 17th in fantasy points per game (7.6) and 13th in team defense grade (72.9).
vs. Tennessee Titans (-3.5)
Unlike any of the other defenses we've mentioned today, Carolina could be an every-week starter moving forward, and a top one at that. Carolina ranks third in fantasy points per game (10.9), third in sacks forced per dropback (9.8%), third in turnovers forced per game (2.4), and fourth in passer rating allowed (78.6). On top of that, they also have a top matchup, against a Tennessee offense that is giving up the 11th-most fantasy points per game to opposing defenses (8.3). Tennessee also ranks second-worst in sacks per dropback (11.7%) and seventh-worst in points scored per game (18.5).
vs. Tampa Bay Buccaneers (-6.5)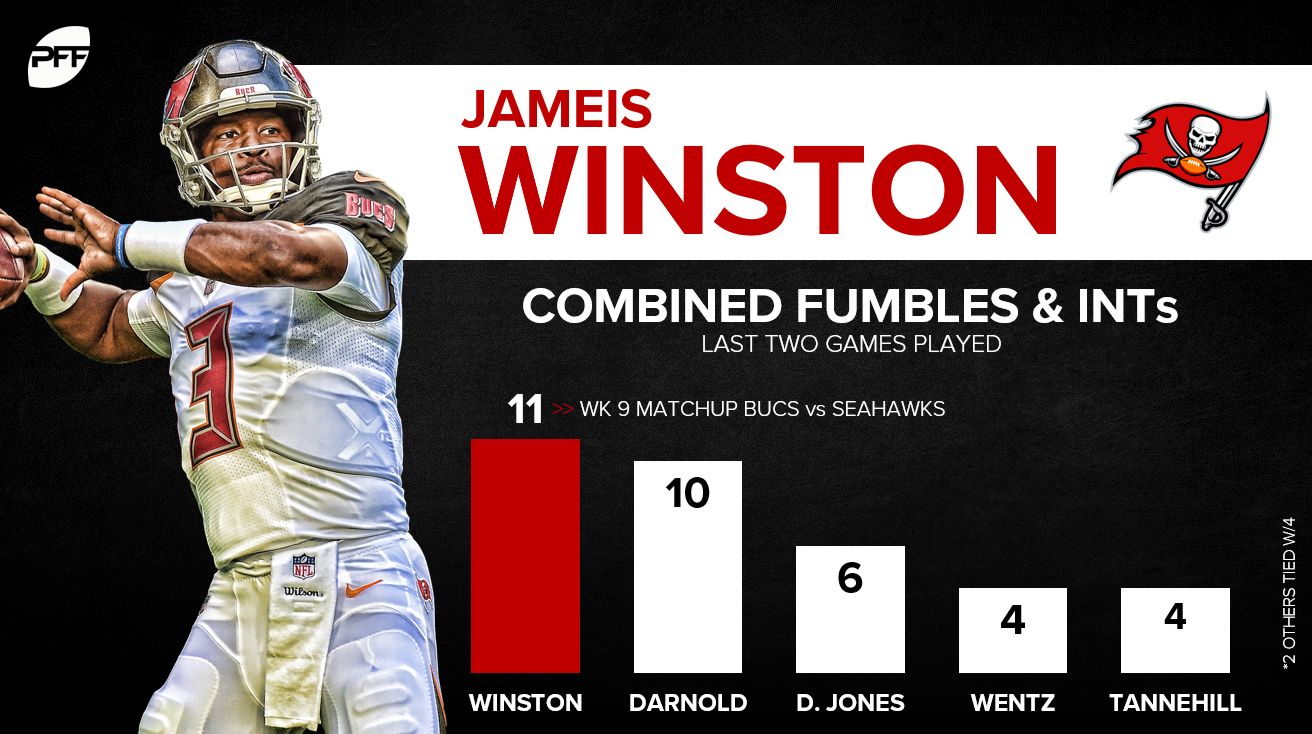 In 2019, Seattle's defense isn't anywhere near as menacing as the Legion of Boom defense that dominated for much of the 2010s, but they are competent enough to be ranked within the top-10 this week, thanks to a near-perfect matchup. Tampa Bay's offense is giving up the third-most fantasy points per game to opposing defenses (12.2). They also rank worst in turnovers per game (2.4) and third-worst in sacks allowed per game (4.0). This is also nothing new for Tampa Bay's offense, as Jameis Winston leads all quarterbacks in turnover worthy throw percentage this year, and ranks bottom-10 all-time in era-adjusted interception percentage.
Looking ahead: The Colts (47%) play the Dolphins at home in Week 10.