Drafting a defense at the very end of your fantasy football draft is the best approach to the position, but it does mean more work throughout the season, streaming defenses based on matchups all year long. And if you did that, you've come to the right place.
Earlier this offseason, I recommended this approach, and outlined my preferred strategy for streaming defenses week-to-week. Obviously, we're looking to target good defenses against bad or inexperienced quarterbacks. Bonus points are awarded to defenses heavily favored and/or playing at home. Beyond that, the stats that matter most are opposing passer rating vs. passer rating and sacks per dropback vs. sacks per dropback allowed.
Each week in this space we'll be looking at the top team defenses available on your waiver wire (roughly 50% owned or less on Yahoo) to add for the upcoming week.
Here are the defenses you should be looking to stream in Week 2.
vs. Jacksonville Jaguars (-9.5)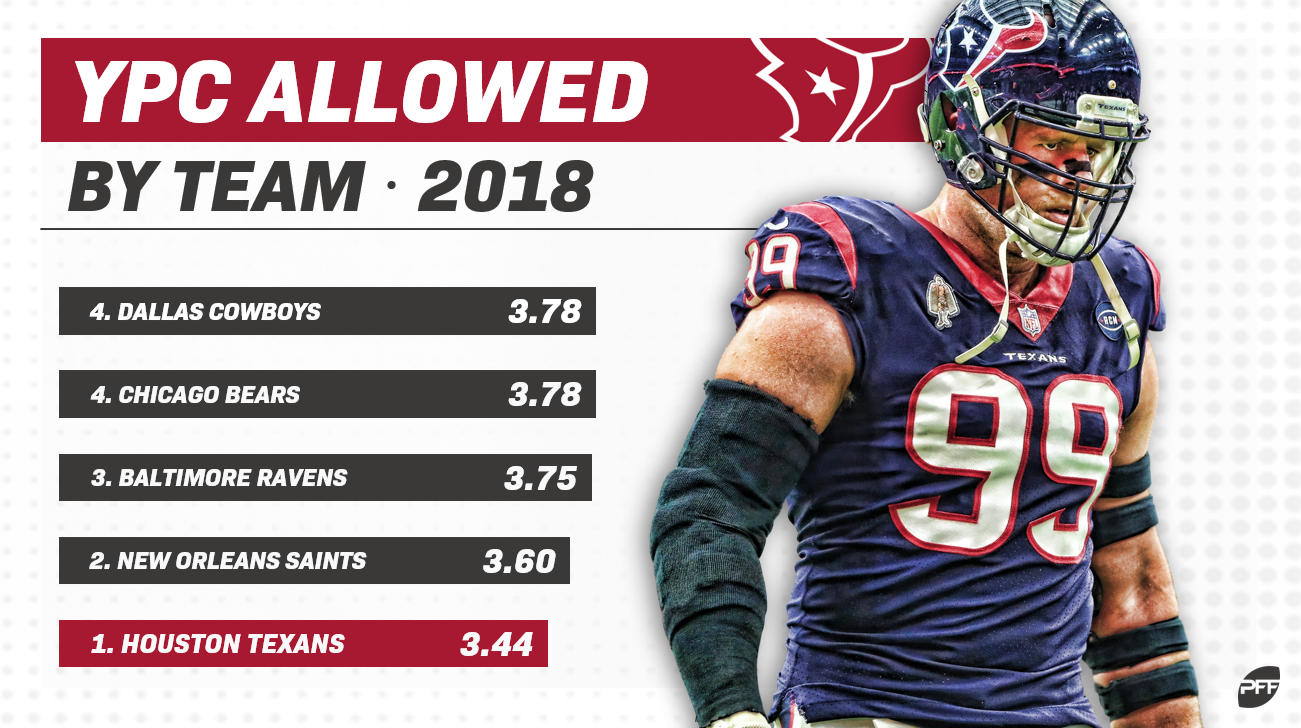 Jacksonville will be without starter Nick Foles in Week 2. Although Gardner Minshew was awesome in Week 1, completing all 22 of his non-dropped passes for 275 yards and two scores, he's still an inexperienced and unheralded Round 6 rookie quarterback. Houston checks all of the other boxes as well, playing at home, heavily favored (-9.5), with a top-five pass rush, and matching up well against Jacksonville's best offensive threat (Leonard Fournette) – they led the league in yards allowed per carry last year (3.44). They're your No. 1 waiver target this week.
vs. Tampa Bay Buccaneers (-6.5)
Jameis Winston is who we thought he was. Last season, the 49ers intercepted just two passes all year, the fewest by any defense in NFL history. Against the 49ers last week, Winston threw three interceptions, and two for touchdowns. Over the past two seasons, the Buccaneers are averaging 9.4 fantasy points per game allowed to opposing defenses, which would rank best of any defense over this span. Carolina is at home this week, heavily favored (-6.5), and coming off of a solid Week 1 performance, holding Jared Goff and the NFC Champion Rams to just a 69.0 passer rating (sixth-best on the week).
@ Oakland Raiders (-9.5)
The Chiefs are not a good defense on paper, but they are heavy favorites (-9.5) this week, and that sort of gamescript is always beneficial for a team's fantasy defense. Last season, the Chiefs averaged 9.9 fantasy points per game in games won by seven or more points (10 such games). Only the Bears averaged more fantasy points per game last year (10.0). The Antonio Brown-less Raiders did look impressive in a tough Week 1 matchup, but I'm still ranking them as one of the top-10 offenses to target on a weekly basis.
vs. Indianapolis Colts (-3)
The Titans have only a good-not-great matchup this week, as 3.0-point home favorites against Andrew Luck's replaceent. However, they might have better odds of turning into an every-week starter than any of the defenses we've already discussed. Tennessee led the NFL in sacks on Sunday, recording five on quarterback Baker Mayfield, who was sacked just three times over his previous seven games. Mayfield ended the game with a 64.0 passer rating, the worst game of his career. Jacoby Brissett, meanwhile, led the league in sacks in 2017 (52).