The Titans are in a dog fight with the Colts for the AFC South crown, and the franchise appears to be well on its way to locking up its fifth-straight season with at least nine wins. Ryan Tannehill and the offense deserve most of the credit; the Titans rank third in points per game and 25th in points per game against. The offense (No. 10) was also better than the defense (No. 12) during their AFC Championship run in 2019, although the disparity has grown.
The main difference between the 2019 and 2020 Titans offense hasn't been the play of Tannehill; he's remained anyone's idea of a top-10 fantasy and real life QB. We also haven't seen a drop off in performance from Derrick Henry, who has a very real chance to become the NFL's first ever back-to-back rushing triple crown winner (rush attempts, rush yards, rush TD).
Subscribe to
Even A.J. Brown hasn't been all that different in 2020 than he was in 2019. The exceptionally talented second-year receiver is the WR12 in PPR points per game through 13 weeks and has continued to be an every-week source of breathtaking plays.
90 seconds of A.J. Brown being an absolute beast pic.twitter.com/keiRkypuBk

— Ian Hartitz (@Ihartitz) November 24, 2020
No, the real difference between the 2019 and 2020 Titans offense has been the presence of a second elite WR: Corey Davis. The former No. 5 overall pick of the 2017 draft has gained at least 60 yards and/or scored in all but one game this season. Previously, Davis had reached these thresholds in just 12 of 47 career games. There were plenty of flashes along the way; Davis (5-63-2, 7-125-1) saved two of his three finest performances in the 2017-2019 seasons for all-world No. 1 CB Stephon GIlmore and the Patriots.
Still, Davis has done more than just flash in 2020: He's truly emerged as one of the position's most efficient talents:
PFF receiving grade: 90.3 (No. 4 among 64 WRs with 50-plus targets this season)

Yards per route run: 2.79 (No. 3)

Yards per target: 11.4 (No. 3)

PPR points per game: 15.7 (No. 17)
Give credit to Davis for having just one drop all season and not fumbling, two categories which his teammate AJB has had some trouble with.
Both AJB and Davis can be started with confidence throughout the fantasy football playoffs. Again, both are top-17 scoring WRs on a per-game basis this season. The Titans finish with smashable matchups against the Jaguars (No. 28 in PPR points per game allowed to WRs), Lions (No. 23) and Packers (No. 7). Throw in the reality that their rather porous defense has led to shootout game scripts more weeks than not this season, and it's easy to see there being enough pass-game volume to go around for both stud receivers. This is particularly true with slot WR Adam Humphries (concussion, IR) being out of the picture.
Of course, the world we live in necessitates that we argue over which Titans WR is better. Davis has out-performed AJB in most efficiency metrics this season, except those that revolve around finding the end zone. I believe in valuing TDs more than yards when attempting to compare players, but ultimately that's just my preference.
If we really want to decide whether Brown or Davis is better, we should take the largest and most-relevant sample size available and compare them in a variety of metrics. It seems unfair to pin the first three years of Davis' career against him considering the generally erratic play under center from Marcus Mariota. It's also tough to ignore what happened during the second half of 2019 considering pretty much all the same parties were involved.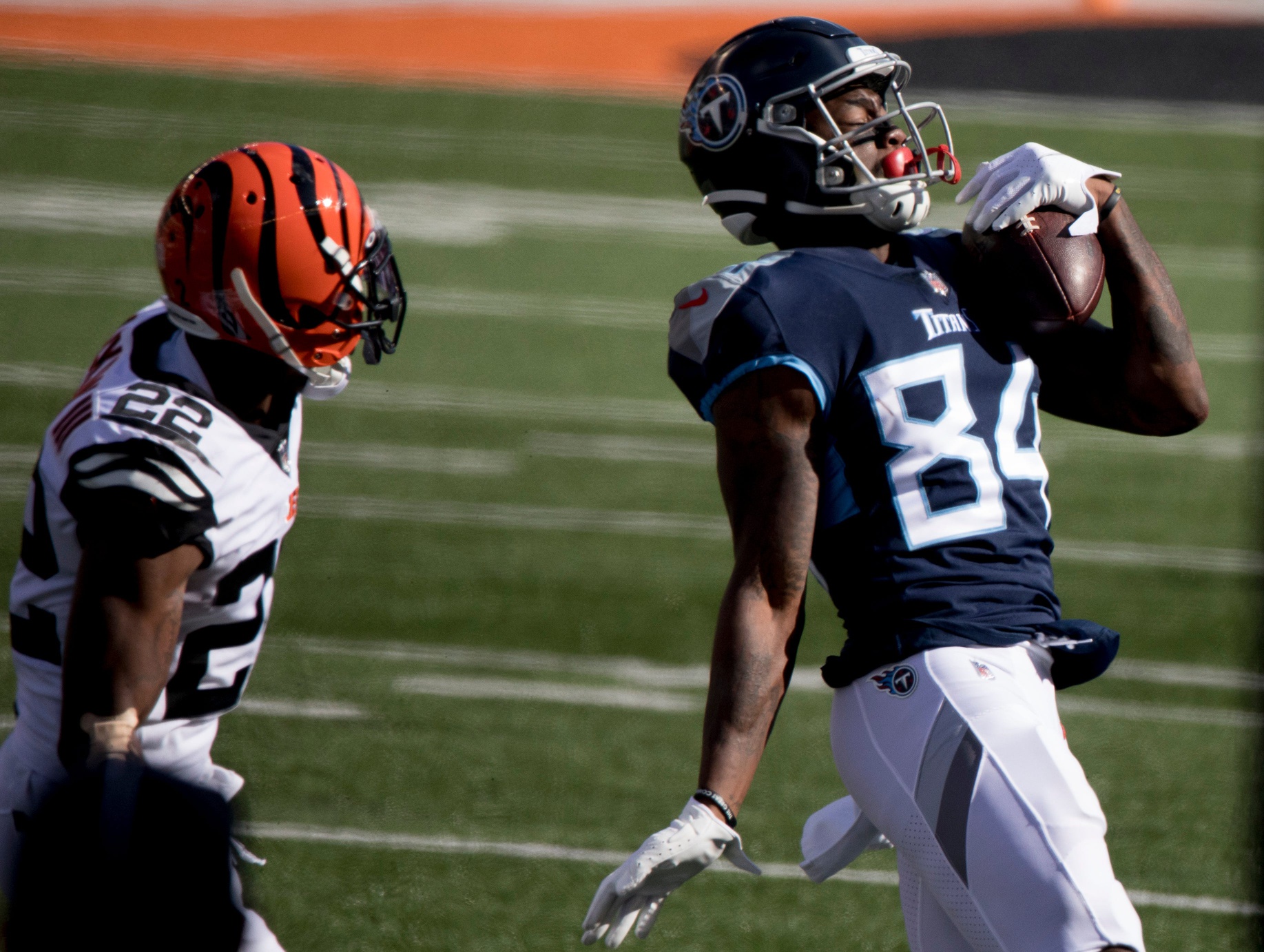 We'll stick to the Tannehill era, which comprises 13 total starts in 2019 (including playoffs) and 12 in 2020.
Both receivers have been banged up over the past two seasons. AJB missed two games in 2020 due to an ongoing knee issue as well as additional practices with hip and most recently ankle injuries. Davis missed one game last season due to a hip injury and was questionable for the 2020 season opener with a hamstring issue before missing a pair of games with covid. Brown has played one additional game than Davis with Tannehill under center, although he inexplicably didn't actually receive a start with Tannehill under center until Week 10 last season. 
We're talking about truly even playing time opportunity here, and Brown has dominated:
Targets: Brown (138); Davis (121)

Receptions: Brown (87); Davis (86)

Receiving yards: Brown (1,567); Davis (1,233)

Total TDs: Brown (16); Davis (6)

Drops: Brown (7); Davis (3)
Things also haven't been particularly close on an efficiency basis. Note that Brown (12.6) and Davis (12.9) have very similar average target depths, but the former receiver has consistently made better use out of his opportunities:
PFF receiving grade: Brown (88.4); Davis (86.1)

Yards per reception: Brown (18.0); Davis (14.3)

Yards after the catch per reception: Brown (8.3); Davis (4.4)

Yards per route run: Brown (2.47); Davis (2.14)

Yards per target: Brown (11.4); Davis (10.2)
I agree with the general consensus that Davis looks like a more natural pass-catcher and smother route-runner at times. That could also be a factor of having been alive for an additional 2.5 years. However, the true differentiator has been their respective ability with the ball in their hands. Brown has forced 28 missed tackles during this sample; Davis has 26 forced missed tackles in his career.
The last argument we should consider is what opponents have done against these receivers. After all, who cares what I think, let's see who actual NFL defensive coordinators have decided to assign their No. 1 CB to over the past two seasons. Neither Brown nor Davis have faced a shadow matchup in 2020 when both were healthy. Last season, Davis drew preferential treatment in Week 1 and Week 7, but it was Brown that squared off with Marshon Lattimore in Week 16 and saw the most of Stephon Gilmore in the Wild Card round.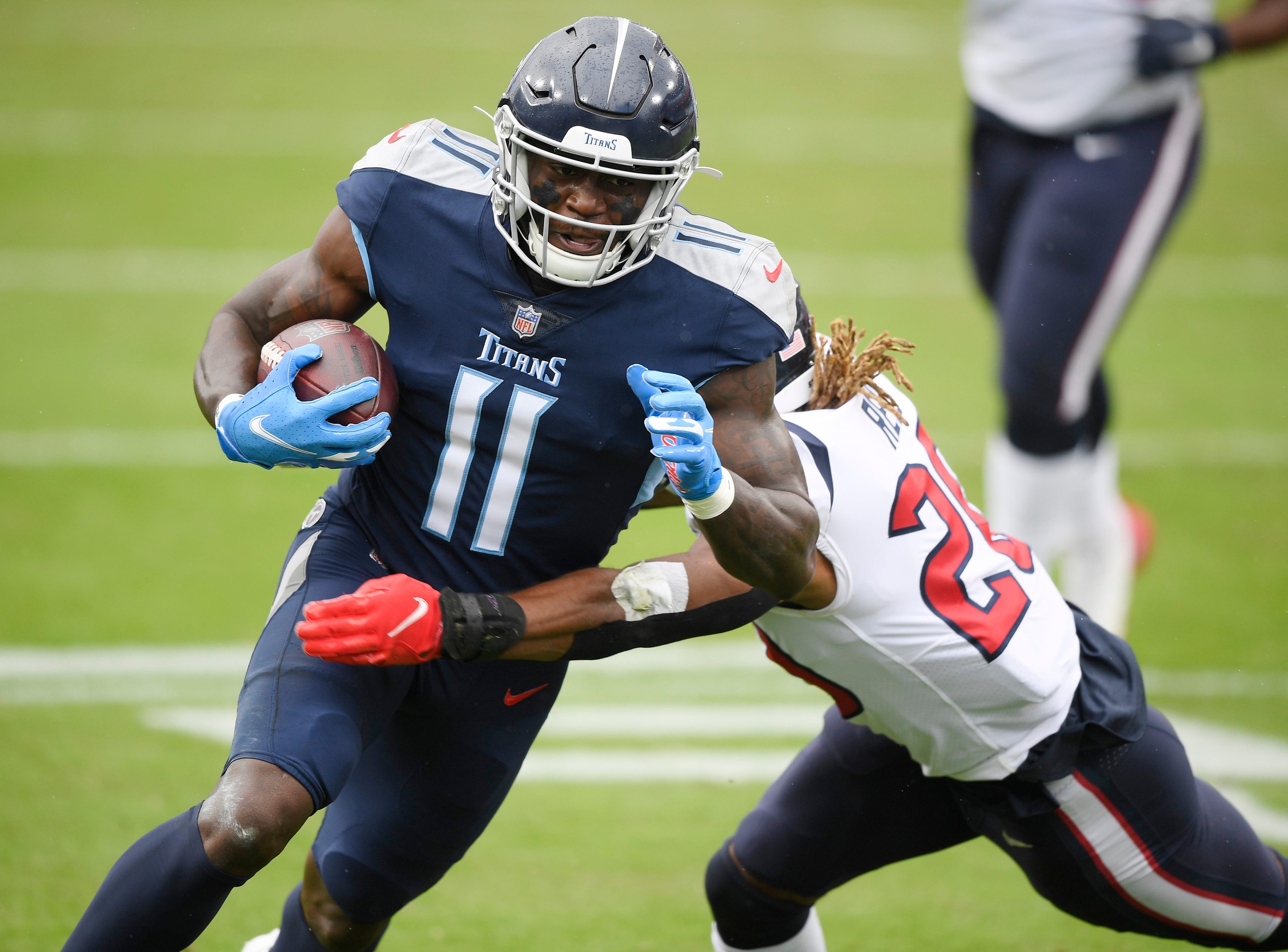 However, overall coverages do seem to generally be rotating Brown's way in 2020. Davis has more targets than Brown in single coverage this season, while AJB has doubled up the fourth-year talent in pass-game opportunities involving two defenders nearby. We've seen the Titans design more targets to go to Brown (57) than Davis (51) on Tannehill's first read, although perhaps it's telling that the latter receiver has 10 more targets than the former on all other pass types. It's again Brown who leads the way in targets when considered open or wide open, but that could be more of a testament to route-running ability than defensive attention.
Basically, it's a wash with a slight lean toward defenses probably prioritizing Brown a bit more.
We always go through this rather ridiculous exercise in fantasyland whenever a team has two great WRs. Robert Woods vs. Cooper Kupp, D.K. Metcalf vs. Tyler Lockett, Mike Evans vs. Chris Godwin, Julio Jones vs. Calvin Ridley, Adam Thielen vs. Justin Jefferson, the list goes on and on. Usually the answer between who is better doesn't really matter; both studs are often high-end fantasy assets and we're essentially arguing over a small ranking discrepancy.
That is also the case with Brown and Davis. AJB is objectively and subjectively better only because he's that fooking good compared to almost any other WR in the league. There have not been 10 better receivers than Brown over the past two seasons. Period. The fact Davis has even been in the same ballpark during this span is a testament to his own high-end talent, improvement and chemistry with Tannehill.
The answer to Brown vs. Davis is Brown, but it's close enough to not matter in fantasy and real life alike. Fantasy football managers as well as the Titans organization and their fans should be thankful to be associated with both WRs — all either has done for the better part of the past two years is ball the hell out. It's always AJB WR1 szn, but that doesn't mean CD WR2 szn business can't be booming as well.