The Buffalo Bills may not have one of the most prolific offenses in the league, but there are some things to get excited about here for fantasy purposes. Josh Allen is coming off a breakout fantasy year and now has an additional weapon following the recent trade for Stefon Diggs. Let's take a look at what our first batch of 2020 fantasy football projections have to say about the Buffalo offense.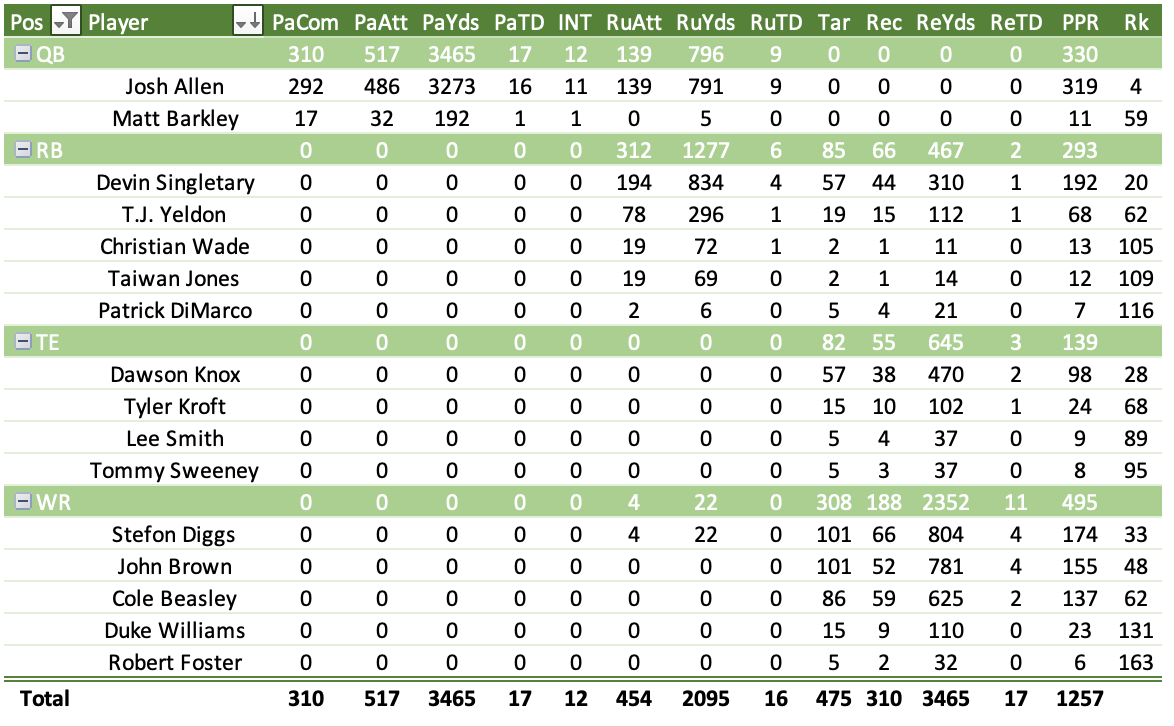 The value of a mobile quarterback simply can't be understated in today's fantasy football. Allen projects out a lowly 28th in passing yards but comes in as the No. 4 fantasy signal caller in our initial projections thanks to his prowess on the ground. Only Lamar Jackson projects to have more rushing yards, and Allen's nine projected rushing scores leads all quarterbacks. 
It may seem a bit extreme to have Allen this high, but the numbers aren't really that bold when you consider that he finished sixth at the position last season and had six top-10 fantasy weeks in 2018. In fact, Allen led all quarterbacks in fantasy scoring over the final six weeks of the 2018 season. Of course, Allen is far from the safest fantasy option, so he's slightly lower at QB7 in our fantasy football rankings, but regardless his high weekly fantasy ceiling makes him a very appealing fantasy option if you can get him at the right price.
Allen's value is also helped by the Diggs trade. The veteran wideout saw a major decrease in volume this past season with the Vikings, going from 149 targets in 2018 to just 94 last year. But this reduction wasn't Diggs' fault. Minnesota transitioned to an extremely run-heavy offense, so there simply weren't a lot of balls to go around. Unfortunately, he lands in another run-heavy system in Buffalo, and our numbers don't expect him to see a major uptick in targets. 
Diggs will also have to share the workload with John Brown, who we have projected in a 1 and 1A situation with Diggs. With only 517 projected passing attempts (25th in the league), there's only enough volume for both receivers to barely crack triple-digit targets. To be clear, both Diggs and Brown have weekly upside given Allen's propensity to throw the ball downfield, but consistency will likely be an issue. At WR33, Diggs projects well below his current ADP as the No. 21 wideout in current best ball drafts. Likewise, the public is more bullish on Brown than our numbers, with him currently coming off the board at WR35.
There was fantasy excitement for Devin Singletary coming out of last season, but the offseason rumor mill threw a bit of water on that fire with the rumblings that Buffalo was interested in Melvin Gordon. That move didn't go down, but there's a chance the Bills could add to their running back stable in the draft. For now, we have Singletary with a respectable 238 touches. Our numbers don't see a major uptick in his touchdown production, with just five total projected scores after he posted four last season. As of now, Singletary's projection is aligned with his current ADP at RB20. 
[Find the full collection of analysis and insights on PFF's 2020 fantasy football projections for all 32 NFL teams. Check back as more articles will be added each day.]