Each week in this space, we'll be taking a look back at Sunday's games to find five of the most interesting or most important stats for fantasy football owners. With 12 of 13 games from NFL Week 11 in the books, here are the five stats you need to know:
1. Lamar Jackson had 27 rushing attempts on Sunday, which was the most by any quarterback in 65 years, or the second-most all-time.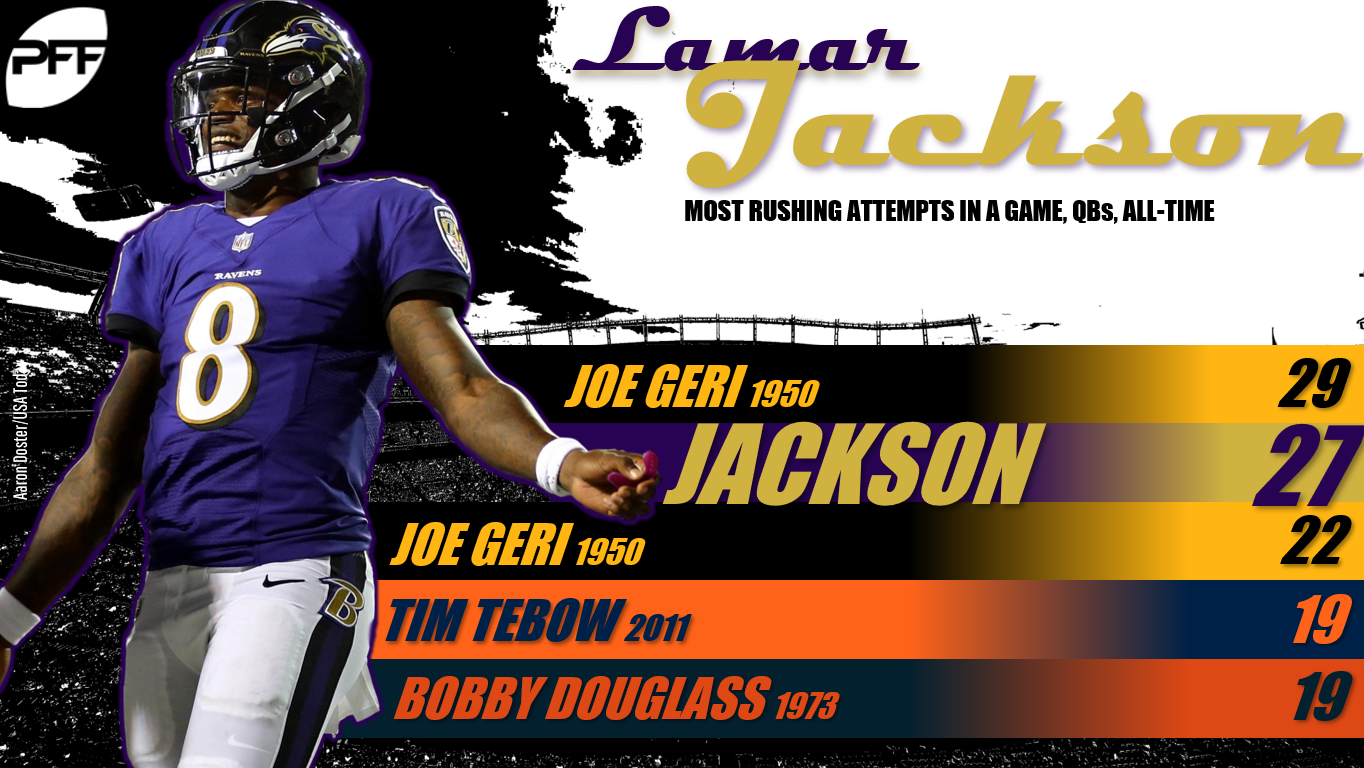 In his first career start, Jackson ran for 117 yards, while adding 150 yards through the air (on 19 attempts). Although he never found the end zone (and did record an interception), this was good for 16.7 fantasy points, or low-end QB1 numbers (currently). As I tried to show here, due to Jackson's talents as a runner (Jackson averaged 108.7 rushing yards per game throughout his college career), he has a massive floor in most games and an upside that's sky-high when everything comes together. I'd guess that this week's game was closer to the low-end of Jackson's range of outcomes. I suspect I'll have him ranked as a fringe-QB1 in most games he starts moving forward, though Joe Flacco may soon reclaim his starting job.
Bonus Baltimore stat: You might have missed it, but it appears Gus Edwards has supplanted Alex Collins as the team's lead running back. On Sunday, Edwards out-snapped Collins 49 to 17, out-touched him 17 to seven, and out-ran him by 97 yards (115 yards to 18).
2. D.J. Moore totals 80 more yards from scrimmage than Devin Funchess (596 to 516), on 21 fewer opportunities (47 to 68). Moore now ranks second of 103 qualifying wide receivers in yards per opportunity (12.3). Despite having played in 47 fewer career games, Moore has the same number of games with at least 100 yards from scrimmage (two) as Funchess.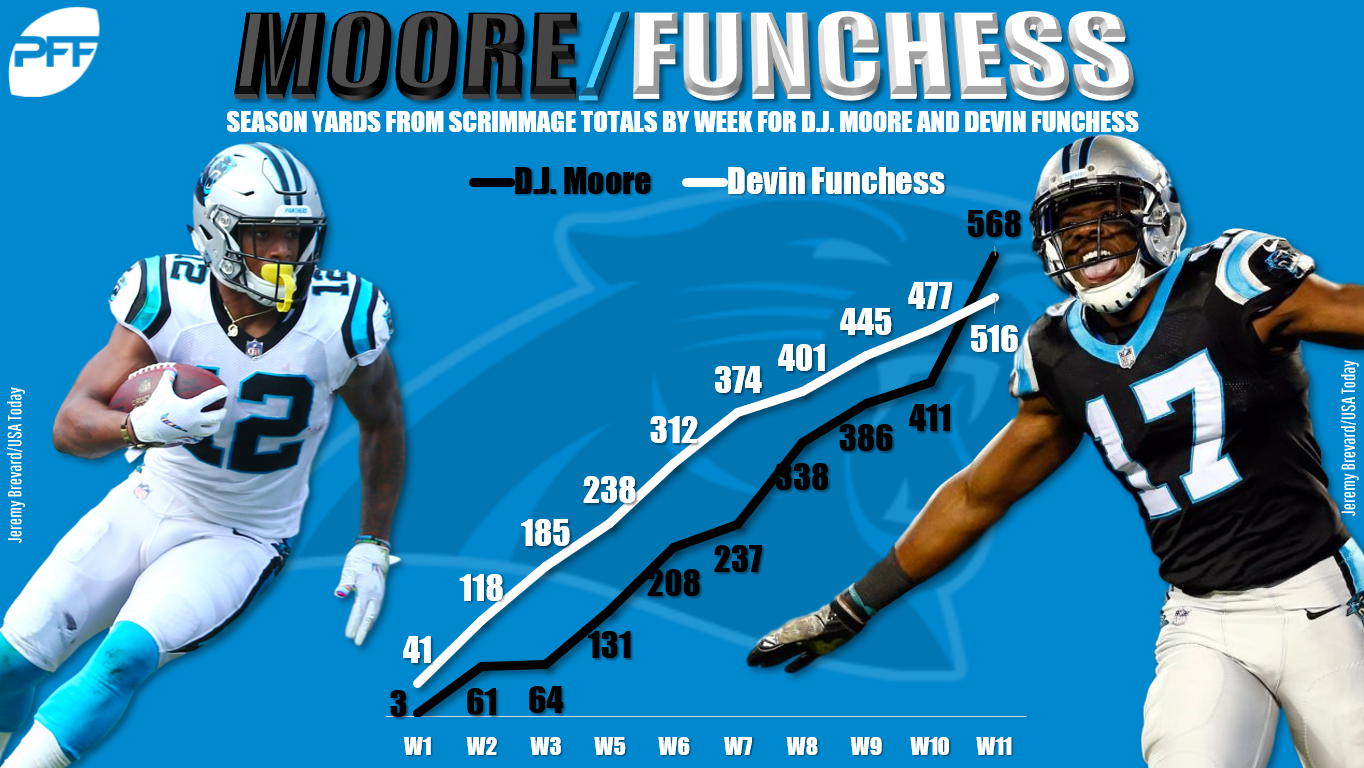 On Sunday, Moore – Carolina's first-round pick earlier this year – totaled seven receptions for 157 yards and a touchdown. Funchess, on the same number of targets (eight), totaled two catches for 39 yards. Granted, Funchess had the much tougher cornerback matchup this week (with Darius Slay in shadow coverage), while Moore had our top matchup via the WR vs. CB matchup chart, but still, I wouldn't be surprised if Moore soon supplants Funchess for WR1 status in Detroit. In fact, I'd rather own Moore than Funchess for the rest of the season. Remember, rookie wide receivers tend to be (about 20%) more productive in the second half of a season.
3. Andrew Luck has thrown for three or more touchdowns in seven consecutive games. That has only been done three other times in the history of the NFL – by Tom Brady (2007), Peyton Manning (2004), and Dan Marino (1986-1987).
At a certain point this offseason, Luck hadn't played in an NFL game in over 600 days and hadn't even thrown a football in (at least) 200 days. Coming back from such a serious injury, we didn't know how rusty Luck might be, or even if he'd ever again be the same player. While those fears may have been warranted at the time, I think it's safe to say they've since been put to rest. Luck came into the week ranking as our seventh-highest-graded quarterback and might rank higher after Sunday's performance (23 of 29 for 297 yards, three touchdowns, zero interceptions, and zero sacks). On top of that, speaking to arm strength, Luck ranks third-best among all quarterbacks in deep passer rating (130.8) and fourth-best in deep accuracy percentage (55.6%).
4. Saquon Barkley currently third among all players in fantasy points (251). Among all players, he ranks seventh in rushing fantasy points (115). Among all wide receivers, he ranks 19th in receiving fantasy points (136). Essentially, rostering Barkley is like rostering Adrian Peterson and T.Y. Hilton in one roster spot.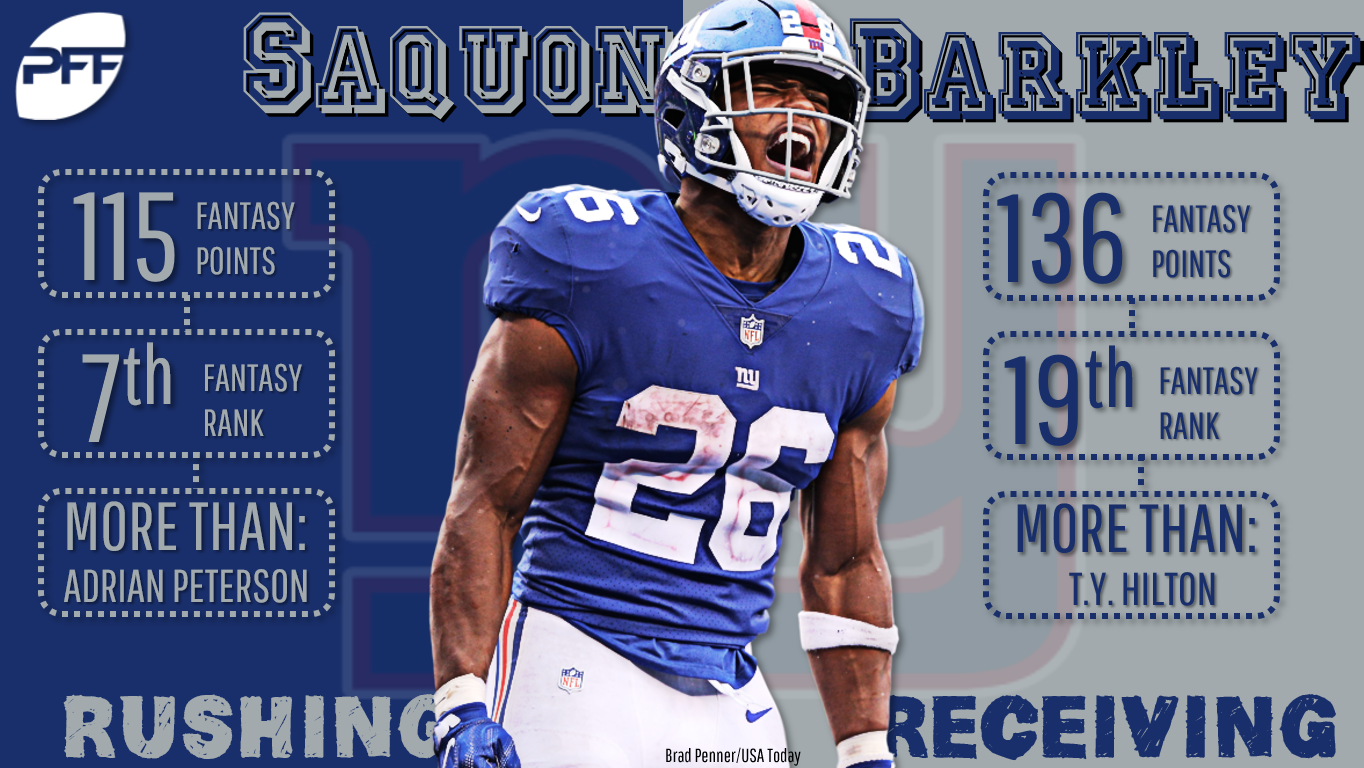 Clearly, Barkley – one of the most highly touted running back prospects in recent memory – has lived up to the hype. Barkley also ranks seventh-best of 55 qualifying running backs in elusive rating (70.7), third-best in breakaway percentage (46.3%), and eighth-best in yards per route run (1.79). Barkley couples a massive bell-cow workload with fantastic efficiency, making it easy to see why he's one of the most valuable assets in all of fantasy. At this point, you could trade any player but Todd Gurley for Barkley and I wouldn't think twice about it.
Bonus stat: Odell Beckham Jr. has forced 19 missed tackles on his catches this year. He leads the next-closest wide receiver by six and is one of just six wide receivers with 10 or more. To better illustrate, his 19 missed tackles forced is equivalent to the combination of Julio Jones (seven), Davante Adams (five), Keenan Allen (four), Adam Thielen (two), and JuJu Smith-Schuster (one).
5. I'm stealing this stat from my good friend Adam Harstad, because it's too good not to share: In every single game this year, Tampa Bay's starting quarterback has gotten:
365 passing yards (Weeks 3, 7, 10);
4 passing touchdowns (Weeks 1, 2, 6, 9); or
Benched in the second half (Weeks 4, 8, & 11).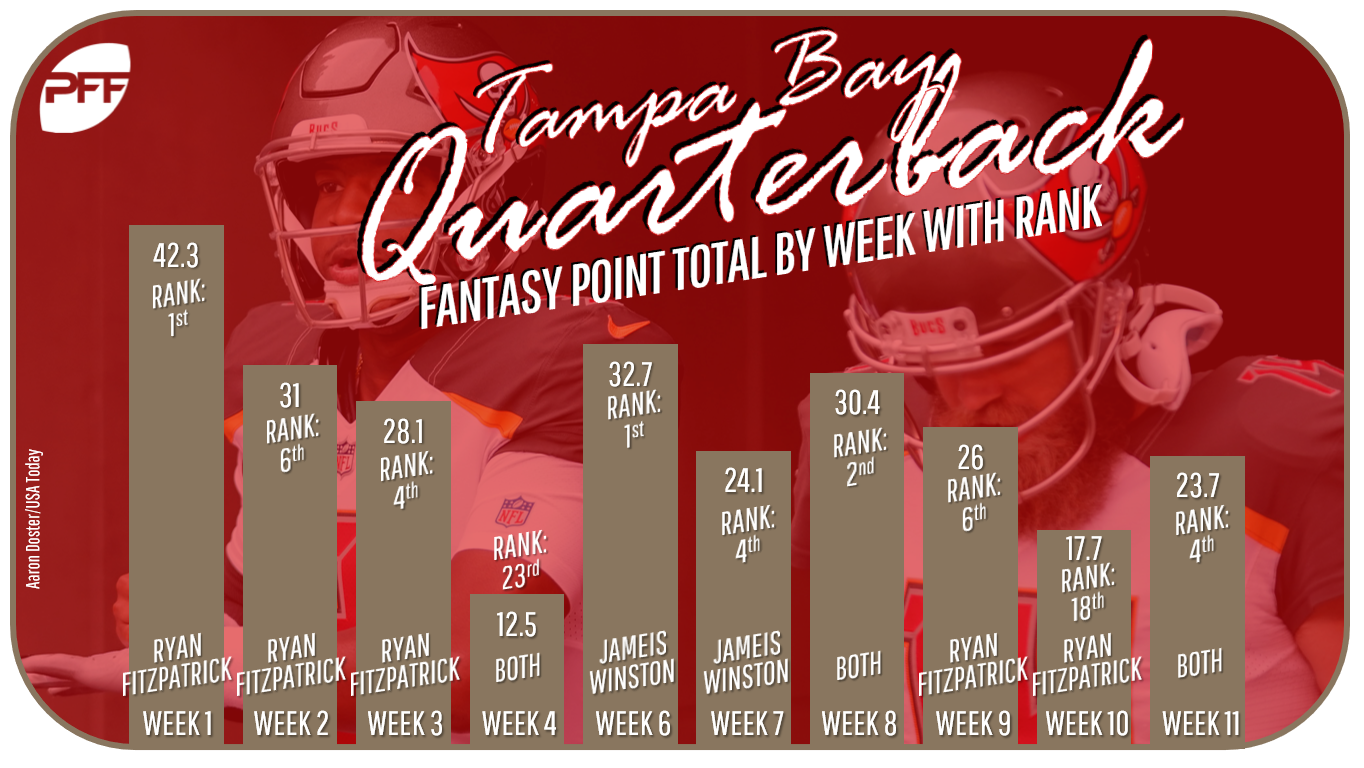 If Jameis Winston and Ryan Fitzpatrick could be combined into one quarterback, they'd be averaging over 27 fantasy points per game. The current record is 26.6 fantasy points per game, set by Aaron Rodgers in 2011. They combine to total 3,746 passing yards, which is 420 more than the next-closest team this year, and 160 yards more than any team has ever totaled through their first 10 games. Whichever quarterback is announced as the starter for Week 12, though risky, has massive upside.