Monday, we reviewed some of 2018's breakout players that may have hit their ceilings. But not every 2018 breakout player will be a one-hit wonder. Some are only just getting started.
This piece will give you a few players whose breakout 2018 seasons were just a sign of things to come. In order to make this article actually interesting, I'm choosing players who were legit fantasy starters in 2018.
Mahomes is the most obvious name on the list. He joined two illustrious quarterback clubs last year: The 5,000-yard club and the 50-touchdown club. Even with the league becoming ultra pass-happy, those are still lofty marks.
There is a very good chance that Mahomes never has a season this good again. That's not a knock on him — it's just a testament to how good his 2018 season was. But that doesn't mean Mahomes is a one-hit wonder. He will be a perennial elite fantasy QB1 for years to come.
Mahomes still has three years on his rookie deal, which should mean three more years with All-Pros Travis Kelce and Tyreek Hill. It's hard to peer too far into the future, but Mahomes is clearly good enough to put up big numbers even without those two players. But at a minimum, he should be locked in as the fantasy QB1 for the next several years.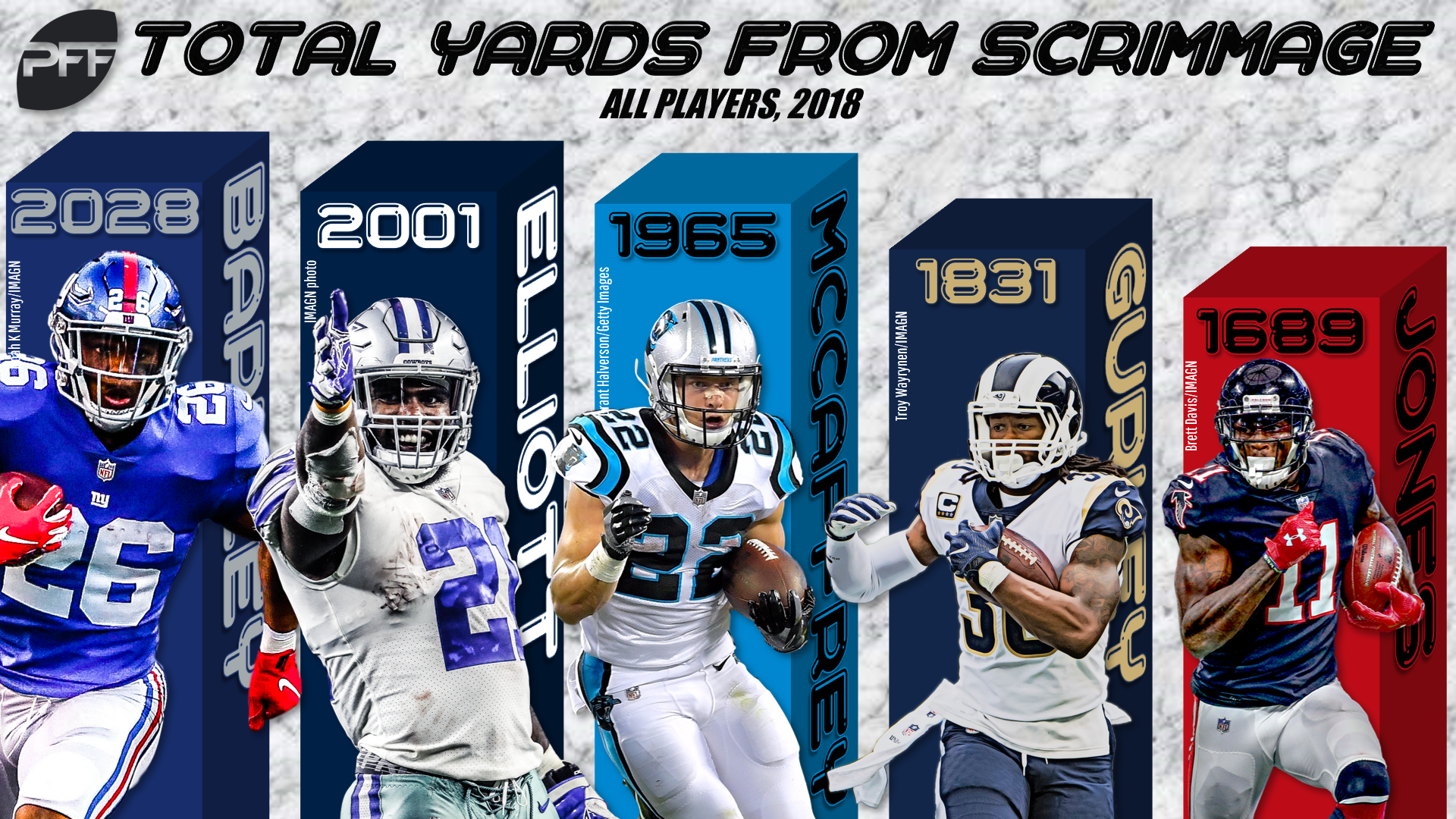 Barkley being a great fantasy player was obvious, but I don't think anyone saw him finishing the year as the No. 1 overall scorer at the position. His 114 targets were third-most among running backs, and his 11 rushing touchdowns were fifth-most.
Even with the Giants sticking with the corpse of career-.500 quarterback Eli Manning in 2019, Barkley will be fine. A healthy Odell Beckham Jr. should create even more scoring opportunities, too.
McCaffrey shot up draft boards prior to the 2018 season, and he rewarded the early-adopters in a big way by setting an NFL record for most receptions by a running back (108) en route to the No. 2 overall fantasy finish at the position. McCaffrey scored 13 total touchdowns and had nearly 2,000 yards from scrimmage. McCaffrey will still be just 23 years old when the 2019 campaign begins, which mean he likely hasn't even hit his prime yet.
Chubb shared a backfield for most of the year, but he still finished as the No. 17 overall fantasy running back with a line of 192-996-4 to go along with 20-149-2 through the air. His 5.19 yards per attempt ranked third-best among running backs who had at least 150 rushing attempts, while his 4.47 averaged yards gained after contact was best at the position.
All told, Chubb was hyper-efficient with his opportunities, scoring 9.49 fantasy points per snap, fourth-best among running backs. With more snaps to his name moving forward — in a rising offense — Chubb will be knocking on the fantasy RB1 door as soon as 2019.
I'm reaching a little here because you could say Smith-Schuster broke out as a rookie in 2017, but he followed up that impressive rookie campaign by dominating as a sophomore en route to a top-10 fantasy among fantasy receivers. The fact he was able to build upon such an impressive rookie season makes it obvious Smith-Schuster is built to last.
With Antonio Brown's tenure in Pittsburgh dissolving faster than Jeff Fisher's coaching chances, Smith-Schuster will be "the guy" in Pittsburgh for the next decade. Remember, he'll be just 22 when the 2019 season begins, and receivers who break out in Year 2 tend to build on that success in Year 3.
Golladay finished 2018 as the No. 21 fantasy receiver, albeit in an inconsistent manner. He did, however, top 1,000 yards in his second year, and as noted above, receivers who break out in Year 2 tend to do well in Year 3 and beyond.
Over the final seven games of the season, while serving as Detroit's primary receiver option with Marvin Jones injured and Golden Tate traded, Golladay averaged an elite 10 targets per game. He topped at least 50 yards in all but one of those games, with three 90-plus yard efforts.
Long story short: Golladay proved himself capable of serving as Detroit's No. 1 wideout, and he'll have a chance to hold that post for a full 16-game season in 2019 and beyond.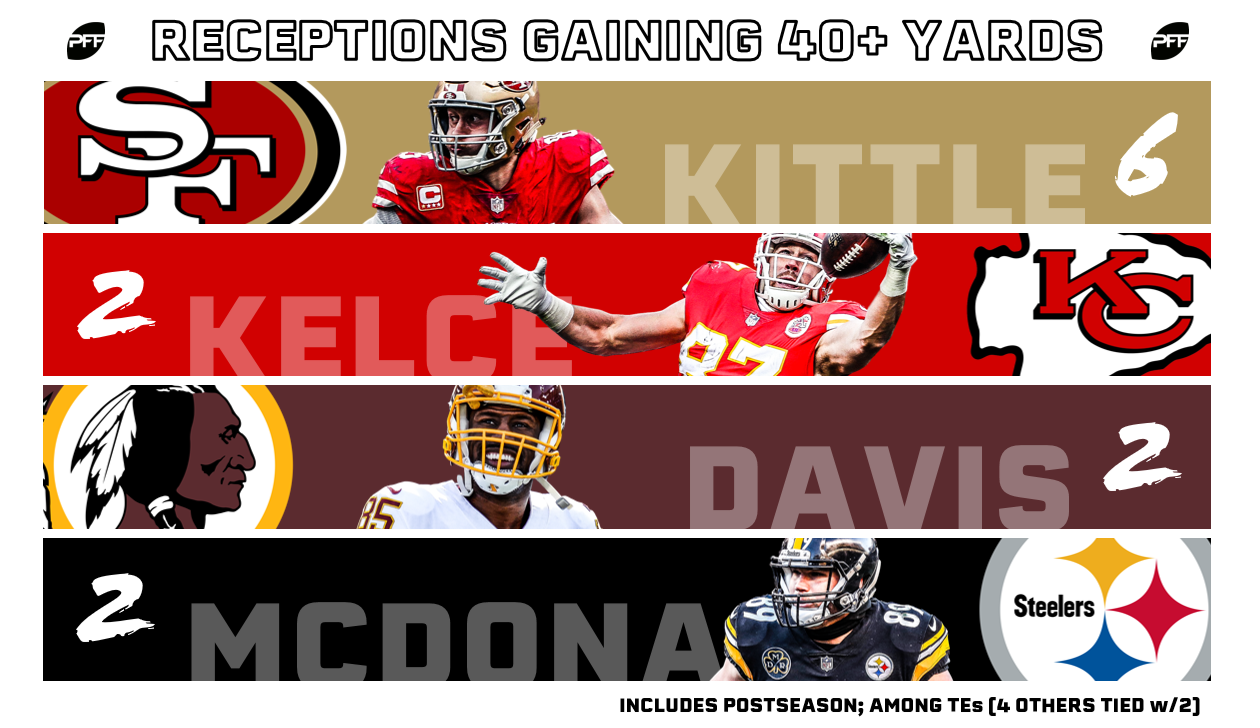 Fresh off a record-setting 1,377-yard season, the arrow is still pointing up for Kittle, who gets Jimmy Garoppolo back under center in 2019. Kittle had an absurd six receptions of at least 40 yards last season. No other tight end had more than two. His four 100-yard efforts were behind only Zach Ertz and Travis Kelce.
Howard played just 10 games, but his 16-game pace was impressive. He would have logged 54 receptions, 904 yards, and eight touchdowns with a full season under his belt, which would have made him a borderline top-five fantasy tight end this year.
The former first-round pick is about to enter his prime — he'll be 24 when the 2019 season begins — and he should command more target market share with Cameron Brate returning from hip surgery, DeSean Jackson's uncertain future, and Adam Humphries departing via free agency (Chris Godwin is waiting in the wings, too, to be fair). Having Bruce Arians as the new head coach in Tampa helps Howard's long-term outlook, too.