(This is our Fantasy Lookback, a review of the top fantasy football seasons at each position for each franchise over the last decade of NFL action. We'll look at some big names that are still going and some who have been gone long enough that they're in the Hall of Fame. Today: The Carolina Panthers)
The NFC South came into existence in 2002. It took until its 12th through 14th seasons for any team to win the division in consecutive years, when the Panthers took the title in three straight. Interestingly enough, though, it took until 2017 and 2018 for a team to win the division in consecutive years with winning records, because the Panthers' run of three straight saw a 7-8-1 division title in 2014 that didn't really impress anyone.
Still, over the last decade, the Panthers have three division titles, four playoff appearances, one Super Bowl appearance, three winning records, and maybe the most exciting player in the league in quarterback Cam Newton. It's not the best resume in the league, or even that close, but it's nothing to sneeze at.
Let's take a look at the best Panthers fantasy seasons of the last decade.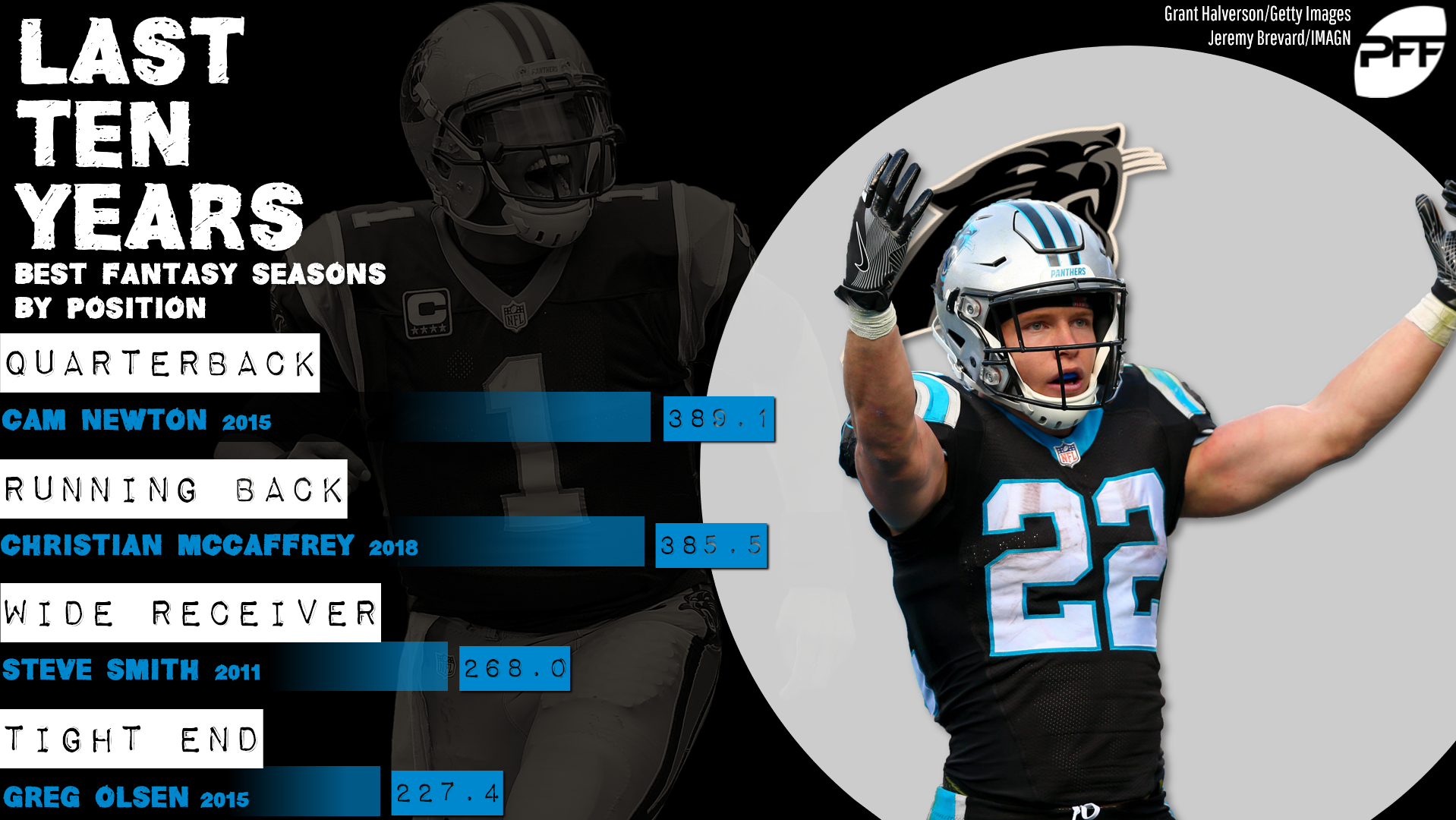 (Follow along with the whole series here.)
Quarterback
Cam Newton, 2015
(296-495 passing, 3,837 passing yards, 35 TD, 10 INT, 636 rushing yards, 10 TD, 389.1 fantasy points, QB1)
Newton has been a bit of a fantasy yo-yo in his career, with two seasons over 380 fantasy points and three under 300, but his highs are as high as just about any quarterback, and it didn't get any higher than his 2015, when he led the Panthers almost all the way to an undefeated regular season and almost all the way to a Super Bowl title en route to an MVP trophy. He passed for more yards in 2011, rushed for more yards three different times, and ran for more touchdowns in 2011, but his 35 touchdowns in 2015 were a career-best by 11, and that made the difference in his best season to date.
Running back
(219 rushes, 1,098 rush yards, 7 TDs, 108 receptions, 874 receiving yards, 6 TDs, 385.5 PPR points, RB2)
The Panthers pre-McCaffrey were marked by oft-injured committee backfield made up of some combination of Jonathan Stewart, DeAngelo Williams, and Mike Tolbert. In fact, McCaffrey has the top two Panthers RB seasons over the last decade, but Stewart, Williams, and Tolbert have 15 of the next 16 seasons on the list (with a random Mike Goodson 2010 tossed in for giggles). That takes us all the way down to Stewart's 78.3-point 2012, so really, it's been those guys or nothing. McCaffrey, though, reigns supreme — his massive 2018 is almost twice as good as the best Panthers back season by anyone else (Stewart's 211.2-point 2009).
Wide receiver
Steve Smith, 2011
(79 receptions, 127 targets, 1,394 yards, 7 TDs, 268.0 PPR points, WR8)
Smith was the PPR WR1 in 2005 (his fifth NFL season) and WR19 in 2014 (and played two more seasons after that). Dude had a long, crazy-productive career. The most interesting thing about it is that he was rarely the top-top among receivers. Yes, he had that one WR1 season, but it was his only one. Outside of that, he never topped 8 touchdowns in a season, only topped 1,200 yards twice, and was more of a back-of-the-top-10 fantasy guy than in the conversation for No. 1 at all. To be absolutely clear, that's not a knock on the player (please don't come for me, Steve), it's just an observation. Even with his best (and arguably second-best) season coming outside of our decade range, Smith has three of the top-four Panthers receiver seasons over the last decade.
Tight end
(77 receptions, 115 targets, 1,104 yards, 8 TDs, 227.4 PPR points, TE5)
We don't yet know if we've seen the last of Olsen in a Panthers uniform. There have been rumors for a year now that he's set to take a broadcasting job, and with the ESPN Monday Night Football gig now open, the rumors persist. If we have, though, it'll mark the end of a dominant run for Olsen, who has the top six and seven of the top nine Panthers tight end seasons over the last decade. He finished seventh or better in tight end scoring every year from 2012 to 2016, with the Panthers' magical run in 2015 marking his best season … barely, as he put up close to the same numbers in 2014.