(This is our Fantasy Lookback, a review of the top fantasy football seasons at each position for each franchise over the last decade of NFL action. We'll look at some big names that are still going and some who have been gone long enough that they're in the Hall of Fame. Today: The Buffalo Bills)
Years ago, at an entirely different outlet, I wrote a piece marveling at the Bills' perfect run of sadness, finishing in last place in the AFC East every year from 2008 to 2013. No team in any division in any of the four main sports had a run finishing in the same spot in the standings that many years in a row at the time, not even the Patriots (then), and it was something to behold.
Since then, things have improved! I mean, they kind of had to. The Bills still don't have a first-place finish (New England has taken care of that) but they have two seconds and three third in the five years since, and even made the playoffs in 2017, albeit as an underwhelming Wild Card that scored only three points in their lone playoff game.
Let's take a look at the best Bills fantasy seasons of the last decade.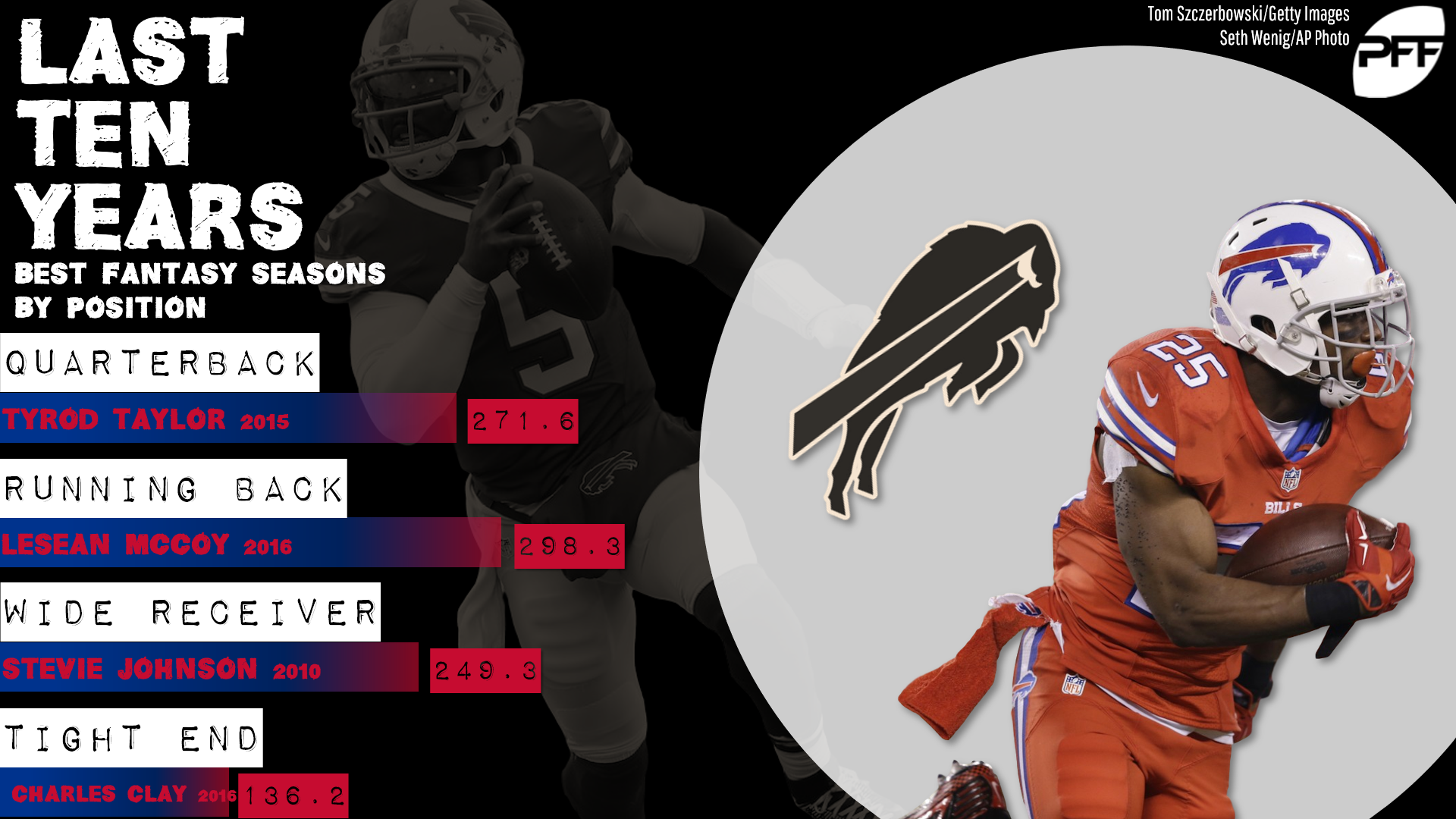 (Follow along with the whole series here.)
Quarterback
(242-380 passing, 3,035 passing yards, 20 TD, 6 INT, 566 rushing yards, 4 TD, 271.6 fantasy points, QB15)
Taylor had three years as the Bills' starting quarterback, topping 270 points in two of those years. No other Buffalo quarterback in the last decade has even reached 230 points, showing the futility of the position as clearly as anything. Taylor, who joined Buffalo in that 2015 season after a four-year run as Joe Flacco's backup in Baltimore, didn't arrive in Buffalo with much fanfare. We knew he would run, but he was barely drafted in leagues that year, carrying an ADP of QB20. He put up good numbers, though, and became a fantasy-relevant name throughout his Bills tenure.
Running back
(234 rushing, 1,267 rush yards, 13 TDs, 50 receptions, 356 receiving yards, 1 TD, 298.3 PPR points, RB4)
McCoy in Buffalo was never what he was in Philadelphia, but he still had fine numbers, with two top-10 fantasy seasons before the bottom fell out in 2018. After an extended C.J. Spiller/Fred Jackson run that saw some fine fantasy combinations but never had either guy perform like fantasy superstars, McCoy's time in Buffalo gave him the top two RB seasons the team has had in the last decade.
Wide receiver
Stevie Johnson, 2010
(82 receptions, 139 targets, 1,073 yards, 10 TDs, 249.3 PPR points, WR9)
If you thought the Bills' running back situation was dodgy over the last decade, check out the team's receivers. Or don't, because it's very sad. Johnson's 2010 was the only time the team has had a receiver top 220 PPR points, and Johnson's 2010-2012 and Sammy Watkins' 2015 were the only seasons to even top 200. Over the last two years, since the team has had a big overhaul, Zay Jones' 2018 (165.2 points) is the only season with more than 100 points. The point is, Johnson was fine, but it only took "fine" to top this list.
Tight end
(57 receptions, 81 targets, 552 yards, 4 TDs, 136.2 PPR points, TE16)
If you thought the Bills' running back and wide receiver situations were dodgy over the … you know what, you get it. Clay and Scott Chandler hold down the top seven spots on the Bills' TE list by themselves. The only team with a worse "best TE season" than the Bills is the sadness that is the Cardinals, who coincidentally just signed the released Clay. It's not worth dwelling much here. Good job, Charles. You were the best Bills tight end in 10 years. It's sort of like being the best actor in a SyFy original movie.