A sneaky place to find fantasy football value at wide receiver this year is in the slot. Being a slot wide receiver often allows a receiver to avoid the best cornerback on the opposition and can lead to a higher fantasy floor on a week-to-week basis.
Slot receivers are especially useful in PPR formats, as they are often a quarterback's short-yardage safety valve and can rack up more receptions. Below are some sneaky slot receivers who could offer fantasy value in 2019. Put these players on your radar as they can easily outperform where people are projecting them.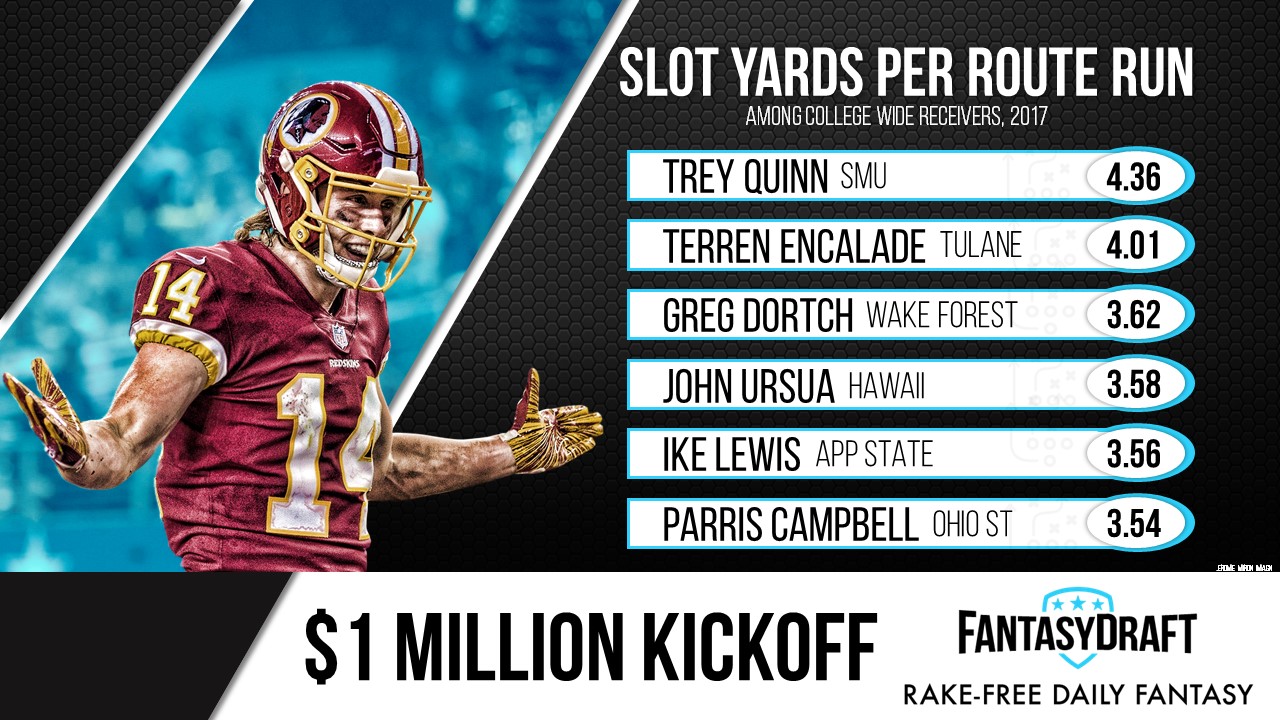 The Redskins are going to be trailing in a lot of games this year, which means fantasy managers should gear up for a lot of positive gamescripts for Quinn. He was injured for most of the early going last year, but saw the field in Weeks 11-12, catching 9 of his 10 targets for 75 yards and a touchdown, with 7 receptions and his score coming on slot targets. (He was hurt again after that and missed the rest of the year.)
For what it's worth, Jay Gruden has spoken very highly of Quinn, saying he has "taken over the inside slot role." The recently departed Jamison Crowder was the team's top slot receiver in recent years. Before a lost 2018, Crowder led the team in target (96), receptions (66), and receiving yards (789) as the primary slot receiver in 2017. And as the third option in 2016, he actually had a more impressive year with 847 yards and 7 touchdowns.
Feeding into Quinn's success will be new starting quarterback Case Keenum, who attempted the sixth-most passes to the slot in 2018. On top of that, Washington's outside wide receiver group is one of the weakest in the league. There's a path for Quinn to be the leading receiver on the Redskins, and it could be a luxurious one for fantasy with all the potential positive gamescripts.
In six games before his injury last year, Wilson averaged 15 fantasy points per game, 20th among wide receivers. He was one of the most dangerous players in the NFL with the ball in his hands, averaging 13.2 yards after the catch per reception, easily first among wide receivers over 20 receptions.
He now has the ex-Patriots wide receiver coach as his offensive coordinator in Chad O'Shea. It is a perfect match for him as O'Shea has a lot of experience in putting receivers in situations to rack up a lot of yards after the catch like Julian Edelman, Wes Welker, or Danny Amendola.
His competition on the Dolphins for production at wide receiver are deep-threat, low-volume receptions style players in Kenny Stills (16.9-yard average depth of target) and DeVante Parker (13.5 yards). Wilson and Stills split around 33% of the slot snaps each last year, but with Stills apparently on the outs with the coaching staff, it wouldn't be a surprise to see Wilson gain a larger share this year. This plays into Wilson's PPR ability and upside and gives him the best chance to lead the Dolphins in receptions. (And as our Scott Barrett has noted, new Dolphins quarterback Ryan Fitzpatrick has loved to throw to the slot in his career.)
One of the best metrics for predicting fantasy points for a wide receiver is yards per route run. The metric's leaderboard is littered with top fantasy names like Julio Jones, Michael Thomas, and DeAndre Hopkins. Also near (actually, at) the top of the list? Wilson. He only saw 36 targets last year, but among all receivers with at least 25, he led the league at 3.03 YPRR.
Miller is a player was a popular rookie breakout pick last year coming out of college. Being an older second-year player at 24 years old should help make him an early bloomer in the NFL. In his first season, he flashed his playmaking ability, but injury kept him from getting enough opportunities to really be considered in fantasy.
There's reason to believe he will start taking more targets away from Allen Robinson and Taylor Gabriel. Robinson will be the one drawing the opponent's No. 1 cornerback, and Mitchell Trubisky showed some struggles with throws on the boundaries. This should lead to Trubisky trusting Miller more and make the easier throws over the middle in softer coverage. Matt Nagy loves to get Miller involved in the red zone — the rookie had 6 targets inside the 10 last year and totaled 7 touchdowns across the season. Even in college, he had a nose for the end zone, with 32 receiving touchdowns in his last two years.
Last year, Trubisky was best when he had plays with quick reads and made him not have to improvise and force anything down the sidelines. When targeted, Miller produced a 117.7 passer rating. When Robinson and Gabriel were targeted, they produced a 91.5 and 90.7, respectively. That leads me to believe utilizing Miller over the middle are the perfect play types to get Trubisky in a rhythm.

This is a situation where I am expecting talent to win out. Currently, Isabella is fighting for the WR3 spot on the Cardinals with KeeSean Johnson and Michael Crabtree, but I expect the second-round pick to be given a chance soon enough.
He had elite production in his senior year of college and showed off his insane speed at the combine with a 4.31 40-yard dash. He posted the No. 1 PFF receiving grade of all of receivers in college football last year, at 93.8.
There are players in Isabella's way, but there are warning signs. Larry Fitzgerald just put up his second-lowest career PFF grade (since 2006, 72.3) and is entering his 16th season. Christian Kirk has worlds of upside, but he didn't have a single 100-yard game in 12 outings as a rookie. Isabella's skill set is a good match for Kliff Kingsbury's fast-paced offense. The fast pace will create plenty of opportunities (Kingsbury ran 82.6 plays per game at Texas Tech last year, fourth-most in all of college football).