DENVER, CO - SEPTEMBER 11: Wide receiver Tyrell Williams #16 of the Los Angeles Chargers catches and runs for a gain of 12 yards in the fourth quarter of the game against the Denver Broncos at Sports Authority Field at Mile High on September 11, 2017 in Denver, Colorado. (Photo by Dustin Bradford/Getty Images)
With Week 1 behind us, and finally some fresh stats to analyze, I'm here to help you with your toughest Week 2 start/sit decisions.
If you're ever stuck between a few players, please feel free to reach out to me on twitter (@ScottBarrettDFB) early in the week, and I'll try to do my best to fit them into that week's column. Here were some of your most frequently mentioned players for Week 1:
Start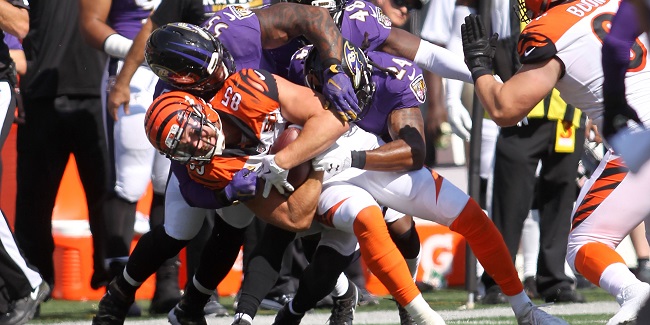 Tyler Eifert, TE, Cincinnati Bengals (vs. Houston) — Over the past two seasons (injury-plagued throughout most of this stretch), Eifert has finished top-six among tight ends in 36 percent of his weeks, which ranks behind only Rob Gronkowski, Greg Olsen, and Jordan Reed. He has 19 touchdowns in his last 22 games. Yes, he frustratingly saw just one target last week, but these volatile boom/bust weeks are something you're just going to have to suffer through when rostering Eifert. If you drafted him anywhere near ADP, you're starting him this week.
Randall Cobb, WR, Green Bay Packers (@ Atlanta) – I've been higher on Cobb than most this offseason, but I'm not reading too much into Week 1. If you read this article, you should have known Rodgers would neglect Davante Adams on Richard Sherman's side of the field, and instead work underneath with Cobb and occasionally Jordy Nelson. That said, he draws a very favorable matchup this week against an Atlanta Falcons defense that allowed the third-most fantasy points per game to wide receivers out of the slot last season. In Vegas' second-highest game total for the week, Cobb is an easy start in PPR leagues.
Stefon Diggs, WR, Minnesota Vikings (@ Pittsburgh) – Diggs appeared a surprising number of times in my Twitter mentions after finishing as the second-highest-scoring wide receiver in Week 1. He's likely not going to have very many more top-three finishes this season, but could end the year as an upper-tier WR2. Diggs is firmly in play again this week, in an especially soft matchup against the Pittsburgh Steelers. Last week, Diggs ran 63 percent of his routes lined up to Sam Bradford's right – where Joe Haden lined up on all 41 of his routes in coverage. Over the past three seasons, among all 78 cornerbacks to play at least 1,000 snaps, Haden is our eighth-worst-graded cornerback, ranks third-worst in opposing passer rating, allowed the second-most fantasy points per target, and allowed the most fantasy points per route in coverage. This is encouraging, and Diggs' history also suggests cornerback matchups matter more for him than most wide receivers. Meanwhile, William Gay, Pittsburgh's primary slot cornerback last season, ranks third-best in fantasy points allowed per route in coverage over the past three seasons. With Adam Thielen drawing the tougher matchup (73 percent of his routes from the slot last week), this could shift even more targets to Diggs. There are very few scenarios where I could imagine benching Diggs this week.
Chris Hogan, WR, New England Patriots (@ New Orleans) – Hogan was a disappointing bust last week. He lined up against Marcus Peters (our 11th-highest-graded cornerback in 2016) on 28 percent of his routes, but didn't take advantage of more favorable matchups against Phillip Gaines and Terrance Mitchell, who lined up against him on a combined 60 percent of his routes. Gaines gave up the eighth-most fantasy points on a per-route basis last season and Mitchell was our worst-graded cornerback in coverage last week. Hogan ran 64 percent of his routes from the slot last week, and should take advantage of a New Orleans defense that just allowed nine receptions and 157 yards on 10 targets to slot receiver Adam Thielen. With Danny Amendola likely out with a concussion, in Vegas' highest game total of the week, I'm going back to the well on Hogan despite his poor performance last Thursday night.
Tyrell Williams, WR, Los Angeles Chargers (vs. Miami) – We advised sitting Williams last week in a tough matchup against the Denver Broncos. Last season, Williams averaged only 3.6 fantasy points per game in two games against Denver, but 15.0 the rest of the time.  He saw six targets Monday night (second-most on the team), catching five for 54 yards. Luckily for Williams, rookie Mike Williams is still out with a back injury, and he draws a much softer matchup this week against the Miami Dolphins. Miami cornerbacks Xavien Howard and Bobby McCain were two of our 20 worst-graded last season and are both likely to start in nickel packages. Byron Maxwell ranked 19th-best last season, but has apparently played so poorly this preseason that his roster spot was in jeopardy. I'm betting on a bounce-back for Williams, while Philip Rivers and Keenan Allen are even better options this week.
Javorius Allen, RB, Baltimore Ravens (vs. Cleveland) – Oft-injured 32-year-old Danny Woodhead suffered an injury on the first drive of Baltimore's game last week, and is out for Week 2. Allen appears to fit the Woodhead mold, after seeing 62 targets in his 2015 rookie season. Despite plenty of positive gamescript in a 20-0 romp, Allen ended the game out-snapping West 32 to 28, and seeing an equal workload as a rusher (19 carries to 19 carries) and as a receiver (one target apiece). Joe Flacco talked up Michael Campanaro as a player who may need to step up in Woodhead's absence, but I'm not ready to buy into a wide receiver who has seen just 20 targets over his four-year career. Allen draws a soft matchup against a Cleveland defense that allowed the third-most fantasy points per game to the position last season. He should be in for at least a near-even split in carries, with upside for more as a receiver. He's worth a start if you're weak at running back.
Cooper Kupp, WR, Los Angeles Rams (vs. Washington) – Sammy Watkins has a tough matchup this week against Josh Norman, who held Alshon Jeffery to just 16 yards on five targets on Sunday. Last season, Washington's glaring hole on defense was slot cornerback. They allowed the fifth-most fantasy points per game to wide receivers out of the slot, and Kendall Fuller (who was eventually benched) allowed the 12th-most fantasy points per route in coverage last year. Kupp ran the majority of his routes from the slot last week, and was Jared Goff's favorite and most productive target on Sunday (after being his favorite and most productive target in preseason.) According to multiple reports, Fuller had a tremendous camp, and it appears true after he posted the highest-graded game of his career in Week 1, allowing just 24 yards on six targets. Still, I'm not yet ready to buy Fuller isn't the player we thought he was last year, and Kupp was certainly impressive last week as well (our 11th-highest-graded wide receiver via the pass). He's a starter for me this week in deep leagues.
C.J. Anderson, RB, Denver Broncos (vs. Dallas) — Anderson was spelled by Jamaal Charles some on Monday night, but still came away with 20 carries, two targets, and four carries inside the 5-yard line. In terms of Actual Opportunity, he ranked fourth at the position. He draws a tough matchup against the Dallas Cowboys, who allowed the third-fewest points to the position in 2016. Dallas dominates time of possession and limits the number of plays the opposing offense can run, but even beyond that, were still efficient, allowing the 13th-least yards per carry to opposing running backs. Anderson is about as borderline of a start as they come, but he was one of my most-mentioned names on Twitter. The volume should be enough to where he won't kill you, but the matchup is undoubtedly tough.
Carson Palmer, QB, Arizona Cardinals (@ Indianapolis) – Palmer didn't look right in Week 1, nor for most of 2016. It's a genuine concern for his Week 2 and long-term potential. On top of that, the offense just lost their best player. Granted, it's a running back – but one who was typically good for about 50 receiving yards per week. Left tackle D.J. Humphries is also out for Week 2. Luckily for Palmer, Indianapolis ranked last in the league in pressures per game and pressures per dropback last season. If the Vontae Davis-less Colts defense could make Jared Goff look like 2015 Carson Palmer, maybe they can make 2017 Carson Palmer look like 2015 Carson Palmer as well. He's a mid to low-range QB1 for me this week. If he lets you down this week, he's an easy drop.
Sit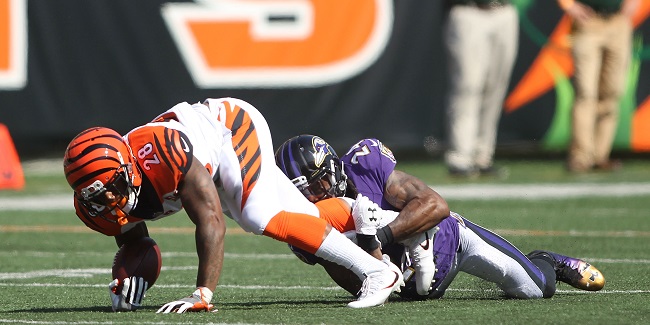 Joe Mixon, RB, Cincinnati Bengals (vs. Houston) — Mixon was woefully inefficient behind a poor offensive line in his NFL debut, amassing just nine yards on eight carries. His usage, however, was encouraging — well, at least if you read last week's article and had tempered expectations like I did. He played on 36 percent of the team's running back snaps (22), tied for the lead in carries (eight), and led in targets with three. With Jeremy Hill seeing just 10 snaps and six carries, it appears Mixon is already ahead of him, but this will still be a frustrating low-upside committee for the immediate future. I'm not starting any Bengals running backs this week against a stout Houston defensive line.
Martavis Bryant, WR, Pittsburgh Steelers (vs. Minnesota) — All three of Minnesota's cornerbacks ranked top-20 in opposing passer rating last season. For me, this isn't much of a concern for Antonio Brown, who has a long history of being immune to elite cornerback play, but it is for Bryant, who looked rusty in preseason (43 yards on nine targets) and Week 1 (14 yards on six targets). Hopefully I'm not reading too much into one bad game, but I'd look to start someone else if I was strong at wide receiver.
Isaiah Crowell, RB, Cleveland Browns (@ Baltimore) — Crowell totaled 33 yards on just 17 carries, and added 33 yards on two targets through the air. Duke Johnson lined up as a slot wide receiver in Week 1, but per head coach Hue Jackson, this will change on a week-to-week basis. Even if Johnson is back in the slot in Week 2, Crowell likely doesn't have much of a target ceiling him, which crushes his fantasy value in Week 2 on the road against a Baltimore team favored by eight points. The Ravens allowed the sixth-fewest rushing fantasy points per game to opposing running backs last season. Though you might not have many better options, Crowell is in for a rough day on Sunday.
Nelson Agholor, WR, Philadelphia Eagles (@ Kansas City) – In each of our last two seasons, Agholor has graded out as our worst overall wide receiver – out of more than 215 qualifying. That's really bad. After playing outside the last two seasons, Philadelphia has moved him to the slot (where he ran the majority of his routes in college) this preseason and in Week 1 (74 percent of his routes last week). Although it didn't make much of a difference in preseason, catching just two passes and grading out below average, he was dominant in Week 1. He had the best game of his career, grading out fourth-best among wide receivers and setting a career high in yards with 86. Although, he gets another strong matchup this week, in the slot against Phillip Gaines, I'm not ready to buy into the sudden turnaround after one week of play and an allegedly strong camp. At the moment, he's a stash and hold.
Tarik Cohen, RB, Chicago Bears (@ Tampa Bay) – I think Cohen was probably the top waiver wire add of the week, but I'm skeptical regarding his prospects in Week 2, electing to take a "wait and see" approach. As I outlined here, I wonder if Cohen's big game was a product of Chicago being smart enough to attack Atlanta where they are weakest – as many other teams did last season. Playing alongside likely the worst starting receiving corps in the NFL, Cohen still has significant upside this week, and this season, but I'll be benching him in Week 2 if I can help it.
Carlos Hyde, RB, San Francisco 49ers (@ Seattle) – Hyde impressed me with his usage in Week 1. Although he saw just nine carries, he tied a career high in targets with six. In terms of long-term potential, this is massive. Kyle Shanahan has a long history of elevating backfields, and the targets imply he'll might be used as a gamescript-proof bell cow. In the immediate short term, I'm not sure it means much. He'll need the targets this week considering Seattle ranked second-best in opposing yards per carry (3.4) and are favored by 13.5. Unfortunately, I don't think it will be close to enough.
Cole Beasley, WR, Dallas Cowboys (@ Denver) – Beasley made this incredible catch last week, but disappointed for fantasy, accumulating just 32 yards on five targets. He was in a tough matchup against Dominique Rodgers-Cromartie – our second-highest-graded slot cornerback last season. This week, he draws 2016's highest-graded slot cornerback, Chris Harris Jr. Tough luck for Beasley and his owners, but he's an easy fade in Week 2.
Kenny Golladay, WR, Detroit Lions (@ NY Giants) – Golladay draws a nearly identical spot to the one he had last week, where he burst onto the fantasy scene with four catches for 69 yards and two touchdowns. Arizona has an elite cornerback who shadows in Patrick Peterson, a good slot cornerback in Tyrann Mathieu, and a poor third option in Justin Bethel (against whom Golladay saw all of his seven targets). The Giants have an elite cornerback who shadows in Janoris Jenkins, an elite slot cornerback in Dominique Rodgers-Cromartie, and a poor third option in Eli Apple. Apple was our third-most-targeted cornerback last week and allowed the third-most yards into his coverage (99). Despite the somewhat appealing matchup, I'm avoiding starting the third-round rookie if I can help it. I think there's a chance he could supplant Marvin Jones as a starter in 2WR sets at some point this season, but as of right now, I think starting him in Week 2 would be an overreaction to a one-week sample size.
Frank Gore, RB, Indianapolis Colts (vs. Arizona) – I can't imagine very many scenarios where Gore is worth a start this week. He faces an Arizona defense that allowed the lowest yards-per-carry mark (3.3) last season. Without Andrew Luck on the field, this is arguably the worst offense in the league. At the very least, underdogs by 7.5 points, there will be minimal positive gamescript and few scoring opportunities. He's also now stuck in a committee backfield, seeing just 38 percent of the team's running back snaps, 46 percent of the carries, and 33 percent of the targets in Week 1. I'm confident I can name 40 running backs with more upside this week.