Just when you thought you were out of the fantasy football season, we're going to pull you back in. It's time for the NFL playoffs, which means another month of fantasy before the offseason.
Fantasy leagues during the NFL playoffs are not a new idea, but they have been increasing in popularity over the last few years. At only a quarter of the length of the regular season, these leagues are a great way for those who are jonesing to get one more fix of fantasy or a chance for redemption to rid that bad aftertaste of a losing season.
There are a variety of formats you can use in the NFL playoffs, but the three most common are salary cap, one-and-done, and traditional draft. Regardless of which your league uses, the idea remains the same – pick the players who are going to score the most points.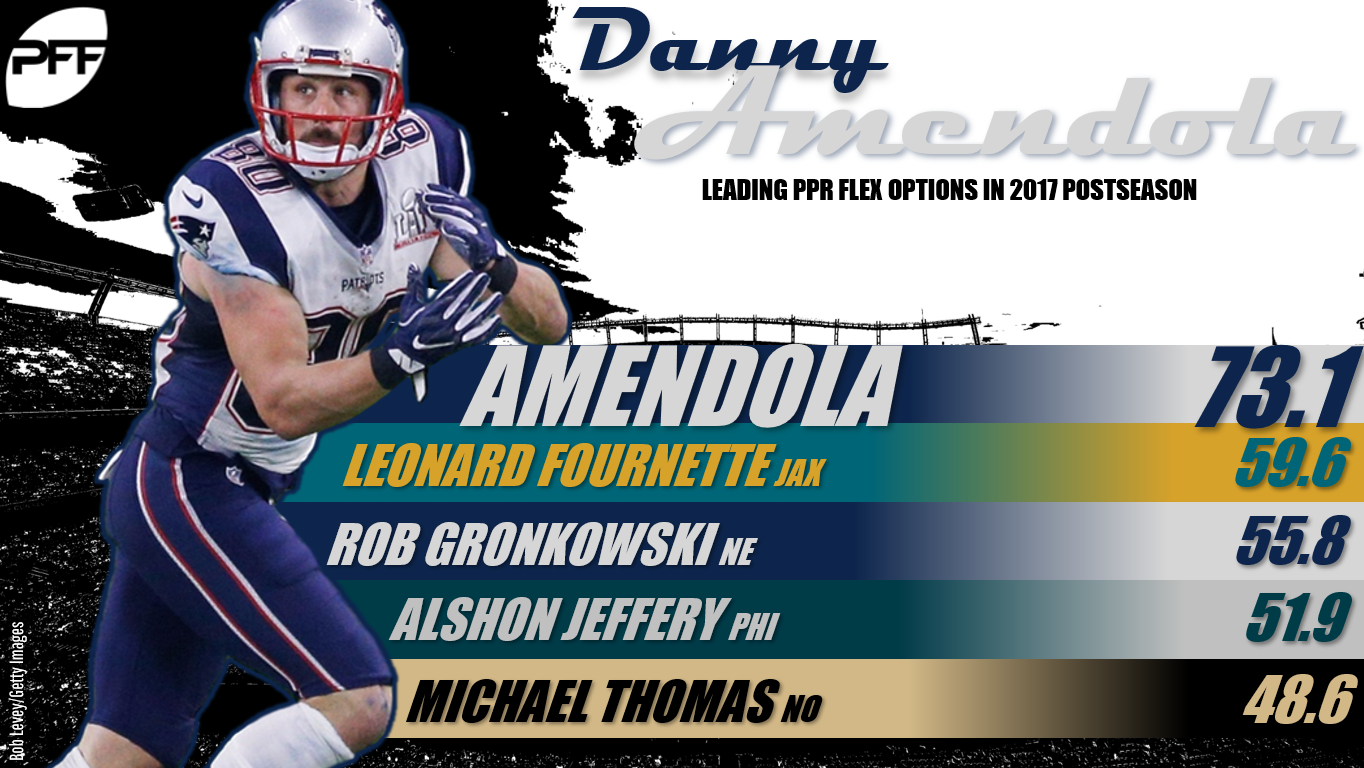 In draft-style leagues, this task is much easier in the regular season. Barring any injuries or suspensions, all players play the same amount of games. But in the playoffs, as teams are eliminated, you lose their players. The key here is to draft not just quality players, but quality players on teams that have the best chance to play multiple games and hopefully advance to the Super Bowl.
To determine which teams you think will advance, I suggest drawing up a bracket and make your picks just as you would for the NCAA Basketball Tournament. When mapping out your picks, remember that Vegas is your friend. Here are the current odds to win the Super Bowl:
| | |
| --- | --- |
| New Orleans Saints | 5/2 |
| Kansas City Chiefs | 9/2 |
| Los Angeles Rams | 11/2 |
| New England Patriots | 6/1 |
| Chicago Bears | 8/1 |
| Baltimore Ravens | 14/1 |
| Los Angeles Chargers | 16/1 |
| Dallas Cowboys | 25/1 |
| Houston Texans | 25/1 |
| Seattle Seahawks | 25/1 |
| Indianapolis Colts | 25/1 |
| Philadelphia Eagles | 25/1 |
Two things should be quite obvious right away – 1) The Saints are the odds-on favorite to win the Super Bowl with Kansas City just edging the Rams and Patriots as the second choice, and 2) Unlike last year when the Titans and Bills were massive longshots at 100/1, the bottom five teams are all tightly bunched at 25/1. So things are very much up in the air, and that makes this a challenging bracket to fill out.
It can be difficult to use the Super Bowl odds to our advantage here, but we can use the odds to win the AFC and NFC to help us out. Here's the AFC:
| | |
| --- | --- |
| Kansas City Chiefs | 7/4 |
| New England Patriots | 9/4 |
| Baltimore Ravens | 6/1 |
| Los Angeles Chargers | 7/1 |
| Houston Texans | 10/1 |
| Indianapolis Colts | 10/1 |
The Chiefs earned home-field advantage in the playoffs and come in as the top pick, with the No. 2 seed Patriots as the second choice. From there, the remaining four teams are all in the mix with the Texans and Colts coming in at 10/1. That's significantly shorter odds than last season where we saw the Bills and Titans both at 40/1 to win the AFC.
In the NFC, the odds aren't that much better.
| | |
| --- | --- |
| New Orleans Saints | 11/10 |
| Los Angeles Rams | 5/2 |
| Chicago Bears | 11/2 |
| Philadelphia Eagles | 10/1 |
| Dallas Cowboys | 14/1 |
| Seattle Seahawks | 14/1 |
The No. 1 seed Saints were installed as the odds-on favorites. At the other end of the spectrum, the Cowboys and Seahawks are the biggest underdogs. Given the odds, the Bears are the best bet to give you at least two games with the potential to deliver four games of fantasy production. Getting four games from your players is one of the biggest factors in winning fantasy playoff leagues.
With all of this information, you can now draw out your playoff brackets. Of course, the Vegas odds are typically very chalky, but you don't need to follow them 100% of the time. Remember, it's your draft, so draw up the brackets based on who you think will win. Here's how I project the playoffs:
Wild Card Round
Indianapolis defeats Houston
You have two fantasy QB1s in this contest with Deshaun Watson and Andrew Luck both finishing in the top five in regular season fantasy scoring. Of course, we do have a recent sample to help us out in this one, as the Colts won in Houston 24-21 just under a month ago.
Seattle defeats Dallas
If you like ground-and-pound football, this is the game for you. Seattle has rattled off 40-plus rushing attempts in each of their last four games, so expect more of the same. While Dallas isn't quite that run-heavy, we know they like to lean of Ezekiel Elliott. However, what tips the scales is the defensive side of the ball. Seattle is clicking and haven't allowed a rushing score since Week 12.
Baltimore defeats LA Chargers
Here's another game where we have recent history to reference. The Chargers offense was no match for the Baltimore defense two weeks ago, and the Ravens offense did just enough to win that contest 22-10. Now the Chargers have to go across the country to face the Ravens in Baltimore.
Chicago defeats Philadelphia
Hats off to Doug Pederson and the Eagles for grinding their way into the playoffs this year, but it's tough to like their chances against Matt Nagy's Bears. Chicago's stifling defense should make things very difficult for Nick Foles and company to move the football.
Divisional Round
Kansas City defeats Indianapolis
This has the makings of a very fun game to watch, with Patrick Mahomes and Andrew Luck duking it out. While the Colts have had a heck of a run this year, Kansas City's offensive firepower will be just too much for Indy to overcome.
Chicago defeats LA Rams
Yet again, we have a rematch of a December showdown. Chicago won that contest and held the Rams to just two field goals. While this one will be in Los Angeles, the Bears still have the formula to neutralize Sean McVay's squad and pull out the win.
New England defeats Baltimore
The Ravens have the chance to be this year's biggest Cinderella story, but having to face the Patriots in New England will be no easy task. Bill Belichick game plans to eliminate the opposing team's best weapon, and in this case that will be Lamar Jackson.
New Orleans defeats Seattle
Seattle turned things around after a rough start to the season, but the Seahawks don't quite have the firepower to go into New Orleans and take down one of the league's most explosive offenses.
Conference Championship
New Orleans defeats Chicago
If this game was in Chicago, there's a chance I'd go with the Bears. But the "dome field advantage" for the Saints is a big factor in this prediction.
New England defeats Kansas City
This was one of the toughest games to decide on. Kansas City's offensive prowess is very intriguing, but again, there's a good chance Belichick and company game plan to neutralize Patrick Mahomes. That plus the Chiefs' deficiencies on the defensive side of the ball gives the slight edge to the Patriots
Super Bowl
New Orleans defeats New England
Sometimes the result of the Super Bowl impacts your fantasy draft decisions, but as we saw last year, the losing team can still put up major fantasy points.
So these results give use the following amount of games for each team: Saints (3), Patriots (3), Bears (3), Ravens (2), Chiefs (2), Seahawks (2), Colts (2), Rams (1), Texans (1), Cowboys (1), Chargers (1), and Eagles (1).
While it's very easy to simply leave things like this, I'd strong advise against it. Using full games, we'll end up with a set of rankings that is heavily weighted toward the three-game teams. And the reality is that the teams that we pick to lose don't have a 0% chance to win.
Based on the projected spread for each game, we can calculate the team's percentage change of winning. If you'd like to calculate the chance of winning, here's the formula: 0.0319*x+0.5001, where "x" is the spread.
So given the numbers I ran in my model, these percentages can be converted to the following games played: Saints (2.7), Patriots (2.5), Bears (2.3), Chiefs (2.3), Colts (1.9), Ravens (1.8), Seahawks (1.7), Rams (1.6), Cowboys (1.5), Chargers (1.5), Eagles (1.4), Texans (1.4). Using these game projections, we can now rank all of the players for the playoffs (you can download the 2018 NFL playoff rankings here).
1. Alvin Kamara, NO RB1
2. Patrick Mahomes, KC QB1
3. Drew Brees, NO QB2
4. Travis Kelce, KC TE1
5. Michael Thomas, NO WR1
The top tier doesn't contain any Patriots, but the Chiefs are still more than capable of putting up big fantasy points in just two games. Of course, the Saints' clear path to the Super Bowl means Kamara, Brees, and Thomas are good bets to be off the board in the first five picks.
6. Todd Gurley, LAR RB2
7. Ezekiel Elliott, DAL RB3
8. Tyreek Hill, KC WR2
9. Mark Ingram II, NO RB4
10. DeAndre Hopkins, HOU WR3
11. Melvin Gordon III, LAC RB5
12. T.Y. Hilton, IND WR4
13. Julian Edelman, NE WR5
14. Damien Williams, KC RB6
15. Zach Ertz, PHI TE2
Try to get the most bang for your buck in this range. Even if you don't think a team will play more than one game, players like Gurley and Elliott and Hopkins have good value in this range. And there's always the chance you're wrong on your game picks.
16. Tom Brady, NE QB3
17. Chris Carson, SEA RB7
18. Keenan Allen, LAC WR6
19. Andrew Luck, IND QB4
20. Robert Woods, LAR WR7
21. Brandin Cooks, LAR WR8
22. James White, NE RB8
23. Rob Gronkowski, NE TE3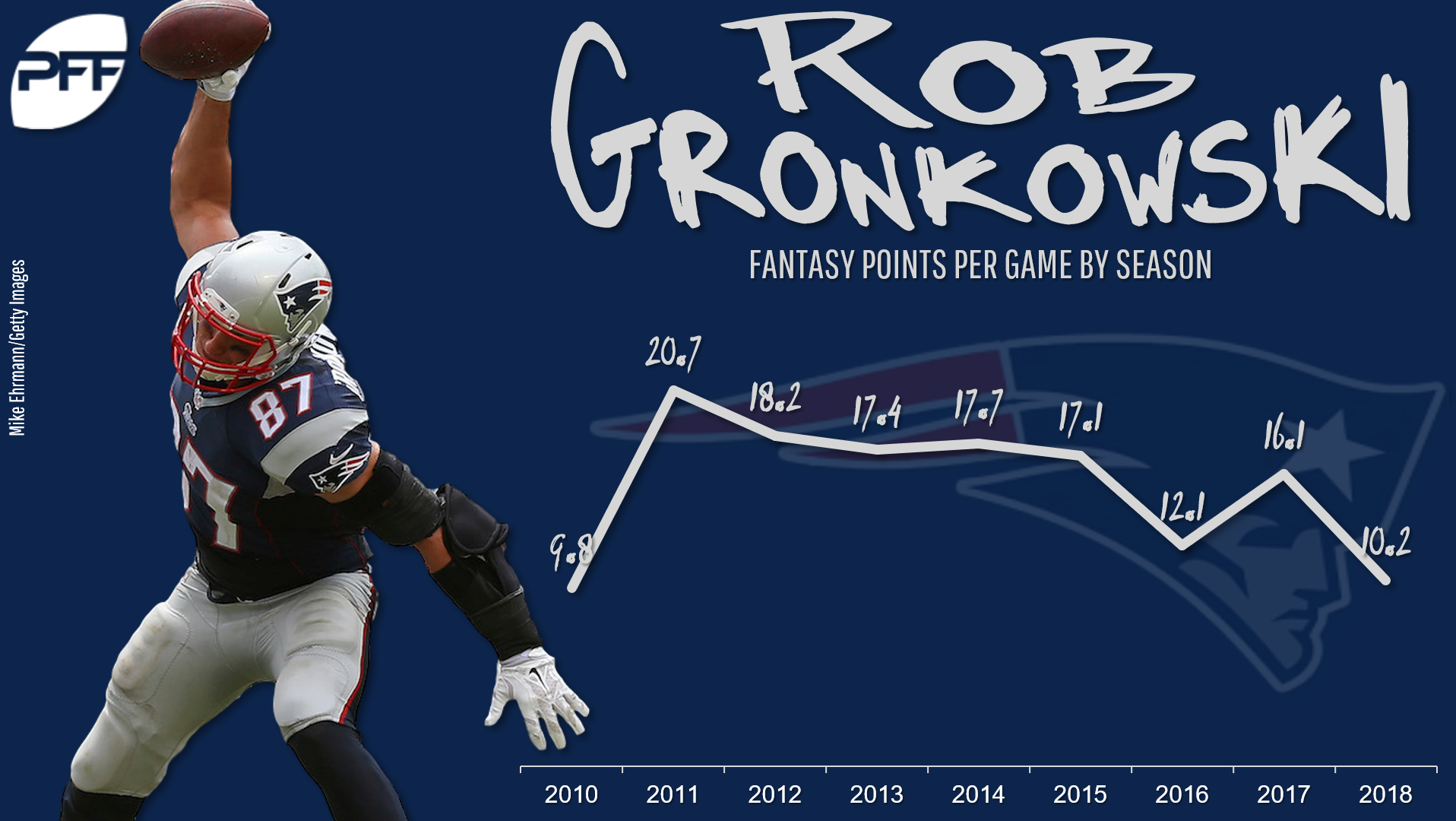 The Patriots are tricky in this draft. While they're in a good position to play three games, the regular season taught us that we can't necessarily set our watch by Brady or Gronkowski any longer. It was also tough to come by consistency from anyone other than Edelman. And let's not forget that Danny Amendola was the highest-scoring non-quarterback for the Patriots in last year's playoffs.
24. Amari Cooper, DAL WR9
25. Tarik Cohen, CHI RB9
26. Allen Robinson II, CHI WR10
27. Mitchell Trubisky, CHI QB5
28. Lamar Jackson, BAL QB6
29. Jordan Howard, CHI RB10
30. Eric Ebron, IND TE4
31. Sony Michel, NE RB11
32. Deshaun Watson, HOU QB7
33. Lamar Miller, HOU RB12
If you miss out on the first four quarterbacks, this is a good range to grab two. Trubisky flashed major upside during the season and has the potential to play three or more games. The same is true for Jackson. While my brackets have the Texans losing on Wild Card weekend, there's no denying Watson's ability to put points on the board. Last year, Ben Roethlisberger only played one game and still managed to put up top-15 fantasy numbers in playoff leagues.
34. Ted Ginn Jr., NO WR11
35. Tyler Lockett, SEA WR12
36. Marlon Mack, IND RB13
37. Alshon Jeffery, PHI WR13
38. Taylor Gabriel, CHI WR14
39. Chris Conley, KC WR15
40. Chris Hogan, NE WR16
41. Rex Burkhead, NE RB14
42. Doug Baldwin, SEA WR17
43. Russell Wilson, SEA QB8
44. Wil Lutz, NO PK1
45. Nyheim Hines, IND RB15
46. Gus Edwards, BAL RB16
47. Trey Burton, CHI TE5
48. Phillip Dorsett, NE WR18
49. Stephen Gostkowski, NE PK2
50. Austin Ekeler, LAC RB17
51. Anthony Miller, CHI WR19
52. New Orleans Saints, NO DST1
53. Tre'Quan Smith, NO WR20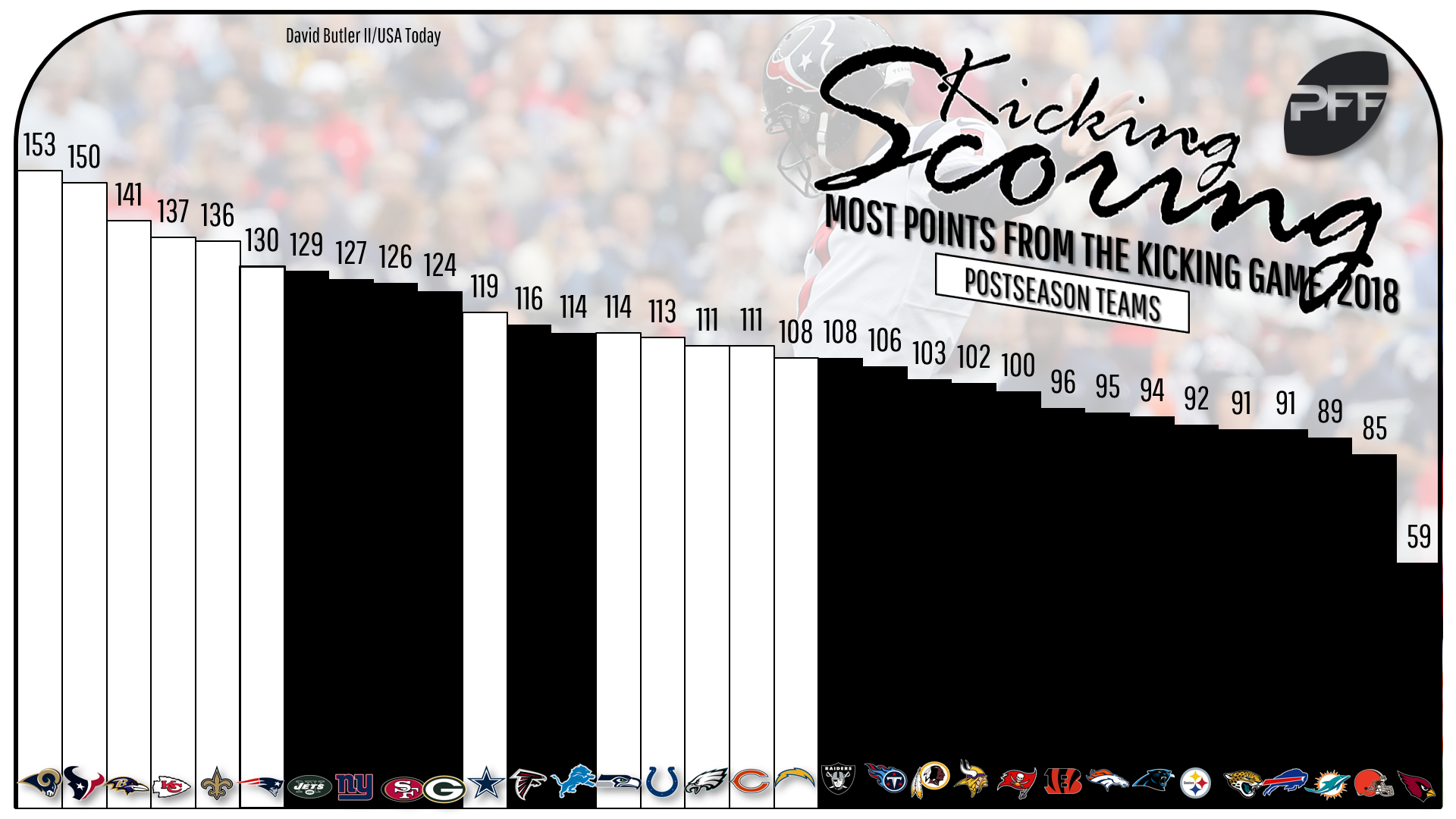 Unlike in regular-season leagues, you don't want to wait to grab your kicker and defense. Again, you'll want to lean heavily on your bracket picks and draft the kickers and defenses you project play the most games. Wil Lutz will likely be the first kicker off the board with the Saints defense likely being picked in the same range.
From this point forward continue to load up on the teams you think will go the furthest, and don't be bashful. This means picking guys deep down the depth chart. So players like Keith Kirkwood and Dan Arnold are very intriguing in the later rounds if you happened to load up on the Saints.
54. Mike Williams, LAC WR21
55. Willie Snead IV, BAL WR22
56. Kenneth Dixon, BAL RB18
57. Harrison Butker, KC PK3
58. Dak Prescott, DAL QB9
59. Jared Goff, LAR QB10
60. Darren Sproles, PHI RB19
61. Josh Reynolds, LAR WR23
62. Justin Tucker, BAL PK4
63. Keke Coutee, HOU WR24
64. Spencer Ware, KC RB20
65. Cody Parkey, CHI PK5
66. Mike Davis, SEA RB21
67. Demarcus Robinson, KC WR25
68. Chester Rogers, IND WR26
69. Tyrell Williams, LAC WR27
70. Adam Vinatieri, IND PK6
71. Michael Crabtree, BAL WR28
72. Gerald Everett, LAR TE6
73. Keith Kirkwood, NO WR29
74. New England Patriots, NE DST2
75. Sebastian Janikowski, SEA PK7
76. Nelson Agholor, PHI WR30
77. Hunter Henry, LAC TE7
78. Josh Adams, PHI RB22
79. Cole Beasley, DAL WR31
80. Chicago Bears, CHI DST3
81. Golden Tate, PHI WR32
82. Baltimore Ravens, BAL DST4
83. Philip Rivers, LAC QB11
84. Dan Arnold, NO TE8
85. Demetrius Harris, KC TE9
86. Michael Gallup, DAL WR33
87. Greg Zuerlein, LAR PK8
88. John Brown, BAL WR34
89. David Moore, SEA WR35
90. Kansas City Chiefs, KC DST5
91. Cordarrelle Patterson, NE WR36
92. Seattle Seahawks, SEA DST6
93. Josh Hill, NO TE10
94. Dontrelle Inman, IND WR37
95. Blake Jarwin, DAL TE11
96. Indianapolis Colts, IND DST7
97. DeAndre Carter, HOU WR38
98. Los Angeles Rams, LAR DST8
99. Nick Foles, PHI QB12
100. Rod Smith, DAL RB23
101. Zach Pascal, IND WR39
102. Ka'imi Fairbairn, HOU PK9
103. Ed Dickson, SEA TE12
104. C.J. Anderson, LAR RB24
105. Ryan Grant, IND WR40
106. Wendell Smallwood, PHI RB25
107. Dallas Goedert, PHI TE13
108. Houston Texans, HOU DST9
109. Mo Alie-Cox, IND TE14
110. Mark Andrews, BAL TE15
111. Dallas Cowboys, DAL DST10
112. Adam Shaheen, CHI TE16
113. Jordan Thomas, HOU TE17
114. Noah Brown, DAL WR41
115. Alfred Blue, HOU RB26
116. Taysom Hill, NO QB13
117. Tyler Higbee, LAR TE18
118. Taquan Mizzell Sr., CHI RB27
119. Nick Vannett, SEA TE19
120. Chris Moore, BAL WR42
121. Hayden Hurst, BAL TE20
122. Antonio Gates, LAC TE21
123. Brett Maher, DAL PK10
124. Allen Hurns, DAL WR43
125. Dalton Schultz, DAL TE22
126. Rashaad Penny, SEA RB28
127. Los Angeles Chargers, LAC DST11
128. Jordan Akins, HOU TE23
129. Benjamin Watson, NO TE24
130. Michael Badgley, LAC PK11
131. Javorius Allen, BAL RB29
132. Travis Benjamin, LAC WR44
133. Jaron Brown, SEA WR45
134. D'Onta Foreman, HOU RB30
135. Kelvin Benjamin, KC WR46
136. Joshua Bellamy, CHI WR47
137. Vyncint Smith, HOU WR48
138. James Develin, NE RB31
139. Jake Elliott, PHI PK12
140. KhaDarel Hodge, LAR WR49
141. Ryan Griffin, HOU TE25
142. Jordan Wilkins, IND RB32
143. Zach Line, NO RB33
144. Tavon Austin, DAL WR50
145. Nick Boyle, BAL TE26
146. Philadelphia Eagles, PHI DST12
147. Jordan Matthews, PHI WR51
148. Rico Gathers, DAL TE27
149. Justin Jackson, LAC RB34
150. Anthony Sherman, KC RB35