You don't need to draft a quarterback early to win your fantasy football league. This isn't a new idea in the fantasy industry, but it's one that fantasy players in home leagues have largely resisted until just recently. But even with quarterbacks going later in your home drafts than they used to, there are still tremendous values on the board thanks to the pass-happy nature of today's NFL.
Another old adage in the fantasy industry is that you don't need to draft two quarterbacks. While that may have worked a decade ago, the depth at the position opens up the opportunity to deploy a strategy that I call "safe and upside." The approach is simple: wait until you get in the later part of your fantasy drafts and draft one safe quarterback and one with upside.
The logic behind this strategy is that the safe option will at least give you a high enough floor to compete and also allows you to swing for the fences with the upside option. Nearly every year we see quarterbacks who are selected outside of the top 12 options at the position emerge as elite fantasy producers. Patrick Mahomes (2018), Carson Wentz (2017), Matt Ryan (2016), and Carson Palmer (2015) were all late-round picks who dramatically out-played their respective ADPs.
Looking to early ADP data, there are some interesting candidates who have the potential to offer massive value as late-round picks. Let's break them up into safe and upside options who you should be considering from the ninth round on in 12-team leagues and from the 10th round on in 10-team leagues. Remember, the goal is to take one player from each category. Taking two safe options doesn't give you the potential to score a possible league-winning option. Likewise, two upside options leaves you vulnerable to striking out on both picks.
Safe late-round QBs
In the history of the NFL, only seven players have topped 5,000 passing yards in a single season. Roethlisberger is one of them after going for 5,129 passing yards last year. Sure, he didn't match Mahomes' touchdown output, but Big Ben's numbers were still good enough for the No. 3 spot among quarterbacks in fantasy scoring.
That was, of course, with Antonio Brown on the field. But the all-world wideout's departure leaves a cavernous hole in Roethlisberger's receiving options that simply won't be filled be free agent addition Donte Moncrief and rookie Diontae Johnson. Still, there are plenty of weapons at his disposal in Pittsburgh. While regression for Roethlisberger is all but guaranteed, he's still very much in the QB1 conversation. Better yet, he gives you a reasonably high fantasy floor with an ADP currently in the ninth round.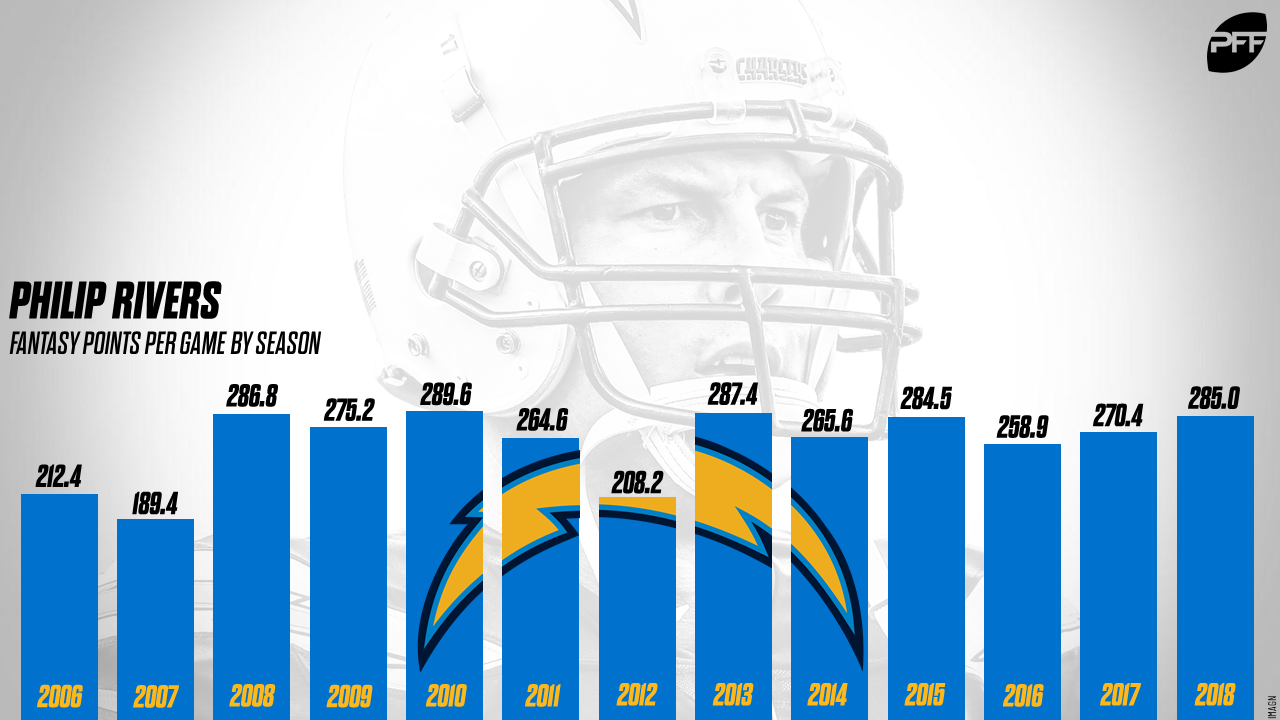 For a better part of the last decade and a half, you've been able to set your watch to Rivers for fantasy purposes. The Chargers' signal-caller has been one of the league's most consistent quarterbacks with 10 4,000-yard season in the past 11 years. Over that span, he's had at least 26 touchdowns every year and topped 30 scores six times (including last year).
Of course, Rivers isn't a modern fantasy quarterback because he does essentially nothing on the ground, with a combined five rushing yards over the last two seasons. So those chasing upside will want to look elsewhere. But if you're looking for a safe option to pair with a late-round upside quarterback, Rivers is your guy. He's about as safe as they come.
Fantasy football is a fickle pursuit. Case in point: Cousins. The former Washington quarterback made his move to Minnesota and proceeded to put up his fourth-straight 4,000-yard season along with topping 30 touchdown passes for the first time in his career. But you wouldn't know it from the widespread perspective that he was a fantasy disappointment.
Sure, he didn't live up to his ADP as the eighth quarterback drafted, but Cousins didn't finish that far off at 11. He also has one of the league's best receiver duos at his disposal in Stefon Diggs and Adam Thielen. Cousins is set up for another solid statistical season, and you'll likely be able to get him toward the end of fantasy drafts this year.
The backslide has very much begun for Brady, but the old man has yet to completely fade from fantasy relevance. Despite the Patriots becoming a decidedly more run-heavy offense, Brady still managed to finish 10th among quarterbacks in fantasy scoring last season.
But like some of the other elder statesmen at the position, Brady doesn't bring much upside to the table. He does very little as a runner, and last season he managed just eight completions of 40-plus yards. That's half as many as the league leaders. He'll also be without Rob Gronkowski for the first time in nearly a decade. While 2019 isn't shaping up to be one of Brady's better campaigns, his consistent production is still enough to warrant QB2 consideration as a safe option at the position.
He may not get the recognition of some of his peers, but Prescott has been a rock-solid fantasy option over the last three years with QB1 finishes in each season. From a touchdown standpoint, he's been about as consistent as they come with passing touchdown totals of 23, 22, and 22 to go along with six rushing scores each season.
And the latter is especially where Prescott adds value. His 75 rushing attempts last season ranked fifth among quarterbacks and only Josh Allen scored more touchdowns. From a passing standpoint, the addition of Amari Cooper really helped Prescott's numbers, as he ranked fourth in fantasy scoring over the final nine weeks of the season. Prescott is one of the better values in 2019 fantasy drafts. You'll likely see him still available after the first 15 quarterbacks have come off the board.
Upside late-round QBs
Last year was a season to forget for Winston. He stated the season suspended and had to watch as Ryan Fitzpatrick worked his magic. But Winston regained his starting job and looked magical himself with a No. 1 finish in Week 6. He then lost the job to Fitzpatrick again, only to regain it down the stretch.
Despite that bumpy ride, Winston was actually very solid from Week 11 on, ranking eighth among quarterbacks in fantasy scoring. That positive momentum is encouraging, as is the fact that Bruce Arians is in at head coach. Arians' vertical offense and the Bucs fleet of pass catching talent bode well for Winston. He screams fantasy upside and is one of the biggest breakout candidates in 2019.
We don't quite know what to expect out of the first overall selection in this year's draft, but Murray certainly comes with a lot of exciting potential. He was electrifying at Oklahoma State last year, flashing game breaking speed as a runner and the ability to spin the ball as a passer.
That Russell Wilson-esque combination of skills gives Murray mouthwatering fantasy potential, as does the prospects of Kliff Kingsbury's offense. However, the Cardinals still have a long way to go on the offensive side of the ball, especially along the offensive line. While Murray shouldn't be considered a QB1, his major upside makes him an appealing QB2 option who you can pair up with a safer signal-caller in drafts this year.
Consistency wasn't in Trubisky's wheelhouse last season, but he certainly showed fantasy upside. In Week 4, he cruised to a first-place fantasy finish thanks to a rare six-touchdown passing performance.
Trubisky also paced the league in Week 7, where he was able to get it done on the ground with 81 rushing yards and a score. While we may not think of Trubisky as a true running quarterback, he finished fifth in the league among quarterbacks in rushing yards last season. That dual threat ability bodes well for continued fantasy success in the ascending Bears offense. Trubisky is a priority upside QB2 who offers appealing upside in the late rounds of 2019 drafts.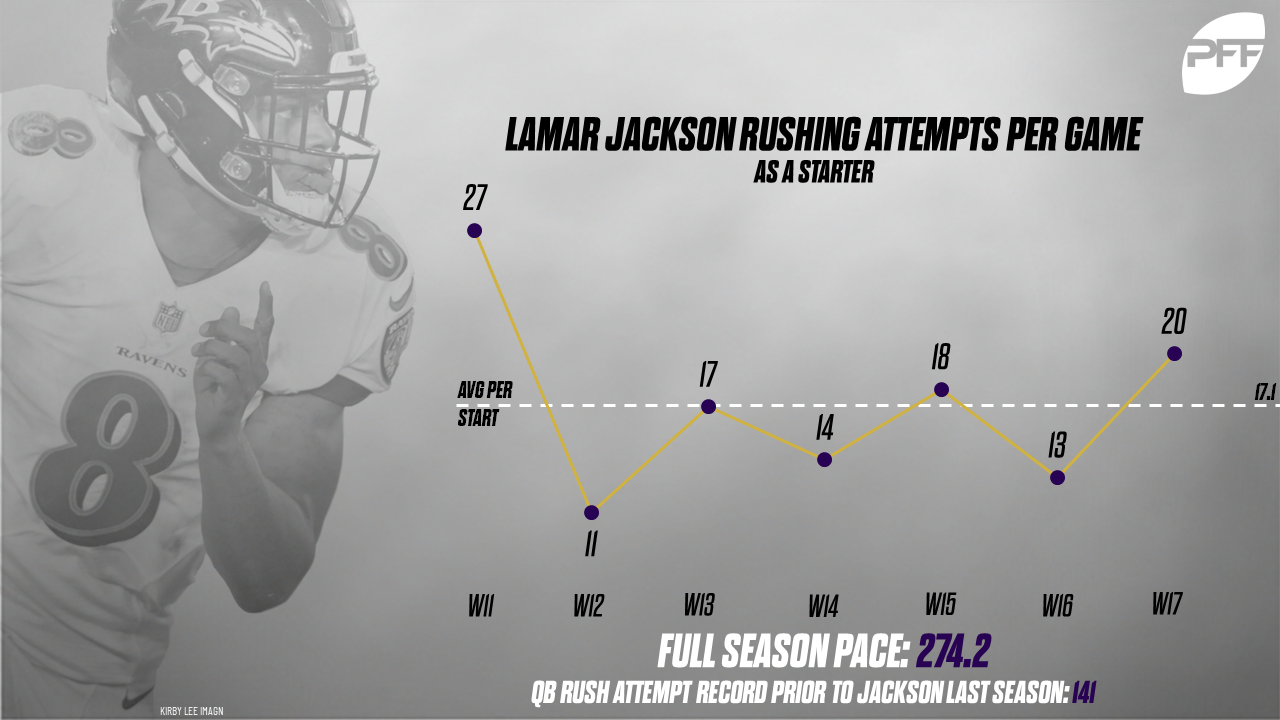 No one is going to mistake Jackson for a traditional dropback passer, but he doesn't need to be one in order to have fantasy value. Despite not taking over starting duties until Week 11, Jackson led all quarterbacks in rushing yards (693) and attempts (148). He also ranked ninth at the position in fantasy scoring during that stretch.
Of course, it's unreasonable to expect Jackson to continue to average 17-plus carries per game over the course of the 2019 season, but he's still going to run a lot. It's completely realistic to expect 180-plus carries for the year. While he isn't likely to get much done with his arm, that massive rushing volume places Jackson squarely in the front-end QB2 conversation. That said, he's far from the safest option.
Like Jackson, Allen got it done with his legs in 2018. The former first-rounder ranked second among quarterbacks in rushing yards (631) and led the position with a massive eight rushing scores. And that was in just 12 games. This rushing production led to absolute monster fantasy numbers out of Allen down the stretch, where he ranked second among signal callers in fantasy scoring from Weeks 12-17.
We can't necessarily count on the touchdown productivity to stick, but Allen's legs offer the appeal of a modern fantasy quarterback. While he isn't the most consistent passers, he's also displayed some major upside in that department. He'll also have some veteran stability at wide receiver thanks to the Bills' offseason addition of John Brown. Allen is perhaps the riskiest of this bunch, but there's no denying his high fantasy celing.