• New York Giants rookies Wan'Dale Robinson and Daniel Bellinger started with the first team but held without a target from Daniel Jones.
• New England Patriots rookie wide receiver Tyquan Thornton scored a touchdown while the Patriots rested their starters.
• Tennessee Titans first-round rookie wide receiver Treylon Burks is currently sixth on the depth chart, while undrafted rookie running back Julius Chestnut started over fourth-round rookie Hassan Haskins
---
PFF's fantasy football recap focuses on player usage and stats, breaking down all the vital information you need to achieve fantasy success in 2022. This is only focused on the players who are relevant in fantasy football leagues.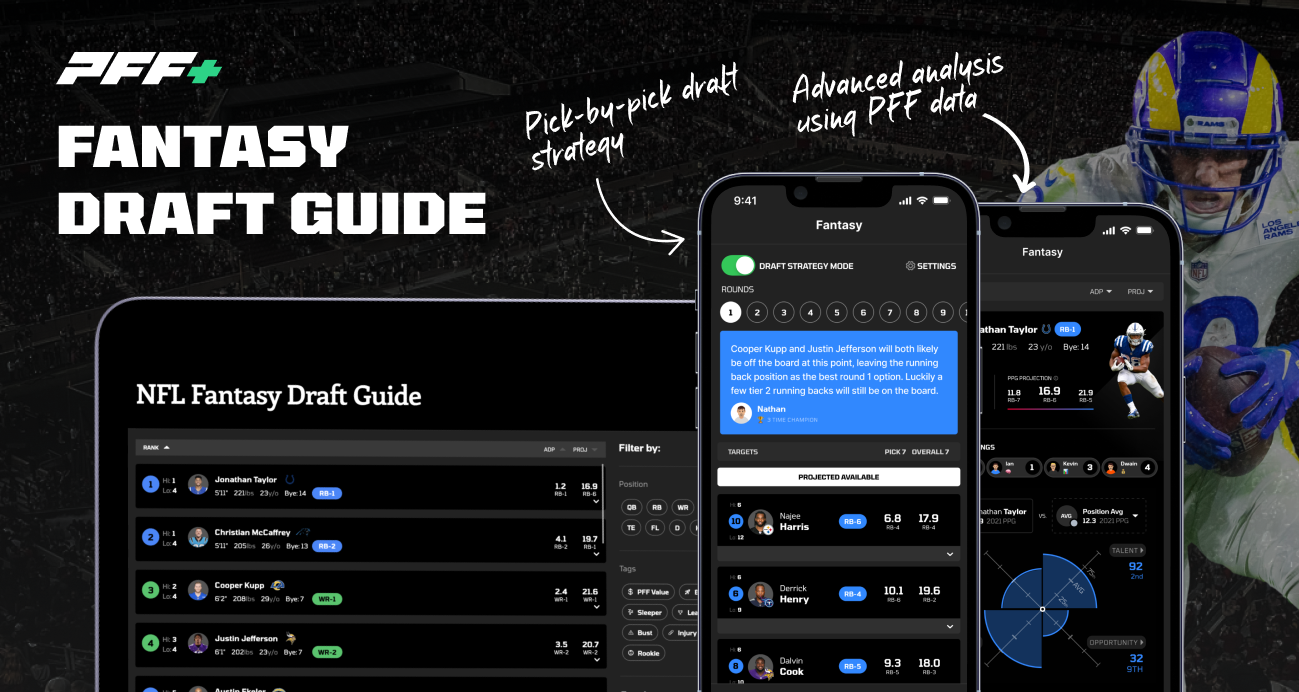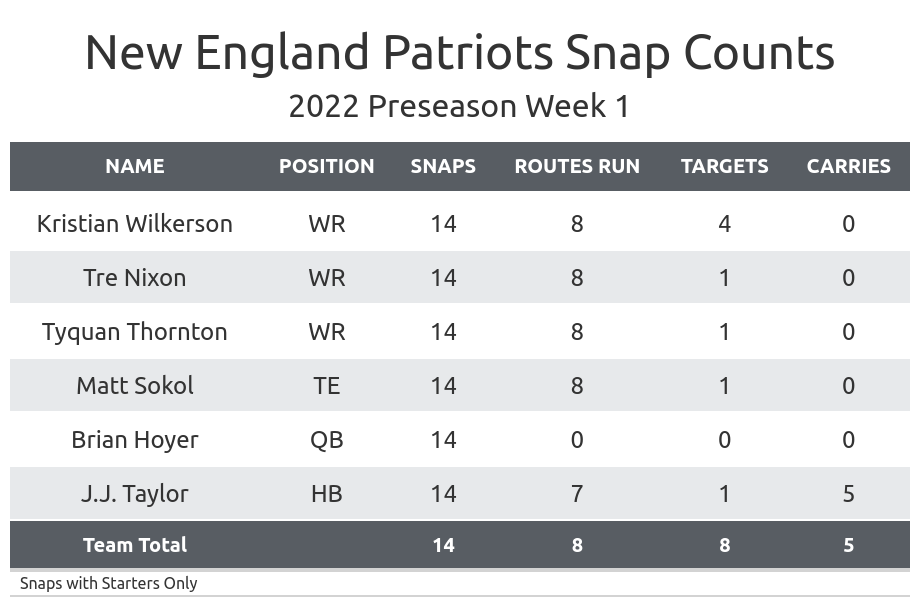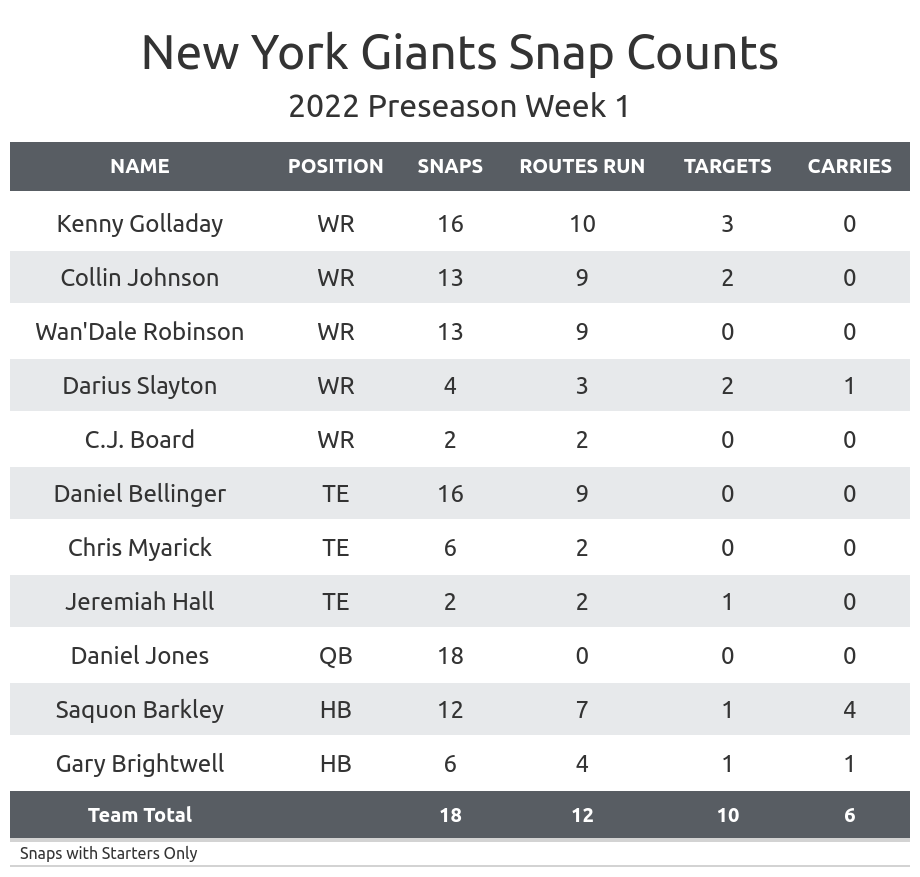 Draft WR Wan'Dale Robinson: The Giants didn't have Kadarius Toney or Sterling Shepard in this game, but there was still reason for optimism for Robinson. He played every snap with the first team in three-receiver sets and even took a snap in the base offense. The longer Shepard is out, the more entrenched Robinson becomes as the slot receiver.
The alternative for New York would have been to play Darius Slayton on the outside across from Kenny Golladay with Collin Johnson in the slot. Robinson's playing time ended when Daniel Jones' time did, while Slayton and Johnson continued playing with the second team. This means the 5-foot-8 slot receiver is ahead of both Slayton and Johnson on the depth chart. 
Draft TE Daniel Bellinger in deeper leagues: The rookie tight end appeared to be the starter for New York back in minicamp, and that continued to be the case today. He took the vast majority of snaps in the Giants' first-team offense. He didn't receive any targets with the first team but continued playing with the second team, where he was targeted. There is a chance he could see a lot of targets in the regular season, in line with his playing time. 
Monitor the Patriots' third-down running back situation: James White retired earlier today, leaving a void for the Patriots on third downs. Meanwhile, Damien Harris and Rhamondre Stevenson both rested for this game, leaving J.J. Taylor as the starting running back. Taylor played every snap on the first two drives but New England never faced a third-and-long in that time. 
Ty Montgomery also didn't play for the Patriots, which could mean his spot on the roster is secure — and he could potentially be the favorite to play on third downs when the season starts— while Pierre Strong Jr. played a lot with the second team tonight, particularly on passing plays. In essence, we might not have a good idea who will be taking the third-and-long snaps until later in the month.
Only draft WR Tyquan Thornton in deep leagues: Typically, second-round rookie wide receivers are high-upside plays, but it's difficult with the receivers on the Patriots depth chart. The Pats rested their top four wide receivers, so currently Thornton is fourth on the depth chart. He might be able to work his way up to fourth, but it would likely take an injury to make third. Kristan Wilkerson had a more noteworthy day, with five targets with the starters —including two catches for 42 yards — while Thornton just had one target for a touchdown. He's a fine gamble in deep leagues, but it could take a while before paying off.
Don't worry about RB Saquon Barkley: The Giants' star running back played every snap of the Giants' first drive, and then his day was done before the rest of the Giants starters. It's a good sign that New York gave him 12 straight plays without a play off, while all of the wide receivers and tight ends went to the bench at least once. He should see plenty of playing time this season.
---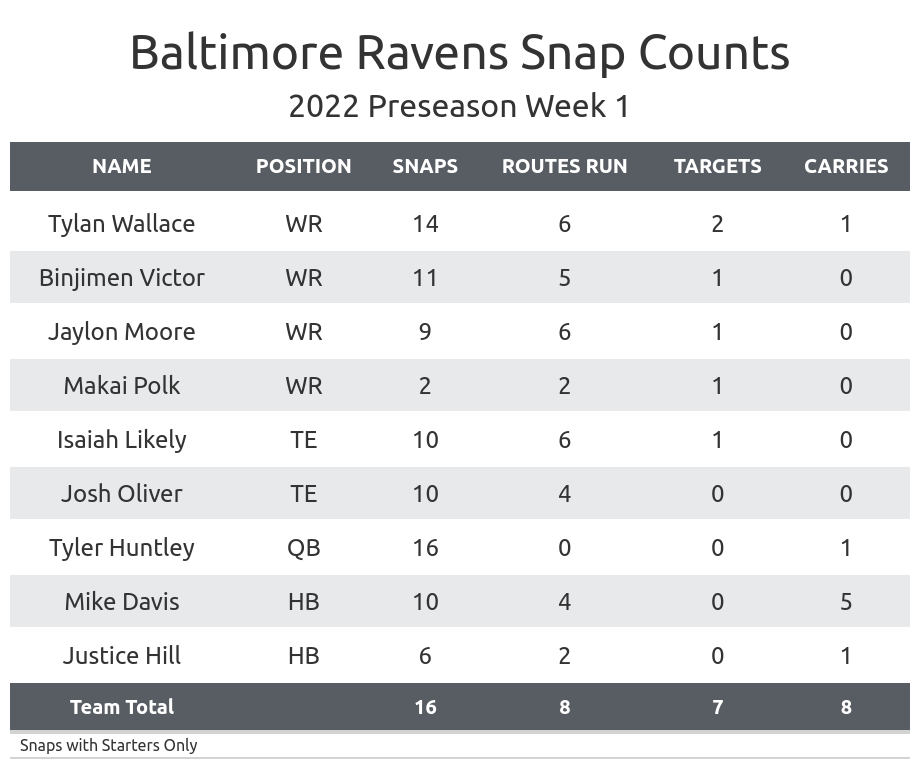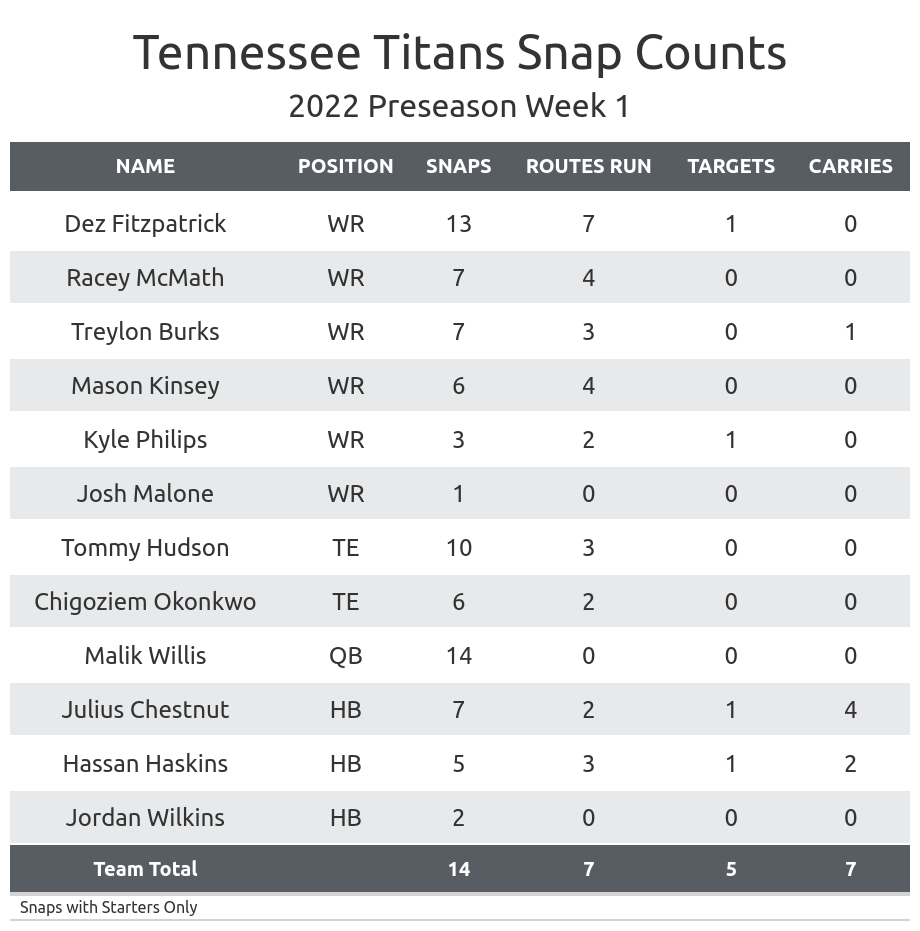 Don't Draft Hassan Haskins (except in deep leagues): The Titans rested Derrick Henry and Dontrell Hilliard tonight. It was assumed that Haskins would be the backup on early downs, but the job hasn't been handed to him. Undrafted rookie Julius Chestnut out of Sacred Heart started the game tonight and took every snap on the first two drives. Haskins came in on the third drive, while former Colt Jordan Wilkins took the third down snaps. In deep dynasty leagues, Chestnut is worth a pickup, as he could be the handcuff to Henry.
Also, slow the hype on Treylon Burks: The Titans rested their starting two wide receivers, Robert Woods and Nick Westbrook-Ikhine. Tennessee started Dez Fitzpatrick and Racey McMath, with fifth-round rookie Kyle Phillips coming in for their first three-receiver set. Burks didn't play his first snap until the Titans' third drive.
Burks continued playing even with Fitzpatrick and McMath's days were done. There is plenty of time for Burks to work his way up the depth chart, but he has a way to go. Anyone drafting Burks shouldn't expect much contribution from him in September.
Don't Forget about Mike Davis: The Ravens rested their starters tonight, including J.K. Dobbins, giving Davis a chance to shine. He played in 10 of the Ravens' 13 snaps on their first two drives, running five times for 22 yards and a touchdown in that time. It seems increasingly likely that Gus Edwards misses at least the start of the season, making Davis the second player on the depth chart. He should rotate heavily with Dobbins to start the season and could see significant playing time if Dobbins has a setback.
Stash Isaiah Likely in deep leagues: Mark Andrews didn't play, allowing the fourth-round rookie to take the receiving tight end role for Baltimore. It was typically Likely in 11 personnel, Josh Oliver in 21 personnel and both in two-tight end sets. He caught four passes for 44 yards in the first half, including a highlight-worthy catch. It's hard to imagine Likely having any consistent value when Andrews is healthy, but he should see at least some playing time. He could be a popular cheap DFS play if he continues to play this well. This could also hurt Andrews' fantasy value slightly if the Ravens limit the All-Pro's playing time.
---
Table Notes
• Snaps include plays called back due to penalties like offensive holding or defensive pass interference. The other three stats have these plays removed.
• Targets may differ from official NFL sources. The most likely discrepancy would be from a clear thrown away pass, where the NFL may give the target to the nearest receiver, while this data will not.
• Carries are only on designed plays. Quarterback scrambles won't count for the total number of carries in the game.