A key decision to make in fantasy football each week is who to add on the waiver wire. Naturally, that means an equally key decision is who to drop. Roster space is a finite resource, so when you want to add that new key player, someone's gotta go.
Every other week in this space, I'm going to break down players worth dropping. Sometimes it's a player who should be dropped, while others are just players who can be dropped in a pinch. I'll run through the list in order of ownership percentage on Yahoo as of Monday morning.
(92% rostered)
Obviously, Gordon has major upside, and doesn't need to be dropped in any league. On the other hand, he only has one touchdown this year (back in Week 1) and has only topped 60 yards twice. He has 112 yards in the last three games combined. On top of that, N'Keal Harry's debut is coming, which could work to steal some of Gordon's already-underwhelming targets. I wouldn't advise dropping Gordon, but I also wouldn't blame you if you were in a bye-week pinch.
(90% rostered)
Not much analysis needed here. Dissly's almost certainly done for the year after what was believed to be an Achilles injury. Unless you're in a keeper league, he's droppable. And even in keeper leagues, that's two major injuries in two seasons. It would need to be a deep keeper.
(83% rostered)
There are a lot of underperformers at tight end, but there also isn't a lot out there, so people cling to names and flashes. Walker has 5 catches for 57 yards in his last three weeks combined. If you want to hold on to him out of hopes that he develops a connection with Ryan Tannehill or because there's no one out there, no one will fault you, but there's no specific need to hold on to Walker.
(75% rostered)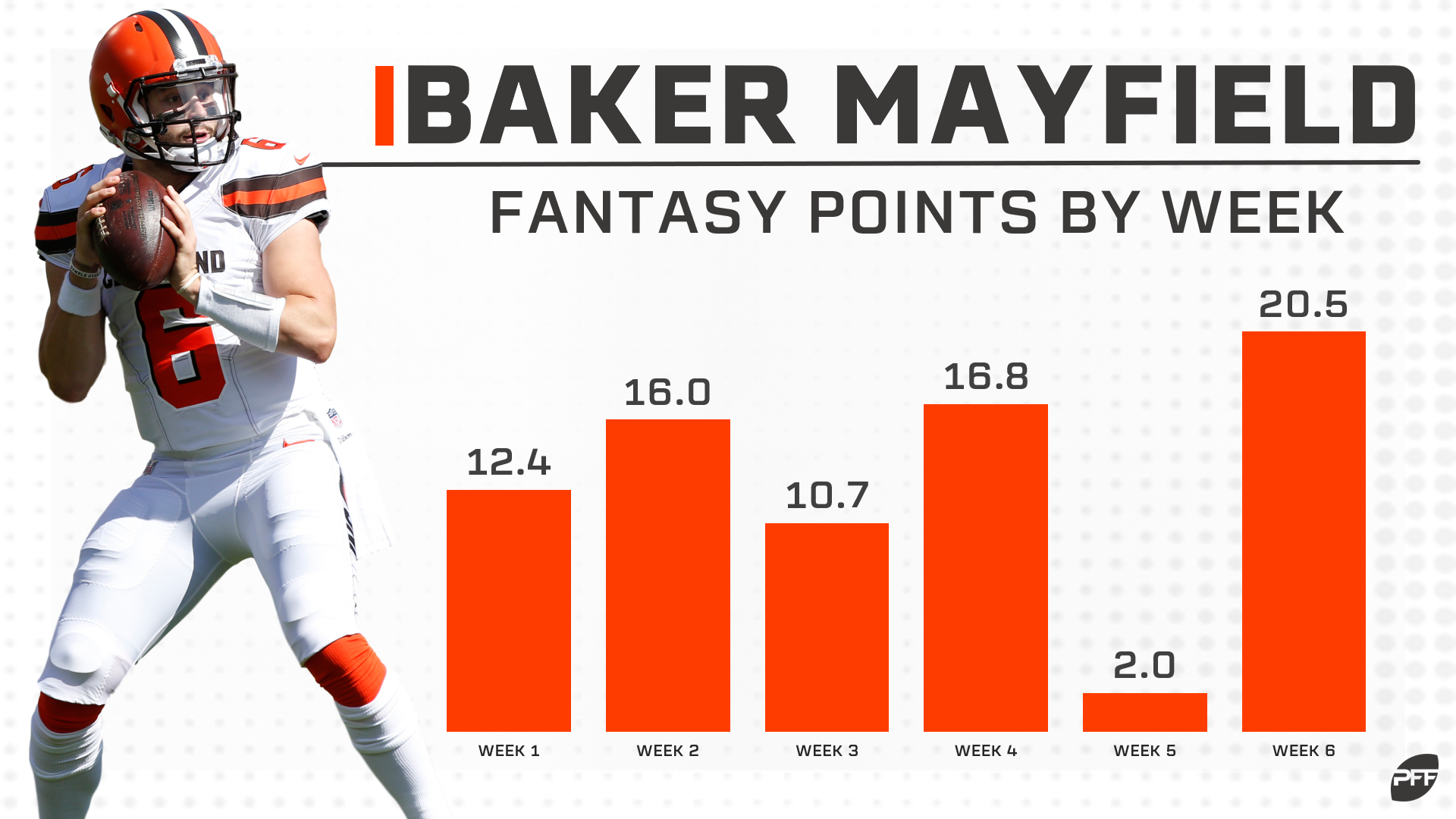 Because he scored a rushing touchdown, Week 6 was Mayfield's best fantasy day of the season … and it featured three interceptions, his third game of the season with two more picks than touchdown passes. And he came into the week with exactly 0 rushing yards on the season, so it's not like that's something you can count on repeating. He has 5 passing touchdowns against 11 interceptions in six games and is averaging under 250 passing yards per game. In superflex or two-QB leagues, you're obviously holding, and he still has major upside in one-QB leagues, but if you want to move on, no harm.
(73% rostered)
Through six weeks now, Graham has 149 yards total. Even with the Packers down to maybe you and me at receiver Monday night, he only got to 17 yards. Graham's end-zone targets mean he's always a threat to score in any given week (he has two touchdowns so far), but he's so low-upside that even that chance doesn't really make him worth it.
(63% rostered)
No team is running the ball more often than the 49ers. That's in part because the team is off to a 5-0 start that has included four wins by at least two scores, but it's also pretty clearly the gameplan. As a result, Garoppolo is averaging only 29.2 pass attempts and 236.6 passing yards per game. He doesn't carry as much upside as you'd like for a 5-0 quarterback.
(28% rostered)
Obviously, once he's healthy, Gallman will once again be the top handcuff for Saquon Barkley, and for that reason there's nothing wrong with holding him. But Barkley's apparently imminent return makes Gallman a nonfactor for fantasy otherwise.
(28% rostered)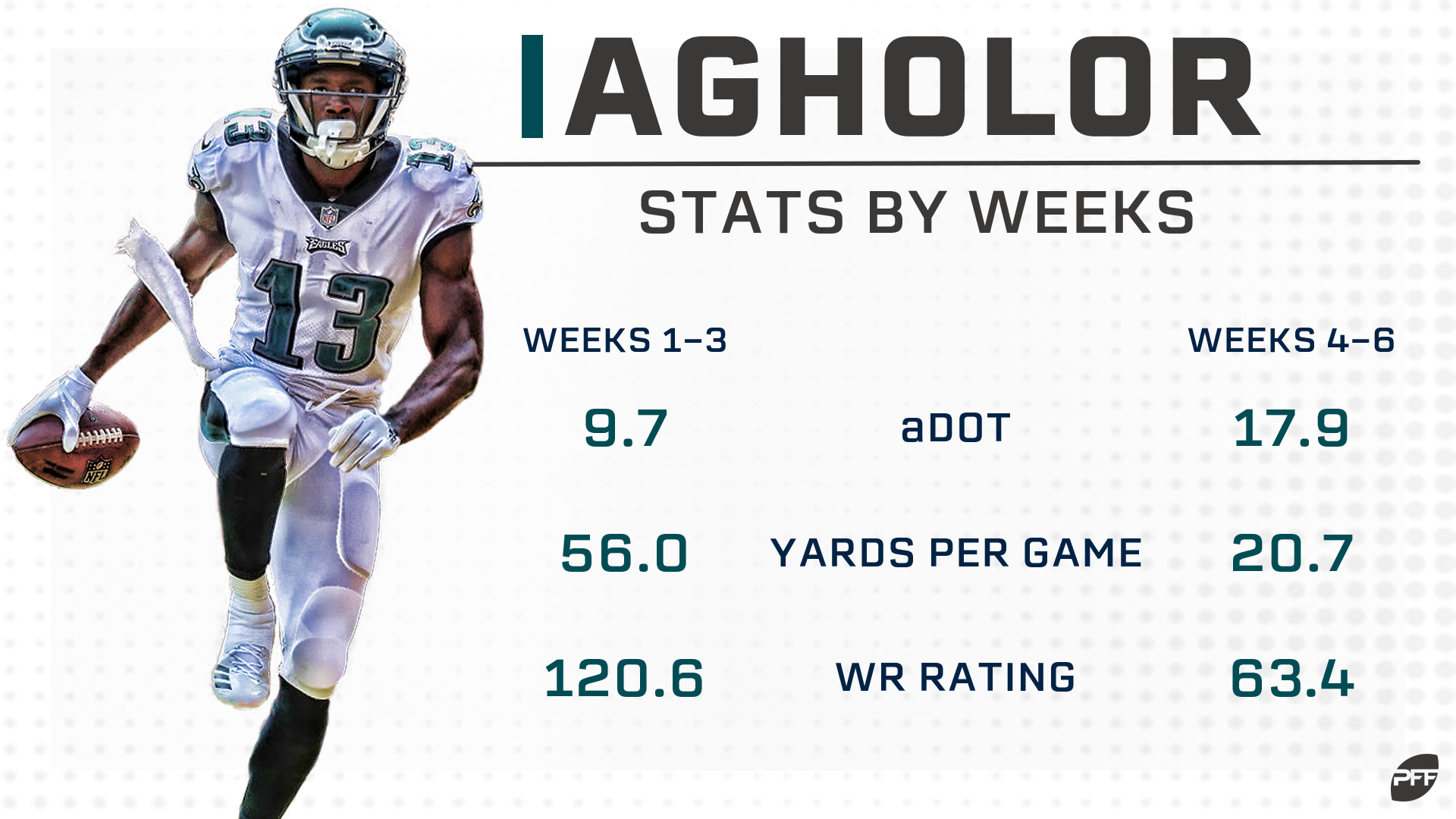 Agholor's fantasy managers desperately need DeSean Jackson to return to action. In Weeks 1-3, Agholor was the Eagles' short-yardage option, with a 9.7-yard average depth of target, and he averaged 56.0 yards a game and managed a 120.6 passer rating when targeted. In Weeks 4-6, with Alshon Jeffery back but Jackson still out, Agholor has been the deep target. His aDOT has grown to 17.9 yards, but his numbers have plummeted, with 20.7 yards a game and a 63.4 WR rating. So Jackson's return could help, but ultimately, it's just hard to trust Agholor going forward.
(20% rostered)
Whenever Samuels returns from injury, whether the Steelers quarterback is Mason Rudolph of Devlin Hodges or, I don't know, Charlie Batch or something, Samuels will likely slide right back into his role as the No. 2 running back with some wildcat ability, and that gives him fantasy upside. But there's not a lot of upside there, and holding out a month for a team's low-upside No. 2 RB isn't a good use of resources.
(15% rostered)
Damien Williams' return has rendered Darrel Williams a total afterthought in the Chiefs' offense. After averaging 35.5 offensive snaps in Weeks 3-4, he's totaled 20 snaps the last two weeks, getting one touch in that time. That touch was a 52-yard reception Sunday, so he still has explosive ability, but his usage has disappeared.
(9% rostered)
Bernard got 63 yards in Week 1. Since then, he has 94 yards total. He hasn't scored yet this year. He's a lightly used backup in a bad offense. I can't imagine a time when you'll use him in fantasy barring a Joe Mixon injury.
(6% rostered)
Edwards has 27 carries in total since his 17-carry Week 1. We thought the Ravens would run so much that multiple running backs would have value alongside Lamar Jackson, but so far it's been Jackson, Mark Ingram, or bust.