A key decision to make in fantasy football each week is who to add on the waiver wire. Naturally, that means an equally key decision is who to drop. Roster space is a finite resource, so when you want to add that new key player, someone's gotta go.
Every other week in this space, I'm going to break down players worth dropping. Sometimes it's a player who should be dropped, while others are just players who can be dropped in a pinch. I'll run through the list in order of ownership percentage on Yahoo as of Monday morning.
(91% rostered)
Goff has had plenty of bright spots this season, with four weeks as a top-10 fantasy finisher, but he's had some blow-up games as well, going scoreless twice and with only 1 touchdown three times, finishing 24th or lower at quarterback three times. In deep or two-QB leagues, he's an obvious must-play, but in single-QB leagues of 12 teams or fewer, his downside can just kill you.
(82% rostered)
Williams' value looked strong early in the season with touchdowns in each of his first five games played, but the last two weeks he's gone scoreless and only totaled 73 yards, giving him fewer than 50 yards five times in seven games. Obviously, as the No. 1 weapon in his offense, Williams is nowhere near a must-drop, but if you're in a bind elsewhere, there's nothing that makes him a must-keep either.
(81% rostered)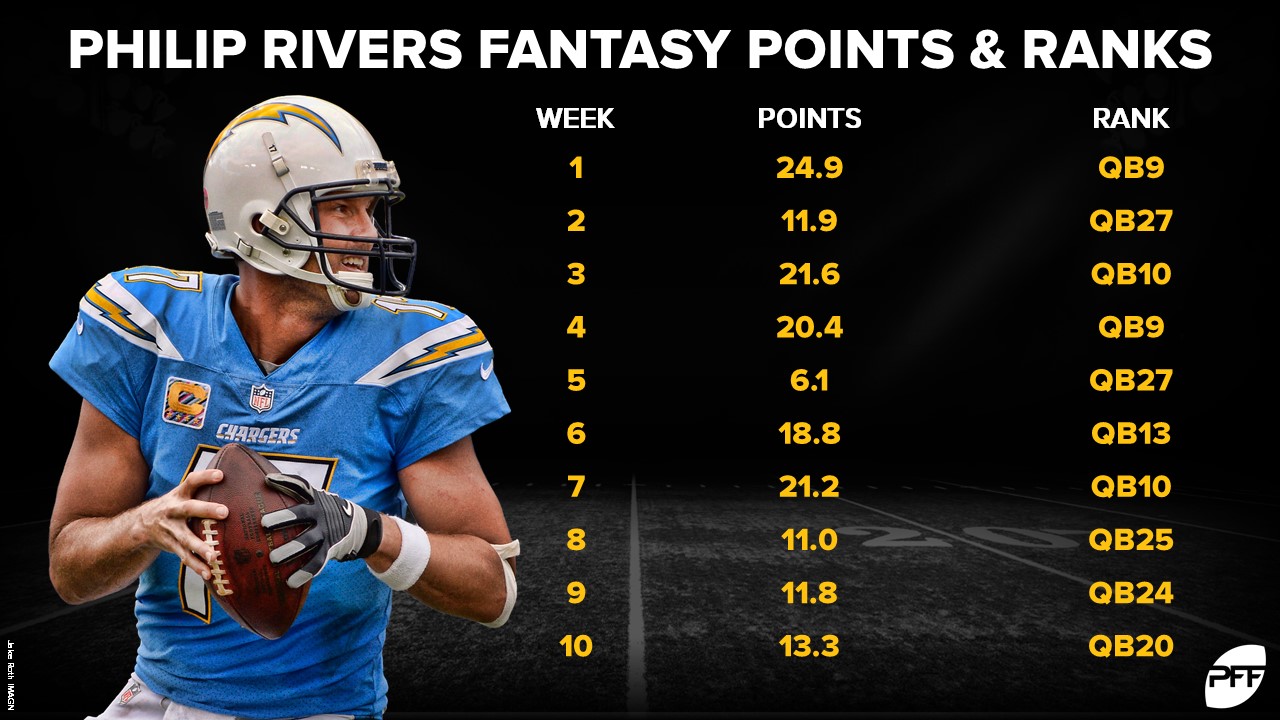 With no rushing value at all (since Week 3 he has negative-3 combined rushing yards), Rivers needs big passing numbers to be fantasy-relevant, and he hasn't offered them much this year. Week 1 was his only game of the season with more than 2 passing scores, and he's gone without any touchdowns three times this year. He's had four top-10 weekly finishes, but never better than ninth, and he's finished 24th or worse just as many times. Like Goff, Rivers has plenty of deep-league value, but for normal leagues, there are worlds of quarterbacks with more upside.
(79% rostered)
We don't really know if and when we'll see Cooks on the field after his most recent concussion. It could be Week 11, it could be 2020. But even if it's next week, Cooks hasn't topped 100 yards since Week 3, hasn't scored since Week 2. The potent Rams offense has taken a massive step back this year, and Cooks has been one of the biggest losers. There's no need to hold on to him.
(64% rostered)
Big plays count like anything else, so this is more curiosity than analysis, but if you take out Anderson's 92-yard touchdown in Week 6, this is his season line through nine games: 23 catches, 261 yards, 0 touchdowns, 5.5 PPR points per game. He's had fewer than 20 receiving yards four times in nine games, fewer than 50 yards seven times. How you can roster that in fantasy is beyond me.
(60% rostered)
We'll see if McCoy's role returns after he was a healthy scratch Sunday. Reports were that it was more of a rest thing than him truly being on the outs after his fumbles, and Damien Williams fumbled himself in that game. Regardless, McCoy hasn't had even 10 PPR points in a game since Week 4. What are you hoping for if you roster him?
(57% rostered)
Cohen's season-best in all-purpose yards is 49, reached twice. He's scored twice (including Sunday) and had games of 6, 8, and 9 receptions, but he would need to be a lock for that number of receptions each week to be worth his pitifully low yardage, and in a struggling Bears offense, he's far from that lock.
(56% rostered)
Any tight end with a pulse and a target share warrants some fantasy consideration this season, so no one is saying to dump McDonald immediately. At the same time, he only has 3 touchdowns this season (coming in two games) and has yet to have more than 40 yards in a game. Whatever upside we thought McDonald has, he has not displayed.
(Valdes-Scantling 52% rostered; Allison 16% rostered)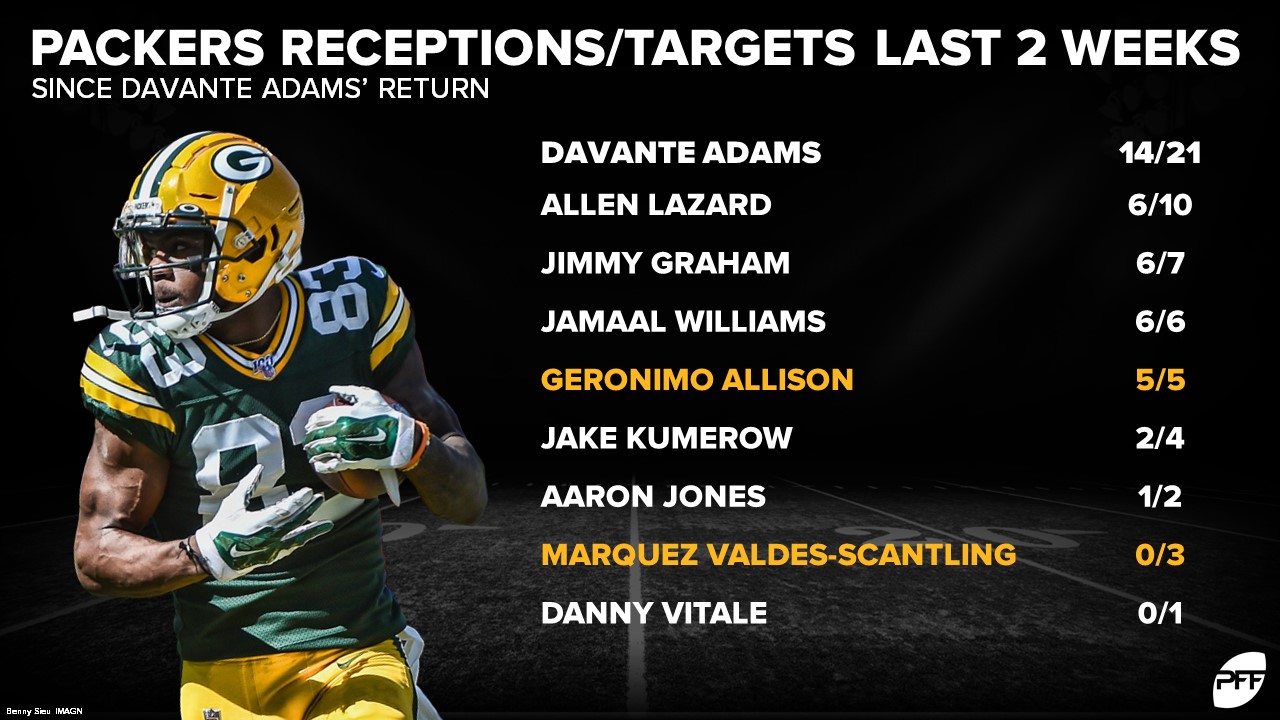 Unsurprisingly, Davante Adams has been the Packers' target leader in the two games since his return. Perhaps surprisingly, it's been Allen Lazard, not Allison or MVS, who has been second among receivers in both games. Valdes-Scantling hasn't had a reception in those two games, while Alison has 5 receptions for 27 yards. Lazard isn't displaying massive upside either, but if you want a Green Bay receiver not named Adams, he's the only candidate.
(47% rostered)
Like Cooks above, we have no real idea if and when we'll see Shepard again this year, and his situation has seemed to be even worse than his Rams counterpart. Golden Tate has played well, and Darius Slayton has looked good in Shepard's absence, and with the Giants not going anywhere, there's no real need to rush back an oft-injured receiver.
(37% rostered)
Sure, Ballage is a starting running back in the NFL, and that has some value. But ask yourself what course of events would have to transpire for you to feel comfortable putting him in your starting lineup. He still doesn't even have a single 10-yard carry on the year. There's less upside here than there is in any number of No. 2 backs around the league. And at best he only has three more weeks anyway before Mark Walton's expected return.
(35% rostered)
The hopes that Ryan Tannehill had unlocked Davis after their big first game together quickly vanished, with Davis putting up only 57 yards on 6 receptions in the next two games before missing Week 10 with injury. He's a low-upside receiver dealing with an injury in a run-heavy offense. Move on.
(19% rostered)
Ryan Finley had a tough task in his career debut, and at least for one game he wasn't really up for it, throwing for only 167 yards (5.6 per attempt) and managing a 42.6 PFF passing grade. The effect was felt up and down the roster, with Tyler Boyd (62) the only Bengals to top 37 receiving yards. Tate's had a nice breakout year, but he still has only scored once all year, and if the offense overall is going to have a lower upside with Finley at quarterback, his already-meager stock takes more of a dive.
(15% rostered)
Remember when Miller was a sneaky breakout candidate before the year? Remember when he came on strong in Weeks 5-8, with 12 receptions for 183 yards? In two weeks since then, he has 1 reception for 7 yards total. For the season, he has 17 catches, 218 yards, and no visits to the end zone. He can't possibly be worth rostering.