This week's player showdown looks at two young and equally frustrating tight ends. Tyler Eifert and Zach Ertz have both had high expectations since entering the league in 2013. Both were high (for a tight end) draft picks — Eifert was 21st overall; Ertz 35th — and have been seen significant action for the Bengals and Eagles, respectively. Yet all they've done is left people expecting more.
For Eifert, the issue is fairly simple. He's played in just 22 games over the last three seasons, missing more than half of 48 possible. Between back, knee, and ankle injuries, Eifert has earned a reputation for being injury prone. Yet despite that missed time, he's been highly productive, scoring 18 touchdowns in those 22 games. For Ertz, the issue's been consistency. Even though he's averaged 790 yards per season over the last three campaigns, he's had some of the starkest peaks and valleys of any fantasy tight end. For example, Ertz had eight games with five standard scoring fantasy points or less. And Ertz's five career 100-yard games have all occurred in Week 13 or later, too late to be useful for most fantasy regular seasons.
So the question is, which frustrating tight end should go higher in fantasy drafts this year?
The players
Ertz and Eifert have both excelled at teasing the fantasy teams that drafted them, but they have much more in common. They're actually built very similarly (Ertz is 6-foot-5, 250 pounds; Eifert is 6-6, 255); were drafted within 14 spots of each other (as mentioned above), and have graded quite well according to PFF ratings. Eifert has finished as PFF's third- and 10th-rated tight end in 2015 and 2016, respectively, while Ertz finished 10th and fourth in 2014 and 2015, but then 39th in 2016. Their yards-per-route-run averages have been extremely similar, with Ertz finishing 10th and 14th over the last two seasons, while Eifert finished 12th and 15th.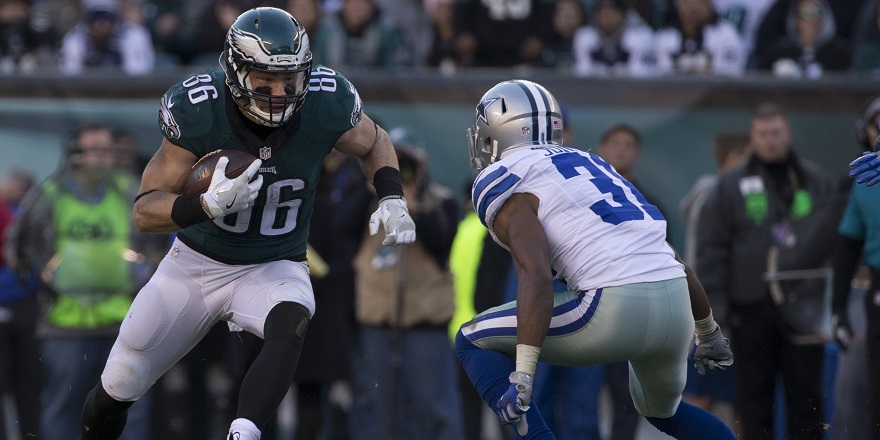 But for all their similarities, fantasy-wise the two players have had very different paths. Eifert, despite missing so much time, still scores touchdowns at a faster rate than any tight end this side of Rob Gronkowski. In his breakout season two years ago, he caught 13 touchdowns despite playing in only 13 games. He accomplished that despite only totaling 52 receptions all season, which means he literally caught a touchdown every fourth reception on his way to finishing as the sixth-best fantasy tight end. Of course, in typical Eifert fashion, he followed up his breakout season in 2015 only playing in eight games in 2016. Yet he still caught five touchdowns on just 29 receptions, or every six balls he caught. He's the epitome of efficiency.
Ertz has had a distinctly different run. While Eifert is a scoring machine, checking in at fifth among all tight ends in touchdowns the last three seasons, Ertz is down the list at 19th. This is despite being fourth in receptions (211) and sixth in yards (2,371) in the same time frame. Luckily, finishing so high in receptions and yards has kept Ertz fantasy relevant, finishing 13th, 10th, and eighth among all fantasy tight ends the last three seasons.
Advantage: Push. Both Eifert and Ertz have been good fantasy tight ends, albeit in different ways.
Subscribe to PFF Edge to continue reading
Already have a subscription? Sign In