Every draft season, some pairs of players end up causing fantasy football players headaches. On the surface, their pros and cons are close, or one has a higher ceiling but the other a higher floor. One might be a superstar who can't stay healthy, while another might be only above-average, but you can count on him to play 16 games most seasons.
This offseason, I'm looking at some specific matchups, in hopes that these conundrums won't be so vexing come draft day. This week, it's two receivers who have had confusing careers so far. Call it the "Battle of the Allens," with oft-injured Chargers Keenan Allen and recently slumping Jaguar Allen Robinson. Both have had their share of highs and lows in their brief careers, bringing up several questions for draft time. According to My Fantasy League's ADP tool, Robinson is currently the 10th receiver taken off the board while Allen is the 14th. So which one should you choose?
The players
We'll start with Keenan Allen, who enters his age-25 season in 2017 coming off a torn ACL suffered in the season opener of 2016. The season before that also ended abruptly due to a kidney injury, but before then, Allen was putting together a great season with 725 yards and four touchdowns in just eight games. Many are still considering him a borderline WR1 in his fifth season, despite just one 1,000-yard season in his career. It's that kind of production, and injury history, that has been such a tease to fantasy owners since Allen entered the league.
Robinson has teased fantasy owners as well. After a fairly nondescript rookie season, Robinson broke out in 2015 with 80 catches for 1,400 yards and tied for the league lead in receiving touchdowns. He crashed back to Earth in 2016, catching 73 balls but totaling only 883 yards just six touchdowns. Meanwhile his yards-per-reception average fell from 17.5 yards in 2015 to 12.1.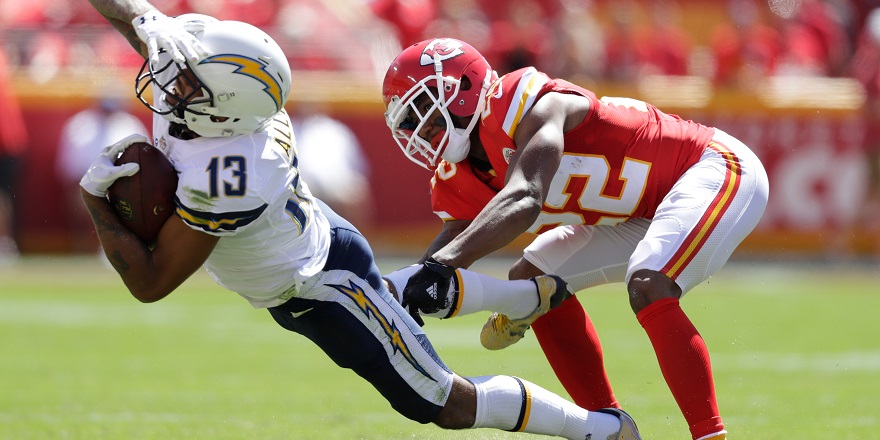 So both have a small history of big fantasy numbers, but what about beyond the stat line? Using PFF's WR Rating, which shows the quarterback rating when a receiver is targeted, Robinson has actually been less than great. He finished 24th out of 85 receivers in 2015, his 1,400-yard season, then toppled to 87th out of 96 last year. Meanwhile, in the three seasons he played enough games to qualify, Allen gas finished seventh (2013), 72nd (2014), and 20th (2015).
Both could stand to hold on to the ball better, particularly Robinson. Robinson has ranked 50th and 75th in receiver drop rate. Allen has been better, though hardly elite — 24th, 20th, and 34th in drop rate in his qualifying seasons.
More succinctly, Allen's PFF grade among receivers was 12th, 33rd, and 29th from 2013 to 2015, while Robinson's finished ninth in his breakout season in 2015 but 55th in 2016. It appears they have a similar ceiling, but the floor for Allen is much higher.
Advantage: Keenan Allen
Subscribe to PFF Edge to continue reading
Already have a subscription? Sign In