Warning: No analysis here. This is just for fun, y'all.
Those "Pick your 5" social media memes are fairly ubiquitous. Make your dream rock band, pick your favorite movie cast, form the best team of superheroes. You get $15, and the candidates are split into different values. It's easy, it generates conversation, and it's fun.
We wanted in.
Monday, we sent out the tweet:
Who ya got??? pic.twitter.com/5aGsdJZBSQ

— PFF Fantasy Football (@PFF_Fantasy) May 21, 2018
(And later on Monday, it went out again, complete with actual picture of Julio Jones instead of accidentally showing Deion Jones, because accuracy matters.)
The responses were massive. The responses that actually followed the instructions and selected five players instead of stopping at four were perhaps less so, but still, there was plenty of feedback. Below, some of the PFF Fantasy team make their selections. Before I get to that, though, I want to address some common criticisms:
"That says '2000s,' but a lot of these players debuted in the 2010s!"
Come on, "2000s" can mean just "not the 1900s." I was differentiating between centuries (or millennia), not decades. Don't nitpick, and especially don't nitpick if it actually isn't wrong.
"Tom Brady, the GOAT, is only $2? What a joke!"
Yep, Brady was $2. But the reality is that there's a better argument to move him behind Cam Newton than there is to make him more expensive. Remember this is fantasy we're talking about here. Peyton Manning only had one active season in the 2000s where he wasn't a top-six fantasy QB. Aaron Rodgers had two, and both because of injury. Since 2005, Drew Brees has only had one, when he was 11th just last year. Newton has been top-four in five of his seven years. Brady? Brady's been really, really good, but he hasn't finished better than third since 2007, and has multiple non-top-10 years. Real football? He's $5 and probably a steal even then. Fantasy? $2 was more than fair.
"LOL that's not Julio Jones!"
Yeah yeah yeah, I know. Look, there are a bunch of thumbnail images for the pictures, and I searched Jones, and I saw a Falcons uniform and just went with it. It was dumb. My bad.
"Where is Marvin Harrison? Where is Priest Holmes? Where are Marshall Faulk and Dallas Clark and Steven Jackson? And what's the scoring system?"
It ain't that serious, y'all. I had five slots at each position. Your players are good too, I promise.
Now, the selections.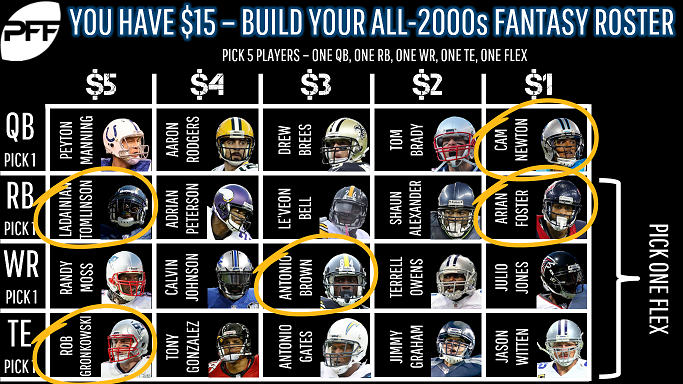 QB: Cam Newton ($1)
RB: LaDainian Tomlinson ($5)
WR: Antonio Brown ($3)
TE: Rob Gronkowski ($5)
Flex: Arian Foster ($1)
"Assuming Cam Newton won't also be throwing to my receivers (that would change things), I'll grab the savings here. Newton owns the fifth-best and eighth-best fantasy seasons by a QB all-time. No other QB has more than two seasons in the top-10, and Newton is still just 29 years old. LT has five fantasy seasons ranking in the top-35 (among RBs) all-time — only Marshall Faulk also has more than two such seasons (four). Brown's recent five-year stretch is the best of any wide receiver ever. I'm not sure why he wasn't $5. He also holds two of the top-five fantasy seasons by a WR all time. TE is actually closer than most would suspect. Tony Gonzalez put up fantasy numbers we've never before seen from a tight end. Jimmy Graham's peak years were up there with anyone. But no one is touching Gronk's per-game dominance, lapping the field in career fantasy points per game (16.2). I'll grab Foster at $1 and just hope he stays healthy. He averaged 22.1 fantasy points per game across his four best seasons. That's right about up there with almost anyone else."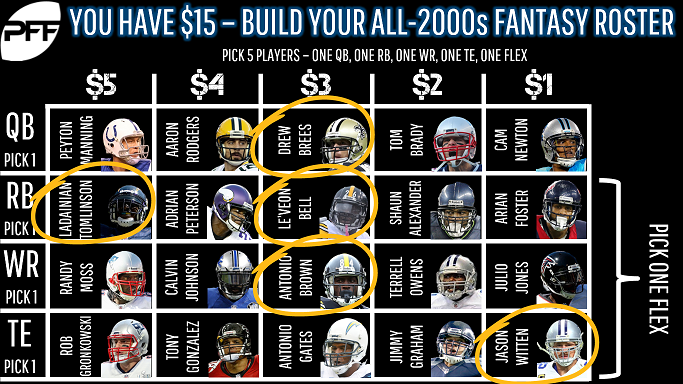 QB: Drew Brees ($3)
RB: LaDainian Tomlinson ($5)
WR: Antonio Brown ($3)
TE: Jason Witten ($1)
Flex: Le'Veon Bell ($3)
"Bonus points for PPR. All have been regular elite fantasy performers more so than one- or two-year megastars. In terms of relative value, I'm not seeing the benefit of paying a premium price at QB and TE here."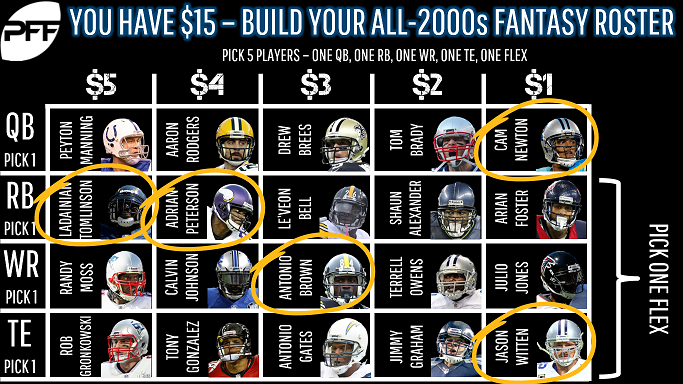 QB: Cam Newton ($1)
RB: LaDainian Tomlinson ($5)
WR: Antonio Brown ($3)
TE: Jimmy Graham ($2)
Flex: Adrian Peterson ($4)
"My roster goes with some of the guys who won me my earliest championships in fantasy football and helped me fall in love with the game. Since we're dating back to the glory days, I'll make the case for the "RB-RB until I die" strategy, one that proved consistently successful in the 2000s. I load up the majority of my budget on prime Ladanian Tomlinson and Adrian Peterson to anchor my team. As we flip the clocks back, it also means we can use the late-round quarterback strategy before it became popular. I use the minimum investment at the position, land Cam Newton, and never second-guess it. Antonio Brown coming into his own and Jimmy Graham before the Achilles tear with a prime Drew Brees pinpointing red zone targets rounds out the roster."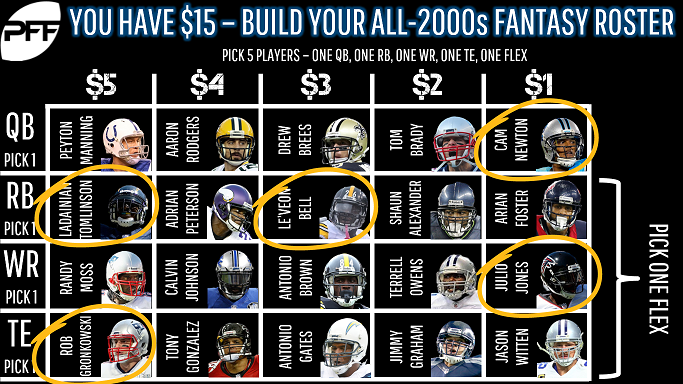 QB: Cam Newton ($1)
RB: LaDainian Tomlinson ($5)
WR: Julio Jones ($1)
TE: Rob Gronkowski ($5)
Flex: Le'Veon Bell ($3)
"Tomlinson is the gimme here. Without having gone through the Twitter responses with a fine-toothed comb (because there were so many of them), I would wager he was the most popular single pick here. Gronkowski also makes crazy sense, just because he's dominated his position by so much. Newton doesn't have the profile of the other quarterbacks here, but his rushing makes him a fantasy monster all the same. Jones is a sneaky dominator here, with four straight 1,400-yard seasons. That left me $3 and two Steelers to choose between — I went Bell, but Brown works too. I'd be fine either way."