There are 13 weeks (and 12 games) in the rearview mirror for each team and the fantasy football playoffs have either arrived or are standing on the doorstep in virtually every league. Some of the phenomenal paces I've been monitoring all season are looking more and more like a realistic endpoint – including a few that will go down among the best in NFL history if they hold.
Three-quarter-season player paces
Quarterbacks
Patrick Mahomes, Kansas City Chiefs
Quarter-season pace: 4,800 passing yards, 56 passing touchdowns, 0 interceptions, 460 fantasy points
Half-season pace: 5,052 passing yards, 52 passing touchdowns, 12 interceptions, 446 fantasy points
Three-quarter-season pace: 5,231 passing yards, 55 passing touchdowns, 13 interceptions, 462 fantasy points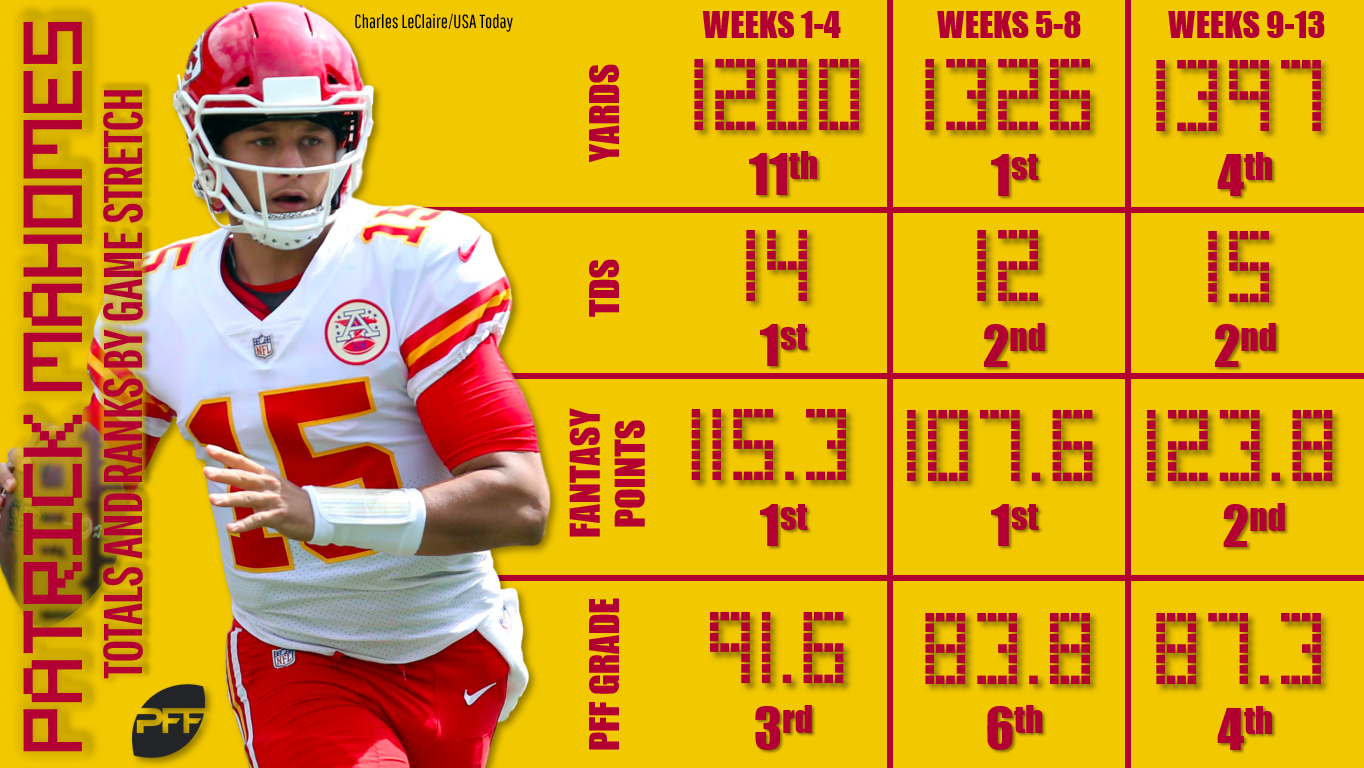 Mahomes has maintained a fantasy scoring rate of over 0.7 points per dropback all season, which is astonishingly good. Through four games, it was 0.77 PPDB. Through eight games, it was 0.72 PPDB. Now, through 12 games, he's actually boosted it back up to 0.73 PPDB. He's going to crush Peyton Manning's all-time fantasy scoring record of 432 points in a season on the strength of his NFL record-tying pace of 55 passing touchdowns and new NFL record pace of 58 total touchdowns.
Mahomes has more 300-yard passing games (9, season pace of 12) than Drew Brees and Aaron Rodgers combined. He has the same number of passing touchdowns as Tom Brady and Rodgers combined.
In his first season as a starter, Mahomes is raising the bar for what a quarterback can mean to a fantasy team, even in single-quarterback leagues. I can't wait to see how high his average draft position rises in 2019.
Other notable paces:
The 5,000-passing-yard club could nearly double this season. Only five quarterbacks have ever thrown for as many yards in a season, but four are on pace in 2018 – and none of them have ever done it before. Mahomes, Ben Roethlisberger, Matt Ryan, and Jared Goff will join Dan Marino, Brees, Brady, Manning, and Matthew Stafford in that elite club if paces hold for the final four games.
Cam Newton is first among all quarterbacks in rushing yards (441) and is on pace for 588 on the season. He ranks as QB3 in fantasy. The leader among quarterbacks in rushing yards has finished as a top-five fantasy quarterback four times in the past five seasons – this would make it five out of the past six.
Andrew Luck is on pace for 43 passing touchdowns, which would be a new career-high – his previous mark was 40. Not bad for a man whose arm was basically stitched back on and left for dead by many fantasy players entering the season.
Running backs
Current pace: 433 PPR points, 25 total touchdowns
Gurley's scoring has fallen off slightly since the half-season check-in, but he's still going to set a new non-QB PPR scoring record (PFF-era) as long as the Rams don't hold him out of any games. The previous mark was 412 points by David Johnson in 2016. Gurley is also pacing for 25 total touchdowns, which would tie Emmitt Smith for the fifth-most in a season. LaDainian Tomlinson's mark of 31 is almost assuredly safe at this point, but with a few big games, Gurley could climb as high as the number mark of 28 (Shaun Alexander).
Christian McCaffrey, Carolina Panthers
Current pace: 107 receptions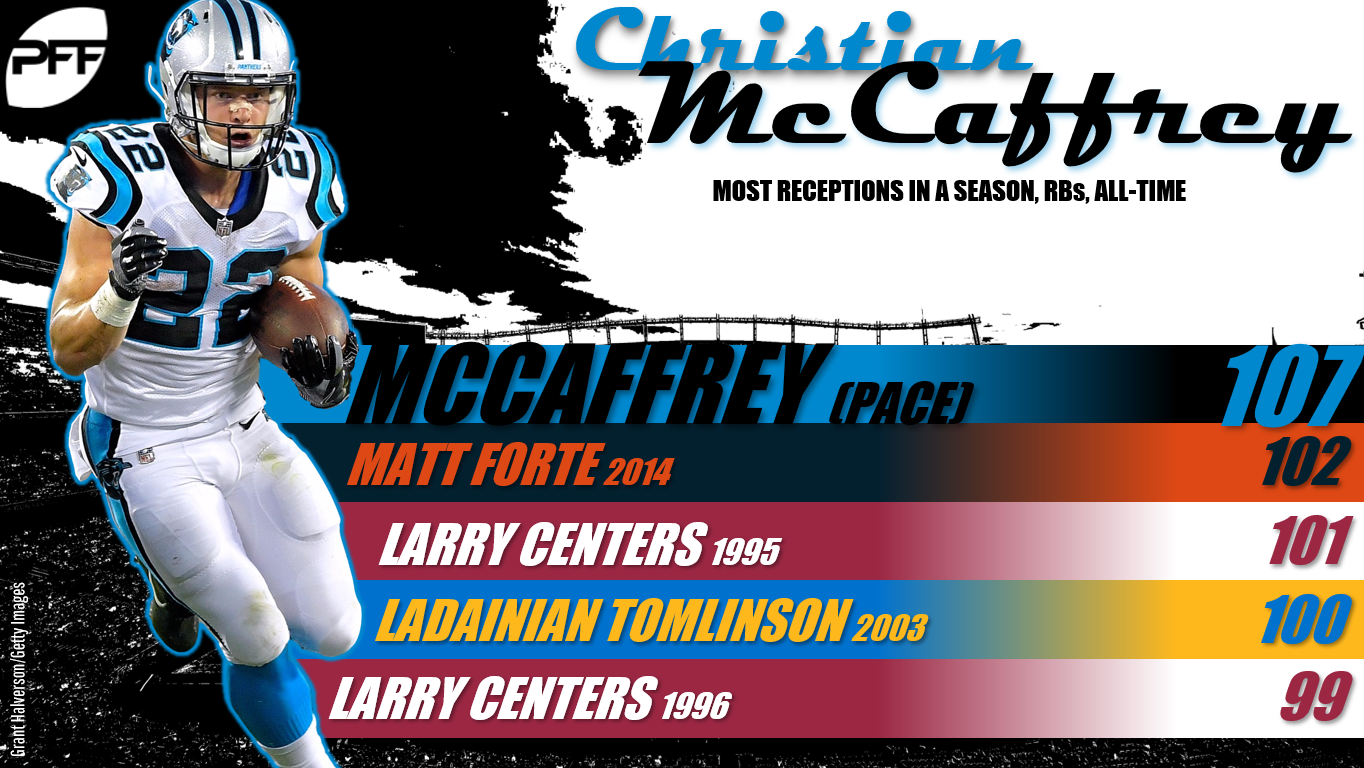 The NFL record for receptions in a season by a running back is 102 (Matt Forte, 2014) and only three backs have ever eclipsed 100 in a season (Forte, Larry Centers, and Tomlinson). McCaffrey's remarkable receiving usage has vaulted him into the upper echelon of fantasy running backs in his second year and if the season ended today, he's PPR RB3. His 80 receptions to-date this season are more than Odell Beckham Jr., Travis Kelce, and Mike Evans.
Adrian Peterson, Washington Redskins
Current pace: 1,141 rushing yards
Only John Riggins rushed for more yards in a season at an older age than Peterson is projected to do in 2018. Riggins rushed for over 1,200 yards at ages 34 and 35. It would mark Peterson's first 1,000-yard rushing season since 2015 and raise questions about whether Peterson can extend his career long enough to finish among the top-five rushers in NFL history. He's only 969 yards behind Curtis Martin, who currently sits fifth all-time. If this pace holds, and if Peterson can get a job again next season (even in a complementary role), he'll only be 684 yards behind Martin.
Wide receivers
Current pace: 1,764 receiving yards
Sometimes the drumbeat from the anti-Julio crowd grows so loud that we forget how crazy good he looks through a historical lens. Is his fantasy ceiling ever-capped by his seemingly allergic response to crossing the end-zone stripe? Yes. But even still, he's on pace to become the first player in NFL history to post multiple seasons with over 1,700 receiving yards.
If paces hold, Jones will also set a new NFL record for the most career receiving yards through a player's age 29 season with 10,818 (previous mark was 10,700 by Randy Moss). Jones already became just the fourth player in NFL history to reach the 10,000-yard threshold before age 30 earlier this season – the others were Moss, Larry Fitzgerald, and Calvin Johnson.
JuJu Smith-Schuster, Pittsburgh Steelers
Current pace: 1,472 receiving yards
I constantly have to remind myself how young Smith-Schuster is – he just turned 22 in late November. The second-year star is on pace to become just the fifth receiver in NFL history to post over 1,400 receiving yards at age 22, and his projected pace of 1,472 would be the second-most by a player at his age in a season – ever. Barring a couple 200-yard outbursts, Josh Gordon's magical 2013 season of 1,646 yards seems out of reach, but Smith-Schuster has solidified himself as an elite talent in his sophomore season.
Tight end
Travis Kelce, Kansas City Chiefs
Current pace: 1,443 receiving yards
Zach Ertz, Philadelphia Eagles
Current pace: 124 receptions
The single-season record for receiving yards by a tight end is 1,327, set by Rob Gronkowski in 2011. Kelce is in strong position to push the bar higher as long as the Chiefs don't sit him in any games – so let's root for the Patriots to keep winning. Kelce's 1,082 yards through 12 weeks this season are the ninth-most in the league and he's one of only 12 players to breach 1,000 so far – the other 11 are all wide receivers. Kelce's pairing with Mahomes sets him up to have a run of special seasons as he enters prime age for tight ends.
Interestingly, 2011 is the only season in which two tight ends eclipsed 1,200 yards in the same season (Gronkowksi and Jimmy Graham). This season could mark the second such occasion, as Ertz currently projects for 1,304.
Speaking of Ertz, he's not only on pace to become just the fourth tight end in NFL history to post over 100 receptions in a season, his current pace of 124 receptions will obliterate the single-season mark of 110 set by Jason Witten in 2012. He even has an outside shot to lead the NFL in receptions this season, as he currently ranks second only to Adam Thielen through 12 games.