• Bears backfield moves closer to a committee: Both Bears running backs scored touchdowns, with Khalil Herbert seeing a larger role in the offense than usual.
• Rhamondre Stevenson season continues: The Patriots running back started over Damien Harris for the first time in a game both players played.
• Tyquan Thornton's quiet night: The rookie receiver had a big opportunity to solidify his role in New England's offense, but his only catch occurred in garbage time.
---
PFF's fantasy football recap focuses on player usage and stats, breaking down all the vital information you need to achieve fantasy success in 2022.

Highlights
• Rhamondre Stevenson: 11 carries, 39 yards, one touchdown; 8 receptions, 59 receiving yards
• Khalil Herbert: 12 carries, 62 yards; 1 reception, 25 receiving yards, 1 receiving touchdown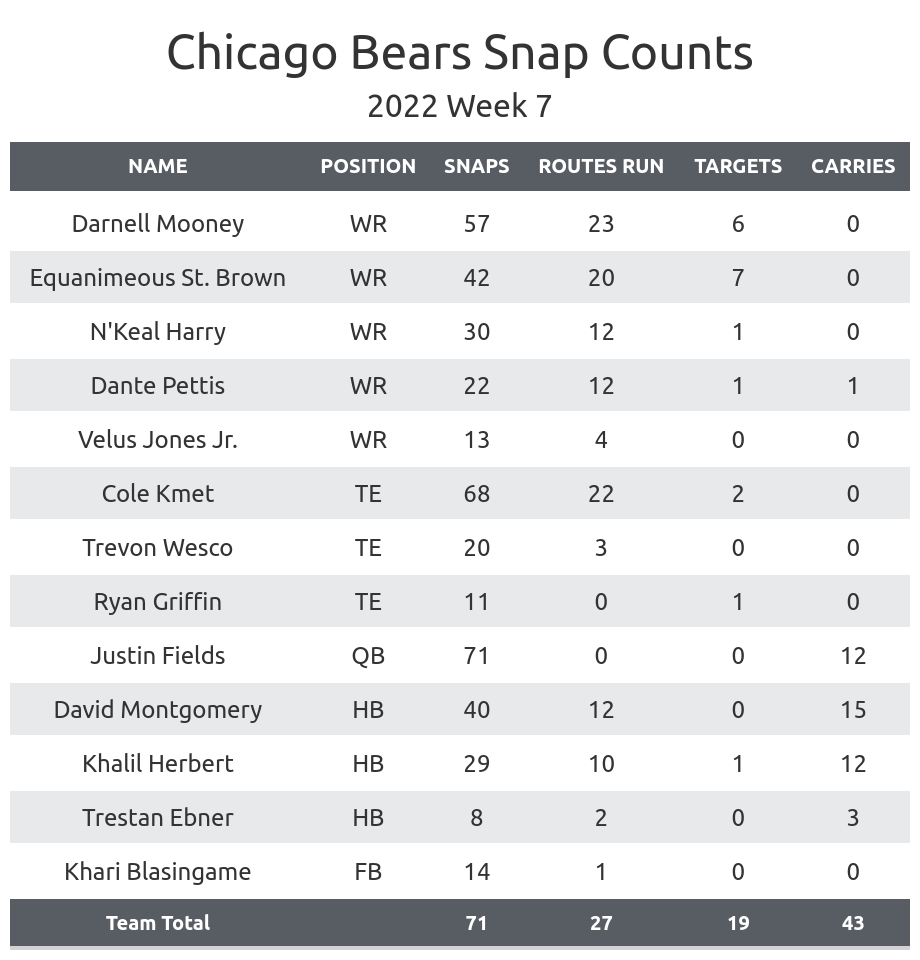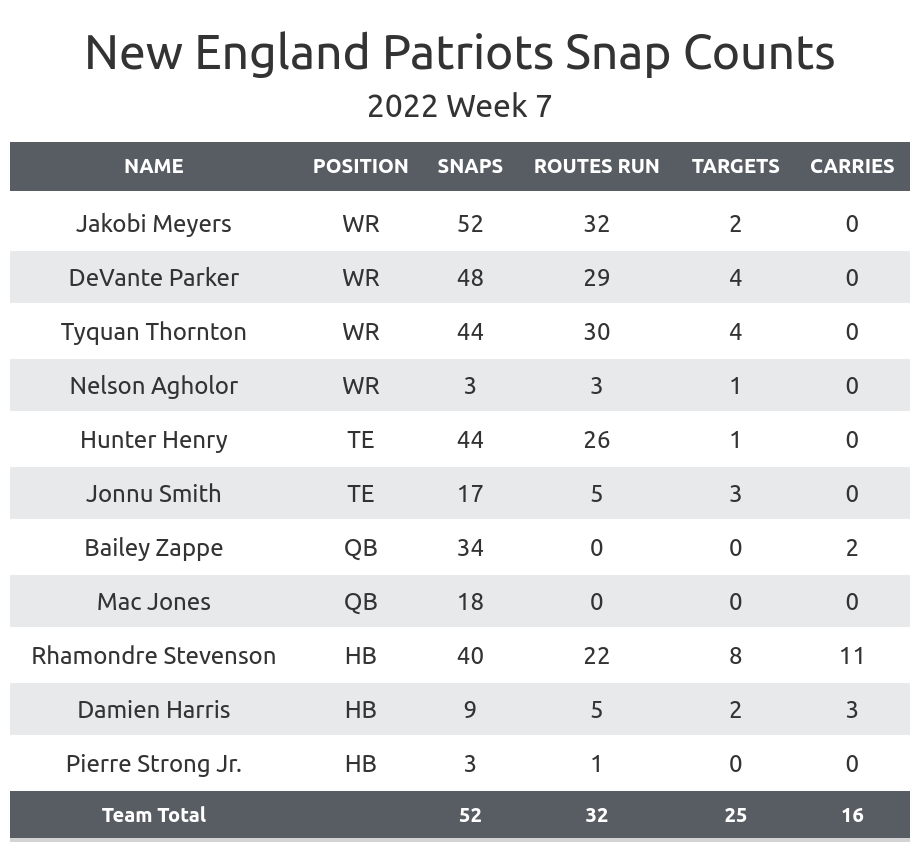 The Patriots backfield with Damien Harris healthy: Rhamondre Stevenson had two great games in a row without Harris in the lineup, but this rush attack returned to being more of a committee with Harris active.
Stevenson started the game over Harris, marking the first game since Harris' rookie season that he didn't play as a starter.

The Patriots rotated by drive, which they've done several times this season.

Stevenson took every third-down snap, even when it was a Harris drive. The Patriots have used Stevenson in this role consistently since Week 4.

Harris will now be even harder to start in fantasy leagues if he's locked into this role, as this will widen the playing time gap between the two backs.

Stevenson becomes an even safer start in fantasy leagues.

Harris is in the last year of his contract. It wouldn't be out of the question for New England to trade him so they can get a draft pick for him this year instead of a compensatory pick for him the following year. A trade would likely increase the fantasy value of both of these backs.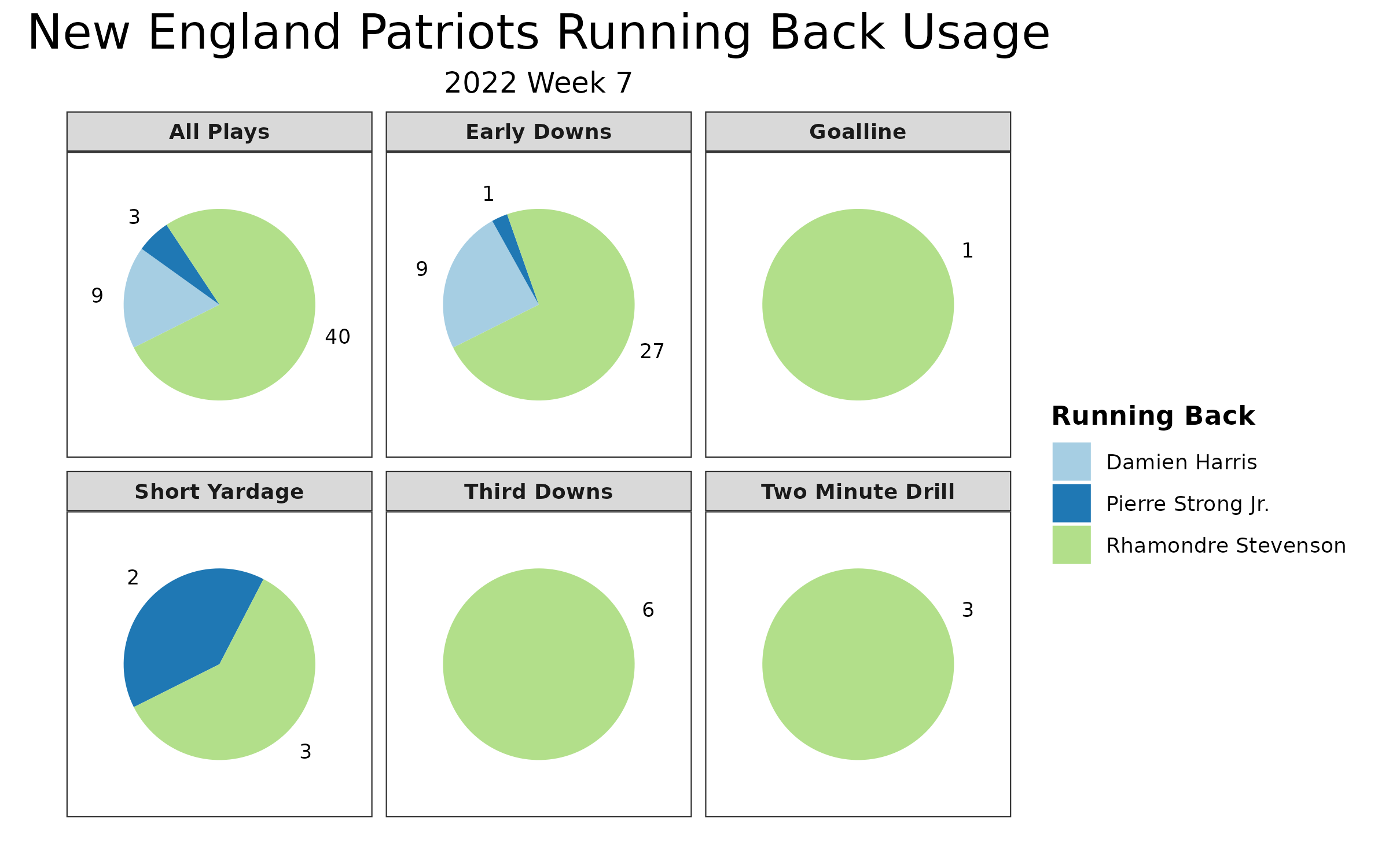 Tyquan Thornton is the Patriots' third receiver … for now: Thornton consistently took to the field as the third receiver in three-receiver sets, but he might not keep that role when other receivers are healthy.
Thornton played less than half of the snaps in 11 personnel in his season debut in Week 5.

Kendrick Bourne

was the third receiver to begin Week 6 but suffered an injury that allowed Thornton to take over.

Bourne was inactive tonight with a toe injury.

Nelson Agholor

missed most of the previous two games with a hamstring injury. He played tonight, albeit very sparingly.

There has been plenty of hype for Thornton, but it's uncertain how the Patriots rotation will play out once everyone is healthy. There is no guarantee he will keep this role.

Thornton had played a few snaps in 12 personnel the previous two weeks but didn't tonight, partially because the Patriots rarely used that grouping.

He didn't record a catch until late into the fourth quarter, which didn't help his case for keeping a significant role.

He's a fine waiver wire target in deeper leagues since every highly drafted rookie getting playing time should be on a roster.
Don't Start Hunter Henry: Jonnu Smith was back handling significant offensive snaps, limiting Henry's playing time.
The split in playing time tonight was very reminiscent of last season: Henry took most of the third-down snaps, while both players played a decent among of the early downs.

This meant Henry ran more routes than Smith.

Henry was a fantasy starter last year with that role, but only because his target share was much higher.

He caught only one of two passes for 12 yards tonight.

Smith was still a limited participant in practice earlier in the week, so there is a chance Smith's role can continue to grow into one more similar to the one he held earlier in the year.

There are plenty of leagues where a fantasy manager only needs one tight end, so it's fine to cut Henry in those formats.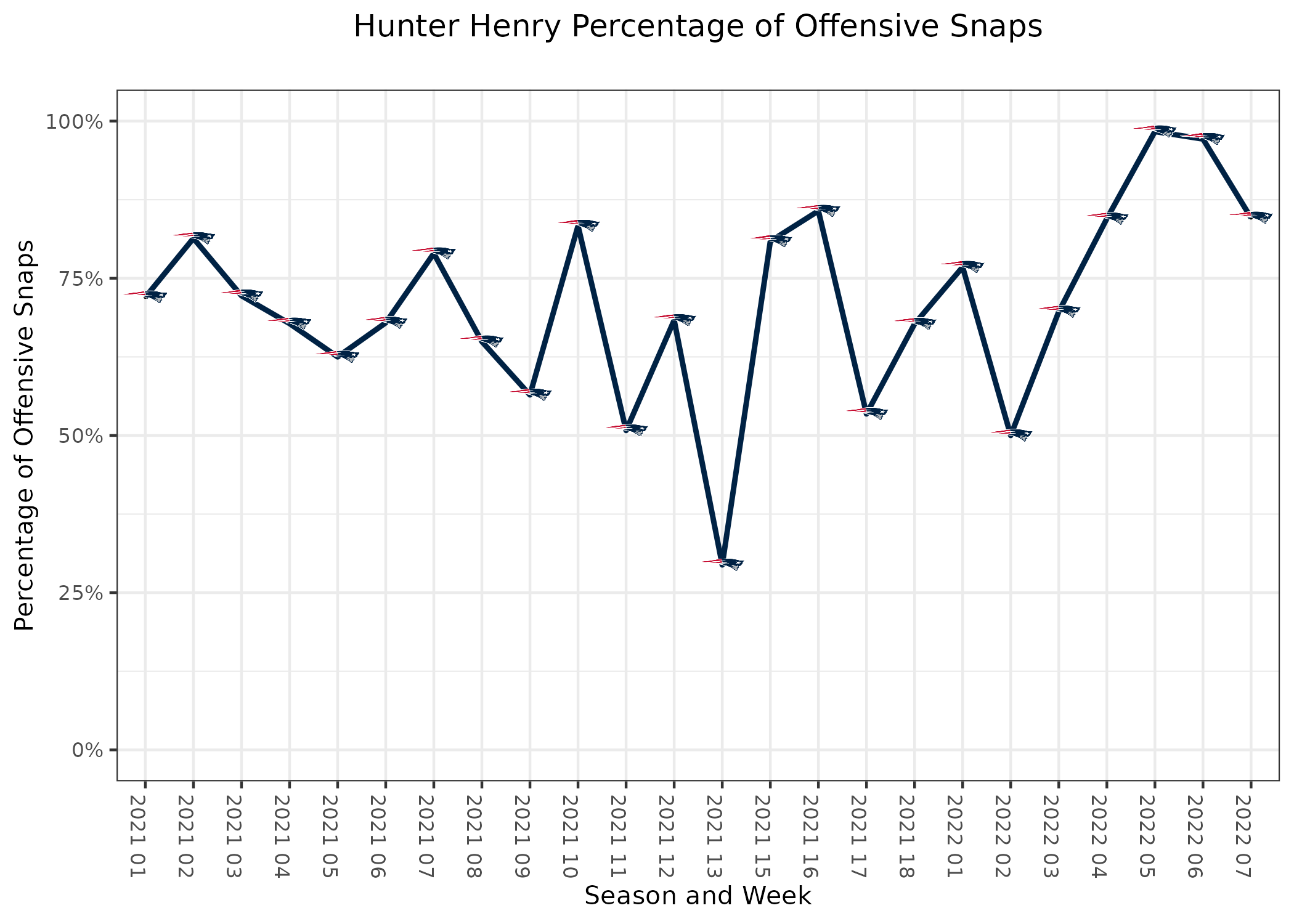 Bears' evolving backfield: After Khalil Herbert's recent success, head coach Matt Eberflus said the Bears would go with the hot hand at RB.
David Montgomery

took every snap on the first two drives, something he's done in five of the six games he's played this year.

Herbert took the third drive, as he's done every game this season —Montgomery has yet to see a single snap on a third drive this year.

Herbert found some success in the second quarter, including a 25-yard receiving touchdown.

He took the first snap in the third quarter, something he had never done in a game where Montgomery was healthy.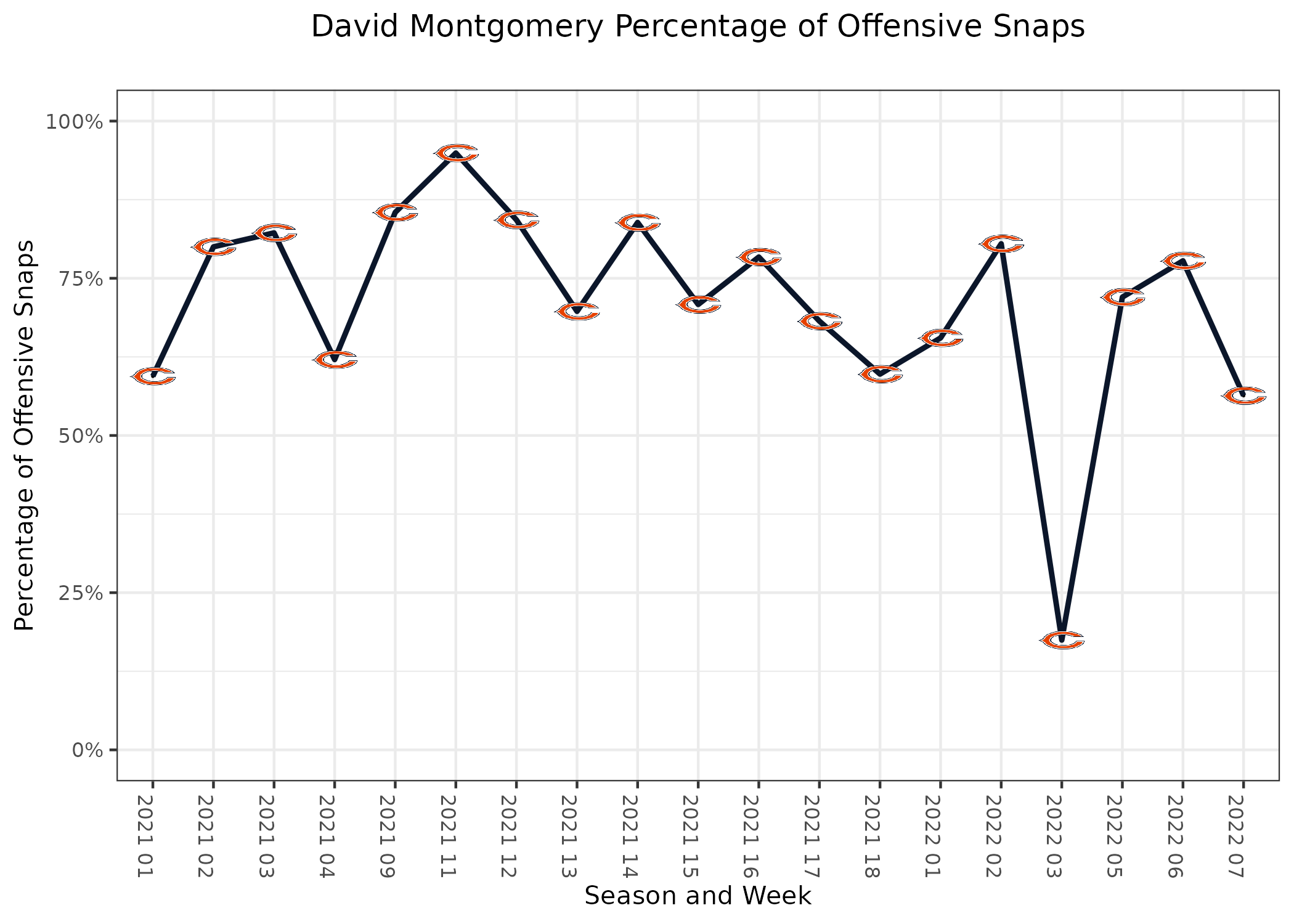 He ended up with more playing time with Montgomery over the last three quarters.

Both running backs found some success, as each put up over 50 rushing yards and a touchdown.

It will be harder to trust Montgomery in fantasy starting lineups, particularly against teams with good run defenses, while both players could be viable starters in games Chicago is expected to win.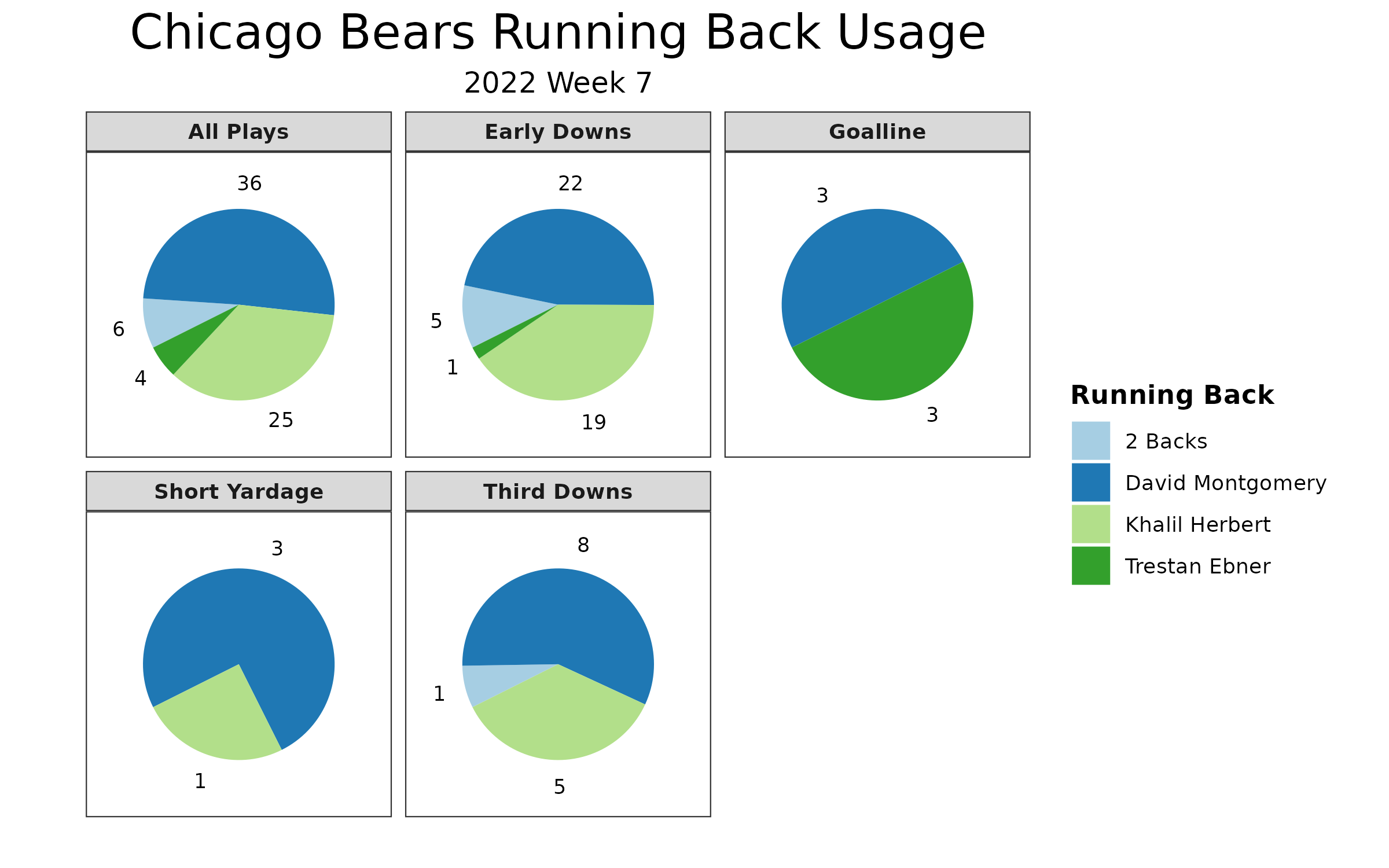 Bears battle for the third receiving spot: N'Keal Harry made his debut with Chicago, moving to the fourth receiver spot.
He significantly cut into the playing time of

Dante Pettis

, who has been serving as the third receiver.

Velus Jones

seemed set for more playing time as the season progressed, but this knocked him one spot further down the depth chart and cut into his playing time.

There is a chance Harry could work his way up to second on the depth chart in Chicago.

He caught his only target for 14 yards.
---
Table Notes
• Snaps include plays called back due to penalties, including offensive holding or defensive pass interference. The other three stats have these plays removed.
• Targets may differ from official NFL sources. The most likely discrepancy would be from a clear thrown-away pass, where the NFL may give the target to the nearest receiver, while this data will not.
• Carries are only on designed plays. Quarterback scrambles won't count for the total number of carries in the game.