• Tyreek Hill: 11 receptions, 215 yards, 2 touchdowns
• Austin Ekeler: 16 carries, 117 yards, 1 touchdown; 4 receptions, 47 receiving yards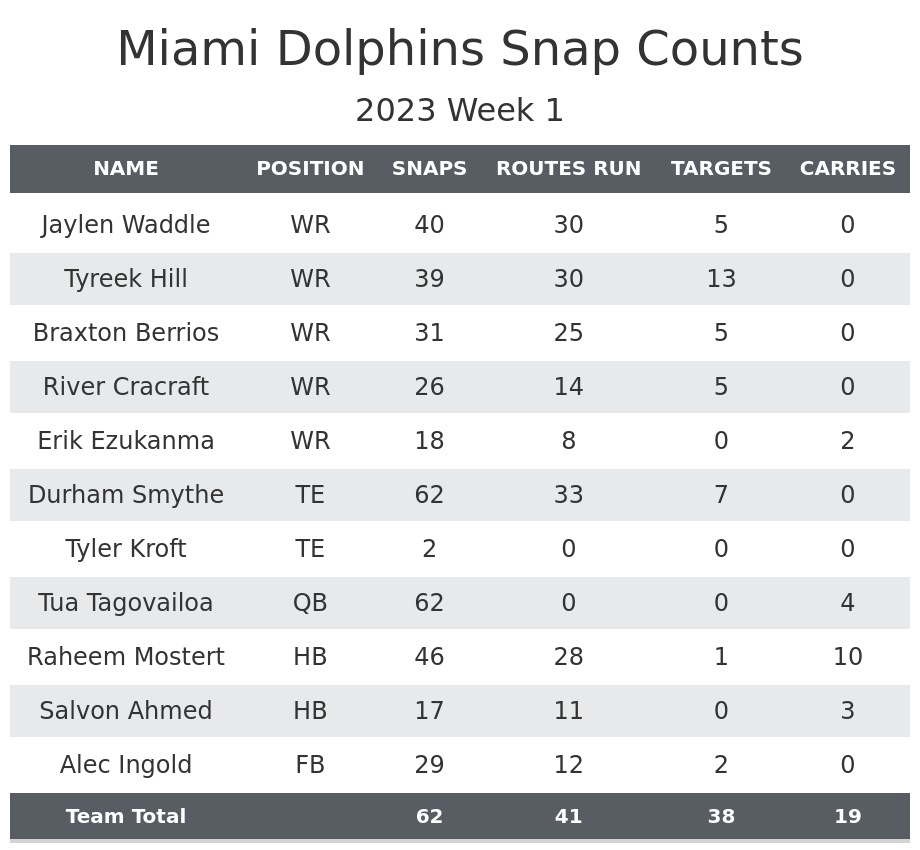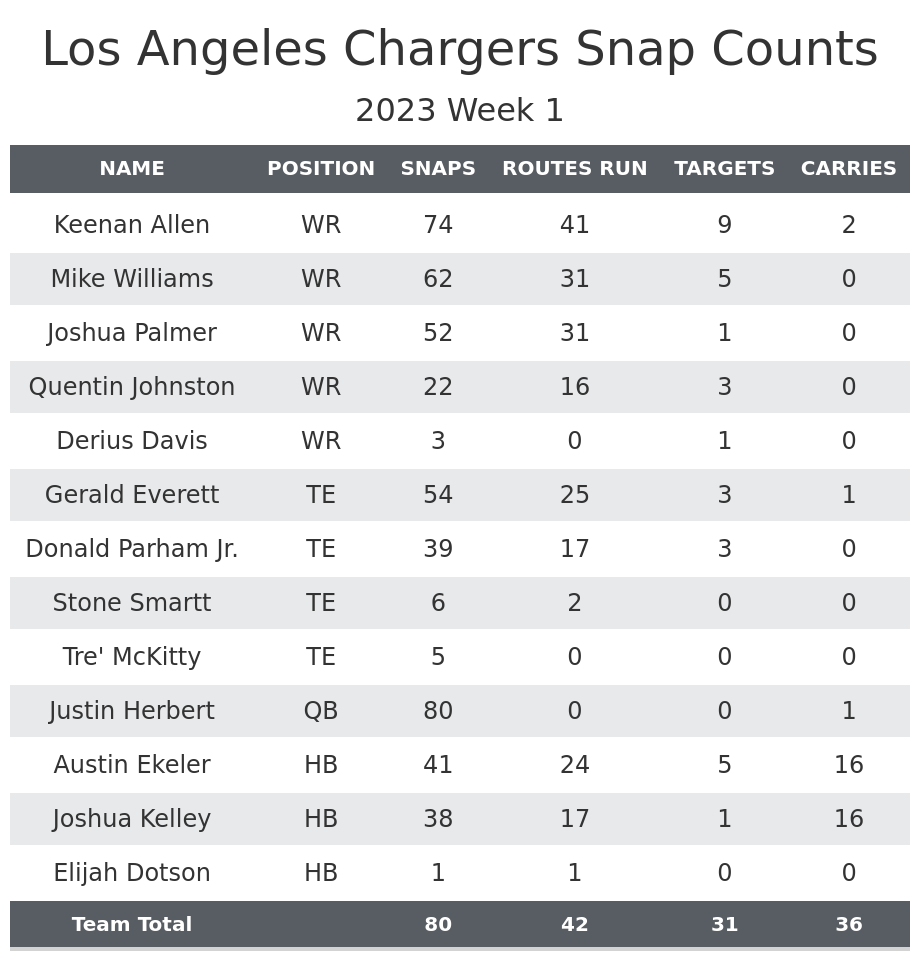 Raheem Mostert leads the Dolphins' backfield: Mostert played roughly three-quarters of the Dolphins' offensive snaps.
Mostert ran the ball 10 times for 37 yards and a touchdown and caught two passes for 13 yards.

Jeff Wilson Jr.

is on injured reserve and will miss at least the next two games, while

De'Von Achane

was a surprise inactive.

Achane will hopefully be able to work his way into the 46-man active roster sooner rather than later, but his NFL career has not started well.

Mostert could score more fantasy points in the next two games if the Dolphins don't abandon the run game and throw so much.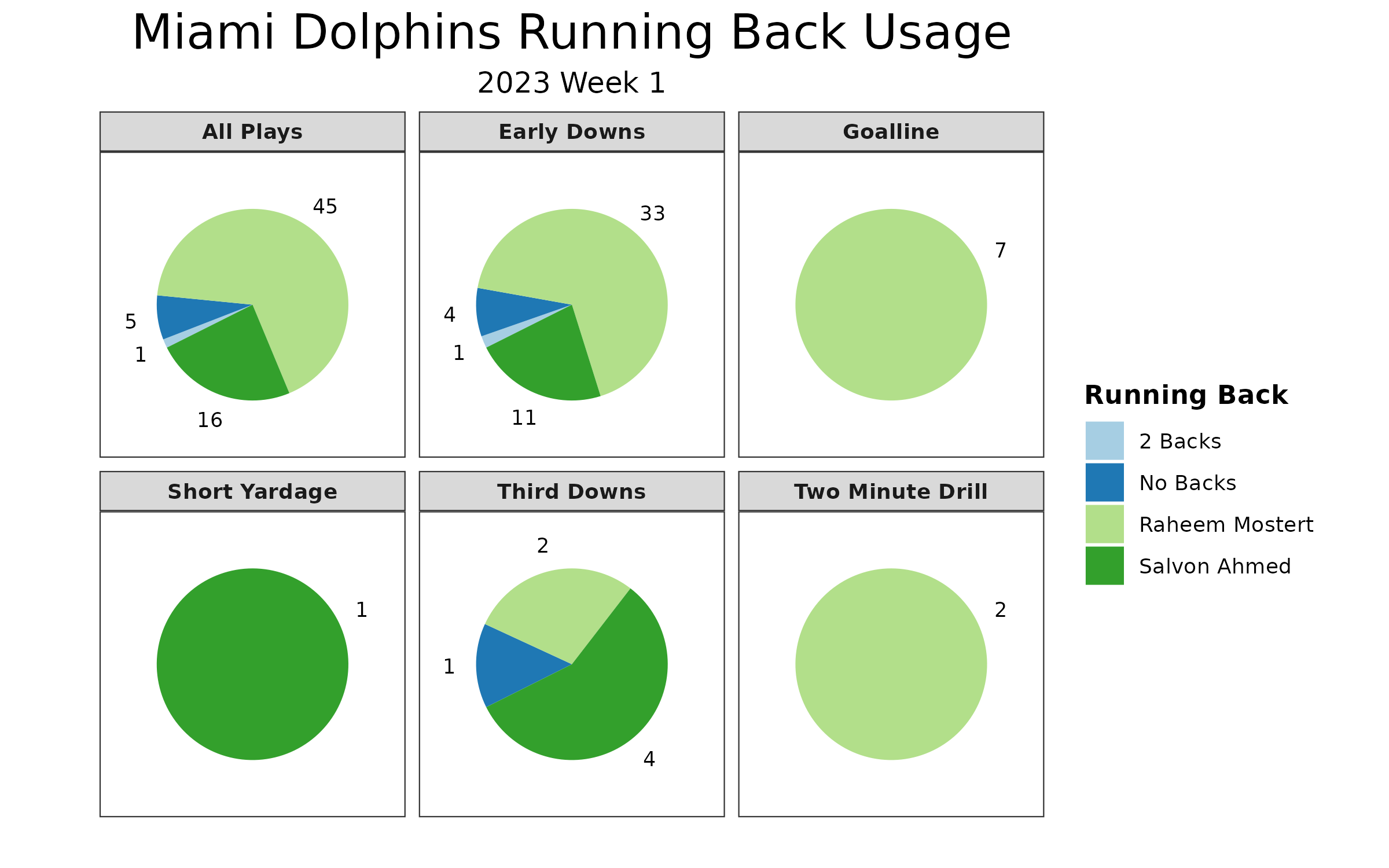 Durham Smythe plays every offensive snap: The Dolphins tight end was more involved in Miami's offense than last year.
Smythe caught three of his seven targets for 44 yards, marking the second-best single-game yardage total of his career. 

He was the Dolphins' starting tight end last season but was used primarily as a blocker.

Before today's game, he had only three multi-catch games in his career.

It is hard to believe that he will continue to be as big a factor once the running backs get more involved, but it's at least a situation worth monitoring.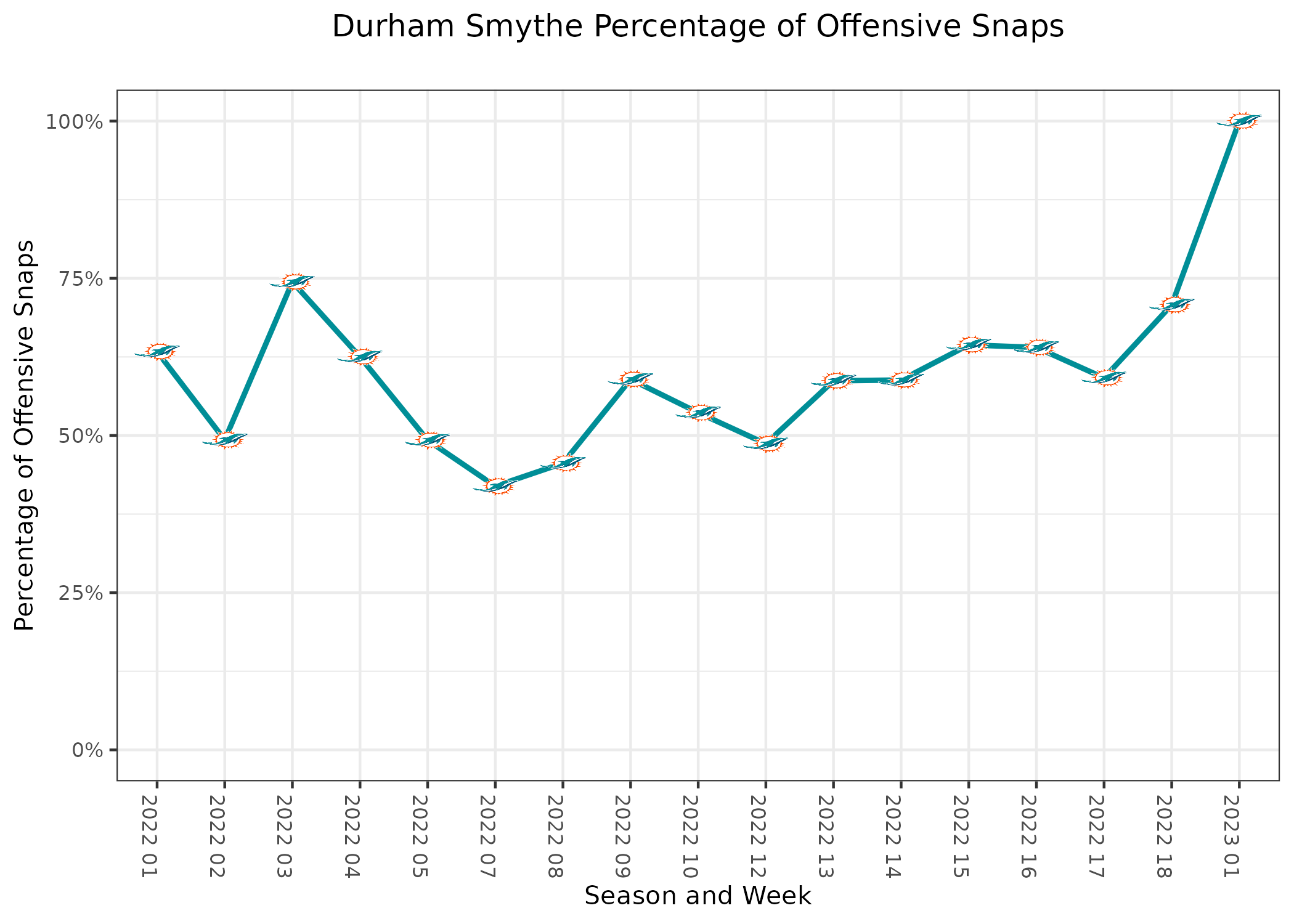 Quentin Johnston's quiet debut: Johnston caught two of his three targets for 9 yards as the Chargers' fourth wide receiver.
Based on the preseason, Johnston was the clear fourth wide receiver on the depth chart, as 

Joshua Palmer

sat out with the starters in every preseason game.

In Week 1, 20 of Johnston's 22 snaps came in 11 personnel, where he took snaps away from

Mike Williams

and

Joshua Palmer

.

Williams missed significant time in the second quarter while he was being evaluated for a head injury, but he returned in the second half — so, Johnston might have played only 10-15 snaps had Williams not missed time.

The Chargers ran two plays out of 10 personnel, which is something we could see more of going forward.

The only bright note for Johnston is Palmer was only targeted once, where he caught a 4-yard pass.

It's far too early to give up on Johnston's fantasy value for 2023, but this isn't an ideal start.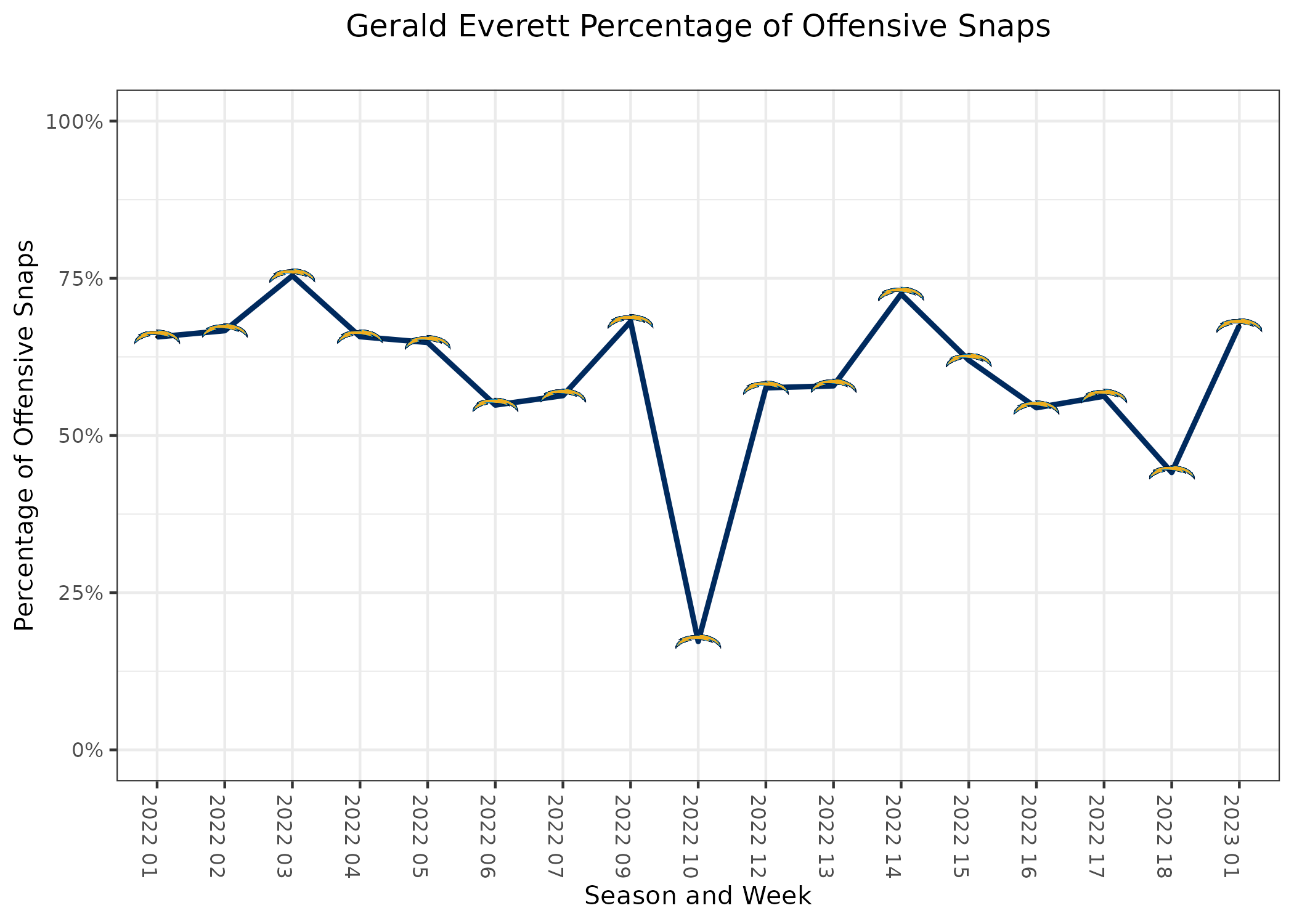 Don't start Gerald Everett: The Chargers have changed how they are using their tight ends under new offensive coordinator Kellen Moore.
The Chargers used to have a three-man committee, with Everett almost always playing on passing downs. 

This year, it's more of a duo with

Gerald Everett

and

Donald Parham Jr.

Instead of Everett being the receiving tight end and Parham the blocking tight end, the two are being used interchangeably.

Everett's total percentage of snaps is similar to last season, but his 25 run blocks were more than any game last season, while his 25 pass routes were lower than average.

Part of that was simply the Chargers running the ball a lot, but the percentages also weren't in Everett's favor.

Everett caught two passes for 21 yards, while Parham caught three for 21 yards and a touchdown.

Because the two tight ends are used interchangeably, it's possible Parham cuts even further into Everett's playing time going forward.
Miscellaneous Notes
The Dolphins wide receiver rotation was exactly as expected.

Jaylen Waddle

and

Tyreek Hill

were the starters, with

River Cracraft

and

Erik Ezukanma

getting significant playing time when either needed a break. 

Braxton Berrios

didn't play in 21 or 22 personnel but played 34-of-35 snaps in 11 personnel.

Austin Ekeler

had a clear lead in offensive snaps in the first half, playing 24 of a possible 35 snaps. The main reason the snaps for the backs were so close was the high number of total plays. The snap split is not a concern for his fantasy value.
---
Table Notes
• Snaps include plays called back due to penalties, including offensive holding or defensive pass interference. The other three stats have these plays removed.
• Targets may differ from official NFL sources. The most likely discrepancy would be from a clear thrown-away pass, where the NFL may give the target to the nearest receiver, while this data will not.
• Carries are only on designed plays. Quarterback scrambles won't count for the total number of carries in the game.