If you're a fantasy football player and you haven't tried your hand in player prop bets, you're missing out. Unlike redraft leagues where you're playing against 11 other teams or DFS contests where you could be competing against thousands of teams, you just have one opponent: the house. And sure, today's sportsbooks are darn good at what they do, but player props is an area where a seasoned fantasy player can have a slight edge.
Just like season-long fantasy football and DFS, there are a few key strategies that you need to use in order to be successful in player props. The No. 1 tip I have for anyone starting out is to play a lot of bets. Think about it. If you play only one bet and lose, you aren't going to feel too good about. But if you play 100 bets, you can lose 45 of them and be extremely happy with the results. The more wagers you play, the less variance you're likely to experience.
But you can't just make these plays based on what you think, feel, or believe. Like with fantasy football, it's important to eliminate emotion from the equation and get a process down. With props, you're going to want to compare the lines to a trusted projections source, like the PFF fantasy football projections. The lines with the biggest gaps are the bets to attack.
Remember, sports betting is a long-term play that comes with swings. However, if you stick to a process and spread your wagers around, you can be very successful. Typically, I don't place a lot of action on NFL futures player props bets because there's a lot that can take place over the course of 17 weeks in an NFL season, but there's nothing wrong with a little action. The following lines come from the DraftKings sportsbook and stand out as interesting options. Keep in mind the first tip, and don't just simply play these lines. However, these are a good starting spot for your 2019 player prop wagers.
4,150.5 passing yards – OVER
The Rams signal caller is getting no love from this line after he racked up 4,688 passing yards last season. While his numbers did fall off later in the season, Goff was still very productive in the passing game, and we don't anticipate that changing much this season. Even with some regression baked in, the PFF fantasy football projections have Goff going for 4,378.7 passing yards. That's a healthy buffer on the over.
3875.5 passing yards – UNDER
With or without Ezekiel Elliott, we can still figure the Cowboys to be one of the most run-heavy offenses in the league this season. Our projections have this logic baked in, with Prescott at 511 passing attempts. That's 15 fewer than he threw last season. While Prescott did top this line last year at 3,885, our numbers have him at 3,682.3 for 2018. That's 7.2 per attempt which just over 0.1 yards per attempt more than his average over the last two seasons.
25.5 passing touchdowns – UNDER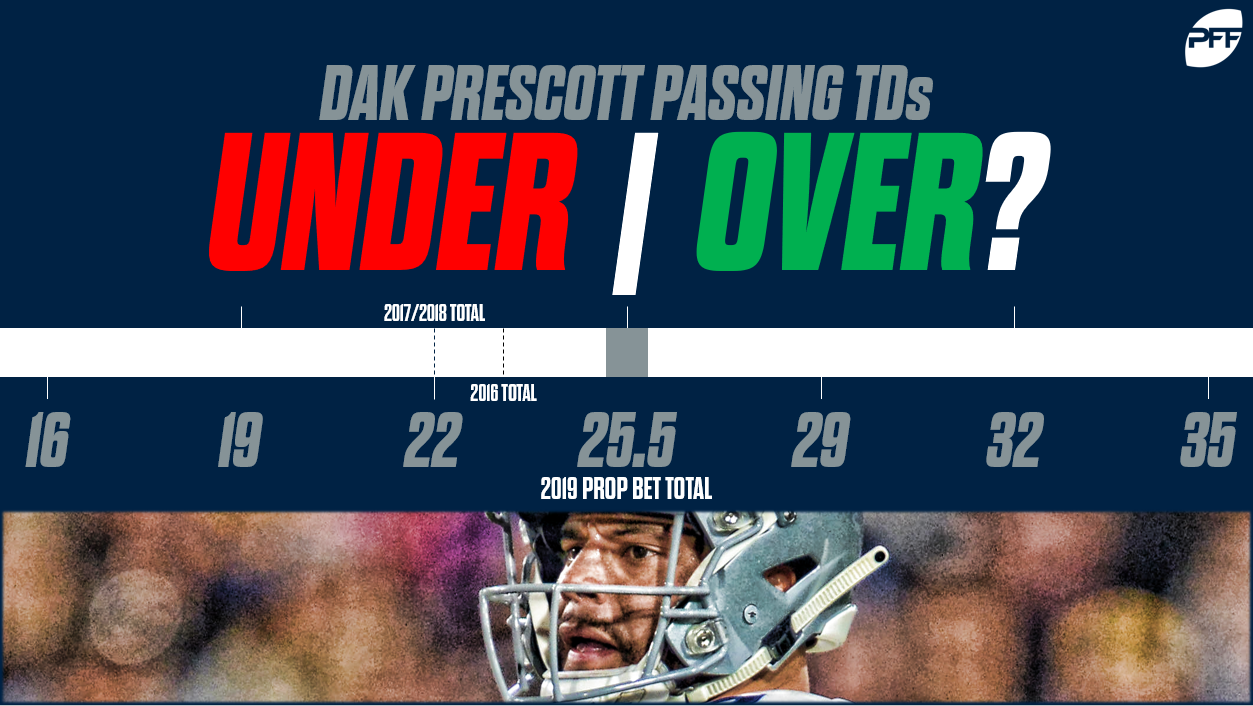 Passing yards and touchdowns don't always go hand in hand, but there is a relatively strong correlation between both numbers. Keep that in mind with player props, as you can sometimes double-dip with these two stats. Prescott has been uber consistent over the last three season passing for 23 touchdowns in 2016 and then 22 in each of the last two seasons. Sure, having Amari Cooper in house doesn't hurt his cause, but this line is over five touchdowns more than our projected 20.2 passing scores from Prescott.
4,000.5 passing yards – UNDER
This is an ambitious line for a player who has never played a full season, much less topped 4,000 passing yards as a pro. Garoppolo has also had some much-publicized struggles in the preseason. That plus his inexperienced wide receiver corps makes this a solid line to hammer the under. Our projections currently have Garoppolo with 3,661.7 passing yards.
3,800.5 passing yards – UNDER
The Bears signal-caller certainly took a step forward last season, but this line represents an 18% jump for him year over year. Our projection of 3,326.0 passing yards is a much more conservative increase that gives you nearly a 500-yard buffer on the under. Trubisky certainly has upside, but the news that Anthony Miller is entering the season banged up could limit Trubisky's passing numbers.
32.5 passing touchdowns – UNDER
Over the past four seasons, Ryan has been up and down in this department. He tossed 21 scores in 2015, but then went off for 38 the next season. Ryan's touchdown total plummeted to 20 scores in 2017, but then he was back up to 35 last year. Interestingly, those two dips happened when the Falcons changed offensive coordinators. In 2015 Kyle Shanahan took over, and then Steve Sarkisian got the reins when Shanahan left for the 49ers in 2017. This year, there's yet another new offensive coordinator in Atlanta with Dirk Koetter at the helm. Technically speaking, our numbers don't have this information baked in. But either way, they do like the under with 27.2 touchdowns projected for Ryan.
975.5 rushing yards – UNDER
Even with Mark Ingram out of the mix, it's tough to envision a scenario where Kamara sees a big uptick in his workload as a runner. Last year, Kamara notched 194 carries. With the same volume, this line would require a healthy 5.0 yards per carry. That's certainly possible for Kamara, but he's coming off a season where he averaged 4.6 per carry. Our numbers have him roughly in the same range with 831.9 rushing yards on 186 carries.
900.5 rushing yards – UNDER
Sure, he's the clear favorite to open the season as the feature back in Oakland, but this is an ambitious line for a rookie back with a tough schedule. Jacobs opens the season with through of the toughest running back matchups over his first five games with the Broncos in Week 1, Vikings in Week 3, and Bears in Week 5. That's only three games, but it's still wise to be conservative with Jacobs this season. Our projection has him at 757.6 rushing yards.
1,000.5 rushing yards – UNDER
The preseason can tell you things without directly saying them. In the Lions' second preseason contest, Johnson split reps with C.J. Anderson and both backs played eight snaps. Does this mean a 50-50 split in the regular season? We wouldn't go that far, but it does suggest there's a chance Anderson will be more involved than a lot of people realize. In particular, that's likely to be in the run game. If these two split work in the Lions backfield, it's going to be tough for Johnson to crack 1000 yards. This logic is baked into the 795.7 rushing yards we currently project for Johnson.
950.5 receiving yards – OVER
Bruce Arians has told us that Godwin isn't going to come off the field in 2019. That doesn't mean he's a lock for the over, but our projections certainly like him to hit it with 1,043.8 receiving yards. The beauty to Godwin heading into this season is his ability to play inside and outside. We know that the slot receiver in Arians' offenses typically performs well. Larry Fitzgerald rattled off three straight 1,000-yard seasons in the role under Arians from 2015-2017. Sure, comping Godwin to a future Hall of Famer is a stretch, but there's no denying his upside in this role.
1250.5 receiving yards – OVER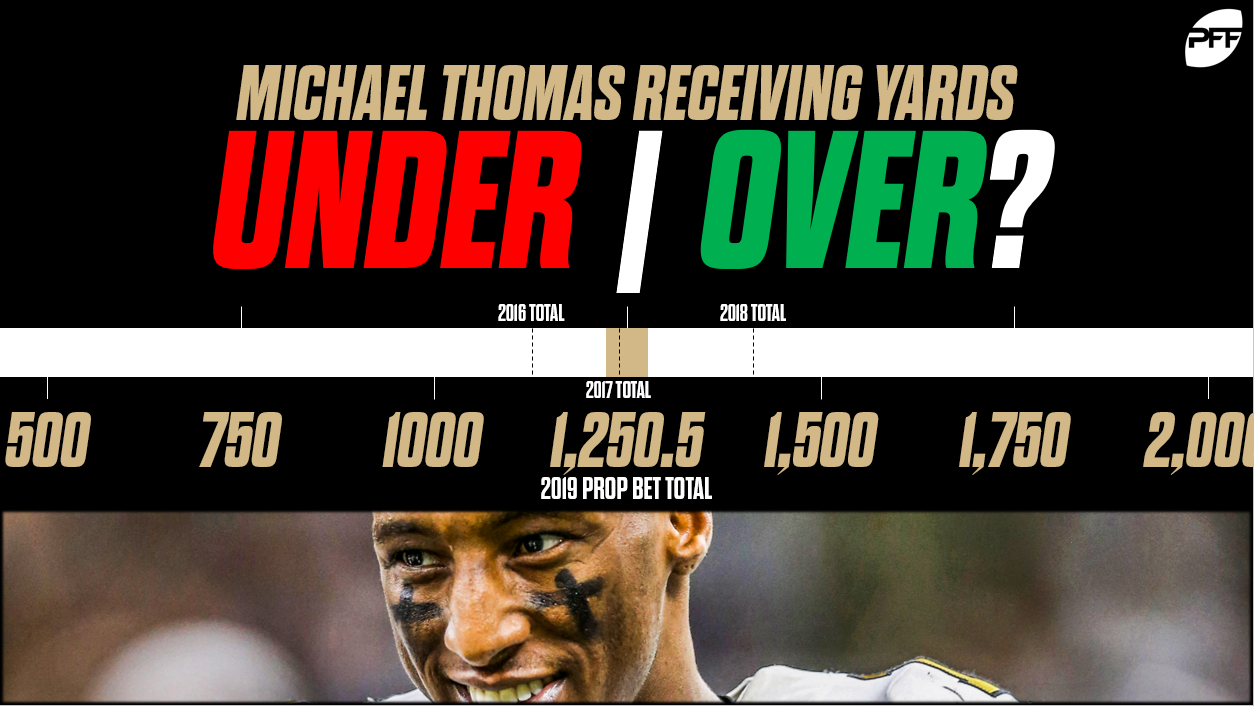 This one feels like a gimme putt. Thomas is coming off one of the most productive seasons we've ever seen out of a wide receiver with a massive 125 catches for 1,405 yards. Yes, that's just 11.2 per catch, so a dip in volume would mean a dip in yardage production. But we don't see that volume dip coming. The Saints added TE Jared Cook in the offseason, but essentially made no moves at wide receiver. That means Thomas early and often in 2019. We have him at a healthy 1,393.8 receiving yards.
875.5 receiving yards – OVER
Well then. It seems this sportsbook is really buying into the Dallas Goedert hype. Let's be clear that Goedert is going to be on the field a lot and will see an uptick in usage. But the Eagles ran the second-most 12 personnel last season, with two tight ends on the field for 34.6% of their offensive plays. That means we're still going to see a ton of Ertz. Our numbers have Ertz's catch total dropping fairly significantly from 116 last season to 90.8 this year. Even with that decline, Ertz still comes in with 1,013.9 receiving yards, which is a healthy cushion on the over.