The wait is over. Tom Brady is officially a member of the Tampa Bay Buccaneers. The veteran quarterback and all-time great announced earlier today that he was parting ways with the New England Patriots after a staggering 20 years with the organization. 
Brady steps into an intriguing situation, though his current skill set doesn't match the vertical downfield approach we've seen in Bruce Arians' offenses. However, it's expected that Brady will be installing much of his own offense similar to what Peyton Manning did in his time with the Denver Broncos. 
We all know the accolades and accomplishments, so we're not going to list them off here. But Brady was able to sustain fantasy production at a point in his career where we've seen many quarterbacks quickly spiral their way out of the league. In 2017, he finished as the No. 2 fantasy quarterback at 40 years old. His numbers have fallen off over the last two seasons, but he still managed to finish 11th in 2018 and a 12th-place finish last season.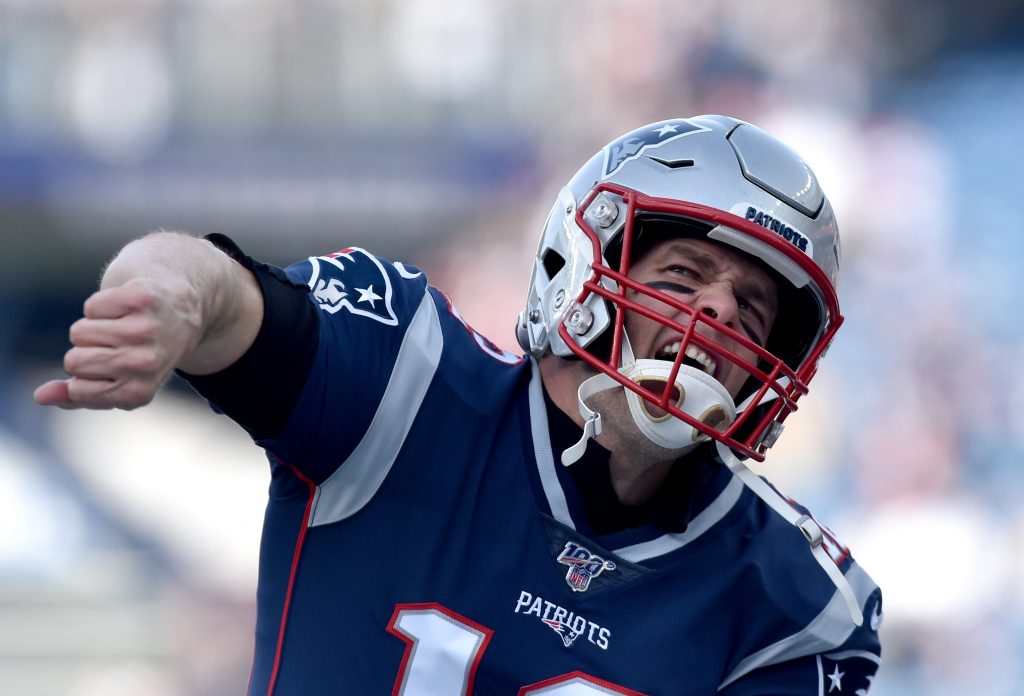 While many view last season as Brady "losing a step," his fantasy result is pretty darn impressive given his lackluster surrounding cast. And that isn't going to be a problem in Tampa Bay, where he'll throw to two of the top 10 wideouts in PFF grades from last season in Chris Godwin (2) and Mike Evans (8). Brady will also have Cameron Brate and OJ Howard at his disposal at tight end.
For Brady, the surrounding cast is enough to keep him on the fringes of QB1 territory. However, his overall fantasy upside is capped due to his lack of mobility. To be an elite fantasy quarterback in today's NFL, you almost have to add fantasy points with your legs. Last season, nine of the top 10 fantasy scorers at the position were also top 10 in rushing yards among quarterbacks.
As for the receivers, Godwin figures to benefit more than Evans. Already in a favorable role in Tampa, Godwin is coming off a breakout 2019 season where he racked up 86 catches for 1,333 yards and nine scores. He figures to continue to see heavy volume out of the slot, a position which Brady has helped to make famous for fantasy purposes in his time with the Patriots. 
Evans is a bit more tricky for fantasy purposes. His aDOT of 15.7 was over five yards deeper downfield on average than Godwin (10.3) last season. Brady has never been a quarterback who consistently pushes the ball downfield, and last year his aDOT came in at just 8.0. That tied for 26th among quarterbacks. Simply put, Evans isn't going to see the same amount of deep balls from Brady that he did from Jameis Winston. While that certainly puts a slight damper on his outlook, but Evans is still a strong red-zone weapon. His 14 end zone targets tied for second in the league last year. That touchdown upside keeps him in the top-15 fantasy conversation.
Perhaps the biggest question is whether or not Brady's presence can help inject some life into Howard's fantasy value. The much-hyped young tight end flashed briefly in 2018, but followed that up with a massive fantasy bust campaign last year. To be fair, tight ends typically have not flourished in the Arians offense. That could change with Brady bring in his offense, but this isn't the time to be overly bullish on Howard. For the time being, he projects as a streamable TE2.