I previously demonstrated how you can manipulate Defender Yards Added to evaluate a receiver's quality of cover defenders faced, which I've termed his defender strength of schedule. That realization opens up a bunch more avenues of potential research. I've jumped down a number of different rabbit holes so far, and three of them led me to really interesting observations.
Receivers who increase their slot percentage draw easier defenders
In the modern NFL, teams' best fantasy receiving options can line up pretty much anywhere on the field, including in the slot. But even when that happens, defenses rarely send their best cover corners to shadow him there. Fantasy stars like Wes Welker, Doug Baldwin, and Jarvis Landry have routinely enjoyed easier than average defender strength of schedules. Overall, receivers have seen their defender strength of schedules become a point easier every 17 percent their slot rate increases.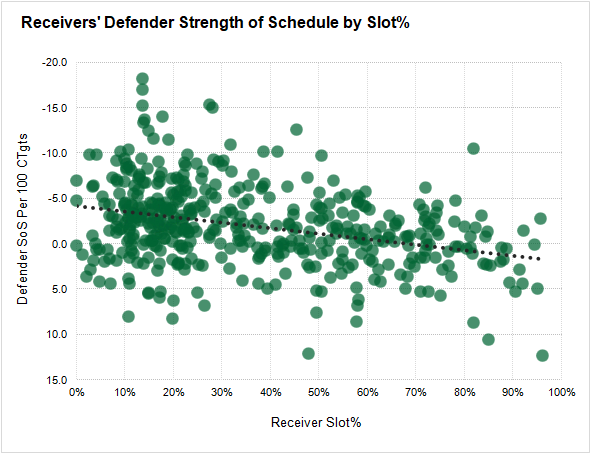 The top-five increases in slot percentage in 2017 included fantasy breakout players Nelson Agholor and Jermaine Kearse, who both saw their defender strength of schedule become 4 points easier and turned that into a four-point increase in fantasy points per game. It is difficult to forecast which receivers might enjoy a similar boost next season before the draft and free agency, but that is something I can circle back to later this summer.