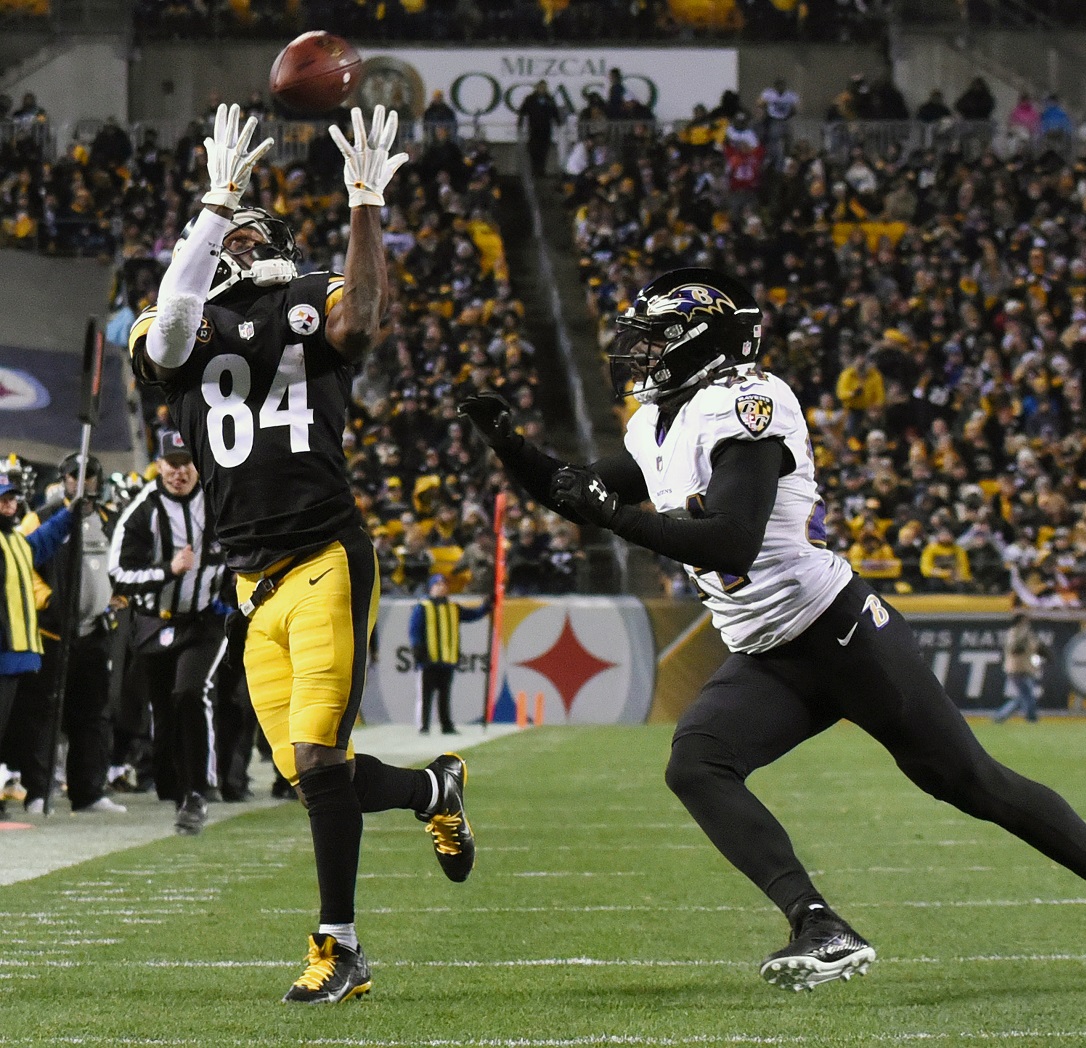 Dec 10, 2017; Pittsburgh, PA, USA; Pittsburgh Steelers wide receiver Antonio Brown (84) makes a catch for a first down as Baltimore Ravens cornerback Brandon Carr (24) applies coverage in the second quarter at Heinz Field. Mandatory Credit: Philip G. Pavely-USA TODAY Sports
There are a lot of direct ways to measure player skill, from yards and touchdowns to PFF grades to advanced metrics like my own Yards Added. But in recent years, I have become fascinated by how much one can learn from indirect measures. Rob Arthur uncovered a great example of that in baseball when he found that pitchers throw a smaller percentage of fastballs to good hitters than they do to poor hitters. That relationship implies that whenever you are unsure of the talent of a hitter — maybe his batting statistics send mixed messages or maybe he doesn't have much professional experience — you can look at pitchers' treatment of him to make an educated guess. Well, it turns out that football's preeminent player-versus-player matchup provides a similar signal. The more attention a receiver draws from defenders who are good in coverage, the better a receiver he likely is.
I came to that conclusion based on an attempt to quantify the difficulty of every receiver's catchable targets in recent seasons. Remember that my Yards Added metric produces a total for defenders as well as receivers, but that former number is an evaluation of the defender's success relative to expectations on their plays. It explains more than it predicts, and so it is not quite the right tool for this job. Instead, I calculated a regressed rate of Yards Added per catchable target for each defender and used it as a proxy for the difficulty each receiver faced in coverage when he drew various defenders. When you aggregate those totals over a full season, the leaderboard includes the receivers like Antonio Brown, DeAndre Hopkins, and Julio Jones who are considered to be the best in football, and it finds them without any reference to their offensive productivity.
You must have PFF Edge to continue reading...