Ideally, your fantasy football roster will be balanced, a mix of strengths at as many positions as possible, the product of a successful draft. In practice … it doesn't always work out exactly like that.
Draft shake out in different ways, and as such you need to approach your own draft with at least some semblance of a plan. For example, you can pretty easily take Travis Kelce, Patrick Mahomes, Justin Tucker, and the Bears defense in your first four rounds and have a great chance of ending the year with the best players at each of those positions. But the negative effect that roster construction would have on the rest of your team makes that build clearly unwise.
But sometimes loading up on one strength makes sense. This typically manifests in going RB- or WR-heavy early in a draft and hoping that strength makes up for the weakness at the other position. I tested these roster constructions in mock drafts using our own PFF DraftMaster tool. I chose the fifth slot in two different drafts and took running backs in the first two rounds of one draft, wide receivers in the first two rounds of the other, to see how the final rosters would compare.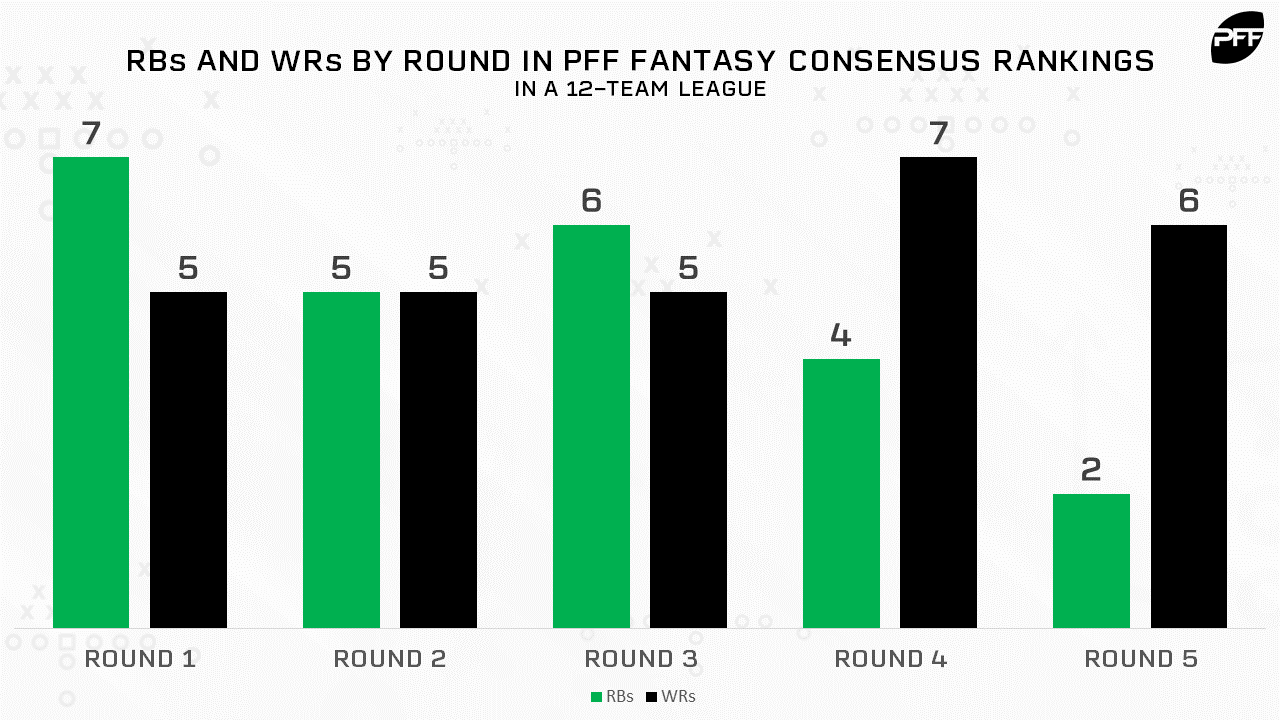 Running back
For my RB-heavy draft, Gordon's holdout allowed me the virtue of taking two potential top-six backs in the first two rounds. If it works out, it's a huge benefit of going RB-heavy at the top, but the risks in Gordon meant I had to take a third running back, Ingram, in the fourth round before circling back to receiver. But that core at the position allowed me to leave the position behind until the double-digit rounds, when I circled back with some guys in Lewis and Johnson who have PPR value and the potential for decent workloads, and a prime handcuff in Edmonds.
My WR-heavy roster came together differently. I just didn't have it in me to let four rounds go by without taking a running back, so I dove on Carson in the fourth. After that, I couldn't stay away from the position much, with Sanders in the sixth, Jones and Freeman in the eighth and ninth, and one more total back than I took on the other roster. There are exactly no sure things here, but if things break right, there's a lot of upside.
Wide receiver
In the RB build, because I was fairly stacked at running back (and tight end, as you'll see), I went receiver in every round from the fifth to the eighth, getting four guys who could all end up as WR2s but not many with a legitimate shot at a WR1 finish. It will require some weekly savvy to pick the right starters on a week-to-week basis, but if I'm even close to correct, it could work out really well.
The other roster is … well, my lineup's pretty well set. If Hopkins or Brown comes out of my lineup in any week other than their respective byes, it will only be because of injury. Godwin is a nice weekly flex, and Watkins and Coutee offer depth. The chances I'd draft a receiver late who would ever even crack my lineup were so small that I didn't take another receiver after the 10th round.
Quarterback
With the RB-heavy roster, I was able to splurge on a higher-level quarterback by taking Newton in the ninth round. That was a result of still having enough receiver depth later in the draft that I didn't have a problem using that pick.
On the WR-heavy roster, it was a different story. I really couldn't justify taking a top-flight quarterback when I was so weak at running back, so I waited until the 11th to take Jackson and complemented him with a safer option (though with less upside) in Rivers.
Tight end, kicker, defense
I thought it interesting to land with Ertz in the third in both drafts, so in the end, the only significant difference here is that I paired Ertz with Andrews on the RB-heavy roster but left him to himself on the other. This is because my general draft philosophy is to spend three total picks on quarterback and tight end, backing up one position, and with Newton on the RB-heavy roster I could afford the second tight end. That's not a huge difference-maker, but it's worth noting.
Overall impressions
RB-heavy build
WR-heavy build
Round
Player
Position
Round
Player
Position
9.05
Cam Newton
QB
11.05
Lamar Jackson
QB
1.05
David Johnson
RB
13.05
Philip Rivers
QB
2.08
Melvin Gordon
RB
4.08
Chris Carson
RB
4.08
Mark Ingram
RB
6.08
Miles Sanders
RB
10.08
Dion Lewis
RB
8.08
Ronald Jones
RB
13.05
Duke Johnson
RB
9.05
Royce Freeman
RB
15.05
Chase Edmonds
RB
12.08
Nyheim Hines
RB
5.05
Alshon Jeffery
WR
14.08
Chris Thompson
RB
6.08
Corey Davis
WR
15.05
Mike Davis
RB
7.05
Sammy Watkins
WR
1.05
DeAndre Hopkins
WR
8.08
Curtis Samuel
WR
2.08
Antonio Brown
WR
11.05
Devin Funchess
WR
5.05
Chris Godwin
WR
12.08
John Brown
WR
7.05
Sammy Watkins
WR
3.05
Zach Ertz
TE
10.08
Keke Coutee
WR
14.08
Mark Andrews
TE
3.05
Zach Ertz
TE
16.08
Patriots
DST
16.08
Bills
DST
17.05
Ka'imi Fairbairn
K
17.05
Robbie Gould
K
Without question, the RB-heavy build is the roster with the higher floor, even with the obvious risk in using a second-rounder on Gordon. Jeffery/Davis/Watkins as my first three receivers is not exactly star-laden, but it dwarfs Carson/Sanders/Jones as the first three backs on the other roster.
On the flip side, which roster has the higher ceiling? That's a harder one to answer. Between Hopkins and Brown, I have the No. 1 fantasy receiver from each of the last five seasons, and I could have the dominant backs on a crazy run-heavy roster (Seattle) and two good offenses (Philadelphia and Tampa Bay). Meanwhile, as much as I like the receivers on the other build, if any of them cracks the top-15 receivers this year, it'll be a bit of an upset.
In the end, I think you have to take the safety of the RB-heavy build over the possible (but not guaranteed) upside of the WR-heavy. I prefer a balanced roster in almost every year, but if you're going to load up on one position early in 2019, it probably needs to be running back.