("Metrics that Matter" is a short feature that appears every weekday, highlighting a notable fantasy lesson to be learned from PFF's advanced stats.)
Hello, and welcome to the first ever installment of "Metrics That Matter."
My name is Scott Barrett. Nice to meet you.
According to U.S. Census data, there are 890,184 people in the United States with the first name "Scott." There are also 115,491 people in the United States with the last name "Barrett." Yet, there are only 316 people in the United States with both the first name "Scott" and the last name "Barrett." (If you assume 300,000,000 people in the U.S. and use those numbers of Scotts and Barretts individually, there should be 343 of us, so 27 sets of Barrett parents have neglected their Scottly duty.) If you search the name "Scott Barrett" on Google, my twitter page is the fifth link that shows up, only trumped by a Columbia University political science professor and a 23-year-old rugby player from New Zealand. By my calculations, this puts my "celebrity" in the 99th percentile of Americans named "Scott Barrett."
These are metrics that don't matter.
They don't matter to you, and they shouldn't matter to me. They do, because I was an oft-neglected middle child, but that is beside the point.
Each weekday, starting today, we'll be taking a look at one specific statistic, metric, chart, graph, factoid, etc., that does matter.
In our first week, I'll be using data available through my PFF Elite and PFF Edge subscriptions to find an interesting and (more importantly) fantasy-relevant metric on a starting NFL quarterback. Today, we turn our attention to Ryan Tannehill.
Last season, Tannehill posted a passer rating of 49.1 when under pressure, which ranked seventh-worst of all 33 quarterbacks with at least 200 pass attempts. When operating from a clean pocket, Tannehill's passer rating of 116.6 ranked fourth-best. This 67.5-point differential between these two numbers was the largest among all quarterbacks last season.
Here's a chart that shows all passers last season sorted by the same differential.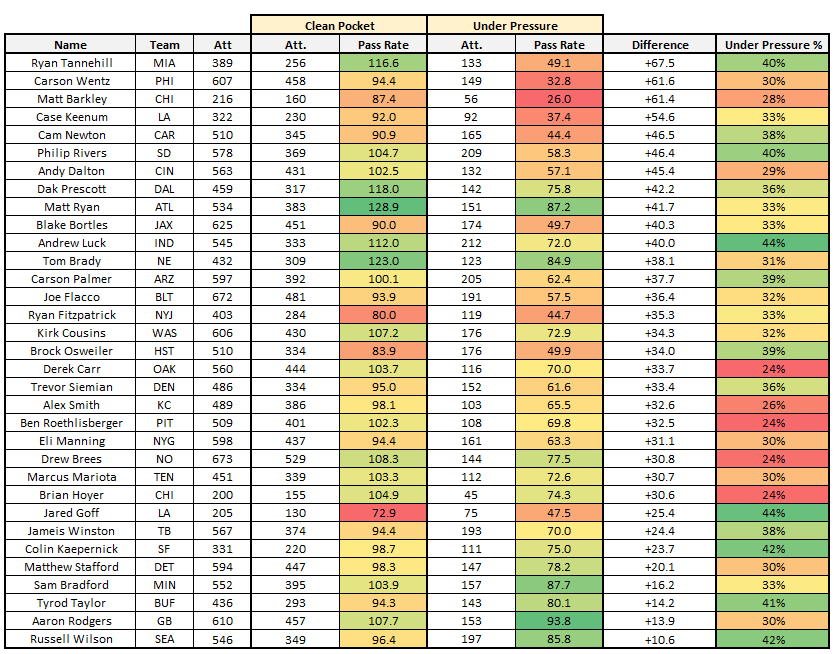 Tannehill was an entirely different passer when under pressure last season (as opposed to operating from a clean pocket), but this has been a consistent aspect of his game since he's entered the league. Over the past four seasons, among all 24 quarterbacks with at least 1,200 pass attempts over this span, Tannehill ranks 14th in clean pocket passer rating, but tied for fifth-worst in pressured passer rating. Tannehill joins Andy Dalton and Alex Smith as the only quarterbacks over this span with a passer rating over 100.0 when operating from a clean pocket and a passer rating under 65.0 when pressured.
As many others have already stated, the hope is that this offensive line improves next year with the return of a healthy Mike Pouncey. Still, I see Pouncey's return doing more for the running game than passing game. Among all 29 centers to play on at least 50 percent of their team's snaps, Pouncey ranked ninth-best in pass-blocking efficiency in 2015. This is impressive, but Pouncey's backups were more than adequate at protecting Tannehill in his replacement (zero sacks, two QB hits, 10 QB hurries across 648 snaps). The bigger boost will be for Miami's running back Jay Ajayi. Last year, backup Anthony Steen was the worst run-blocking center in the league across his seven starts.
The real fantasy takeaway from these statistics is almost entirely DFS-related. Target (or stream) Tannehill in weeks he's set to face defenses that fail to generate pressure consistently. When he is likely to be pressured often in a game, target that fantasy defense instead.
For reference, here were the top-five and bottom-five defenses at pressuring the quarterback last season: