Opponents matter in fantasy football. Exactly how much they matter is fair to debate, but you know you'd rather an offensive player facing Team X than Team Y. You'd rather a defense facing Miami than Kansas City. We know this.
Each week in this space, I'll be taking a look at some of the key matchups to exploit in a given week, good or bad, at each position. And we'll start things off with my mismatch of the week.
Mismatch of the week
Julian Edelman, WR, New England Patriots (vs. NY Giants): There is every reason to believe the Patriots will have yet another blowout win Thursday against the woeful Giants. New England has won all five games this year, with four of them by at least 16 points and three by at least 26. Despite that, Edelman has been a target monster, with at least 7 targets in four of five games and at least 9 targets in three of five. That even includes a 10-target Week 3 in which he basically only played half a game. Against one of the league's worst secondaries, don't expect the Patriots to ease up on Edelman just because they're likely to lead.
Good situations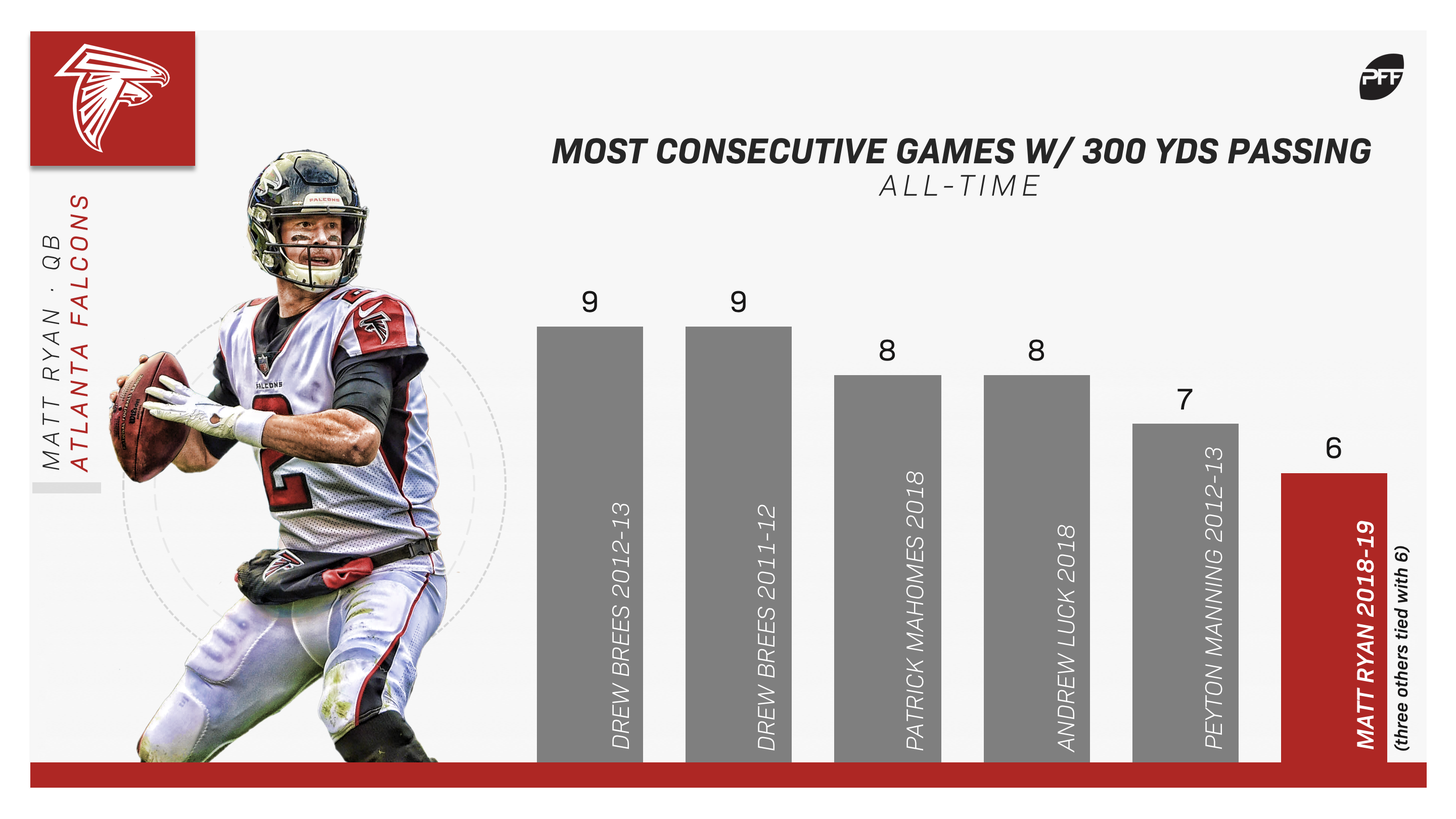 Matt Ryan, QB, Atlanta Falcons (@ Arizona): The Falcons allow the second-most fantasy points per game to opposing quarterbacks. The Cardinals allow the fourth-most. Both of these teams are top-10 in offensive plays per game this season. Dating back to Week 17 last year, Ryan has passed for 300-plus yards in six straight games, already tied for the sixth-longest streak in NFL history. Patrick Peterson is still out. This game has the second-highest over/under of the week at 52 points. Stop me when I get to any sign that Ryan might not feast.
Kerryon Johnson, RB, Detroit Lions (@ Green Bay): The Packers held Ezekiel Elliott and the Cowboys rushing game in check Sunday to the tune of only 19.0 PPR points, easily the fewest the team has allowed all season long. Of course, the team led 7-0 early and 14-0 before the first quarter was over, leading to the Cowboys only running the ball 21 times all game and Elliott getting only 12 of them. It's unlikely the Packers can blow up that quickly again this week, which should let the opposing running back (in this case, Johnson) get back to feasting.
Dede Westbrook, WR, Jacksonville Jaguars (vs. New Orleans): The Saints have a good run defense and an excellent shadow cornerback in Marshon Lattimore. What they don't have is much at slot cornerback, where P.J. Williams has the second-lowest coverage grade since the start of 2018 at 34.6. We just saw Chris Godwin have a massive day against the Saints (with seven of his targets coming from the slot) while Lattimore shut down Mike Evans; it wouldn't be a shock if Westbrook and D.J. Chark had similar results this week.
Greg Olsen, TE, Carolina Panthers (vs. Tampa Bay in London): I mentioned that Williams has the second-worst slot coverage grade over the last two years. The only player worse? Tampa Bay's M.J. Stewart, at 30.4. Stewart is why I predicted the Cooper Kupp/Robert Woods explosion in Week 4. It's why I predicted the Michael Thomas explosion in Week 5. Well, Carolina hasn't huge use of slot wide receivers so far; Curtis Samuel and D.J. Moore have combined for 11 targets out of the slot. Jarius Wright is the team's leading slot wide receiver, but that's not saying much. So if the team is going to have slot success Sunday, it will likely come from Olsen, who has run more than half his routes from the slot and drawn 14 targets there. Olsen's usage has fallen the last two weeks, but he could have a Week 6 rebound.
Bad situations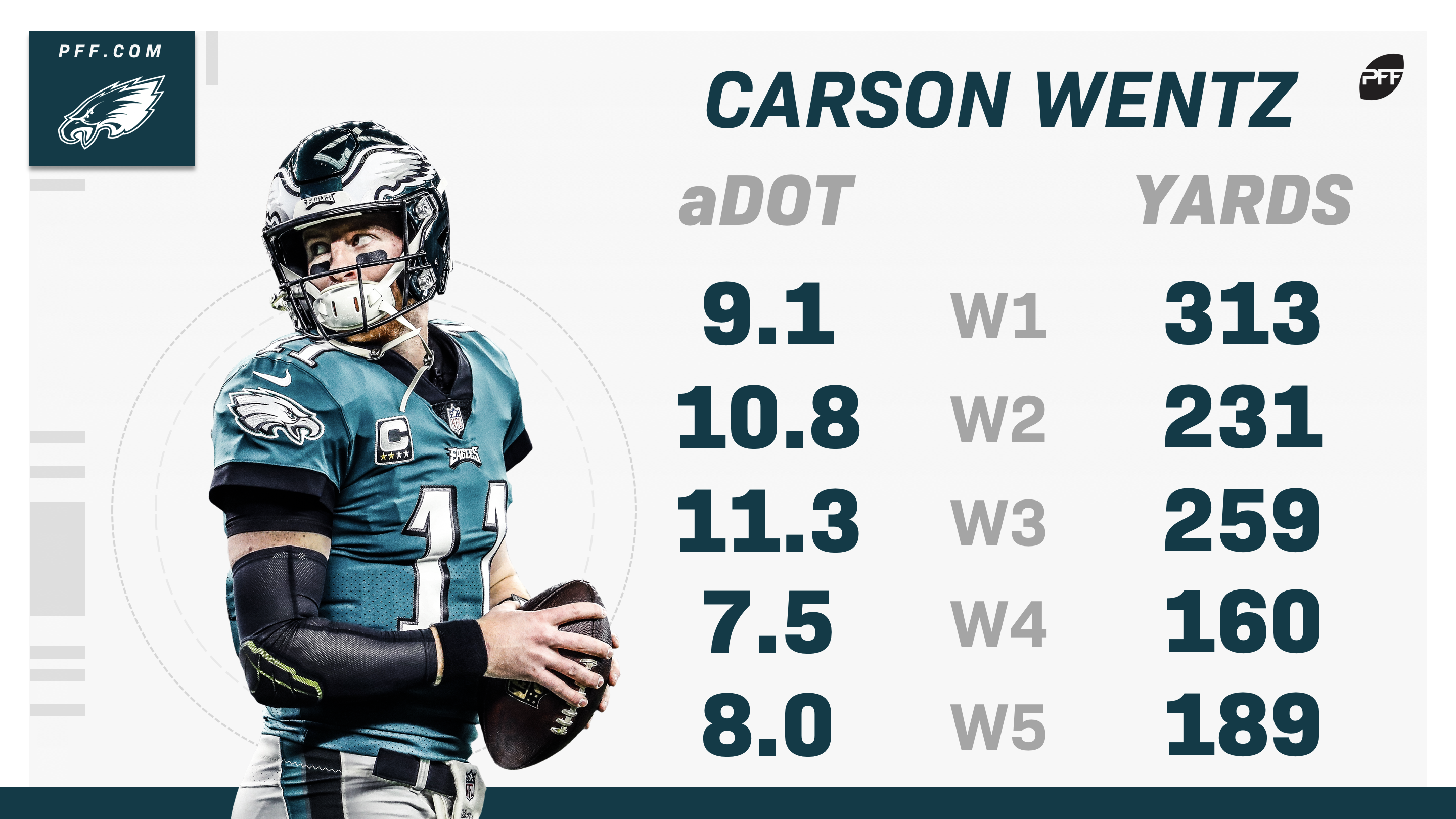 Carson Wentz, QB, Philadelphia Eagles (@ Minnesota): There have been 27 quarterbacks to start each of the last two weeks. Of those, Wentz ranks … 27th in passing yards, at 349. Four different quarterbacks had more passing yards in Week 5 than he has in those two games combined. After the Eagles got off to an underwhelming 1-2 start, the team reined Wentz in. His average depth of target in Weeks 1-3 was 10.3 yards, compared to only 7.8 the last two weeks. A low-upside Wentz against a Vikings defense that hasn't allowed a 20-point fantasy day to a quarterback since Week 1 is a bad recipe.
Nick Chubb, RB, Cleveland Browns (vs. Seattle): The way to attack the Seahawks so far this year has been through the air, and that holds true even for running backs — Seattle has allowed the fourth-fewest rushing yards per game to the position but the sixth-most receiving yards. We've seen the struggles of the Browns offensive line so far this year, and for all of Chubb's virtues, he's not a huge contributor in the receiving game; 81.4% of his scrimmage yards this year have come on the ground, top-10 among qualified running backs.
JuJu Smith-Schuster, WR, Pittsburgh Steelers (@ LA Chargers): We don't really know what to expect out of Devlin Hodges as the new starter. He was an undrafted free agent and a virtual unknown for a reason, but on the other hand, he holds the all-time FCS record for pass attempts at 14,584 at Samford. What we can likely expect is for Smith-Schuster to see a healthy dose of Casey Hayward when lined up out wide and Desmond King when in the slot, and with a huge question mark at quarterback and a tough matchup at corner, this is a good week to avoid Smith-Schuster if possible.
Delanie Walker, TE, Tennessee Titans (@ Denver): Darren Waller had 70 yards against the Broncos in Week 1, and James O'Shaughnessy had a touchdown on his only reception in Week 4. Those are, respectively, the only tight ends to top 24 yards or score a touchdown against the Broncos. Obviously, a lot of that comes down to opponent, as the biggest name they've faced at the position other than Waller is Jimmy Graham (catchless in Week 3) or … Adam Shaheen? But it's true nonetheless. And combine that with Walker's virtual disappearance from the Titans offense (he's 2-of-4 receiving the last two weeks for 14 total yards), and the veteran is a total stay-away.