Opponents matter in fantasy football. Exactly how much they matter is fair to debate, but you know you'd rather an offensive player facing, say, Tampa Bay than Chicago. You'd rather a defense facing Miami than Kansas City. We know this.
Each week in this space, I'll be taking a look at some of the key matchups to exploit in a given week, good or bad, at each position. And we'll start things off with my mismatch of the week.
Mismatch of the week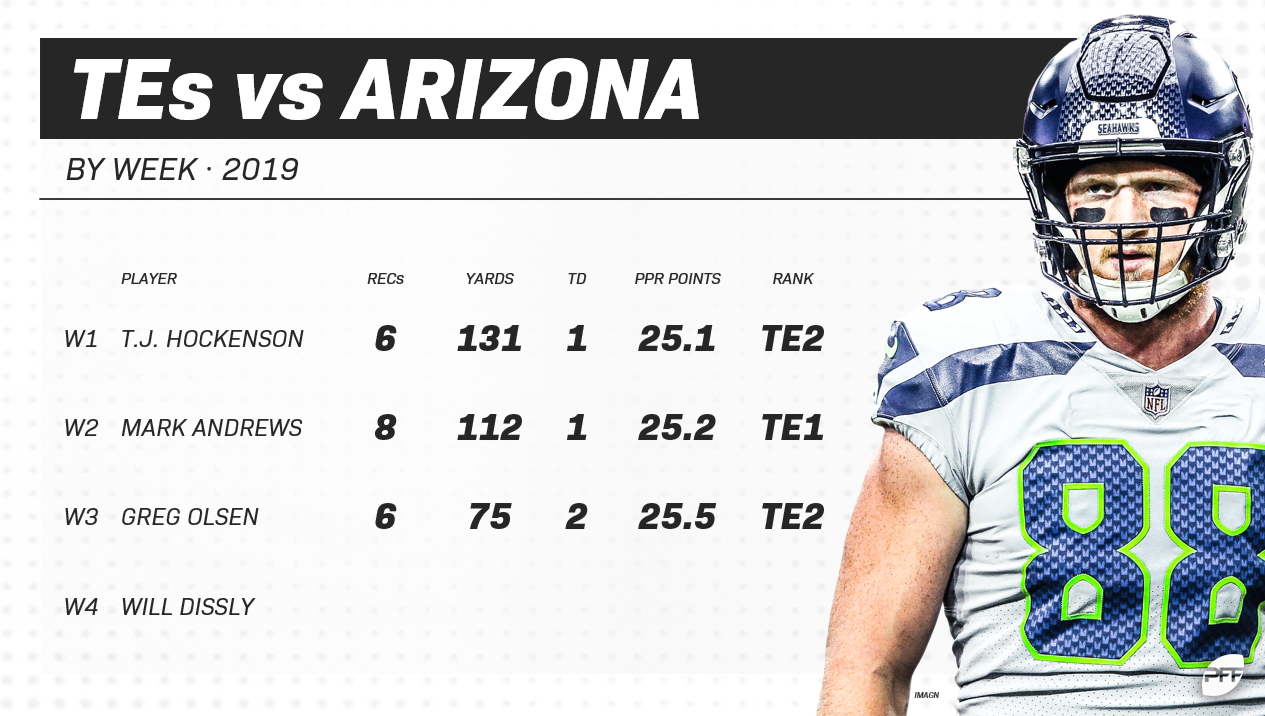 Will Dissly, TE, Seattle Seahawks (@ Arizona): Sometimes there's just nothing for it, and you throw up your hands and just agree with the results. In Week 1, the Cardinals allowed the TE2 performance to T.J. Hockenson, who has all of 8 yards in his other two games. In Week 2, they allowed the TE1 performance to Mark Andrews, who followed it up with 15 yards in Week 3. In Week 3, they allowed the TE2 performance to Greg Olsen. They've allowed 11.0 more points per game to tight ends than any other defense. That won't continue all year — because it basically can't — but until something happens to change it, "tight end against Arizona" is a fantasy cheat code. This week, that's Dissly. (And now Dissly promises more playing time with Nick Vannett shipped off to Pittsburgh.)
Good situations
Philip Rivers, QB, Los Angeles Chargers (@ Miami): In theory, you'd expect a team as bad as Miami to give up a massive point total to running backs. And of course they have, allowing a league-worst 36.4 PPR points per game to the position. But that hasn't come at the expense of QB scoring, with the Dolphins allowing a second-worst total of 31.7 points per game to quarterbacks (they've faced Lamar Jackson, Tom Brady, and Dak Prescott, a relative murderer's row). With Rivers coming to town, expect him to pick apart a woefully struggling defense.
Joe Mixon, RB, Cincinnati Bengals (@ Pittsburgh): It was a slow start to the season for Mixon, who totaled 44 scoreless yards on 1.6 yards per carry and 2.1 yards per target across Weeks 1 and 2. He turned it around a bit in Week 3, though, to the tune of 95 scrimmage yards, 4.1 yards per carry, 17.0 yards per target, and a receiving touchdown. More helpfully, he faces a Pittsburgh defense that has allowed six different running backs to put up 9.7 PPR points or more through three weeks, with two per week, and Kyle Juszczyk added 8.1 in Week 3 for good measure. This is a feast situation for Mixon.
Davante Adams, WR, Green Bay Packers (vs. Philadelphia): Even from this point forward, it looks like Adams was overrated entering the year, WR1 or WR2 in almost everyone's rankings (he was WR3 in mine, which does not make me smarter than anyone else, because that was wrong too). The Packers just aren't looking like a team that will pass at a rate like we're used to. That all said, this week is a smash spot for Adams, going against an already-struggling Philadelphia pass defense on a short week that is now without Ronald Darby for the foreseeable future. Adams could get back on track this week.
Mike Gesicki, TE, Miami Dolphins (vs. LA Chargers): Obviously, this is an absolute desperation punt play, where you're spending as little as you can get away with in DFS or you're in an absolute bind with George Kittle on a bye. But we just saw the Texans beat the Chargers in Week 3 on the backs of three touchdowns by tight ends (two for Jordan Akins, one for Darren Fells) while the team's wide receivers didn't do much of anything. Only the aforementioned Cardinals have allowed more touchdowns to tight ends all year than the Charges did in Week 3 alone, with the absence of Derwin James hurting them in that department. Gesicki caught all three of his Week 3 targets with Josh Rosen in as Dolphins' starter. It was only for 9 yards, to be fair, but in a bind, he's an interesting desperation play.
Bad situations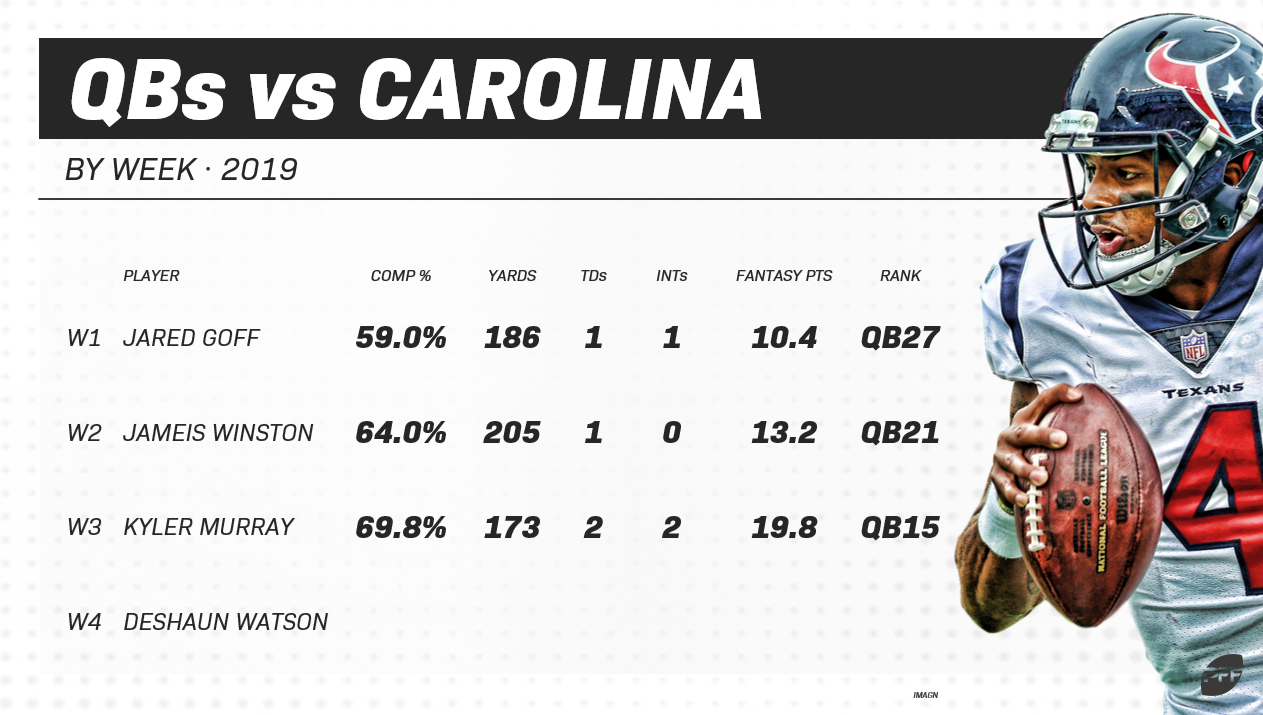 Deshaun Watson, QB, Houston Texans (vs. Carolina): Sometimes, "points allowed" can give an imperfect takeaway. For example, the Rams have allowed only 11.5 fantasy points per game to opposing quarterbacks, which is third-best, but once you acknowledge that it came against a broken Cam Newton, a broken Drew Brees, and a broken (in a different way) Baker Mayfield, it's at least slightly less impressive. (That's still a good defense, but it's worth noting.) But the Panthers have faced Jared Goff, Jameis Winston, and Kyler Murray so far, and for their flaws, they're all still intact. Despite that, they've allowed only 16.8 points per game to the position (sixth-fewest) and 189.0 yards per game (second-fewest). Deshaun Watson is Deshaun Watson, so you aren't benching him or anything, but this might be a good time to pivot off him in DFS.
Dalvin Cook, RB, Minnesota Vikings (@ Chicago): Just like you aren't benching Watson but you might be downgrading him this week, I'm off Cook in DFS for Week 4, up against a Bears team that hasn't allowed a touchdown to a running back through three weeks and has held a group of running backs that includes Aaron Jones, Phillip Lindsay, and Adrian Peterson to only 3.1 yards per carry (fourth-best in the league). The Vikings are loathe to pass the ball, but this is a game where they might have to, and that should definitely lower Cook's impressive ceiling.
Mike Evans, WR, Tampa Bay Buccaneers (@ LA Rams): Right after Evans had a get-right week against a struggling Giants defense, he gets one of the worst possible matchups, against that Rams defense that hasn't allowed a touchdown to receivers yet despite facing D.J. Moore, Curtis Samuel, Michael Thomas, and Odell Beckham Jr. Moore and Thomas did manage 76 and 89 receiving yards, respectively, and they carry the lowest average depths of target of their teams' weapons (Moore's is 10.3 yards, Thomas' is 8.5). Evans, with an aDOT of 17.4 yards, should scare you this week. Chris Godwin's, at 13.2, could be interesting, but I wouldn't be shocked if this is a bad week for Tampa's offense overall.
Mark Andrews, TE, Baltimore Ravens (vs. Cleveland): Taking absolutely nothing away from Andrews' electric start to the season, but it is worth noting that he topped 100 yards and scored a touchdown against each of the Dolphins and Cardinals, then ran into a wall (15 scoreless yards) against the Chiefs. Yes, he's made himself a TE1, and yes, his poor Week 3 came while he was banged up, but there's at least a bit of hesitance of "can he be elite against a not-awful defense?" In Week 4, he draws a Cleveland defense that allowed a big game to Delanie Walker in Week 1, but has allowed 3.5 points to the position in two weeks since. It's at least worth a slightly wary eye.