Opponents matter in fantasy football. Exactly how much they matter is fair to debate, but you know you'd rather an offensive player facing Team X than Team Y. You'd rather a defense facing Miami than Kansas City. We know this.
Each week in this space, I'll be taking a look at some of the key matchups to exploit in a given week, good or bad, at each position. And we'll start things off with my mismatch of the week.
Mismatch of the week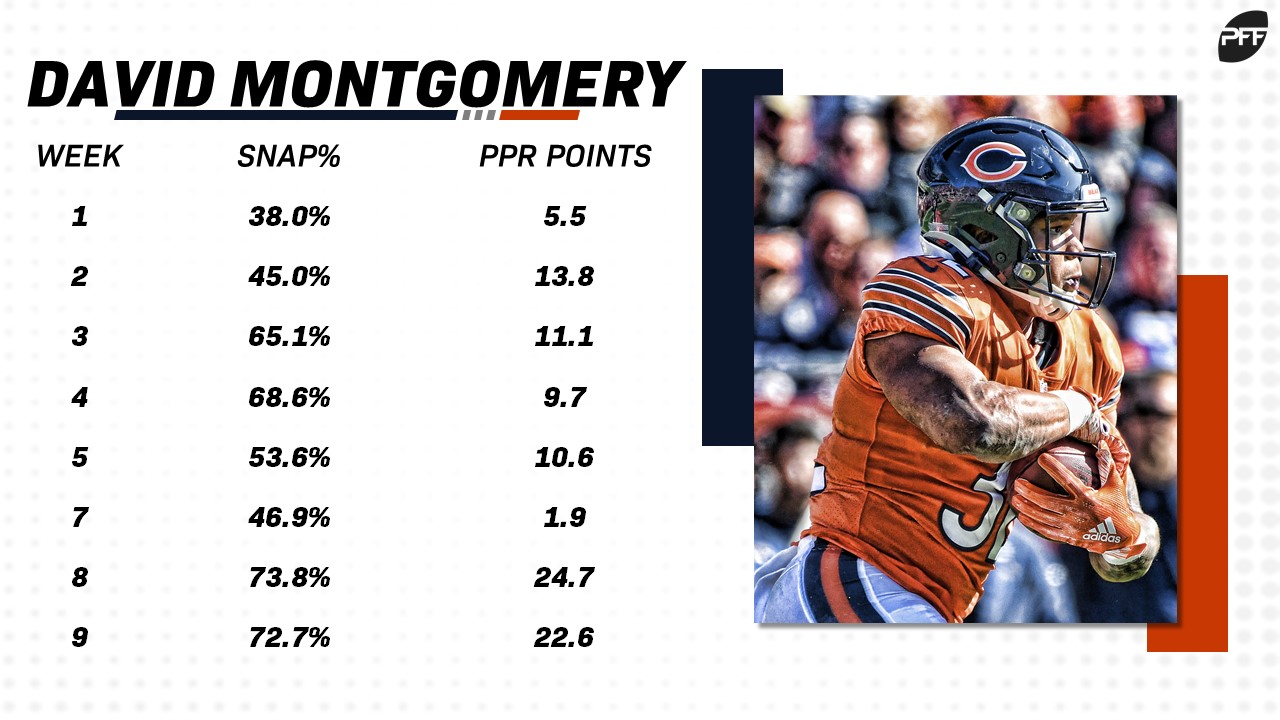 David Montgomery, RB, Chicago Bears (vs. DET): Christian McCaffrey is, unsurprisingly, the No. 1 fantasy running back across the last two weeks, at 63.1 PPR points. But Montgomery is second, with his 47.3 points over those two weeks nearly equal to the 54.6 he had put up in Weeks 1-7. More importantly, though, is the fact that Montgomery's playing time has jumped as well — he played 74 and 73% of the Bears' offensive snaps in Weeks 8-9, his first two times topping 70%. With 13 carries inside the 5, Montgomery is also second to only Dalvin Cook in the most important carries. Against a Detroit team allowing the most PPR points per game to running backs on the season, don't be surprised if Montgomery's hot stretch continues.
Good situations
Ryan Tannehill, QB, Tennessee Titans (vs. KC): It feels like it should be a bigger story, but in three weeks as the Titans starter, Tannehill is actually QB5 in fantasy, less than a point out of fourth and less than four points out of third. He ranks in the top eight in the league in pass attempts, completions, passing yards, touchdowns, and PFF passing grade over that span. This week, he and the Titans face a Chiefs team that has allowed three of the last four and five of the last seven quarterbacks it has faced to top 20 fantasy points, and if Patrick Mahomes returns, you can bet on the Titans needing to throw the ball to keep up.
Marlon Mack, RB, Indianapolis Colts (vs. MIA): We already know how susceptible the Dolphins are to production by opposing running backs (fourth-most points, most rushing yards) and that the Colts are 10.5-point favorites in the game, indicating great Mack-friendly gamescript. But add in the Jacoby Brissett injury — if Brissett plays, he'll be at less than 100%, and if he doesn't, Brian Hoyer isn't any great shakes — and it's even more likely the Colts lean on their star running back in this one.
Russell Gage, WR, Atlanta Falcons (@ NO): Mohamed Sanu was the Falcons' leading slot receiver for most of the season, running 84.4% of his routes there and seeing a team-leading 32 targets and 257 yards. In Week 8, with Sanu shipped off to New England, Gage took over the role, running 77.1% of his routes there and getting 7 targets and 51 yards out of the slot. This week, the Falcons take on a Saints team that has held outside receivers relatively in check this year (especially ones shadowed by Marshon Lattimore), but has allowed the third-points points per game to slot receivers. Gage could have a second good game in a row.
Vance McDonald, TE, Pittsburgh Steelers (vs. LAR): We're still waiting for McDonald to have more than 40 yards in a game this year. But he did see 7 targets and scored a touchdown in Week 9, and while you'd like more yardage, that's acceptable production. The Rams started the year strong against tight ends, allowing an eighth-best 7.2 PPR points to the game through Week 3, but things have taken a sharp turn since, with opposing tight ends averaging 16.6 points (sixth-most) against the Rams from Week 4 on. At a rough position, that's enough to make McDonald intriguing.
Bad situations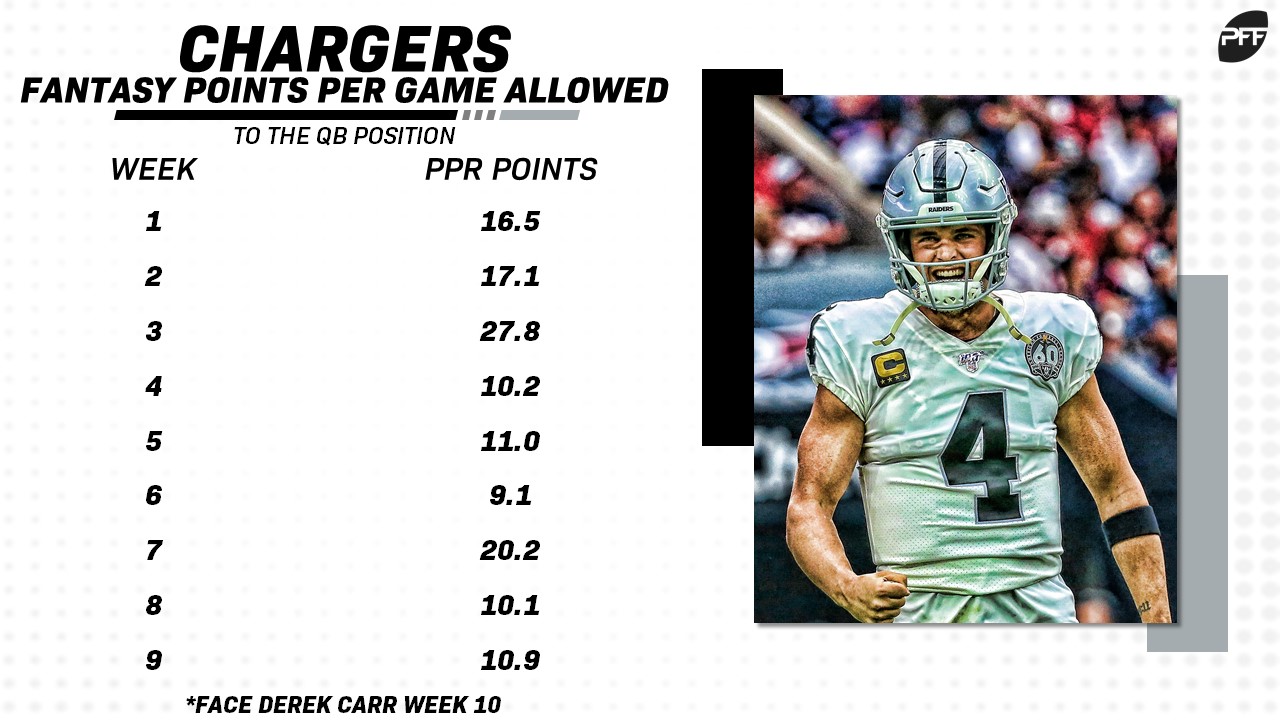 Derek Carr, QB, Oakland Raiders (vs. LAC): Tannehill randomly had a big game against the Chargers in Week 7, topping 20 fantasy points, but outside of that, the Chargers haven't let a quarterback top 11 fantasy points against them since way back in Week 3. Carr's been hot lately, with multiple pass touchdowns in five of his last six games, but he hasn't topped 300 yards all season and in a tough matchup, would be a good fade.
Ezekiel Elliott, RB, Dallas Cowboys (vs. MIN): Elliott was barely a factor in the Dallas passing game his first two seasons, but that all changed in 2018, as he went from targets in 2016-2017 combined to 91 in 2018 alone. He's reverted somewhat this year, with under 4.0 targets a game so far, including the Cowboys game Monday night when he wasn't targeted at all. That lowers Elliott's ceiling, and a matchup against the Vikings (allowing only 86.0 rushing yards to running backs per game and only two rushing TDs to the position) hurts it more. Elliott's still obviously a fantasy starter, but this isn't a week to expect huge numbers.
Marquise Brown, WR, Baltimore Ravens (@ CIN): At a glance, you'd expect the Bengals to be a great matchup for receivers, considering how bad the team's defense has been. But the team is actually middle of the pack in terms of PPR points allowed to the position and, more notably, have been one of the league's stingiest defenses to outside receivers (20.0 PPR points per game allowed to outside receivers, lowest in the league) according to our points allowed positional chart, but among the most generous to the slot (30.3 points per game). It's Mark Andrews and Willie Snead, not Brown, who get most of the slot work for the Ravens this year.
George Kittle, TE, San Francisco 49ers (vs. SEA): Kittle avoided serious injury in Week 9 despite what at first looked scary for his fantasy managers, even going on to have a big game after his injury. And since that was a Thursday game and the 49ers play on Monday this week, he gets extra time to recover. Still, you'd expect Kittle to perhaps be a bit limited — or at least protected by his team — in this game. Meanwhile, Seattle has only allowed one tight end to top 70 yards this year (Gerald Everett in Week 5) and only three to top 50.