Just when we thought we had things figured out in Tennessee, the Titans went out and signed RB Dion Lewis to a four-year deal. Lewis joins Derrick Henry in the Tennessee backfield with veteran DeMarco Murray getting his walking papers just six days ago.
Though he's undersized (5-foot-8, 195), Lewis has displayed the ability to carry the ball between the tackles at the pro level. This past season, he racked up 180 rushing attempts for 896 yards, which is an impressive 5.0 yards per tote. Lewis was also extremely effective at creating independent of his blockers with an impressive 3.2 yards after contact per attempt. He finished the year as the No. 12 fantasy running back in standard scoring and ranked 15th in PPR formats.
Talent has never been an issue with Lewis, but he hasn't proven to be the most durable back throughout his pro career. Injuries derailed much of his earlier career and caused him to play just 23 games over five seasons between 2012 and 2016.
Following Murray's release, Henry appeared to be locked in as the bell cow in the Tennessee backfield. While many view this signing as blow to Henry's fantasy value, the backfield deserves closer examination. There's no doubt Henry can handle a hefty workload as a runner. We need to look no further than his final year at Alabama when he racked up 395 carries in 15 games. However, Henry caught just 17 balls in his three years in college and has just 24 catches in his first two seasons in the NFL.
We probably never should have been convinced that the Titans were going to expand Henry's role in the passing game, and there's a chance Lewis could serve as the passing-down back. While he wasn't heavily used in this role in New England this past season with just 32 catches on 36 targets, the Patriots did lean heavily on Lewis in the passing game in in 2015 when he caught 36-of-46 targets in just seven games played.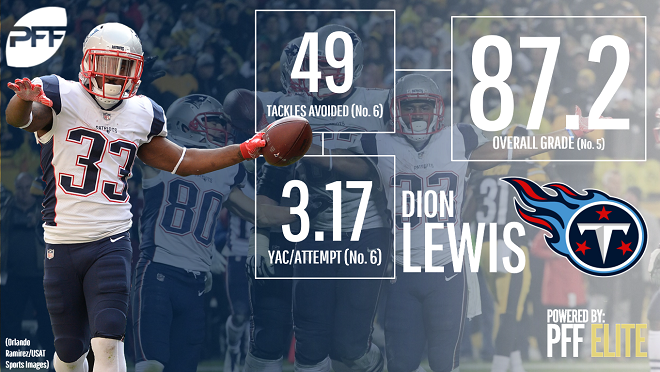 That's not to say that he won't get carries in that role, but the bulk of the early-down work should still go to Henry. Last season, Titans running backs accounted for 369 carries. If 75 percent of the work goes to Henry, that's 276 attempts. In this scenario, Lewis would see roughly 90 carries plus an additional 45-50 catches. Henry's role in the passing game wouldn't change, so we can add roughly 15 catches to his touch total. That means roughly 290 touches for Henry and 140 touches for Lewis, or roughly a 2-to-1 split in the workload. This breakdown makes sense, especially given Lewis' injury history and the fact that he's no spring chicken (he's entering his age-27 season).
Of course, this is only speculation at this point. But in this potential outcome, Henry would still be in consideration for RB1 status. On the other hand, Lewis' fantasy value would take a hit. That sort of touch volume is very similar to what we saw from Theo Riddick and Giovani Bernard last season, and both players finished as RB3s in PPR.