The Arizona Cardinals have the potential to be one of the better offenses for fantasy football production in 2020. Kliff Kingsbury's exciting offense features an ascending young quarterback in Kyler Murray, who now has a true No. 1 wideout in DeAndre Hopkins. Let's break down what the first batch of 2020 fantasy football projections have to say about the Cardinals offense.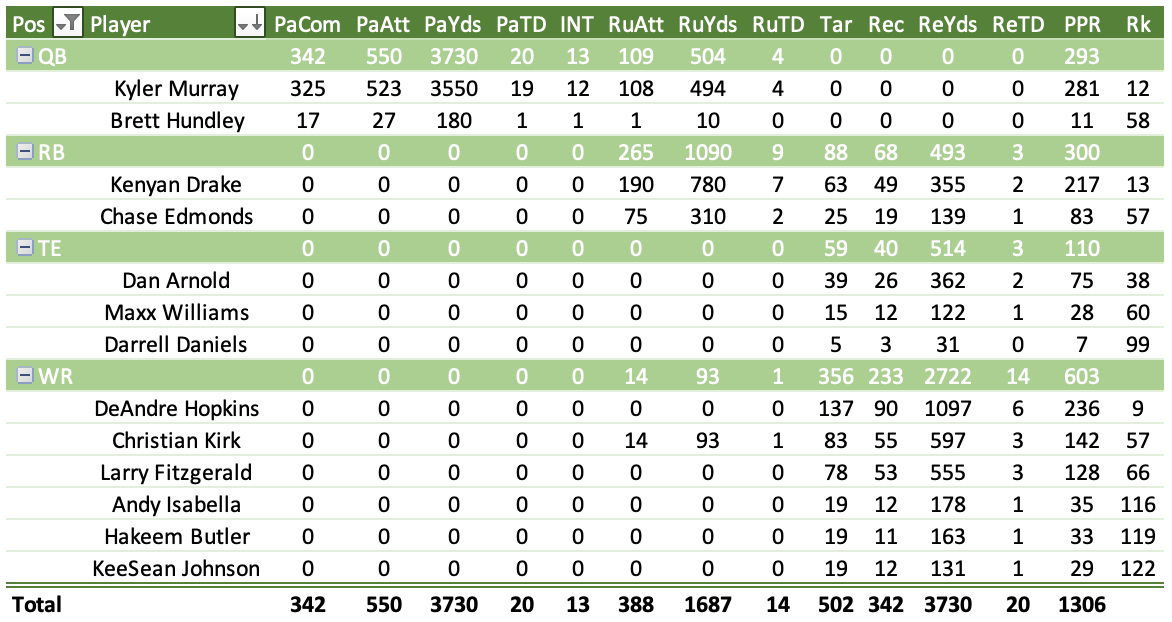 Murray certainly benefits from having Hopkins at his disposal, but our numbers aren't as ambitious as fantasy drafters currently view Murray. The second-year man is coming off the board as the No. 4 quarterback in best ball ADP but is projecting out 12th at the position. But before we go and overreact, it's important to remember that fantasy football projections are essentially averages that show the midpoint of a wide range of outcomes. Murray's ceiling is certainly higher than other players projecting in the same range, which justifies his higher ADP and ranking.
Speaking of Hopkins, his numbers take a slight hit from what we saw in Houston. The veteran wideout is coming off back-to-back 100-catch seasons. He projects well under that mark at 90 catches. To be fair, Hopkins is seeing over 27% of the targets, but the challenge is that there just may not be enough balls to get him over the century mark. While we do expect Arizona to be one of the fastest-paced teams in the league, their 550 projected passing attempts ranks just 21st in the league. 
Perhaps the most concerning area of Hopkins projections is his touchdown total of just six scores. Despite 104 catches last season, Hopkins was viewed by some as a fantasy disappointment. A big part of that perception is likely due to his touchdown production. After posting double-digit scores in 2017 and 2018, Hopkins found pay dirt just seven times last year. Like with Murray, we know Hopkins has a high ceiling, but our initial projection doesn't paint the most favorable picture for Hopkins returning elite fantasy value this year. Fantasy drafters who are currently selecting him as the second receiver off the board could end up with some mild disappointment in Hopkins.
As we expected, Hopkins' arrival essentially tanks Christian Kirk's fantasy value. With Hopkins eating up a major portion of the pie, Kirk's target share is at just 17%. That sort of volume just won't be enough to give Kirk WR3 potential. If our numbers are right, Kirk is likely going to be overdrafted this year.
It's easy to remember how Kenyan Drake ended the 2018 season, especially if you owned him. The former Dolphins back caught fire in Weeks 15 and 16, finishing as the No. 1 and No. 3 fantasy running back. We may also remember his first game with the Cardinals in Week 9 when he shocked the fantasy world and racked up 162 total yards and a score on 19 touches. However, what we may forget is that from Weeks 10-14, Drake wasn't good for fantasy purposes. Over that span, he averaged just 3.4 yards per carry and scored zero touchdowns. 
It's important to recognize this wild roller-coaster ride when evaluating Drake for 2020. Yes, the ceiling is high, but his floor is also very low. That being said, our numbers do paint a fairly favorable picture of Drake as a fringe-RB1. His 239 touches puts him right in the 15-touch range on a per game basis. While an argument could be made for a larger touch share, we have him at roughly a 70:30 split with Chase Edmonds. The key with Drake is to keep in mind his weekly volatility if you do consider drafting him. That volatility works well in best ball but could be maddeningly frustrating in traditional season-long leagues.
[Find the full collection of analysis and insights on PFF's 2020 fantasy football projections for all 32 NFL teams. Check back as more articles will be added each day.]