Each week, PFF's fantasy football analysts post our rankings in PPR, non- PPR and 0.5 PPR formats for the league's offensive skill positions. Jon Macri and I then add our IDP rankings, making the PFF rankings pages the go-to resource for all your fantasy football decisions.
According to FantasyPros, my rankings finished as the second-most accurate among 150 analysts in the 2020 season. They came in second-best at running back and top-10 at wide receiver and tight end. Last year, my rankings finished third-highest and nabbed the top spot at running back.
Of course, our rankings are in a constant state of flux, with changes being made due to injury reports and personnel/usage updates, among other factors. But regardless of any changes that may occur between now and Saturday, here are eight borderline fantasy starters whose rankings I feel confident about heading into the Wild Card round of the playoffs. These rankings are based on PPR scoring settings within their positions as of Wednesday morning.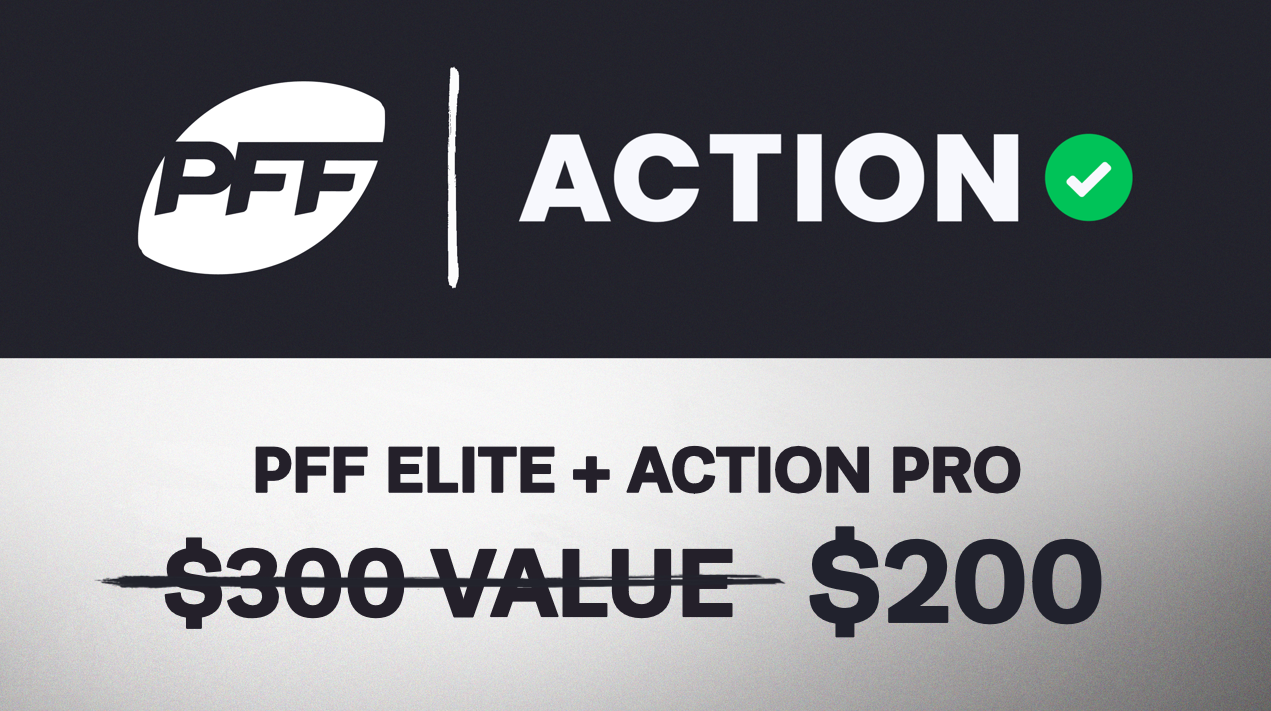 BIG-GAME POTENTIAL
Mason Rudolph faced this Browns defense just one week ago and finished with 315 passing yards and two touchdowns. The Steelers offense started off slow but ended up scoring on five of its last six drives. Roethlisberger should be able to outplay Rudolph and turn more of those field goal drives into touchdowns.
Roethlisberger has scored at least one touchdown every game he's played this season and is coming off a great game against a strong Colts defense with 341 yards and three touchdowns. The main concern is that the Steelers could develop a big lead, but they are the fifth-most pass-happy team with a lead and fourth-most pass-happy team with a lead in the fourth quarter. Roethlisberger has one of the best matchups for a quarterback this round and will be passing regardless of the score.
Jonathan Taylor has been excellent over the second half of the season and deserves all the praise he's been receiving. Taylor played over 80% of offensive snaps for the first time in his NFL career last week. The Colts rans with Taylor early, gained a lead and then ran late to keep the lead.
Hines should find some success against a Bills defense that has allowed the 12th-most fantasy points to running backs. The reason for optimism is partly due to the fact that Hines plays more when the Colts are losing. He's played 67.4% of offensive snaps when Indianapolis is down over the last six weeks, compared to 29.9% when the Colts have a lead. The Bills are expected to beat Indianapolis, which means we'll see a lot of Hines, and he should take advantage of this Bills defense.
The Sunday Night Football game created plenty of storylines, but McLaurin's return to the lineup wasn't given enough headlines. McLaurin only missed one week due to a high-ankle sprain before returning to help Washington secure a playoff spot. He played over 80% of the offensive snaps, which is only slightly less than usual. It was enough time for McLaurin to catch seven of eight targets for 40 yards and a touchdown.
Washington will need to pass a lot to keep up with the Buccaneers offense. Plenty of wide receivers have taken advantage of Tampa Bay recently. Russell Gage had 158 yards and a touchdown against them over two games in the last three weeks. Four different wide receivers have 130 or more yards against them over the last seven weeks. McLaurin could join the long list of receivers putting up great numbers, and the Football Team is going to need it.
The tight end position this week is very odd, with the majority of top performing tight ends on the season either having a first round bye or sitting out of the playoffs. This week you may need to rely on tight ends you haven't needed all season. Kmet is on the list because he sees targets. He took over as the starter mid-season and has the second-most targets for tight ends over the last five games among TEs active this week. 
It will also help Kmet that he's facing the Saints defense. For one, the Bears are expected to be losing, which will lead to more passing and more targets. New Orleans has allowed over 50 yards to two of the last three lead tight ends they've faced. The one exception was the Panthers, who don't utilize their tight ends much in the pass game. Kmet at least has a high floor for this game and should have more opportunities for big plays than most tight ends this week.
BUST POTENTIAL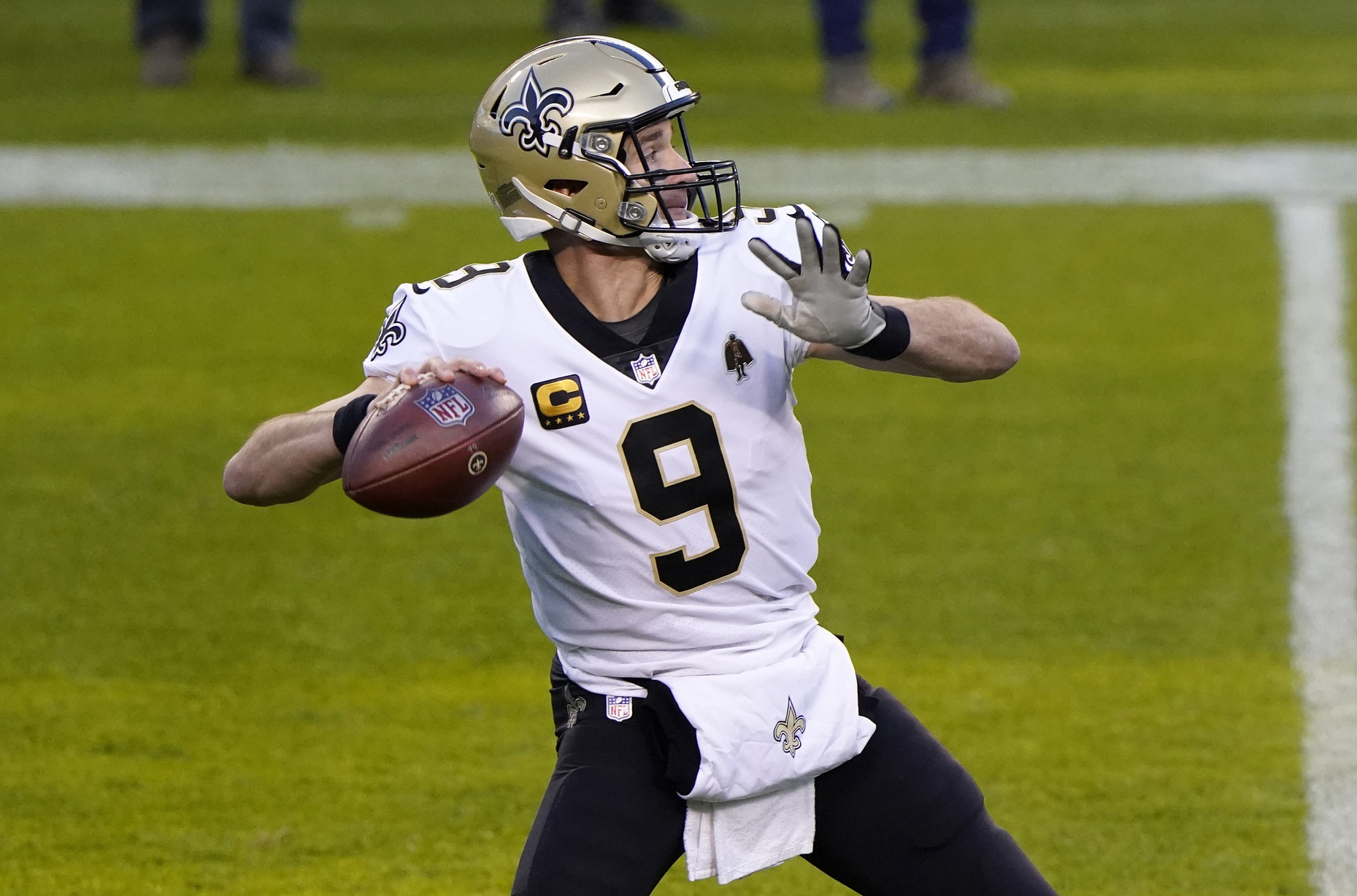 Brees' fantasy season has been odd in that he's had three games with 300 yards, but he's only scored two touchdowns in those games. Every other game that he finishes, he's thrown under 300 yards but has at least two touchdowns. This gives him a high floor and low ceiling. His 0.54 fantasy points per dropback ranks 14th this season, with six of the quarterbacks higher than him playing in this round of the playoffs.
He's facing an above average Bears pass defense, which limits his upside. The Saints are expected to win this game, and New Orleans is the fifth-most run happy team in the playoffs when they have a lead. Brees should have an OK game, but nothing points to him being among the top few quarterbacks of the weekend.
On paper, the Bills' running backs seem like they could be good picks this week. Buffalo is one of the weekend's biggest favorites, so the Bills should be running late with a lead.
But the Bills are the third-most pass heavy team this season even when leading. They become less pass-happy in the fourth quarter with a lead, but at that point Zack Moss has been their closer.
Singletary has been held to 10 or fewer carries in each of his last four games. He hasn't reached 100 yards all season and only has two touchdowns. Not only is he expected to score the fewest fantasy points among starting running backs, but plenty of backups from other teams should also outscore him.
Brown has looked like the player he was early in his career over the past three weeks. He's caught 20 of 27 passes for 266 yards and four touchdowns in that time span. His playing time has been up recently, in part due to an injury to Mike Evans last week.
The problem is that he's facing the excellent secondary of the Washington Football Team. They've allowed the second-fewest touchdowns to wide receivers on the season at 10. Only three wide receivers have hit the 100-yard mark against them. This will be a problem for not just Brown but all of the Tampa Bay wide receivers. The Buccaneers should get the victory, but it won't be as high-scoring as their recent games.
Hooper has two very big factors working against him this week: the Steelers defense and teammate David Njoku. 
Pittsburgh has allowed the second-fewest fantasy points to tight ends this season. Only one tight end has had more than 60 receiving yards against them, and only three have scored a touchdown against them. Hooper was one of those three, but it was in a game where Pittsburgh rested a number of starters.
Njoku started taking some of Hooper's playing time last week and actually ran more routes than Hooper. This led to both tight ends seeing the same amount of targets. There wasn't any particular personnel grouping or time in the game where the snap count changed — it was just a heavier rotation throughout. Hooper wouldn't have high upside as an every-down player, but this pushes him to one of the worst starting tight end options for the week.