While preparing my fantasy football rankings each week, I come across statistics and trends worth monitoring. The following are 32 interesting stats — one for each NFL team — that helped inform my Week 10 rankings.
Subscribe to
Several can be found in premium stats as well as the PFF fantasy stats. (These numbers do not account for the Thursday night Colts-Titans game.)
Arizona Cardinals – Kyler Murray has gained 34 first downs on runs so far this season. He already beat his 2019 total by seven first downs. Murray finished with the third-most for quarterbacks in 2019, but this year he leads the league.
Atlanta Falcons – Hayden Hurst ranks second in receiving yards over the last four weeks at 241. He finished 13th over the first five weeks with 170.
Baltimore Ravens – J.K. Dobbins dominates as long as there are seven or fewer defenders in the box. His 7.2 yards per carry in these situations is third-best in the NFL. Gus Edwards isn't far behind, ranking 11th at 5.4 yards per carry. Mark Ingram II ranks much lower at 3.8.
Buffalo Bills – Stefon Diggs leads the league in targets when his quarterback is under pressure at 32. He's seen 12 more targets than any other wide receiver on pressured plays. His 56 targets on plays without pressure ranks eighth-most for wide receivers.
Carolina Panthers – Robby Anderson isn't the Panthers' primary slot receiver, but he has run 100 routes from the slot. He's been targeted 33 times on those routes, leading to 2.91 yards per route run. That's the fifth-best rate for wide receivers from the slot.
Chicago Bears – David Montgomery's 18 avoided tackles on rushing attempts over the last four weeks are the most for all players.
Cincinnati Bengals – When tight end Drew Sample lines up in the slot, he has earned 2.37 yards per route run — the third best rate for tight ends behind George Kittle and Travis Kelce.
Cleveland Browns – Nick Chubb has gained 1,829 rushing yards over the last two seasons. He ranks fourth in rushing yards despite missing the last few weeks and splitting time with Kareem Hunt for much of that time.
Dallas Cowboys – Dak Prescott, Andy Dalton and Ben DiNucci all have average depths of target ranking from 6.8 to 8.5, placing them all in the bottom half of the league. Garrett Gilbert's average depth of target in his lone start was 11.1 — higher than any QB has averaged on the year.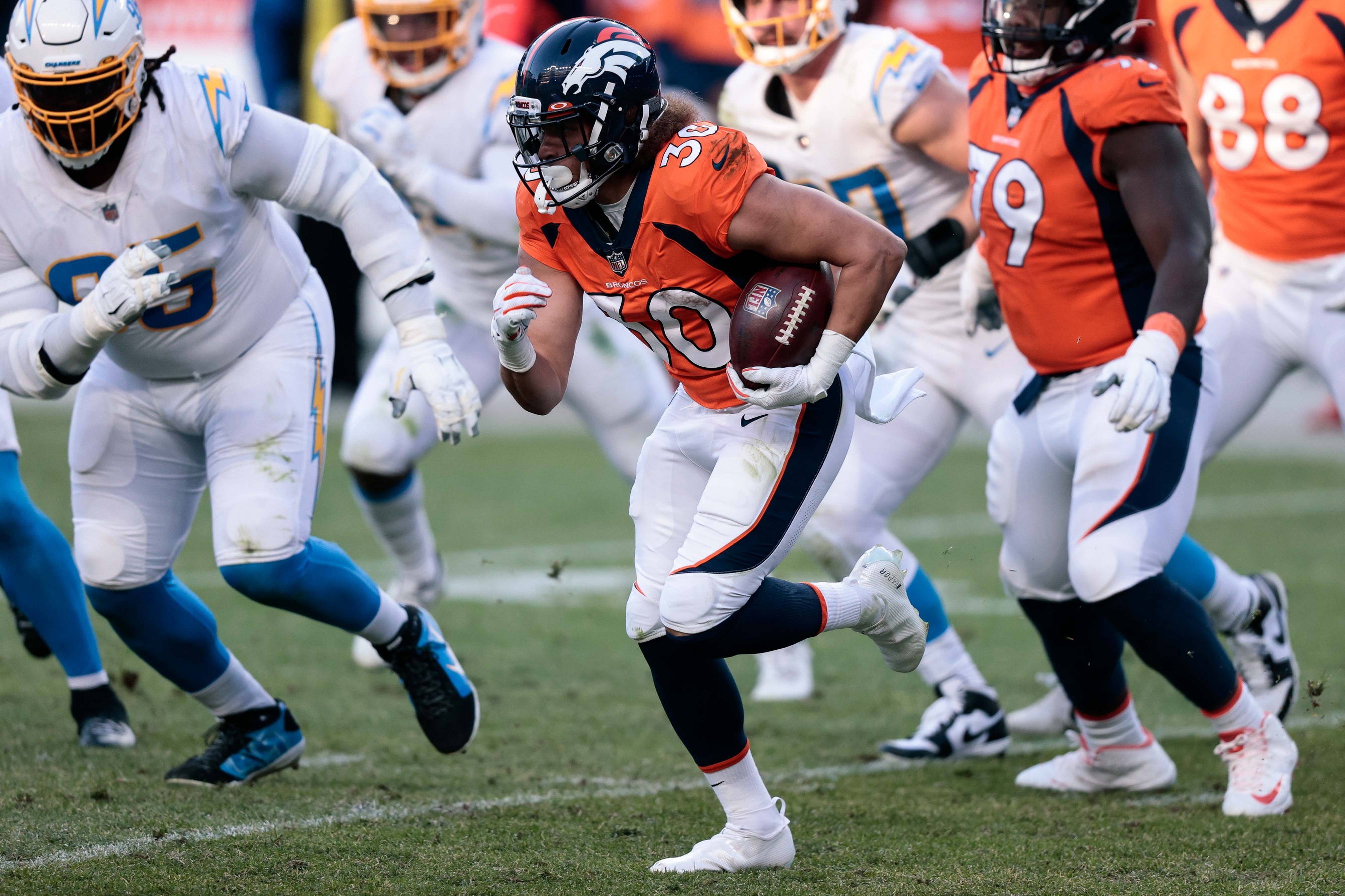 Denver Broncos – Phillip Lindsay produced 286 rushing yards over the last four weeks, placing him third among running backs.
Detroit Lions – Marvin Hall has been the replacement for Kenny Golladay while Golladay is out with injury. Hall's 2.68 yards per route run since the beginning of 2019 ranks third-best for wide receivers with at least 25 routes in that time.
Green Bay Packers – Robert Tonyan leads all tight ends in deep receiving yards at 97. He's caught three of four deep targets and converted one into a touchdown.
Houston Texans – Duke Johnson Jr. racks up five or more yards after contact at the second-highest rate among backs at 26.5%. David Johnson's rate of 8.7% is below league average. 
Indianapolis Colts – Jonathan Taylor's average depth of target is the lowest among running backs at -2.45. The last running back to finish close to that mark is Marlon Mack in 2017 at -2.40.
Jacksonville Jaguars – James Robinson's 396 yards after contact are the fifth-most for an undrafted rookie in the last decade. Robinson is on pace to top that list before the end of the month.
Kansas City Chiefs – Travis Kelce produced 1,998 receiving yards over the last two regular seasons. He's the only non-wide receiver in the top 20, and he is only 34 yards behind the top wide receiver.
Las Vegas Raiders – Nelson Agholor leads all wide receivers in fantasy points per touch (4.8) among those with more than 10 catches. No other wide receiver is above 4.2.
Los Angeles Chargers – Half of Austin Ekeler's carries went for five or more yards. Both Justin Jackson and Joshua Kelley rank in the bottom five backs in percentage of carries for five or more yards at 22.2% and 22.0%, respectively.
Los Angeles Rams – Cooper Kupp compiled 858 receiving yards after the catch over the last two seasons. That leads all wide receivers, while teammate Robert Woods has posted the second-most at 831.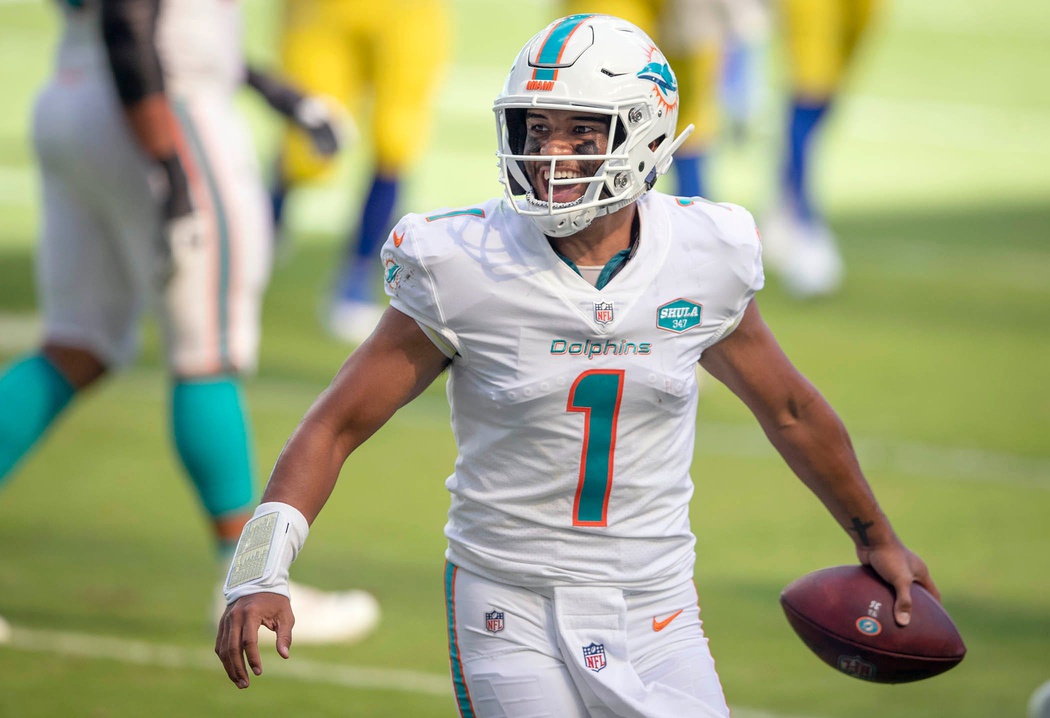 Miami Dolphins – Tua Tagovailoa's 50.0% accuracy percentage ranks among the bottom five quarterbacks this season. Ryan Fitzpatrick is sitting at 14th-best at 61.5%.
Minnesota Vikings – Adam Thielen is tied for the league lead in end zone targets at 10. He's caught six of those, giving him the second most-end zone touchdowns.
New England Patriots – Sony Michel has picked up positive or zero yards on every one of his carries. He is the only player with 25 or more attempts and no carries for a loss. Damien Harris produced the second-best rate of avoiding negative carries at 98.4%.
New Orleans Saints – Jared Cook averages 0.30 fantasy points per snap, which is ahead of all tight ends not named Travis Kelce.
New York Giants – Daniel Jones' 21 passes that have been dropped by his receivers are tied for the most among quarterbacks. That matches the 21 passes thrown by Jones that ended up being dropped over the entire 2019 season.
New York Jets – Joe Flacco's 10.8 average depth of target is the fourth-highest for quarterbacks this season. Sam Darnold posts an average depth of target of 8.3, putting him at 31st among 47 qualifying quarterbacks.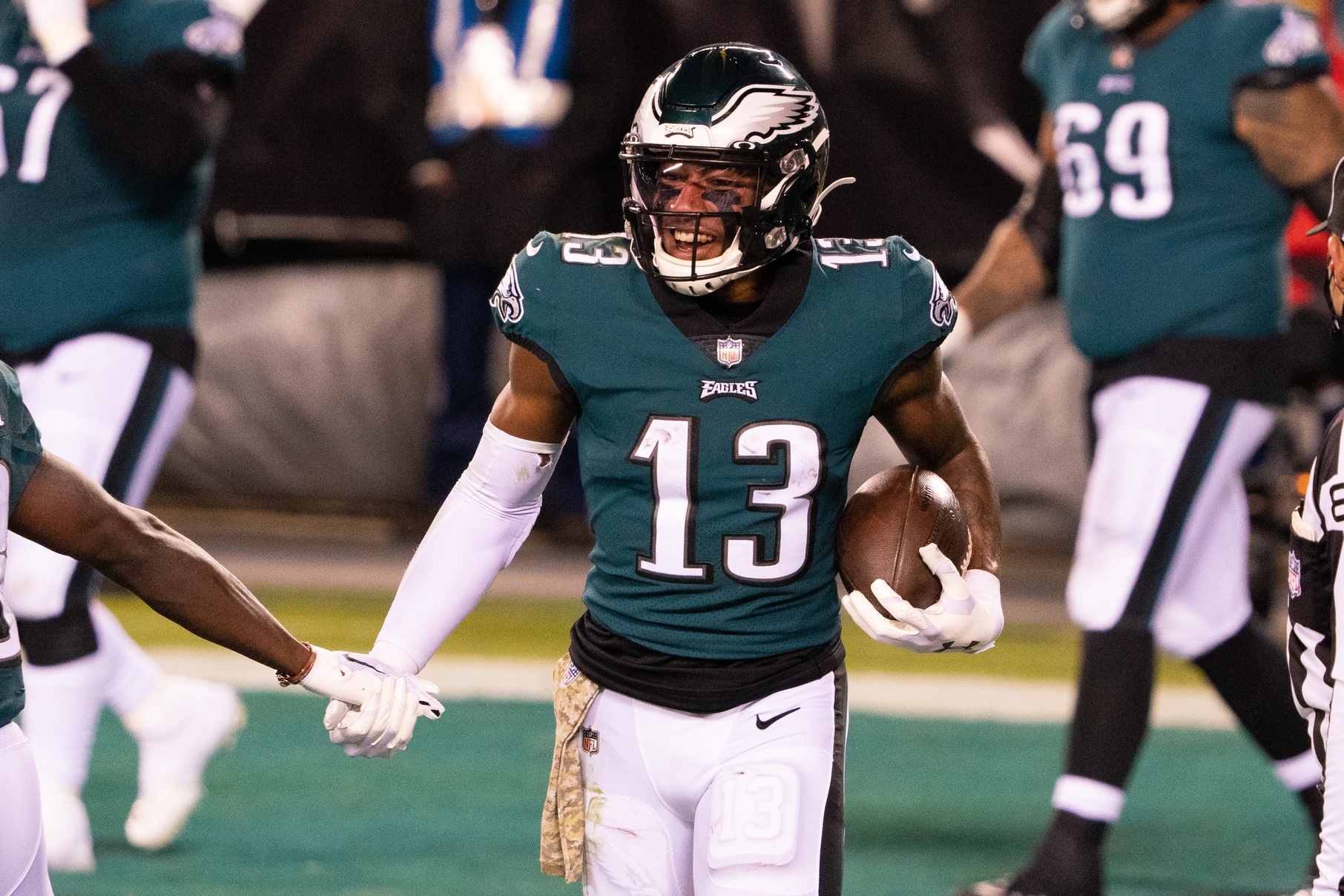 Philadelphia Eagles – Travis Fulgham ranks third in fantasy points per snap for wide receivers at 0.35.
Pittsburgh Steelers – Ben Roethlisberger's 2.19 average time to throw is the lowest among quarterbacks this year. His time to throw has seen a casual decline over his entire career, but this is the first time it's fallen below 2.4.
San Francisco 49ers – Deebo Samuel racked up 150 receiving yards on plays where he was targeted behind the line of scrimmage. He ranks second in yards from behind the line of scrimmage throws and is the only non-running back in the top 10.
Seattle Seahawks – Travis Homer has gained positive rushing yards on 68.0% of his carries — the lowest rate among running backs. Teammate DeeJay Dallas ranks second-worst with 69.2%. Chris Carson has the eighth-best rate at 87.9%.
Tampa Bay Buccaneers – Rob Gronkowski moved up to second in end zone targets among tight ends at eight. He's caught three touchdowns on those passes. In his last year with the Patriots, Gronk was targeted six times in the end zone and didn't catch any of those passes.
Tennessee Titans – Derrick Henry has faced eight men in the box more than any other running back — 89 attempts. He averages 3.8 yards per carry in those situations. Against seven or fewer men in the box, his yards per carry increases to 5.5.
Washington Football Team – J.D. McKissic is the only player to gain five or more yards on over half of his carries this season.