The fantasy football community entered the 2019 NFL season with high hopes for the Cleveland Browns. After impressive seasons from rookies Baker Mayfield and Nick Chubb, the team kept their coaching search in-house, elevating Freddie Kitchens. The Browns then proceeded to add Odell Beckham Jr. via trade to join Jarvis Landry in the receiving corps.
As the fifth quarterback selected in 2019 fantasy drafts, Mayfield left fantasy owners with a bitter taste in their mouths, finishing as the QB19. Beckham played through injuries (core) and also came up small as the PPR WR25 — not a good return on a first- or second-round fantasy selection. Nick Chubb rewarded fantasy owners early in the season but returns dwindled once Kareem Hunt joined the fray after Week 9, as PFF's Ian Hartitz broke down here.
[Subscribe to PFF EDGE or ELITE to gain access to  our fantasy football rankings and projections, PFF Player Grades, premium content and more.]
After finishing with a 6–10 record, fantasy owners weren't the only ones left disappointed with the 2019 version of the Browns. After only one year under Kitchens and his new staff, ownership decided to pull the plug and bring in former Minnesota Vikings offensive coordinator Kevin Stefanski as the new head coach.
Stefanski was the fourth-best playcaller in the NFL last season, according to PFF's play-by-play coaching metric. He will bring a unique brand of football to the Browns after spending a year learning Gary Kubiak's run-balanced scheme and finishing second (48%) in the percentage of rushing plays.
Based on the success Stefanski had last year and the team's offseason acquisitions, it appears he intends to deploy a similar approach.
Key offensive acquisitions: Cleveland Browns 2020
Contrasting these additions with the Browns' lack of a third quality receiver reveals an additional layer of context. Here is a look at personnel groupings for the Vikings under Stefanski in 2019.
| | | |
| --- | --- | --- |
| Personnel | Percentage of plays | Rank among 32 NFL teams |
| 11 Personnel | 20.6% | 32nd |
| 12 Personnel | 34.9% | 2nd |
| 21 Personnel | 22.2% | 2nd |
| 22 Personnel | 11.9% | 3rd |
The Browns have constructed their roster to support the 12, 21 and 22 groupings that are crucial to this scheme. These groupings aren't just about running the ball either, as Stefanski passed 69.6% (2nd) of the time from 12 personnel in 2019 versus 57.5% (31st) out of 11 the personnel grouping.
Before we jump into impact for fantasy assets, let's take a look at a few other relevant data points contrasting Stefanski and Kitchens in 2019:
| | | |
| --- | --- | --- |
| Situation | Kevin Stefanski | Freddie Kitchens |
| Plays per game excluding overtime | 60.1 (27th) | 60.6 (26th) |
| Pass vs. Run | 52.0% (31st) | 61.3% (18th) |
| Pass vs. Run when the score is within 3 points | 61.5% (28th) | 65.3% (17th) |
| Pass vs. Run when trailing by 7 or more points | 28.1% (32nd) | 50.7% (15th) |
| Pass vs. Run in the red zone | 38.2% (32nd) | 50.7% (18th) |
| Pass vs. Run in the red zone when the score is within 3 points | 46.0% (31st) | 64.0% (11th) |
| Pass vs. Run inside the 5-yard line | 34.4% (28th) | 51.3% (12th) |
We can expect a similar number of plays to last year, but the Browns are more likely to prioritize the running game in 2020 based on these splits. And while assuming a 52% pass rate is a bit extreme given the other dependencies such as Mayfield cutting down on turnovers and the defense improving, a 55%-45% pass-to-run split is realistic, and it could be more drastic than that in high-leverage situations like inside the 5-yard line.
Let's take an in-depth look at what these changes mean for the Browns' skill players for 2020.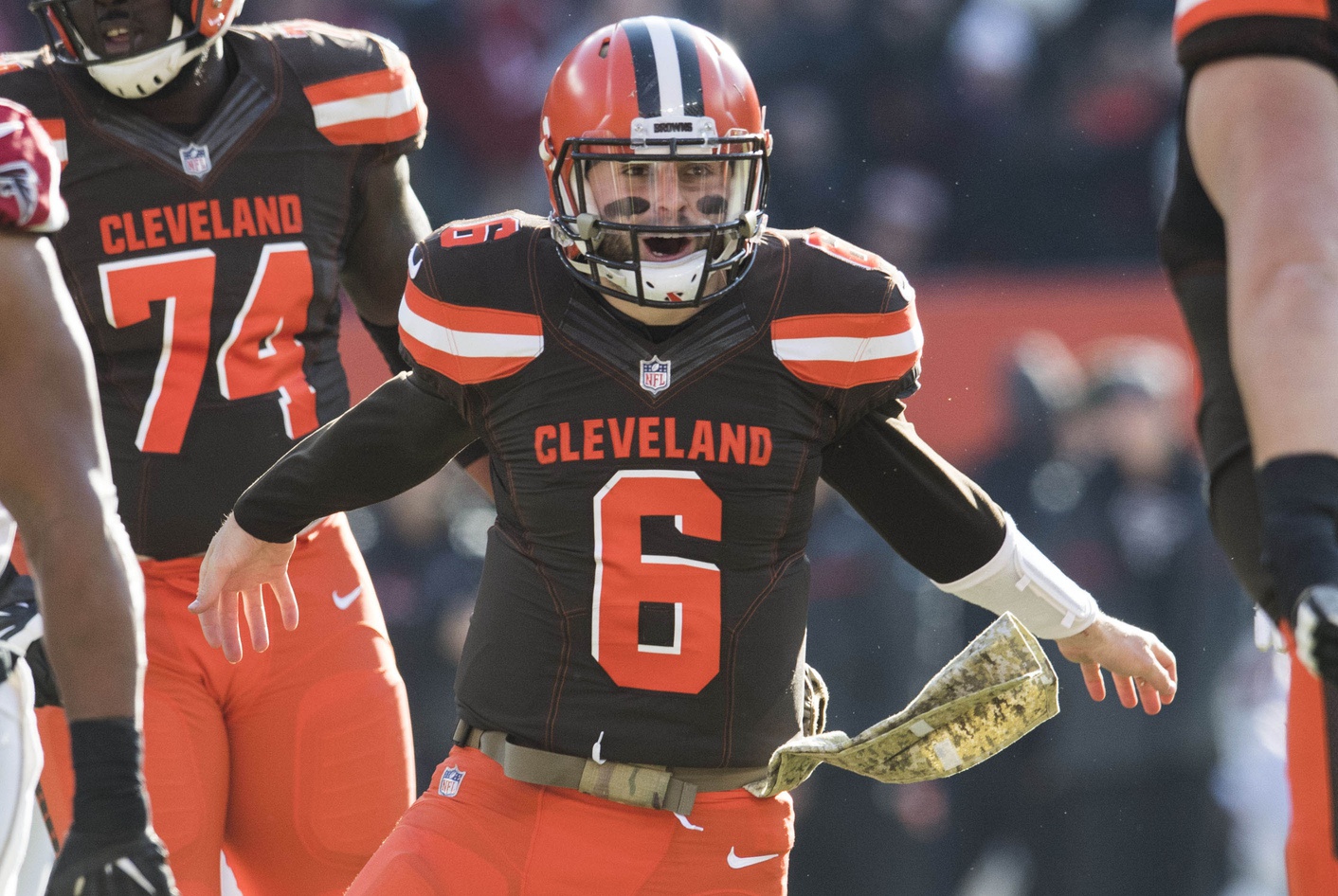 If things go well, Mayfield will see his attempts drop slightly but see an improved efficiency. Kirk Cousins passed for 3,605 yards (8.1 yards per attempt) and 26 touchdowns (5.9%) on only 444 attempts under Stefanski last season.
The PFF Fantasy rankings have Mayfield slotted as the QB18. He is coming off the board at an ADP of QB14.
My projected range of outcomes
| | |
| --- | --- |
| Stat | Range |
| Attempts | 525 – 550 |
| Passing yards | 3,700 – 4,100 |
| Touchdowns | 21 – 26 |
| Interceptions | 13 – 19 |
Subscribe to PFF Edge to continue reading
Already have a subscription? Sign In