For fantasy football purposes, the first round of the 2019 NFL draft didn't a ton of pop, as there were only eight skill position players selected on Day 1. That being said, we do have some intriguing names in this bunch, so let's dive in and break down the fantasy football impact of each pick.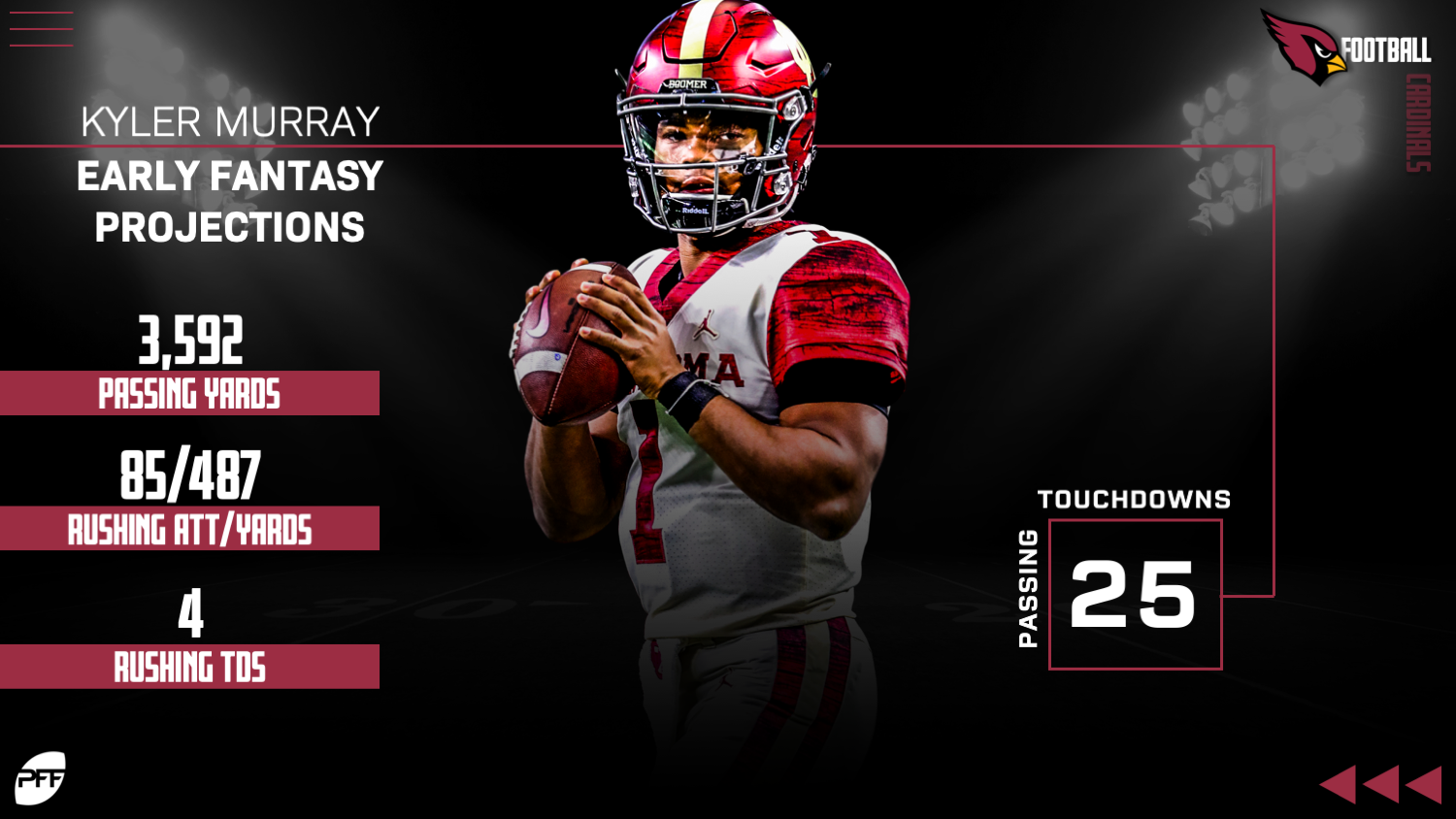 Perhaps the most anti-climactic pick of the night, Murray followed his former teammate, Baker Mayfield, as the top pick in the draft. While Josh Rosen is technically still on the roster, we fully expect Murray to step right in as the Week 1 starter.
Murray has a unique skillset that is indicative of the modern fantasy quarterback. His ability as a runner makes him a threat to finish top-five among signal-callers in rushing yards right from the gate. He's also a strong passer, grading out second among draft-eligible quarterbacks in that area. The once concern, at least initially, for Murray is his surrounding cast in Arizona. The Cards have some work to do to upgrade his weapons and offensive line. Still, he's poised to be an instant fantasy factor. Murray should be viewed as a top-15 fantasy quarterback in redraft and far-and-away the top quarterback selected in dynasty leagues.
2019 projection: 322/509, 3,592 passing yards, 25 touchdowns, 85 carries, 487 yards, 4 touchdowns
Whether you agree with the pick or not, the Giants are looking for their signal-caller of the future in Jones. But unlike Murray, we don't see Jones under center when the season begins. Eli Manning is still the heavy favorite to be the starter, but the question is: for how long? Given the fact that Jones came off the board at such a premium pick, there's a good chance he's under center at some point in 2019. A fair over/under for Jones starts would be 3.5.
From a statistical standpoint, Jones' college numbers fail to impress. But just looking at the numbers doesn't tell the whole story. His surrounding cast at Duke was lackluster, and Jones flashed impressive ability at the Senior Bowl. He also displayed decent chops as a runner in college with 17 rushing scores. If everything shakes out right for Jones, there's a reasonably good chance he surfaces as a long-term QB2 in dynasty, but his stock is well behind Murray's.
The most complete tight end in this year's class comes off the board to the tight-end-needy Lions. Hockenson figures to slide right in as the top pass-catching tight end in Detroit, but fantasy players in redraft leagues should proceed with caution.
It's not a knock on Hockenson, but rookie tight ends rarely pan out for fantasy purposes. The learning curve is steep at tight end, and it typically takes a player 3-4 years before they emerge as consistent fantasy options. There's no doubt that Hockenson is the top dynasty option in this year's class and should be considered a first-round rookie pick. However, he shouldn't be viewed as anything more than a streamer option in redraft leagues. Initially, he comes in as a back-end TE2
2019 projection: 73 targets, 45 catches, 518 yards, 4 touchdowns
Like the Giants, Washington is looking toward the future at quarterback with this pick. Following last season's devastating injury to Alex Smith, the Redskins were forced to go out and get Case Keenum over the offseason. While it's likely Keenum is the Week 1 starter, we don't think it's long before Haskins takes over. The Reskins' bye isn't until Week 11, but we don't think they'll wait that long to get Haskins on the field. A fair over/under for Keenum starts would be 5.5.
Haskins is coming off a monster 2018 season, but that was his lone year as a starter at the college level. However, he should a big arm and posted a massive 50 touchdowns. Unfortunately, Haskins doesn't offer much as a runner, which puts a major cap on his fantasy ceiling. Likewise, the Redskins will need to surround him with better talent for him to ultimately pan out as a viable fantasy option. Haskins is slightly more appealing than Jones as a dynasty option but still isn't anywhere near Murray.
As expected, both Iowa tight ends came off the board in Round 1. Fant lands on a Broncos depth chart that has really re-tooled the skill position players over the last two years. He should immediately slot in as the No. 1 pass catching tight end ahead of Jeff Heuerman and Jake Butt. However, like with Hockenson, fantasy players should temper their redraft expectations for Fant.
Athletically off the charts, Fant comps very similarly to Eric Ebron. Like Ebron, there's a good chance fantasy expectations will be too high for Fant early in his career, so be sure to keep that in mind. Likewise, keep in mind that Ebron exploded in his fifth professional season at age 25. Fant could very likely have a similar trajectory. He's a fade in redraft leagues this year, but Fant has major long-term appeal in dynasty leagues a should be the second tight end taken in rookie drafts as an early second-round pick.
2019 projection: 69 targets, 43 catches, 503 yards, 4 touchdowns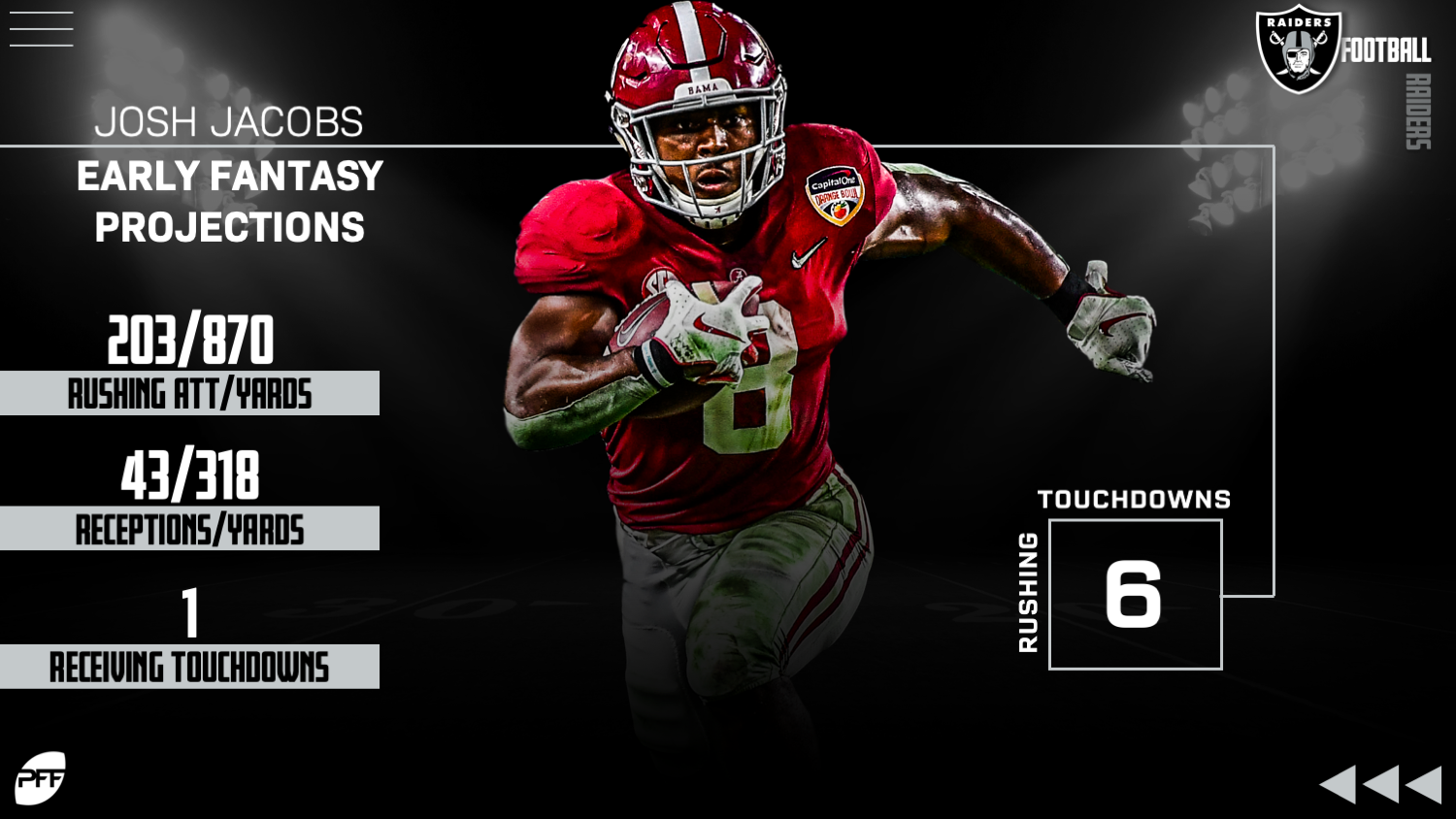 We weren't sure if a running back was going to come off the board on Day 1, but Jacobs managed to crack the first round. He slots in on a very interesting re-vamped Raiders offense as the clear top dog in the backfield. With his three-down ability, Jacobs figures to see the lion's share of touches right out of the gate.
While not quite as impressive as some of the top running backs in last year's class, Jacobs flashed dynamic ability at Alabama. Though we didn't see a ton of him in that crowded backfield, he proved to be a capable runner with impressive chops as a receiver. Given the lack of competition in the Raiders backfield, this is an excellent landing spot for Jacobs' short- and long-term fantasy value. He's the clear top selection in dynasty rookie drafts and projects as an instant front-end RB2 in redraft leagues.
2019 projection: 203 carries, 870 yards, 6 touchdowns, 54 targets, 43 catches, 318 yards, 1 touchdown
The first wideout off the board is arguably the most dynamic player at the position. Brown fills a big-time hole on the Ravens' depth chart and gives Lamar Jackson a viable deep threat. Unfortunately for Brown's fantasy stock, the Ravens' run-heavy approach won't do him any favors in terms of juicing up his numbers.
Where Brown lacks in size, he more than makes up for in his game-breaking ability as a play maker. Like DeSean Jackson, he can get downfield in a hurry and take the top off a defense. While Jackson struggles from an accuracy standpoint, he does possess a reasonably big arm. That plays well into Brown's ability to run and catch the football. However, at least initially, there just isn't enough meat on the bone to consider Brown anything more than a boom-or-bust best ball option. Likewise, it's tough to get too excited about this landing spot for dynasty purposes.
2019 projection: 76 targets, 44 catches, 653 yards, 4 touchdowns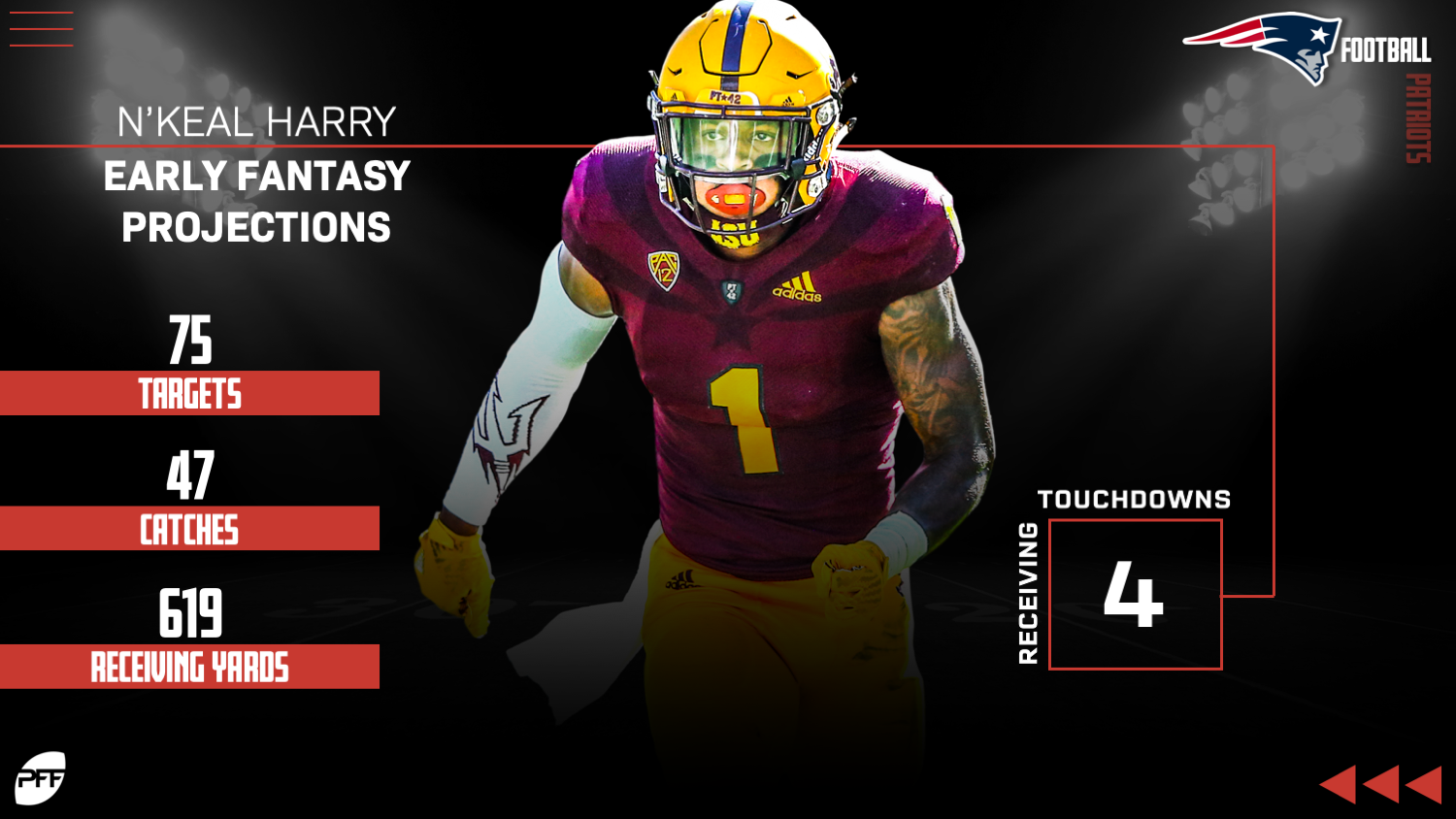 The night ended with a fantasy exclamation point, as the Pats addressed a major position of need. In many ways, Harry is the polar opposite of Brown. He lacks speed but is big and has the ability to play above the rim and make contested catches. Given this landing spot, that skillset bodes especially well. With Rob Gronkowski out of the mix, there's a lot of extra meat on the bone in terms of red-zone targets in New England.
Though knocked for his lack of speed, Harry has an impressive catch radius that is reminiscent of DeAndre Hopkins. That's not to say that he'll have the same fantasy outlook as Hopkins, but it's a good way to think about his overall profile. In the short-term, Harry has a good shot at being the No. 2 receiver in New England. That likely isn't enough to make him anything more than a WR5 for redraft fantasy, but he certainly has a long-term top-20 ceiling in dynasty leagues.
2019 projection: 75 targets, 47 catches, 619 yards, 4 touchdowns