The first big-name release of NFL cutdown day came down Saturday morning, with the Buffalo Bills cutting ties with longtime fantasy football star RB LeSean McCoy. Despite the team spending much of the offseason saying McCoy wasn't likely to be released, the writing appeared on the wall for the veteran considering his high 2019 salary and the Bills' offseason acquisitions of Frank Gore, T.J. Yeldon, and rookie third-rounder Devin Singletary.
The name here that fantasy players should pay the most attention to is Singletary, a rookie out of Florida Atlantic. He averaged 0.36 forced missed tackles per touch in college last year, the highest number we've tracked in the PFF era for any back not named David Montgomery (who topped that number in both 2017 and 2018), forcing a total of 96 tackles, fifth-most in the PFF era.
Considering the Bills' other backs of note now are Gore, who is older than the game of football, and Yeldon, who was brought in primarily to be a receiving back, there is room for Singletary to have a big role right off the bat, with reports saying he's likely to open as the starter now with McCoy gone. On the other hand, Gore isn't likely to just vanish; he averaged more than 11 carries a game for the Dolphins just last year.
The end result is likely to be Singletary at the head of a frustrating-for-fantasy committee. The rookie shoots up the rankings, but only so far — he's my RB38 after this news, with Gore rising to RB50 and Yeldon sitting at RB62. Singletary is the obvious upside play here, because if there is a top-20 running back in Buffalo, it will be him without question. The problem is that he's going to be a very buzzy player in any drafts that haven't yet been conducted, which means he's likely to be overdrafted. Tread lightly about pouncing on Singletary any earlier than the eighth round or so, because his upside will be capped by his backfield mates.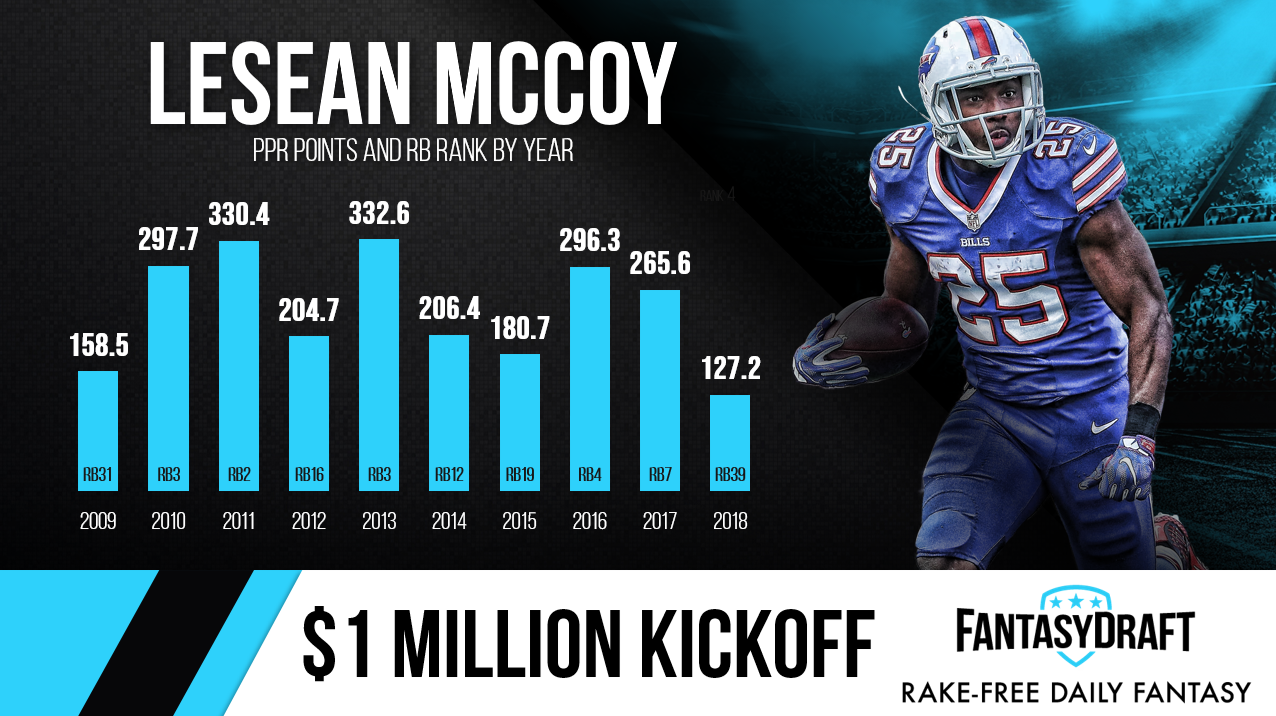 The 31-year-old McCoy now heads into free agency with a number of potential suitors. The Twittersphere immediately linked him to teams with obvious openings like Houston, Tampa Bay, and Kansas City. Those would all be appealing landing spots for a productive back, given the likely explosive passing offenses on all three teams. The obvious problem, though, is that we don't know how productive McCoy can still be at this point in his career. He averaged a career-low 3.2 yards per carry in 2018 (with a 2.0 yards-after-contact average that was 61st of 62 qualifying backs) and scored only three touchdowns, putting up his second-lowest PFF rushing grade (62.5) since his rookie season.
Still, McCoy is worth keeping an eye on, as he's likely to end up somewhere even as a flyer, and if he ends up in the right situation, his fantasy stock could still be reasonably high even if he isn't actually that good a player anymore. If you drafted McCoy already this draft season, don't drop him. And if Singletary slipped through the cracks in your league, toss a waiver claim on him immediately.