As we head into the weekend of Week 17, it's time again to look at our top IDP streaming options for fantasy football.
It seems impossible that we have reached the final week of regular season action for the 2018 season and yet here we are. Before we take a look ahead, let's take a quick look at how the Week 16 selections performed.
Let's start with the good news, as linebacker Elijah Lee finished the week with a top-10 total in balanced scoring with an 11/1/12 stat line. Defensive end Robert Quinn continued his mini hot streak with three total tackles (one for a loss) and a sack. That brings Quinn's sack streak to four games. Tampa Bay defensive end Carl Nassib finished Week 16 with just two solo tackles while playing just 32 snaps — his lowest total since Week 6. Nassib did manage to get to Dak Prescott, but unfortunately it was ruled a tackle for loss as it was on a run/pass option play.
Anthony Barr of the Vikings failed to register a quarterback pressure and finished with a so-so 3/2/5 stat line against the Lions but was credited with two tackles for loss. Cornerback Andrew Adams didn't come through for us with seven total tackles and a quarterback hit.
Let's get to the Week 17 streaming IDP options.
Defensive linemen
There's a strong likelihood that Graham is sitting on the waiver wire after a three-game stretch that saw him amass just four total tackles, with a goose egg in Week 15. The 2018 season has been a disappointment for Graham as he has just four sacks after posting 9.5 in 2017. This is a do-or-die situation that has the Eagles needing a win at Washington and a Vikings loss for the defending Super Bowl champions to grab a wild card spot in the playoffs.
Despite failing to record a sack last week, there is some encouraging news regarding Graham, as he was credited with a whopping 11 total quarterback pressures. The snap count has been healthy of late for Graham, with 64 snaps per game over the past three weeks. The pressures he has been generating has to translate into sacks at some point and this is the time. In the Week 13 matchup between the teams Graham put up three solo tackles with a sack and forced fumble.
This is a bit of a boom-or-bust selection as the frustrating Ngakoue runs hot and cold on a weekly basis. It's been a down 2018 campaign for him after posting 12.5 sacks last season, but he does have the chance to reach double-digit sacks if he can get two Sunday against the Texans. The total quarterback pressures have been there, as Ngakoue has been credited with four or more in 11 of the 15 games he's played.
The Texans have been a positive matchup for opposing defensive linemen for fantasy purposes especially over the last three games. In the last three weeks defensive linemen have put up 10.5 sacks against Houston while also being credited with a forced and recovered fumble. In that time, Denico Autry, Henry Anderson, and Chris Long have put up multi-sack games against the Texans. Look for a boom week from Ngakoue to end the 2018 season.
Linebackers
This streaming suggestion comes with a caveat. IDP owners will need to monitor practice reports out of Minnesota as Wilson had a standout Week 16 with Eric Kendricks (hamstring) out of the lineup. Should Kendricks continue to miss time, second-year undrafted free agent Wilson belongs in IDP starting lineups. In the Vikings' Week 16 win at Detroit, Wilson finished with nine total tackles, three tackles for a loss, and a sack. The Vikings set up Wilson for splash-play success, bringing him on the pass rush seven times, leading to the sack and three total quarterback pressures.
There is the possibility Kendricks owners may have dropped him with the news he was out last week — pick him up if he's practicing. I guess what I'm saying is that we want the starting MLB for the Vikings in our IDP starting lineups. The Bears allowed 11 solo and 12 total tackles to the aforementioned Elijah Lee in Week 16.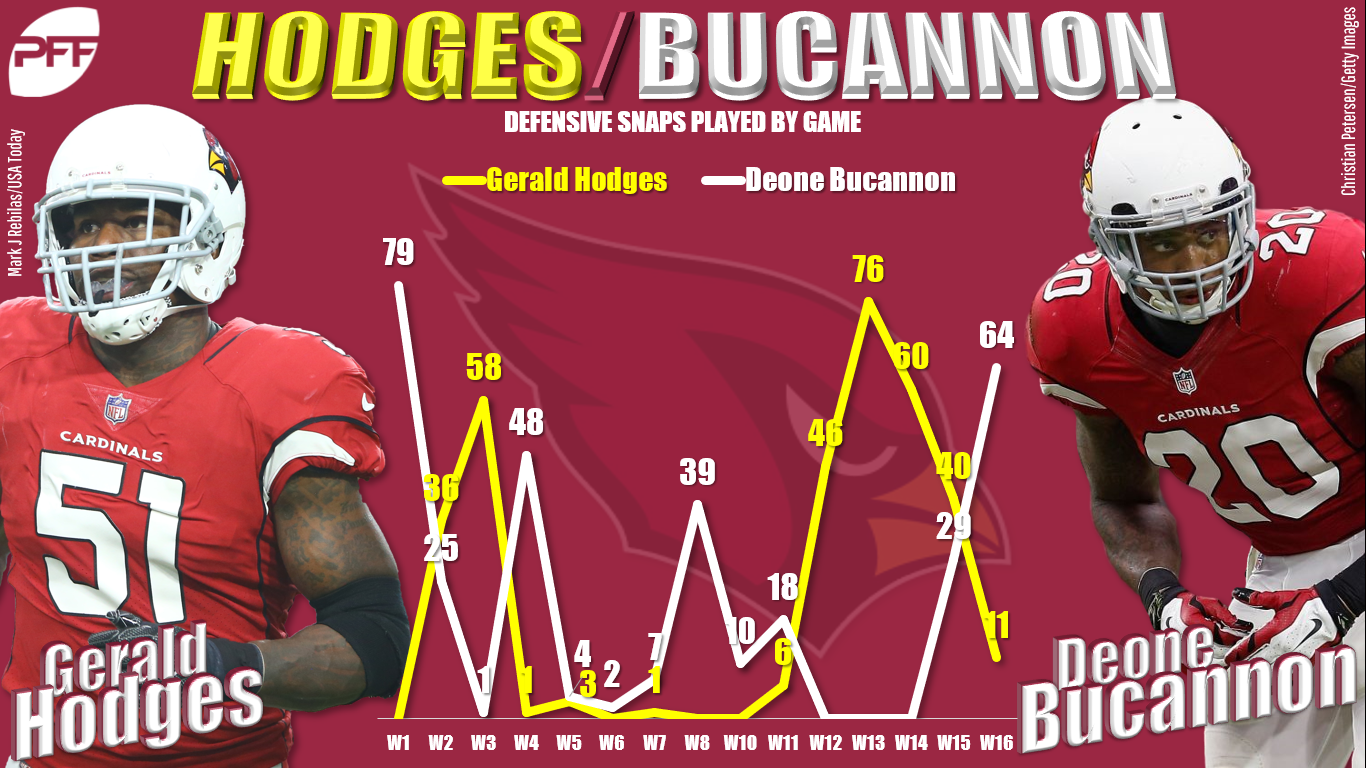 It appears Bucannon has worked his way back into the good graces of the coaching staff in Arizona. Bucannon started at MLB last week playing 64 of 68 defensive snaps finishing with seven solo tackles and a fumble recovery. That is quite an uptick when you consider that in Weeks 5-15 Bucannon played a total of just 109 defensive snaps. With Gerald Hodges seemingly back to the bench, it's time to trust Bucannon in a prime matchup against the Seahawks in Week 17.
The run-heavy Seahawks offense has been a top-three option over the last three games in allowing fantasy production to opposing linebackers. In that time Seattle has allowed 84 total tackles, 3.5 sacks, an interception, and a forced fumble to linebackers. There could be splash-play opportunities for Bucannon as he was brought on the pass rush six times last week. In Week 4 against the Seahawks Bucannon had one of his most productive weeks with six solo tackles and a forced fumble.
Defensive backs
Always a stellar special teams player for the Dolphins, Thomas is excelling in an expanded role as the starting strong safety in place of an injured Landon Collins (shoulder) in his first season in New York. With the Giants struggling through a down season it may surprise some folks that Thomas is actually putting up high-end DB2 numbers since taking over the starting role in Week 14.
In the last three games, Thomas has put up solid tackle totals (20) while also bringing splash-play production with a sack and interception. The Giants have lined Thomas up in the box or on the defensive line on 62% of the snaps in the last three games. Look for a strong fantasy showing against a Cowboys offense that's allowing an average of 36 tackles per game to defensive backs in the past three weeks.