As we head into the weekend of Week 15, it's time again to look at our top IDP streaming options for fantasy football.
Week 15 is playoff time for even more fantasy leagues this week, which means the stakes are high for everybody. Every fantasy team has suffered their share of injuries, some more than others, which means everyone will be streaming for IDP options this week.
But before we look at Week 15, let's look back at Week 14 and see how we did. Jabaal Sheard couldn't quite get to the quarterback but did have six tackles — a good number for a lineman — with two of those being for a loss. Meanwhile, Redskins lineman Daron Payne did get to the quarterback for a sack along with five tackles. Our linebacker streamer, Demario Davis, led the Saints with seven tackles to go with a pass defensed. Our secondary also paid some dividends with Seahawks safety Tedric Thompson recording six tackles and Raiders safety Marcus Gilchrist recording five.
But as we get closer to championship weekend, the stakes get higher and we need our streamers to hit. Let's see who's on tap for Week 15.
Defensive linemen
There is zero chance fellow Jags lineman Calais Campbell is available to stream, but the same can't be said for Ngakoue. He's a true boom-or-bust player in that he'll either get you a sack or leave you with a goose egg or close to it. Case in point: He's had three games this season with no tackles recorded, let alone sacks.
But Week 15 should be different. The Jaguars play Washington, who has tanked since losing quarterback Alex Smith. Not only has the team lost all three games where Smith hasn't started but Washington's given up three, three, and five sacks in those games respectively. Now they get a Jaguars line led by co-sack leaders Ngakoue and Campbell, with seven each. And while Campbell is typically ranked higher with fantasy rankers Ngakoue actually leads Jacksonville in quarterback pressures with 51, good for 17th in the entire league.
Streaming Hunt's teammate Jabaal Sheard worked out well last week so let's ride the Colts train again. Hunt did what Sheard couldn't do, which was record a sack, and has a great opportunity to do it again this week. The Colts play the Cowboys, who, despite being on a hot streak, still give up a ton of sacks. They've given up 3.7 per game, worst in the league, and have seen that ramped up the last three games, closer to five per game.
Hunt hasn't been the most efficient pass-rusher but makes up for it in volume, rushing the passer more than any other Colts lineman this season except for Sheard. Hunt's also classified as a defensive tackle on My Fantasy League, which is great for leagues that reward tackles more than ends. And for those worried he'd lose snaps to lineman Denico Autry when Autry returned from injury, it hasn't happened — Hunt has played at least 62% of the defensive snaps every game this season but one, not counting a game he missed because of injury.
Linebackers
For all the attention teammate Darius Leonard has gotten, it's overshadowed the solid season Walker has had. He's already recorded 97 tackles despite playing only about three-quarters of the Colts defensive snaps and should continue to add to his tackle total as the Colts take on the Cowboys. Not only do the Cowboys give up a lot of sacks (see above) but they've actually run the second-most offensive plays per game the last three weeks with 72 (this doesn't count the additional 13 plays Dallas had in overtime last week).
A lot of those tackle opportunities should come in the run game as Dallas over that same three-game span is third in the league in rush attempts per game with 33.7. For his part, Walker leads the Colts in run stops with 31 (tied with Leonard) and actually has the best run-stop percentage on the entire team at 11.5%. That number is also good for fifth-best among all linebackers.
Defensive backs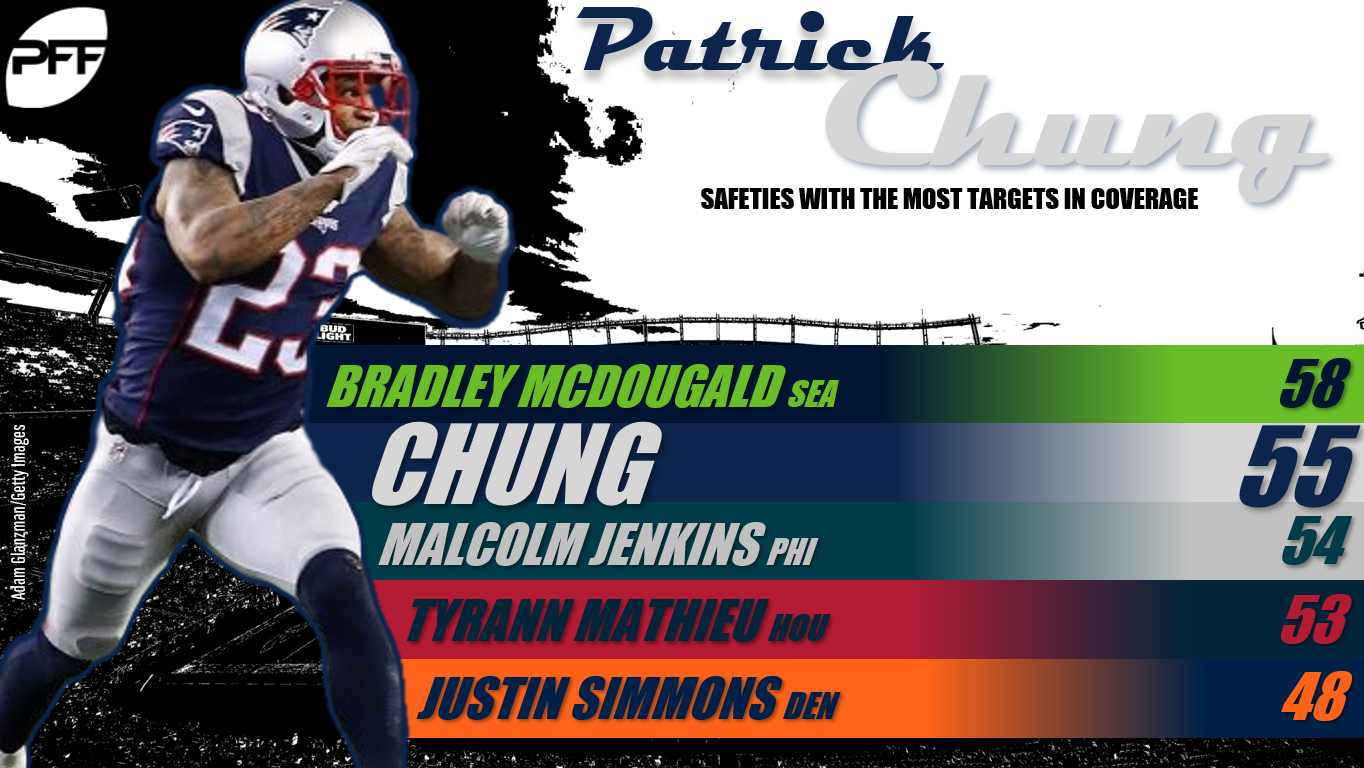 In what could be a shootout in Pittsburgh this week, exposure to the Patriots secondary could be a very good thing. Devin McCourty is likely to already be owned thus not streamable, but not his teammate Chung. He's on the field nearly as much as McCourty, only slightly fewer snaps per game, and should see plenty of passes and opportunity for a pass defensed or pick. Not only do the Steelers lead the league in pass attempts per game with 43, but they've upped that to 47 per game in their last three. And if we extrapolate how many targets Chung sees, he should be in for a big day. He's second among safeties with 55 targets this season, while his 7.8 snaps per target is fifth. It's a great opportunity for Chung to add to his defensive stats, as he has just one pick so far and three passes defensed, tied for the second-fewest in a season in his career.
In what could be another shootout, Heath and the Cowboys travel to Indianapolis to take on the pass-happy Colts. How pass-happy you ask? The Colts are currently second in the league with 41.2 pass attempts-per-game which means plenty of opportunity for Heath specifically who leads Cowboys safeties with only 12.7 snaps-per-target for a total of 37 targets all year.
Heath is, by no means, a sexy pick. He has more than five tackles in just four game this season and recorded just four passes defensed. However, he and the Cowboys have also only played two teams in the top-10 in pass attempts per game — Atlanta and Philadelphia. In one of those games he recorded just three tackles, but he had eight in the other. So it's not necessarily due to skill that Heath hasn't recorded better IDP numbers but rather opportunity.