As we head into the weekend of Week 14, it's time again to look at our top IDP streaming options for fantasy football.
For many, Week 14 is the start of the fantasy playoffs, which means our IDP streamers mean more now than ever. But before we get to those, let's look back at last week's recommendations, which included a couple of big weeks at linebacker. Thomas Davis led the entire Panthers defense with eight tackles while Falcons linebacker Foye Oluokun recorded 10 of his own. Our linemen were both able to get to the quarterback but not quick enough to record a sack, with both Henry Anderson and Markus Golden recording quarterback hits. Our secondary let us down with Mike Adams and Jahleel Addae both recording just two tackles. But now it's playoff time, which means the streamers below have to hit. Let's see who's on the streaming radar.
Defensive linemen
One of the few holdovers from a bad Colts defense last year, Sheard was one of the few bright spots then and continues to be this year. His 5.5 sacks so far in 2018 match his entire 2017 while added 47 quarterback pressures, 11th among all edge rushers. His 7.3 pass-rush productivity is above average and, when you consider how many snaps Sheard players, means a lot of time in the backfield (Sheard leads all Colts linemen in snaps this year).
The amount of time Sheard is on the field coupled with how effective he's been at getting to the quarterback will come in super handy this week when he and the Colts play the Texans. Houston is third-worst in the league at allowing sacks, giving up 3.4 per game including 15 in their last four games. Let's also not forget the last time the Colts played Houston, back in Week 4, when Deshaun Watson was sacked an incredible seven times with Sheard contributing a half of one. Sheard and the Colts may not total seven sacks again but they should get to Watson a lot again.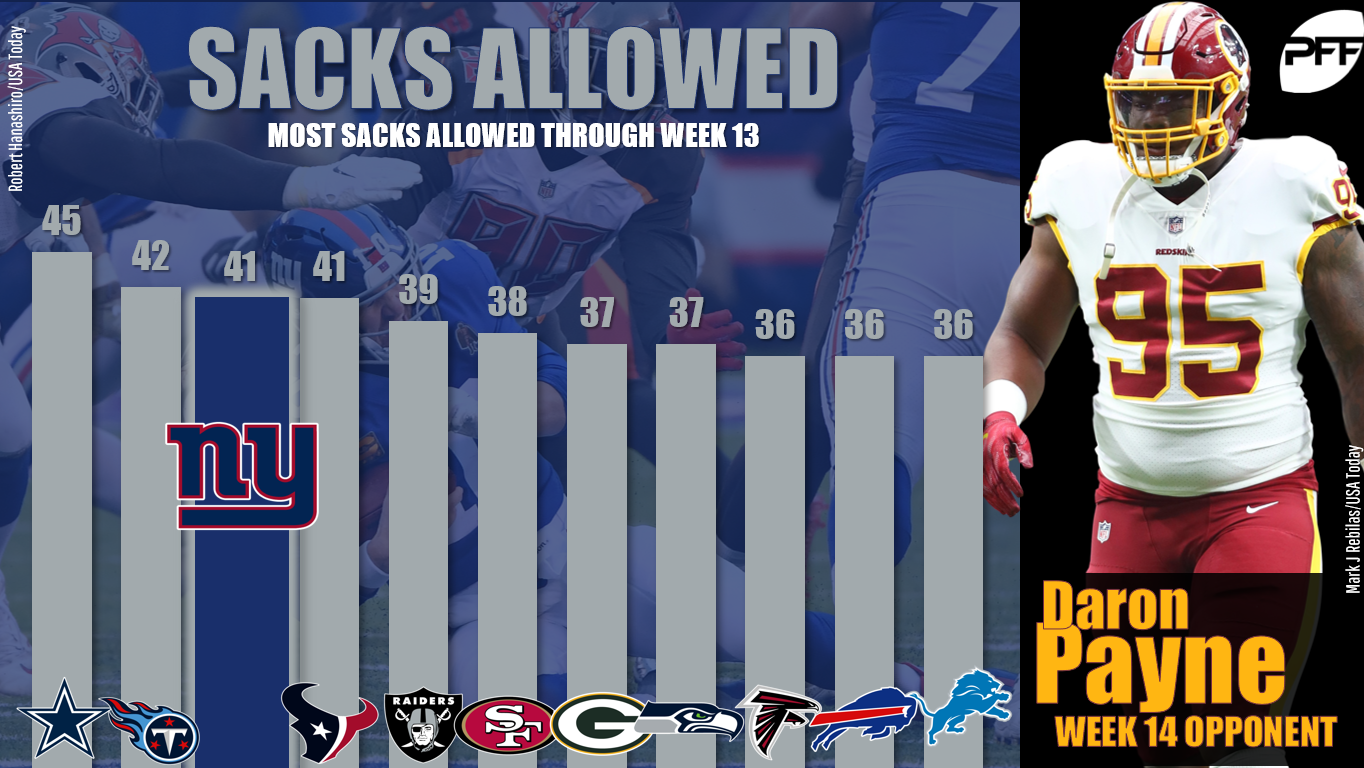 The last time we streamed Payne, he rewarded us with eight tackles, a crazy number for an interior lineman. Here's to hoping he can come through again as he takes on the Giants this week. New York is a great matchup for any lineman as the Giants are tied for third-worst at giving up sacks (along with the Texans, mentioned above), allowing 3.4 per game. The Giants line, who have had their share of issues this season, are also third-worst in PFF's pass-blocking grade. Plus, most fantasy leagues award more points for tackles, big plays, etc., for defensive tackles, where Payne is classified.
To be honest, Redskins lineman Matt Ioannidis would have been an ideal streamer but he's dealing with a shin injury and hasn't practiced this week. And with the fantasy playoffs, we can't take that chance so Payne is the pick.
Linebacker
Going to the Bucs well last week for one of our streaming linebackers worked so well that we might as well do it again. Enter Davis and the Saints who should have a good day against Tampa. He leads the Saints linebacking corps by a healthy margin in snap count and should be on the field for most, if not all, if the Bucs snaps this week. That should work out well, as the Bucs are currently second in the league with 67.7 offensive plays per game, giving Davis plenty of tackle opportunities. And despite the Bucs only turning it over once last week, they still lead the league by a wide margin with 2.5 giveaways per game.
Davis might also be able to fill the stat sheet in a category he hasn't had much success at this season. He has only one pass defensed but sees a target every 6.7 snaps this season. Between quarterbacks Jameis Winston and Ryan Fitzpatrick, Tampa is fourth in the league in pass attempts with 39.9. Put these two numbers together and Davis should see plenty of passes in his general direction, increasing the chances he gets his hands on one of them.
Defensive backs
For as good as Earl Thomas' fantasy stats have been over the years, some of it was just a function of the position he played as a Seahawks safety. So when he went down with a broken leg in Week 4, it stood to reason that his replacement would have some value. That's been proven correct, for the most part, in the form of Thompson, who has taken over for Thomas and has barely missed a snap since. In those eight games, he's averaged five tackles per game and recorded five or more in over half of them. His three passes defensed and one pick are disappointing, but he'll be in a great position to add to those totals this week against the Vikings and quarterback Kirk Cousins.
The Vikings are third in the league in pass attempts per game with 40.9 with Cousins throwing for 40 or more in seven of 12 games this season, giving Thompson plenty of chances to get involved. Cousins also has thrown four picks in his last three games. But perhaps most encouraging is the fact that Cousins leads all quarterbacks in passes batted or deflected at the line with 17. Altering the trajectory of Cousins' throws means even more chances for a pick for Thompson and the entire Seattle defense.
Ever since being drafted 14th overall in 2016, Karl Joseph has been a popular IDP pick, but has never justified his lofty draft pedigree. He hasn't recorded 100 tackles in either of his first two seasons, a streak that will continue in 2018, and has just 11 passes defensed over his career. Yet he'll still be a trendy pick this week while his fellow Raiders safety Gilchrist — who has put up just as good, in some cases better, fantasy numbers — is hardly picked/owned. Case in point, Gilchrist has five passes defensed to Joseph's one. In fairness, Joseph missed three games this season to injury but even if you look at their averages, it's not that different. Joseph has averaged five tackles in the five games he's seen starter snaps while Gilchrist is not far behind, averaging about four.
The Raiders get the Steelers and Ben Roethlisberger this week, which will be good news for the entire Oakland secondary. The Steelers lead the league in pass attempts per game with 43.5, which is especially encouraging for Gilchrist who's seen a target every 10.3 snaps this season. Meanwhile, Roethlisberger is up to six picks in his last three games to go along with 19 passes defensed in that same span and another reason to fire up Gilchrist this week.