As we head into Week 10, it's time again to look at our top IDP streaming options for fantasy football. Only four teams have off this week, but the injuries are piling up, meaning streamers for your IDP leagues are just as necessary.
But first, a review of Week 9's streamers, where there weren't a lot of home runs but plenty of singles and doubles. Bears linebacker Aaron Lynch had a sack and tackle for loss against the Bills (we'll revisit them below) while Ravens safety Eric Weddle led the team with seven tackles against the Steelers. Besides that, we had three players who registered four tackles — Allen Bailey (good for a lineman), Shaq Thompson and Glover Quin — while Jon Bostic finished second on the Steelers with five tackles.
Now on to the Week 10 advice.
Defensive linemen
DeForest Buckner is typically the only 49ers lineman owned in IDP leagues, but there will be others this weekend as the 49ers take on the New York Giants. Not only is New York tied for the most sacks allowed per game at 3.9, but their offensive line has the second-worst PFF pass-blocking grade as a unit.
Your best bet of a second 49ers lineman is Armstead, who already has a career-high in sacks this season with three and tackles with 31. He's also tied for the lead among 49ers ends with 24 quarterback pressures. Of course, it helps to finally be healthy after Armstead missed 10 games last year and eight the year before, and that has resulted in Armstead seeing the second-most snaps along the 49ers defensive line. Staying on the field will come in handy Sunday as the Giants are eighth in the league with 39.5 pass attempts per game, which means plenty of opportunities for Armstead to tally a sack.
It feels like Williams has been around forever, but he's only 24 and in his fourth season with the Jets. He was much more fantasy-relevant earlier in his career after totaling seven sacks in his sophomore season, but he followed that up with just two the next season causing his IDP ownership to dip. But he's making a mini-rebound this season, already totaling three sacks this season with half a season to go while his 30 quarterback pressures lead the Jets and are good for 23rd among all lineman, edge or interior, in the NFL.
Williams and the Jets now get the woeful Bills, with the hurt Josh Allen or the also-woeful Derek Anderson replacing the even woefuller (it's so bad I have to make up words) Nathan Peterman at quarterback. Buffalo gives up an average of 3.7 sacks per game — good for third-worst in the league. We rode the Bills train last week with Bears edge rusher Aaron Lynch and it worked like a dream and should again this week with Williams.
Remember him? A member of one of the most prominent defenses in recent memory, Bennett was traded in the offseason to the defending champion Eagles to be part of yet another dominant defensive line. How dominant you ask? There are three Eagles lineman in the top-10 this season in quarterback pressures, including Bennett with 36. For his part, Bennett's turned those quarterback pressures into 16 quarterback hits and 3.5 sacks, both good for second on the team. Bennett and the Eagles now square off against a Cowboys team (and offensive line) that is trending in the wrong direction. They've given up an average of four sacks per game over their last three, including five last week against the Titans. The 3.5 sacks the Cowboys allow per game over the season is fourth-worst in the league and doesn't figure to get any better against Bennett and this Eagles line.
Linebackers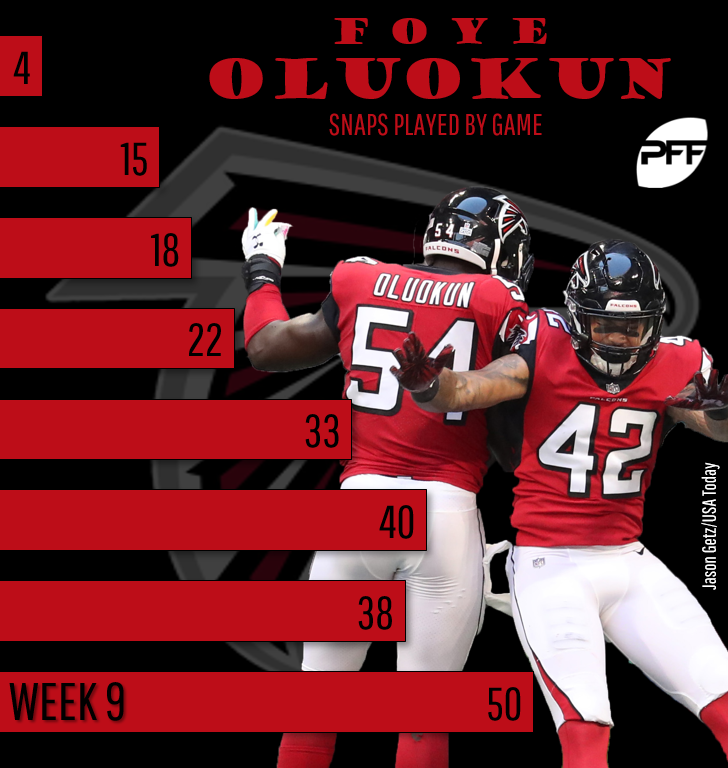 As a unit, the Falcons defense has suffered a ton of injuries, including one early on to Pro Bowler linebacker Deion Jones. In his place was Duke Riley but he hasn't shown to be anything special, with the 81st-highest PFF grade out of 97 eligible linebackers. In his place, the Falcons have turned more to rookie Oluokun, who has steadily seen more snaps in place of Riley, seeing at least 60% of the defensive snaps the last three weeks and a season-high 74% last week. In each of those last three weeks, Oluokun has been either first or second on the team in tackles and is grading out as a top-five linebacker.
The Falcons travel to Cleveland in Week 10 to play a Browns team that is second in the league in offensive plays per game with 70.2, meaning ample opportunity for tackles. The Browns also have a three-game streak of allowing the top tackler from their opponent to be a linebacker, something Oluokun will hope to continue.
Secondary
Gipson was much more fantasy-relevant during his Cleveland days, especially the excellent 2013 season when he totaled 90-plus tackles and 12 passes defensed. His fantasy numbers have taken a dip while taking a backseat to corners Jalen Ramsey and A.J. Bouye, but Gipson still grades out well, currently grading as the top safety on the team.
While the Jaguar cornerbacks get a lot of attention, in real-life and in fantasy, the safeties rarely get as much yet see the same opportunities when it comes to making plays. That's why a safety like Gipson makes for a good play this week when Jacksonville takes on the Colts. The Colts average a very nice 69.2 plays per game while quarterback Andrew Luck is third in the league with 42.9 pass attempts per game, meaning plenty of tackle opportunities for Gipson in the secondary. Additionally, Gipson averages a healthy 19.2 coverage snaps per target, meaning he's in line to see at least two targets this week and have an opportunity for a pass defensed or, even better, a pick.
Expectations (at least for fantasy) were low for Fitzpatrick heading in to the season. Sure, he was a first-round pick, but he was joining a good secondary that included Pro Bowler Reshad Jones, seemingly blocking a prime fantasy role. But between Jones' declining play — he's just PFF's 64th-highest-graded safety out of 93 eligible players —and injuries that have cost him nearly three games, a door jas opened for Fitzpatrick to see the field. He's already played in 65% of the defensive snaps in every game but two this season, allowing him to register 50 tackles this season, good for a tie for second on the team.
Fitzpatrick and the Dolphins get Aaron Rodgers and the Packers this week. It probably shouldn't be a surprise to know Rodgers passes a lot, currently ranking fourth in pass attempts per game at 41.9. That makes any Dolphins defensive back a good option. But Fitzpatrick's 15.0 coverage snaps per target make him your best bet as he could see up to three passes thrown his way and an opportunity for a pass defensed or a pick. Couple that with the fact that Jones had to pull himself from the game last week due to injury and it's possible Fitzpatrick sees even more action this week.