From a fantasy football perspective, no backfield was worse in 2018 than the one in Tampa. Ronald Jones fell as flat as he legitimately could have as a rookie second-rounder, while Peyton Barber played all 16 games, had more than 250 touches … and wasn't even a top-30 PPR back. (Strange but true: now-Saints back Jacquizz Rodgers had as many top-15 weekly finishes as Barber, with two apiece.)
Heading into 2019, is there more reason for optimism out of the backfield for fantasy? The fantasy drafting community isn't exactly over the moon for either option, with Jones going off the board 44th among running backs and Barber 49th (per Fantasy Football Calculator).
Working in their favor: This should continue to be an excellent offense. The Tampa Bay Buccaneers led the league in receiver fantasy scoring last year and were second in QB scoring. Of course, that was accompanied by a last-place finish in running back scoring, but when performances are to the extremes that Tampa Bay's were last year, you'd expect some sort of regression on all parts to make things more stable.
On the other hand, why would it? With Jameis Winston and new head coach Bruce Arians, the Buccaneers have no real reason to deviate from 2018's offensive approach, especially given the likelihood that the defense continues to be a few steps below bad. So you don't want to look at this team from 30,000 feet and say that the backfield should be good for fantasy because the team at large should be. This is a rising tide that will not necessarily lift all boats.
If the Bucs get any significant backfield production (real or fantasy) in 2019, it will be because a running back on the roster forced the issue, not because game plan or gamescript caused it. And because of that, Jones is the more likely back to surface. He was the top-graded running back across college football in 2017 heading into the 2018 draft, when the Bucs took him in the second round. And then he imploded, averaging all of 0.8 yards per carry on 28 carries. Most of his rookie-year promise was gone before it started, and Jones proceeded to put up only 44 rushing yards on 23 carries as a rookie, with 10 carries in Week 4 and 13 for the whole season after that.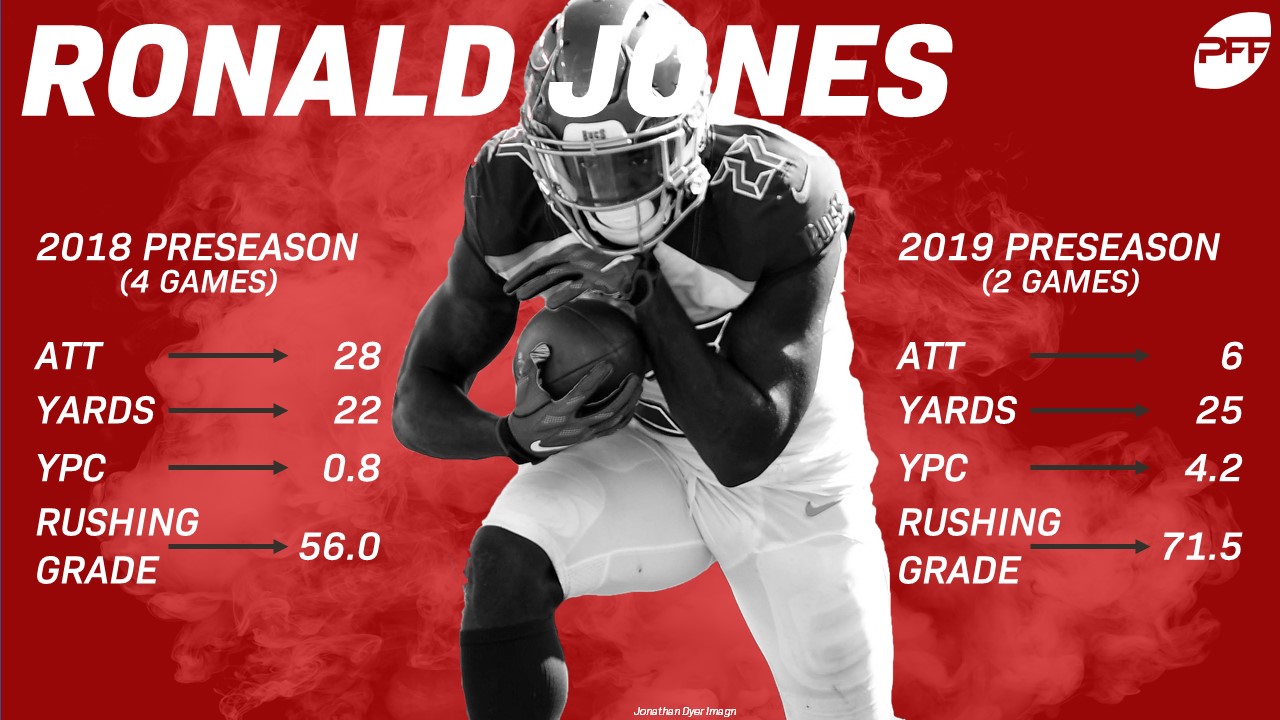 This year? Things have improved … slightly. Jones has only six carries through Tampa Bay's first two preseason games, but he's gained 25 yards on them … more yards than he gained on last preseason's 28 attempts. It's only minor progress, but it's progress, and that can be reason for mild optimism for fantasy.
If Jones doesn't develop, though, the Buccaneers' lack of backfield depth would leave Barber likely to be the No. 1 back again, and that's not helpful for anyone. Barber had only two weekly finishes last year better than RB18, only five better than RB32. Any fantasy relevance he had was quantity, not quality, and that makes for a better end-of-season appearance than it is helpful during the season. There were 14 backs with at least 200 rushing attempts in 2018 and of those, Barber ranked:
13th in overall PFF grade (67.0);
13th in yards per attempt (3.7);
12th in yards after contact per attempt (2.7);
14th in rushing yards (871);
13th in rushing first downs (36);
13th in percentage of yards on breakaway runs (23.2%)
His longest rush of the year was only 28 yards, 51 different backs had at least one run longer than that.
In short, if the Buccaneers go into the season with Ronald Jones as their No. 1 back in 2019, hey, that's interesting. Maybe draft him in the mid-30s at the position and hope for the best. If they go with Peyton Barber … yawn. Sure, maybe you draft him at the end of the draft under the simple rationale that anyone with a full-time job has upside, but it's hard to imagine ever starting him in fantasy with anything resembling confidence. He'll ride your bench until you're left with no other choice, and no one wants a player like that.