Marqise Lee's season-ending injury should not have the same impact as Allen Robinson's last year, either for the Jaguars or fantasy owners. Robinson was coming off a top-30 fantasy season when he tore his ACL in Week 1 of 2017, and many expected even more from him last year because of his prolific sophomore season in 2015. Lee, in contrast, failed to crack the top-40 in his first season as the Jaguars' de facto No. 1 receiving option. But no matter how productive a team's top receiver is, his injury or departure creates a vacuum of fantasy points that some player or players will have to fill.
Frequently, those points are distributed among several receivers without elevating one to being a top fantasy option. That's what happened for the Jaguars last season. But maybe it won't be what happens for them or the other teams without a clear No. 1 receiver this year. For me, those teams' wideouts become more attractive as sleepers because any talent improvements they show can earn them a lot more targets than they would see with similar growth on a team with better alternatives.
There are six teams that stand out to me as lacking an obvious No. 1 receiver. For each, I've weighed considerations including contracts, health, recent production, and natural ability to forecast the chances that each of their primary receivers becomes the team's top option, which would in turn create massive returns for the fantasy owners who took chances on them late in their drafts.

Donte Moncrief is the easy answer for the Jaguars. He is their only reasonable option with more than a year of NFL experience, and he carries a higher salary and better draft pedigree than the undrafted Keelan Cole and fourth-round selection Dede Westbrook. Still, I prefer the bet on Cole because of his incredible efficiency in his rookie season. Among rookies, only JuJu Smith-Schuster (+69), Chris Godwin (40), and Cooper Kupp (+37) added more yards on their catchable targets than Cole did. And only Tyrell Williams (7.8), Albert Wilson (7.5), and Golden Tate (6.9) had more yards after the catch per reception. I can envision Cole being a fantasy WR2 this season and don't see that potential for Moncrief.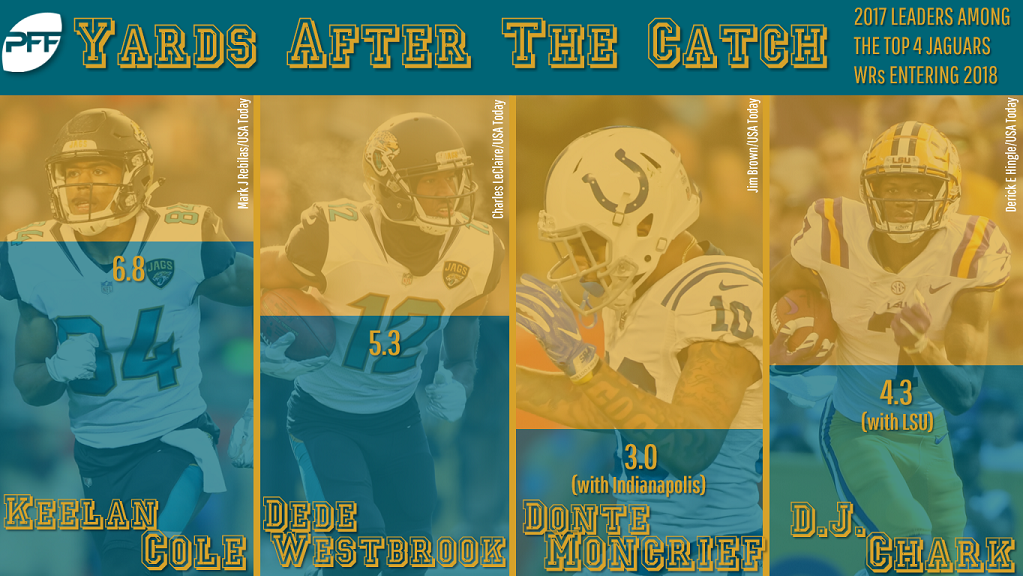 Meanwhile, rookie D.J. Chark is an interesting dark horse. As a second-round draft pick, he presumably has a talent edge over all of the team's other options. He's tall and lanky at 6-4 and 198 pounds with excellent speed, and so I expect lower volume with some big plays early in his career.

The Ravens have three veteran top receiving options, and their salaries tell a clear story of the team's expectations as of the summer. But contrary to many popular opinions, I think those expectations have likely changed. Michael Crabtree is a big name, but his efficiency has taken a nosedive since 2015, and he is now one of the least effective receivers in football. John Brown can't claim much better on a per-opportunity basis, but at least Brown can point to various leg injuries as reasons for his declining performance. So far this preseason, Brown has looked like the team's best wideout, and he has become one of my favorite sleeper receivers for fantasy this season.

I don't view the Bills as lacking a clear No. 1 receiver, but Kelvin Benjamin's ADP outside the top 40 at his position suggests that most people either disagree or doubt his fantasy prospects in either case. I'm much more optimistic. Benjamin averaged 975 yards and 8 touchdowns in his two healthy seasons in Carolina prior to the team promoting Devin Funchess and then trading Benjamin in the middle of 2017. On the Bills, Benjamin does not face competition from similarly efficient receivers. Best of all, he won't have Cam Newton running in all of the team's short touchdowns. Benjamin could push double-digit touchdowns with a traditional quarterback and his massive 6-5, 245-pound frame. I believe he has the best odds to be an impact fantasy player of anyone in this article.
Dallas isn't heavily invested in any one receiver, which makes me think rookie Michael Gallup could lead all rookies in receiving yards even though he was drafted in the third round, well after players like D.J. Moore, Calvin Ridley, and Courtland Sutton. Still, I give Gallup just half the odds of inexpensive teammate Allen Hurns to be the No. 1 Cowboys receiver this season. Hurns has fallen short of 40 catches and 500 yards each of the last two seasons, but he has actually been pretty efficient on the on-target passes Blake Bortles has thrown his way. I feel like he has a strong chance of returning at least a moderate value on his ADP as the No. 47 wide receiver.

If I had to pick one team in this space to produce a top-20 wide receiver, I'd pick the Dolphins. Unfortunately, I think choosing the receiver to draft on their team is more difficult than any other. Jarvis Landry is leaving 161 targets to go play in Cleveland, and all three of Kenny Stills, Danny Amendola, and Albert Wilson — who I give a 10 percent chance — were above-average on their catchable targets last season. And DeVante Parker may be more naturally gifted than any of them. He just can't ever stay healthy. In deeper leagues with big benches, I advocate drafting both Amendola and Wilson to secure the team's likely top short/intermediate route runner.

Josh Doctson was a first-round draft pick just two years ago, but the team's acquisitions of Alex Smith and Paul Richardson put a major dent in his chances to finally live up to that standard. Doctson has the height and leaping ability to be a big-play and touchdown producer, but Smith is one of the most conservative passers in the league. Even in his breakout season in 2017, he failed to reach an 8.0-yard average depth of target. Meanwhile, free agent signing Richardson is a big-play receiver in his own right, and he has the speed to produce after the catch like Tyreek Hill did for Smith in Kansas City. For me, that gives Richardson the slight advantage. Jamison Crowder is also in the mix to lead the team in targets, but his moderate production per play makes his scenario as the team's top wideout the least appealing one for fantasy owners.