Fantasy football performances are oftentimes fueled by randomness, though the majority of strong season-long performances are not an accidental result. There are certain positional groups that produce better than their counterparts, and these results can be projectable if we know which teams and which position groups to target. Listed below are the potential goldmine positional groups to target, and which player(s) may emerge from those situations.
Over the past three seasons, former starting running back Todd Gurley had finishes of RB14 (221.4 points), RB3 (368.1) and RB1 (387.3). With Gurley removed from the equation, his 223 rushing attempts and 45 targets (31 receptions) now open up a major path to fantasy stardom for whoever manages to capture his vacated workload. The most logical replacement is second-round draft pick Cam Akers, though many are also intrigued by the duo of second-year player Darrell Henderson and former undrafted free agent Malcolm Brown.
Akers — the likely leader of the backfield — impressed as a runner in college behind an incredibly lackluster offensive line.
Cam Akers rankings and statistics at FSU (min. 100 attempts, 30 targets) | 2019
| | |
| --- | --- |
| Category | Number (Rank) |
| Rushing yards after contact | 904 (10th) |
| Missed tackles forced on runs | 76 (4th) |
| Missed tackles forced per attempt | 0.33 (14th) |
| Yards after contact per attempt | 3.9 (26th) |
| Missed tackles forced on receptions | 8 (19th) |
| Explosive pass plays (15-plus yards downfield) | 5 (19th) |
| Yards after catch per reception | 10.4 (10th) |
The early-round pick the Rams used to select Akers suggests he'll likely factor in immediately, and he could ultimately seize the starting workhorse RB1 role from the get-go.
While Henderson ranked well as a college running back and in a small sample size for the Rams as a rookie in 2019 (ranked first on the team in missed tackles forced per attempt and yards after contact per attempt), he has yet to solidify his role and cement himself as a legitimate factor. In addition to that, he just recently suffered a hamstring injury that may sideline him through Week 1.
Brown may factor in as a goal-line and short-yardage back, but he simply doesn't possess the same game-breaking ability as the aforementioned runners. The Rams harbor a fantastic environment for whichever of their running backs can seize the majority of the work available, and history suggests that said player could be in line for a potential RB1 or RB2 season, if not more.
PFF's fantasy projections anticipate Akers leading the backfield with an RB32 ranking. The entire backfield should receive a major boost, though, with PFF's strength of schedule (SoS) metric ranking their schedule as the seventh-easiest in 2020.
With the additions of multiple wide receivers, the Eagles will likely scale back their tight end usage, but they're still one of the potential goldmines in 2020 redraft leagues. Since entering the NFL in 2016, Carson Wentz ranks first in pass attempts to tight ends (650). The next closest quarterback attempted only 458 passes — nearly 200 fewer than Wentz. He also ranked first in passing yards and touchdowns to the tight end position over the same time frame. While the Eagles' tight end usage may diminish to some degree, it's evident that the team and Wentz both prioritize the position — and they should with players as talented as Zach Ertz and Dallas Goedert.
The Eagles lined up in 12 personnel more often than any other NFL team in 2019 — their league-leading 50% rate dwarfed the second-placed 34.9% mark. That number will surely decrease after they bolstered the wide receiver spot, but Wentz has more than proven his tendency to target his tight ends, regardless of their personnel deployments. Both Ertz (second) and Goedert (11th) ranked among the highest-targeted tight ends in football. In addition to a strong target share, they each ranked inside the top 10 in tight end scoring, too — Ertz finished as the TE4, and Goedert finished as the TE10.
PFF's fantasy projections anticipate Ertz to continue his trend of strong production, pegging him with a TE3 finish. Conversely, the projections expect Goedert's production to drop off (likely by way of the receiver additions), ranking him with a TE27 finish. PFF's SoS metric ranks the Eagles' tight end schedule as the 17th-easiest in 2020, which heightens the intrigue for both Ertz and Goedert.
The Ravens' 2019 backfield was otherworldly. While we can probably expect slight regression, they could lead the NFL in rushing production once again. Mark Ingram's 2019 campaign placed him at the RB11 spot (242.5 points), and Gus Edwards finished the season ranked as the RB49 (94.6 points). The three main pieces in the Ravens' backfield proved to be wildly productive, with both Edwards and Lamar Jackson ranking in the top 10 in yards after contact per attempt, and Ingram ranking 20th in the same metric among players with 100-plus rushing attempts.
The dominance didn't stop there, as the Ravens ranked second in red-zone plays, third in goal-line plays and first in rushing yards before contact, explosive plays rushing, run play percentage, explosive run percentage and rushing yards before contact per attempt.
The team also added second-round draft pick J.K. Dobbins in the 2020 NFL Draft. While Dobbins may not immediately seize a big workload with Ingram slotted into the No. 1 role, he proved worthy of lead-back, workhorse-type duties dating back to his 2019 college season when he ranked seventh in rushing yards after contact and 22nd in missed tackles forced among all college running backs.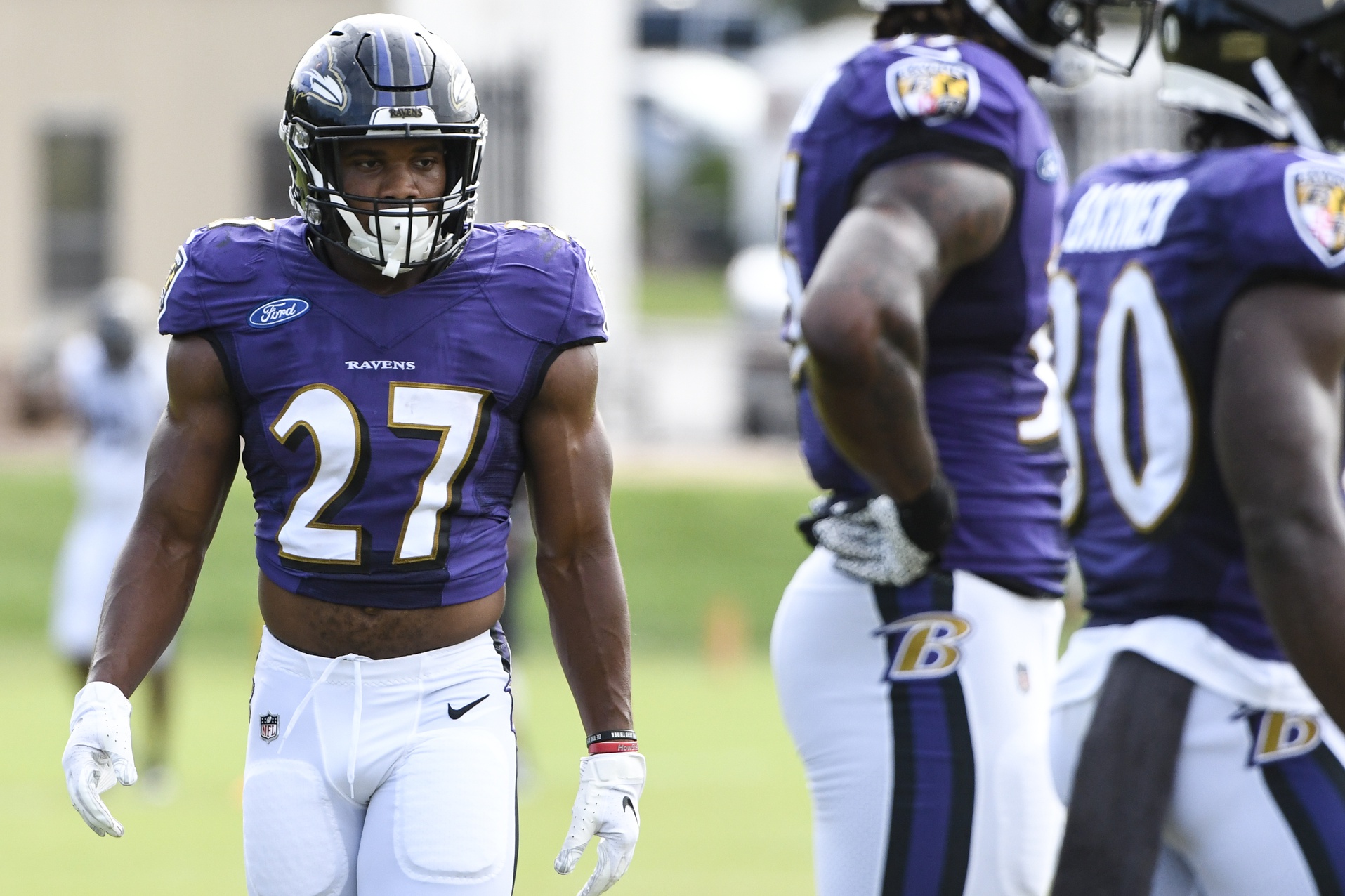 PFF's fantasy projections also view this backfield as a goldmine, forecasting both Ingram (RB31) and Dobbins (RB33) for top-34 finishes. There is an additional positive for this group, as PFF's SoS metric ranks their running back schedule as the sixth-easiest in 2020. The schedule should only increase the floors and potential ceilings of each player in the Ravens' backfield.
The Steelers' 2019 season was a wash, as the injury to Ben Roethlisberger completely derailed the offense and, ultimately, the entire team's performance. Pittsburgh's quarterback carousel proved too difficult to overcome. If we analyze their 2018 season when Big Ben was last healthy, we can begin to outline the legitimate dominance of their receivers.
Both Antonio Brown (fifth) and JuJu Smith-Schuster (eighth) ranked inside the top eight in wide receiver scoring, with Brown accomplishing a top-five finish in 15 games, and both players ranked inside the top-four in targets (164 and 161). They were not only dominant in their point totals, but they each proved to be efficient, too — both ranked inside the top 10 in points per snap.
The receiving corps has obviously changed since the 2018 campaign, with Brown no longer on the team and the Steelers transitioning to a group that will feature Smith-Schuster, Diontae Johnson, James Washington and rookie Chase Claypool. Johnson offers a skillset most comparable to Brown's, and he is likely to be a starting receiver alongside Smith-Schuster. Both Johnson and Smith-Schuster are likely to be the main beneficiaries of Big Ben's return, with Washington and Claypool vying for WR3 duties.
Johnson proved to be a dangerous weapon even with the team's dire quarterback situation last year. He ranked 23rd in yards after the catch (YAC), 20th in yards after contact and seventh in YAC per reception among all receivers with 80-plus targets. The toughest decision will boil down to whether Johnson or JuJu will operate as the team's first option at the receiver spot. The chart below compares their 2019 production (JuJu did not play Weeks 12-15).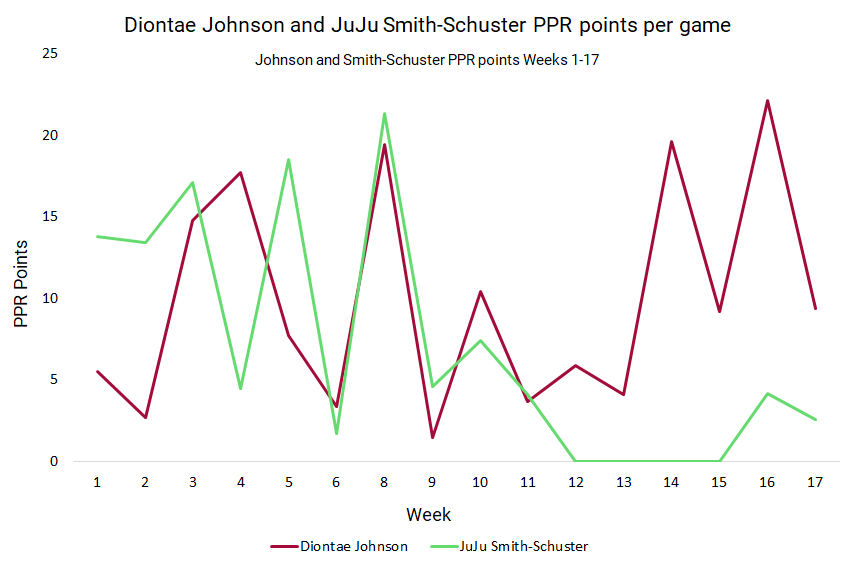 This is a group you'll want to target, regardless of which player you select. The Steelers ranked first in pass attempts, second in passing yards, fourth in deep pass attempts, eighth in explosive plays passing, 12th in passing yards per attempt and ninth in deep pass attempt percentage in 2018 with a healthy Big Ben.
PFF's fantasy projections anticipate a WR29 finish for JuJu and a WR38 finish for Johnson. No other Steelers receiver cracks the top 70 in the wide receiver projections. In addition to Big Ben's return, the wide receiver schedule is incredibly friendly and likely to result in fantastic production for the group — PFF's SoS metric ranks the schedule as the easiest in 2020.
The Cardinals' backfield proved to be wildly productive in 2019. From Week 9 onward, Kenyan Drake ranked fourth in points (156.4), 19th in points per snap (0.39) and 20th in points per touch (1.04). Drake's workload allowed him to produce at an elite level, and he took advantage — he received 17 red-zone carries (14th) and eight carries inside the 5-yard line (sixth). Not only was Drake a dominant force, but the Cardinals' rushing attack as a whole also proved to be effective. The team ranked second in rushing yards before contact (916), sixth in explosive plays rushing (60) and second in explosive run percentage (16.6%) and rushing yards before contact per attempt (2.3).
While Drake is projected to receive the majority of the available work for the Cardinals' running backs, there is some potential intrigue with players like Chase Edmonds, too. Edmonds received enough work to total only 82.8 points last season, but he did rank first on the team in points per snap (0.4) and first in points per touch (1.15) among the team's running backs in 2019. He will likely see a limited workload in 2020, but Edmonds does have some standalone value and is one of the better handcuff options entering this season.
PFF's fantasy projections anticipate an elite RB1 season out of Drake, with his current ranking at RB7. The next closest Cardinals running back is Edmonds at RB66 — that aligns perfectly with the expected workload split. Their third-ranked schedule, according to PFF's SoS metric, is another path to potentially fantastic production, and it could very well lead to the Cardinals having one of the best rushing attacks in the league in 2020.
Identifying which running back to own in the Buccaneers' backfield will prove to be a tough endeavor, but it could pay dividends down the line for those willing to target the positional group. Ronald Jones is expected to lead the way as the first-down runner, with the potential for Dare Ogunbowale to lead the team in receiving back duties. Rookie Ke'Shawn Vaughn has yet to establish a role for himself but offers the ability to contribute across the board, and we have yet to mention veteran LeSean McCoy.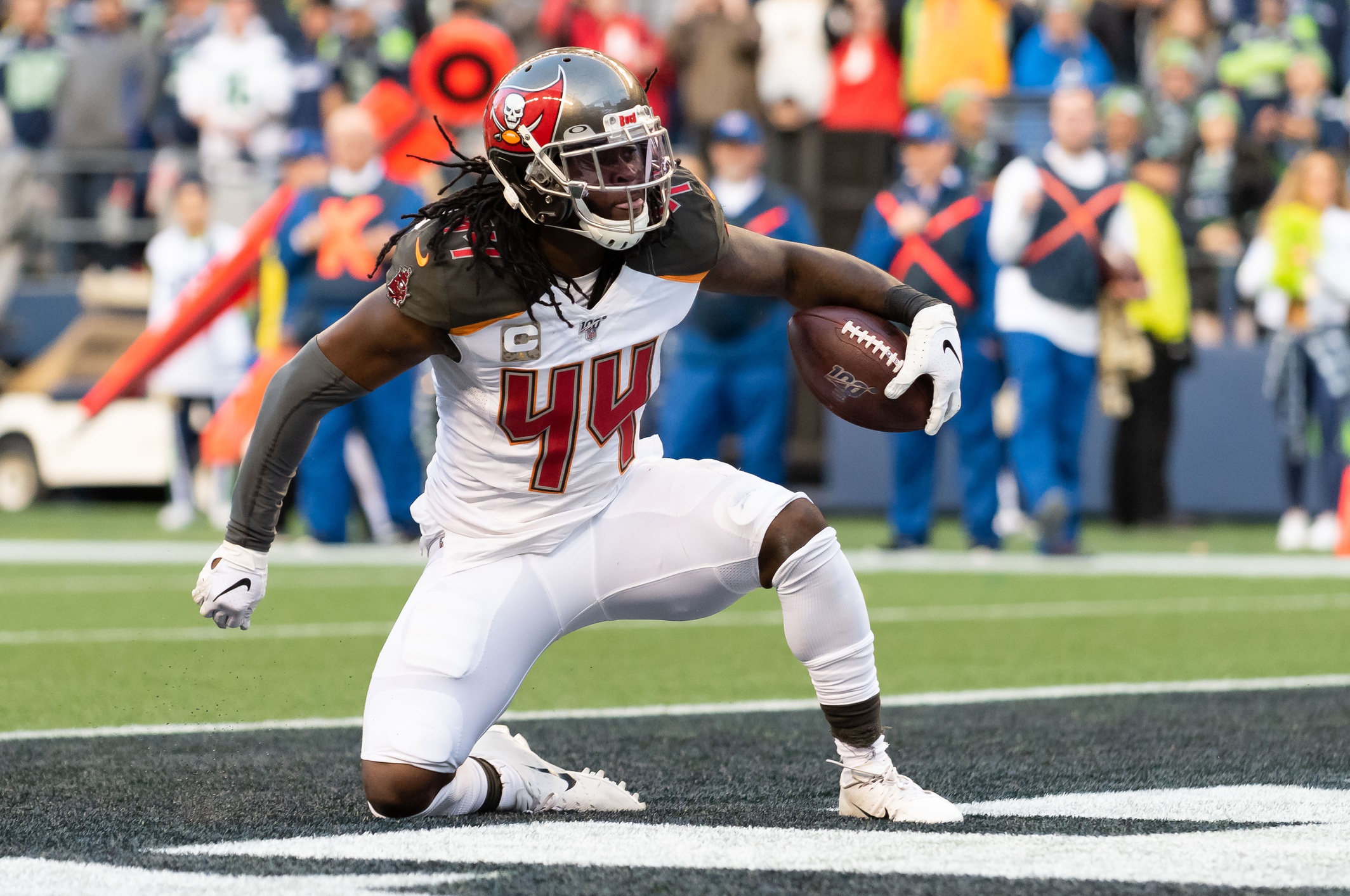 There are multiple exciting and intriguing factors when playing in a backfield with the great Tom Brady. Dating back to 2015, Brady ranks second in pass attempts and passing yards, first in passing touchdowns, fourth in yards per attempt and second in average depth of target when targeting running backs (min. 250 pass attempts). Clearly, pass-game backs who share a backfield with Brady offer a ton of value across the board, and as I stated above, Ogunbowale is the most likely option to fill that role in 2020 — he led the backfield with 45 targets in 2019. Plus, he led the team in points per touch (1.68).
The second factor to playing alongside Brady is how productive his offenses have been. The New England Patriots — which lacked offensive talent all throughout 2019 — still ranked first in red-zone plays and goal-line plays. The Patriots' running back group also ranked second in rushing attempts inside the 5-yard line (25). The easiest path to running back relevance is the cheap points associated with touchdowns and receptions (full-point PPR leagues), and Brady has routinely proven the ability to provide both to his backfields.
PFF's fantasy projections anticipate an RB29 finish for Jones and an RB50 finish for Ogunbowale. Their 22nd-ranked running back schedule, per PFF's SoS metric, may prove difficult to overcome, though.