When it comes to Big Ten TEs, much of the focus leading into the 2016 season is on Michigan's Jake Butt. Last year he caught 51 balls for 653 yards and three touchdowns, and not surprisingly had the highest receiving grade of any TE returning this year. While Butt is an impressive downfield target, he is far from a complete player. He graded negatively on both run and pass blocks, which comprised 329 of his 697 snaps.
Iowa TE George Kittle only played 383 snaps in 2015, as he served as the team's second TE behind Henry Krieger-Coble, who reports to Denver Broncos training camp this week. However, he certainly made the most of his opportunities on the field, as he posted the best overall grade among all TEs in the country returning this season. Kittle proved to be a much more well-rounded player than Butt. Despite his low volume, his receiving grade last year was sixth-best among returning TEs and his run block grade fifth-best.
So many TEs in today's game are specialists in one area (like Butt), but Kittle is not limited by athleticism, strength or technique. Here are three plays that highlighted his varied skill set and shed light on why he is the best all-around TE in college football as we head into the fall:
1.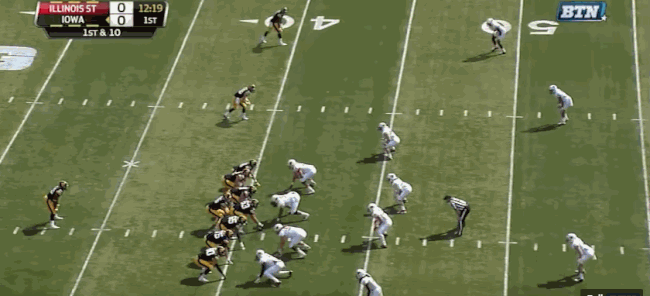 Kittle is lined up on the line of scrimmage (where he played 339 of his snaps last season), and is responsible for sealing the play-side defensive end on this pin-and-pull play (a basic outside zone run consisting of a seal on the edge, and a pull out front of the running back by either the play-side tackle and center, or both). Not only does he accomplish "pinning" his man inside, he drives him eight yards downfield before planting him on the turf, instigating a huge 27-yard run outside.
2.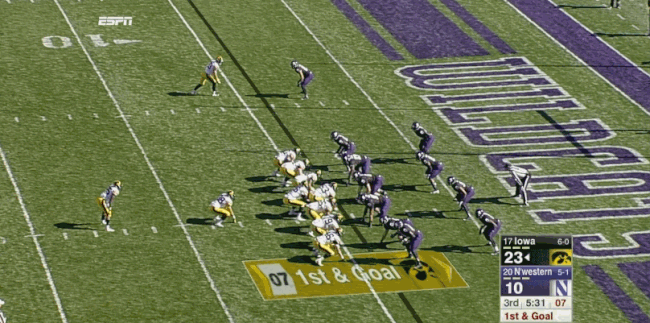 Kittle is listed at 6-feet-4 and 235 pounds, thus he's not physically intimidating for his position. However, he is able to play much stronger than his height and weight would suggest, and this play illustrates why. He initiates contact with his hands, getting a strong inside fit. This allows him to maintain his block and recover his balance when the defender tries to shed outside. Because he executes with better leverage than his assignment, he creates the kind of power you'd expect more from a player 30 pounds heavier than he is.
This type of TE block typically ends up graded as a -0.0 (an average, expected score) on our scale, as the defender is solely concerned with maintaining outside leverage to force the RB to cut back into the defense, while the TE is happy to oblige and keep him outside, away from the ball carrier. However, Kittle again locks on inside while getting underneath his man, and is able to get so much push to the edge that the back has a massive running lane and doesn't need to cut at all. The play is essentially over when the defender finally tries to get around him and hip-toss him, but all that does is create the torque Kittle needs to turn him and bury him into the ground.
The run occurred on first and goal from the four yard line. Goal line runs to Kittle's side were a frequent occurrence for the Hawkeyes last season, as he was responsible for the key block on seven touchdown runs.
3. 
The catch itself is obviously spectacular, but there's so much else to love about this play from Kittle. 12 of his 20 catches last season were off play-action fakes, and seven involved some type of delayed release off the line of scrimmage; this play involved both. Maryland CB Sean Davis tries to knock Kittle off his line when he passes through his zone, but Kittle instead uses the contact to propel him upfield, using the manufactured acceleration to create space against the safety, whose feet are stuck just a half-click too long off the run fake. Kittle's natural acceleration is very evident throughout his film, as he doesn't need a boost from a zone defender on every route to burst out of his break and create separation.
One-handed catches such as this are now a seemingly weekly occurrence, thus not always given the credit they deserve, unless it's done so by a superstar. Think about this: it's one thing when a NFL WR like Odell Beckham Jr. hauls in a catch like this, but it should be considered even more impressive when done by a college TE, especially one as proficient in other facets of his game as Kittle. The ability to locate and adjust to the ball while running at full speed is a special trait, and a testament to Kittle's excellent athleticism. He is not the typical lumbering blocking TE that can only run in a straight line, as he repeatedly demonstrated last year his ability to accelerate in and out of his breaks, as well as elude tacklers in space (four missed tackles forced).
2016 outlook
With Krieger-Coble and Jake Duzey now graduated, Iowa returns only 33 snaps of experience and one catch from the remaining TEs on the roster, meaning Kittle should see significant boosts in volume and production this year. Considering his combination of athleticism, strength and technique, he could be in for a huge senior season in Iowa, and is likely to further solidify his status as one of the best TEs in all of college football.